The Shaggy's, aka Coprinus comatus, are an excellent edible mushroom that's easy to identify. Also known as the lawyer's wig mushroom or shaggy inkcap, and formerly known as Agaricus comatus, they're a common mushroom in yards and gardens.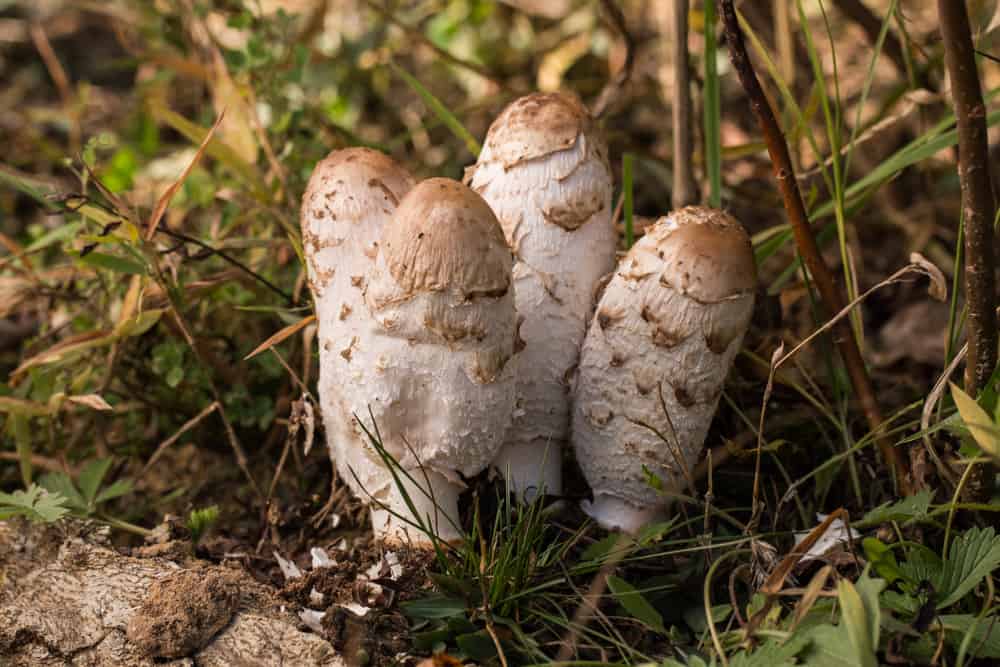 In this post, I'm going to give you a comprehensive guide to identifying, harvesting and cooking, with some of my favorite shaggy mane recipes at the end.
Shaggy mushrooms were one of the "fool proof four" that University of Minnesota professor Clyde Christiansen talked about in his 1943 book Common Edible Mushrooms (of North America) the others being chicken of the woods, giant puffballs, and morels.
I agree shaggy manes are pretty easy to pick out, but there are some small inky cap mushroom species around they can be easily confused with. The word "inky cap" is used to describe many species from the family coprinus and coprinopsis. All of those mushrooms are alike in that as they mature, they turn into black ink.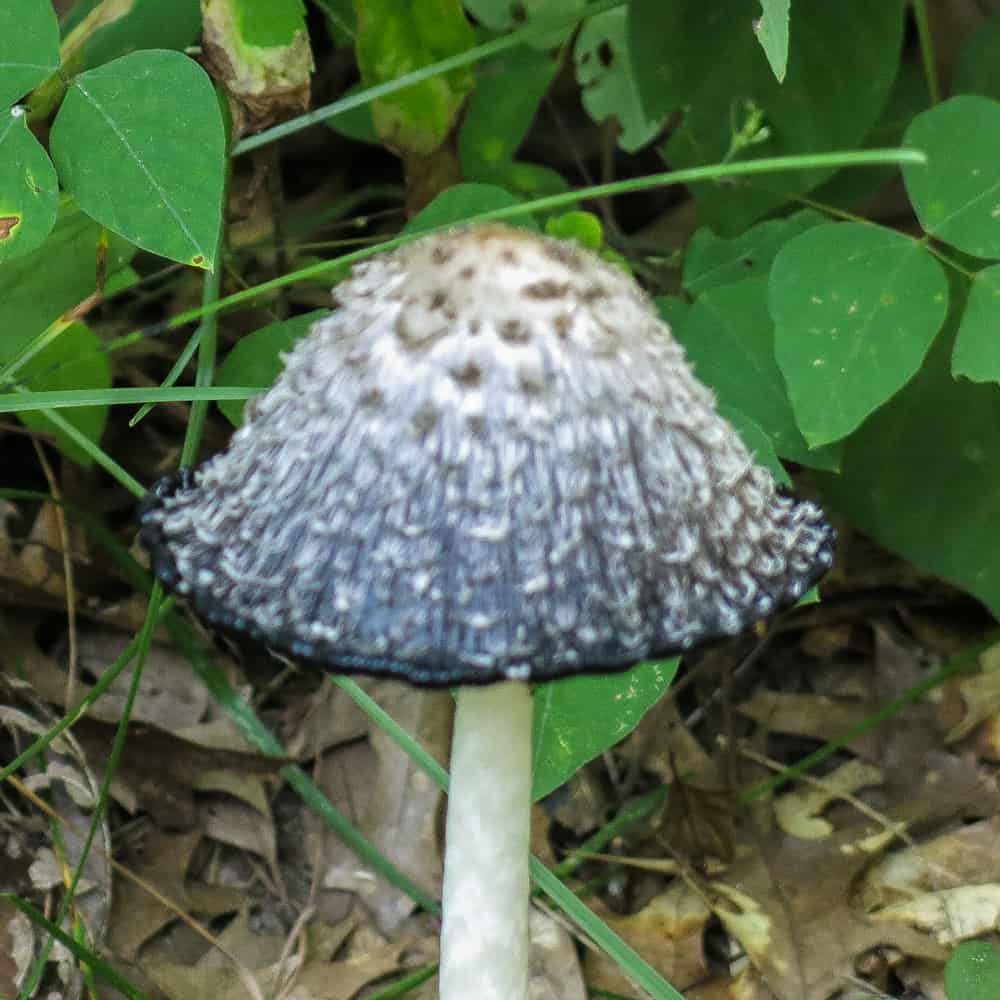 Here's some basic things to know that set shaggy manes apart from other inky caps:
Identification and Look-a-Likes
Alcohol inkys
The only inky caps or "poisonous mushrooms" to worry about comparing your shaggy manes to are Coprinopsis, specifically the alcohol inky, and its common inky cap cousins.
Unlike shaggy manes that may, under rare circumstances, (if at all) give someone an adverse reaction when consumed with alcohol, Coprinopsis / Coprinus atramentarius definitely will.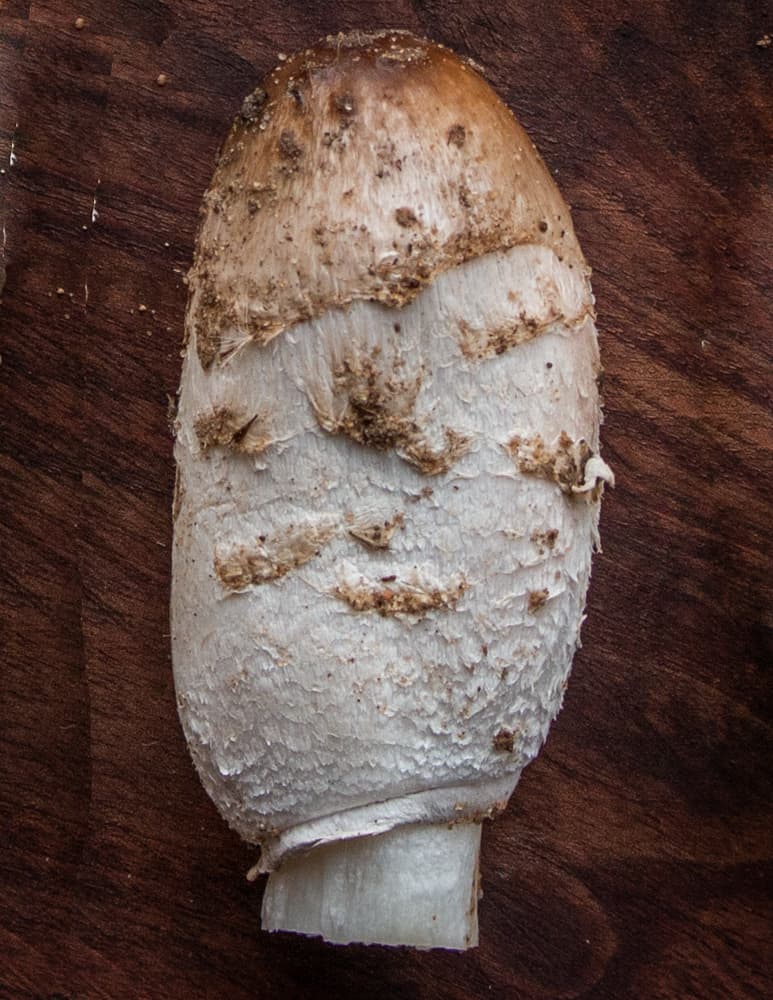 Quick ID tips and distinguishing features
Shaggy manes have a black spore print
True shaggy manes will usually be much taller and more rubust than other inky caps.
Shaggy manes grow singularly, but occasionally in tightly packed groups too. Other inky caps often typically grow in dense clusters, like the stinky ones that appear on your boulevard.
True shaggy manes have visible shaggy scales on the cap.
Shaggy manes have a cylindrical cap, not pointed or triangular.
You will never see shaggy mane mushrooms growing directly from wood.
Compared to other inky caps, shaggy manes are shaggy looking: very, very shaggy looking, with their cap looking much more like a wig, (hence the name) with small, up-swept hairs.
From a safety standpoint, I don't think these pose much danger to casual forest diners at all, but you should know that some inky caps have been known to cause a reaction when consumed with alcohol, which could be consumed days before or after the mushroom is ingested.
There have been reports of people having negative reactions with alcohol and shaggy manes too, but it's never happened to me, and I doubt the validity, as it's easy to misidentify something and then claim it made you sick.
Hunting
In Minnesota, I see these occasionally in May, and sporadically through late summer until fall, when they fruit the heaviest. You don't have to go to the woods for these, and once you find a place where they grow, go back the next year for more, especially after a good rainfall. Here's a list of the places I check when I'm mushroom hunting:
Along hard, packed trails
The most common occurrence I see is in lawns, grassy areas and open woodlands or clearings
Wood chips
Disturbed areas, like piles of dirt
I avoid parking lots, and areas near railroads as mushrooms can concentrate toxic heavy metals.
Hands down the best patch I've found is a couple piles of dirt (disturbed area) at my friend's log yard. There, I've picked them in large numbers: 50-60 or more at a time.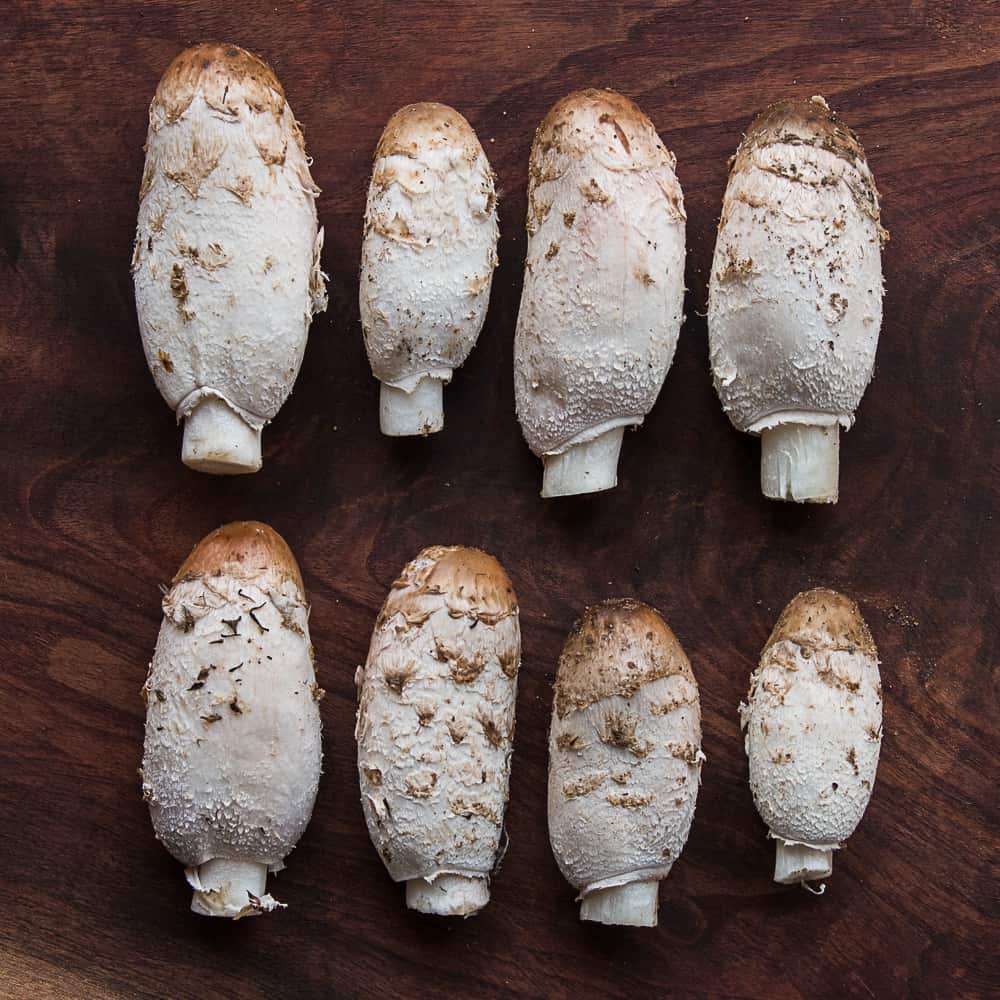 Can you drink alcohol with shaggy manes?
Yes. Shaggy manes don't contain the compounds that react with alcohol, although it's possible for individuals to have allergic reactions to mushrooms, even if they've had it before.
I know of anecdotal reports of people developing allergies to morels when consumed with alcohol, and some people develop allergies over time. But, I've never had a problem drinking alcohol with them, and I don't know anyone who has experienced gastro-intestinal distress after eating these.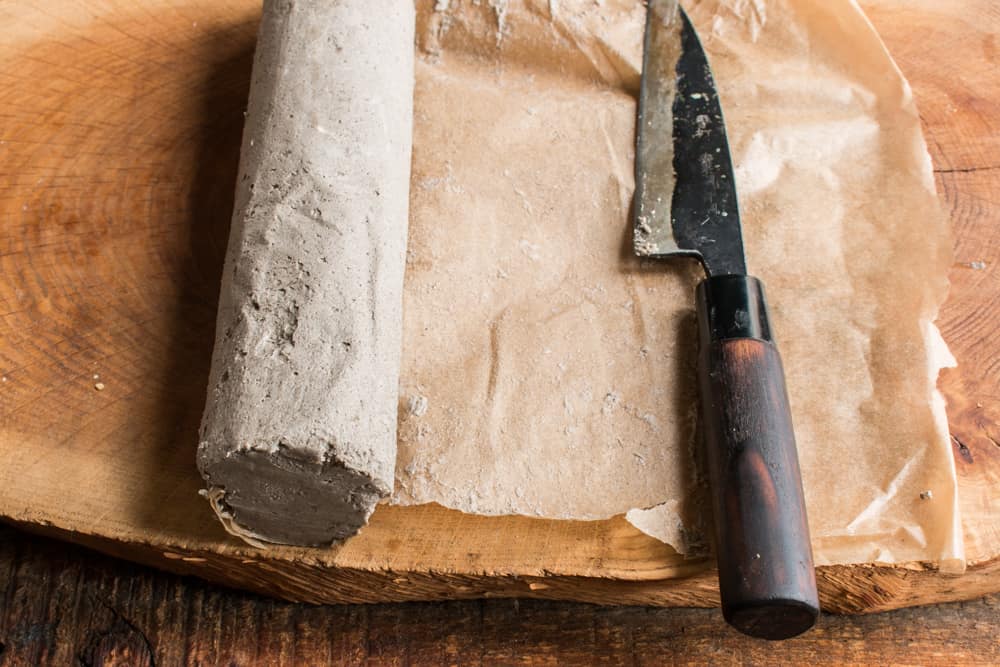 Cooking
These can be a difficult mushroom to work with in the kitchen. It's not that they don't taste good, they're fantastic, and are kind of unreal when you see how large they can get; it's like eating something out of a fairy tale.
The problem is that their shelf life is very short, and that they don't take abuse rumbling around in a bag very well-they're delicate.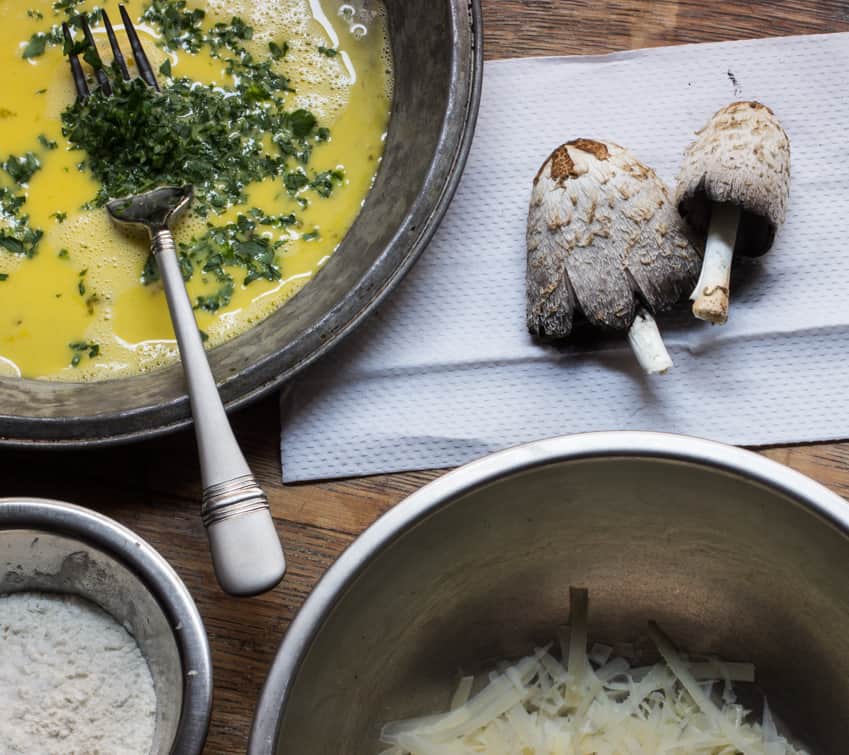 Jostled or bruised a couple times shaggy manes will start to get wet, soft, and dark in a matter of hours. Eventually the darkening (the technical term is deliquescing) will liquify the entire mushroom, starting with the cap, into an inky substance that coincidentally used to be substituted for ink, hence the name inky cap.
Since they used to make ink from the decomposing black goo, you can just imagine how it'll stain things, including your hands.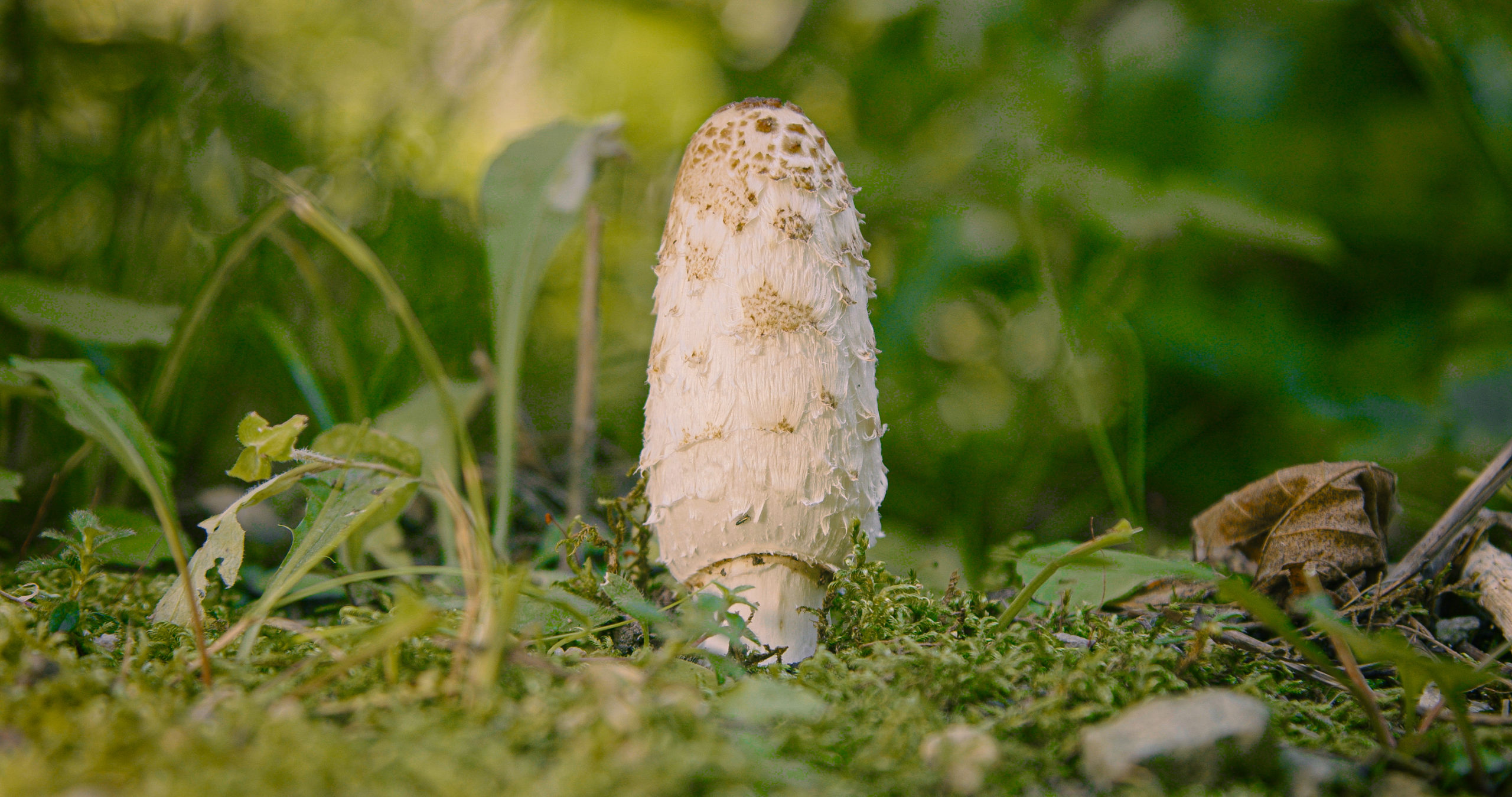 Something interesting happens when the mushroom begins it's transformation into a puddle of black goo though, the flavor changes slightly, becoming intense and aromatic, something you could describe as being more "mushroomy".
I read a great little book awhile back called Chanterelle dreams, amanita nightmares. Deep in the book there was a sentence or two where the author described making a black dough out of the mushroom goop shaggy manes turn into.
Can you eat shaggy manes after they start to turn black?
Yes, with precautions–they need to be thoroughly cooked as a killstep / safeguard, which is a bit of a moot point as thorough cooking is something I recommend with about 99.9 % of wild mushrooms.
As I understand it, the process of shaggy manes turning into inky, black liquid is an enzymatic process that helps the spores spread, which is different than decomposition by bacteria that could make you sick.
David Arora and my colleague Chad Hyatt have both mentioned and shared different ways the shaggy ink can be used, and, I can tell you from my experience too, that it's a fascinating way to use these mushrooms if you happen on a large patch of them. There's a link to my guide on how to make shaggy mane ink at the bottom of this post.
Deliquescing to make culinary ink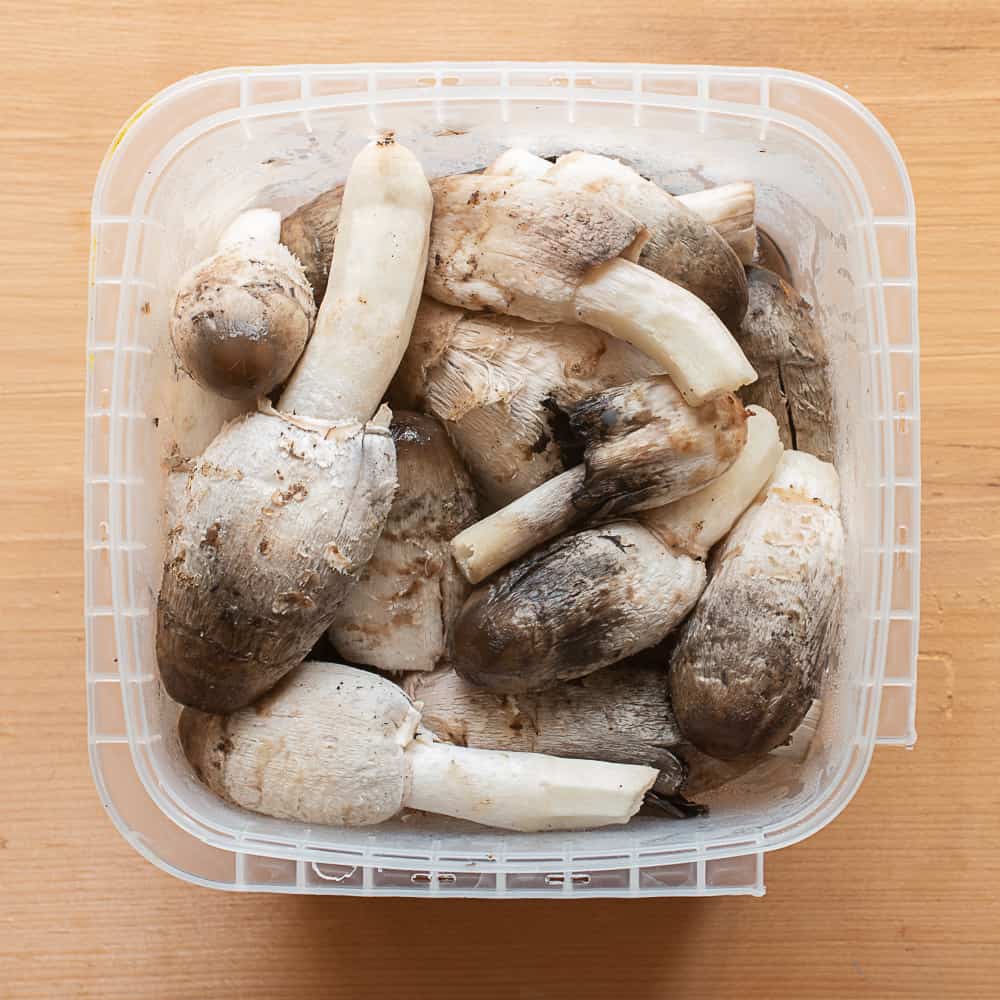 To me, taking deliquesced shaggy manes and making pasta dough is a great example of a resourceful use of a mushroom someone else might call garbage.
I've made the dough a couple times since I read the book, and it's great, especially cooked in a mushroom broth. The only drawback is that it takes a decent number of shaggy manes to make a pound or so of pasta dough.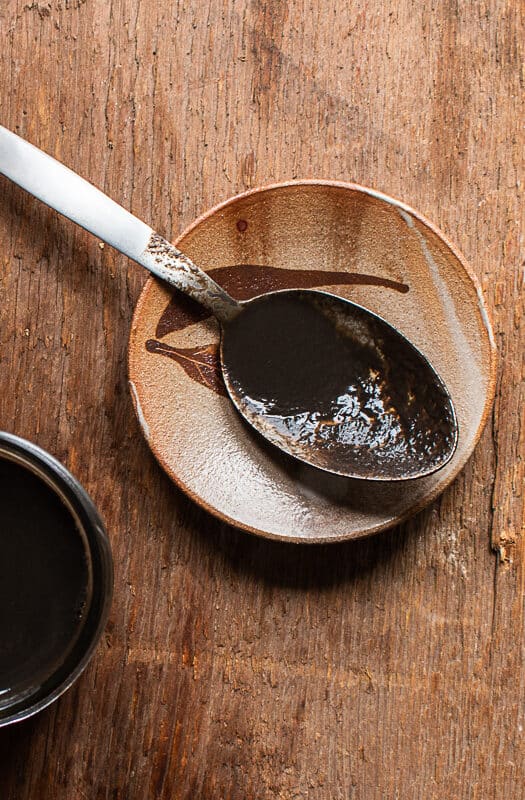 You could use other inky caps turned to goo, and I know people who use them in the kitchen, but I'd advise a little caution due to the alcohol allergy part-I haven't tried it with them and I like beer, so you're on your own for the time being with that.
Drying
Most people don't know this, but If you get young shaggy mane mushrooms, you can dehydrate them before they turn to ink. To dry them, clean the mushrooms or brush them, but don't expose them to water. Put the mushrooms, whole, into a dehydrator, and dry on high (145-150 F) overnight until the mushrooms are cracker-dry.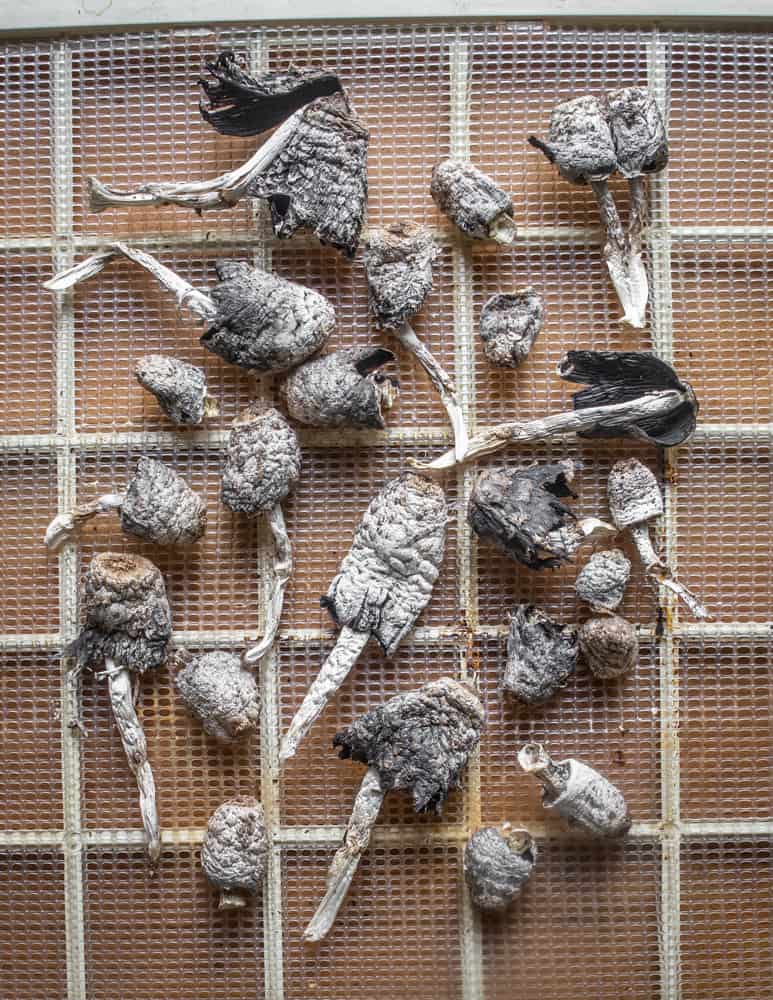 Stored in a jar, they'll last for years. Rehydrate the mushrooms by soaking in water, moving them around to dislodge dirt, then remove the mushrooms, strain the liquid, and add them to a soup or sauce.
Recipes
How to Make Shaggy Mane Mushroom Ink
Shaggy Mane Ink Compound Butter
Wild Mushrooms with Garlic and Parsley
Rabbit Chassuer with Mixed Wild Mushrooms
More
35 Essential Wild Mushrooms Every Forager Should Know
Further Reading
Coprinopsis atramentaria (Alcohol Inky)