Imagine the salty, cheesy crust on a grilled cheese sandwich, but wrapped around a shaggy mane mushroom-that's exactly what this recipe is. The inspiration for it came from two different places. The first part came to me while reading one of David Arora's books-when he mentions shaggy manes there is a picture of his friend eating some dipped in egg batter.
The second part came from remembering a recipe in the first cookbook I ever owned: Lidias Italian American Cuisine. The recipe was veal scalloppine battered with parmigiano reggiano. I decided to combine David Arora's battering of the shaggy manes with Lidia Bastianich's cheesy crust, and it worked out great. It's super easy, you take some shaggy manes, dip them in a little flour, then egg, but instead of the usual breadcrumbs, you use shredded cheese instead.
Cheese cooked until crisp is called frico in Italian, and chefs have been using it for a long time. Little mounds of grated cheese can be baked until golden on a non stick silpat or baking tray, then removed when cool and used to garnish all kinds of things. but I've seem frico chips garnishing salads like croutons, as a chip alternative, and I even remember one frico recipe from Lidia Bastianich that's made with apples and montasio cheese, which sounds great.
A great part of this recipe is that it can also be prepared gluten free. You don't need glutinous properties of flour to make a crust like this, all you really need is some sort of dry substance that the egg can adhere to and moisten, which allows the cheese to stick. There are plenty of ways this could be adapted to create other things too.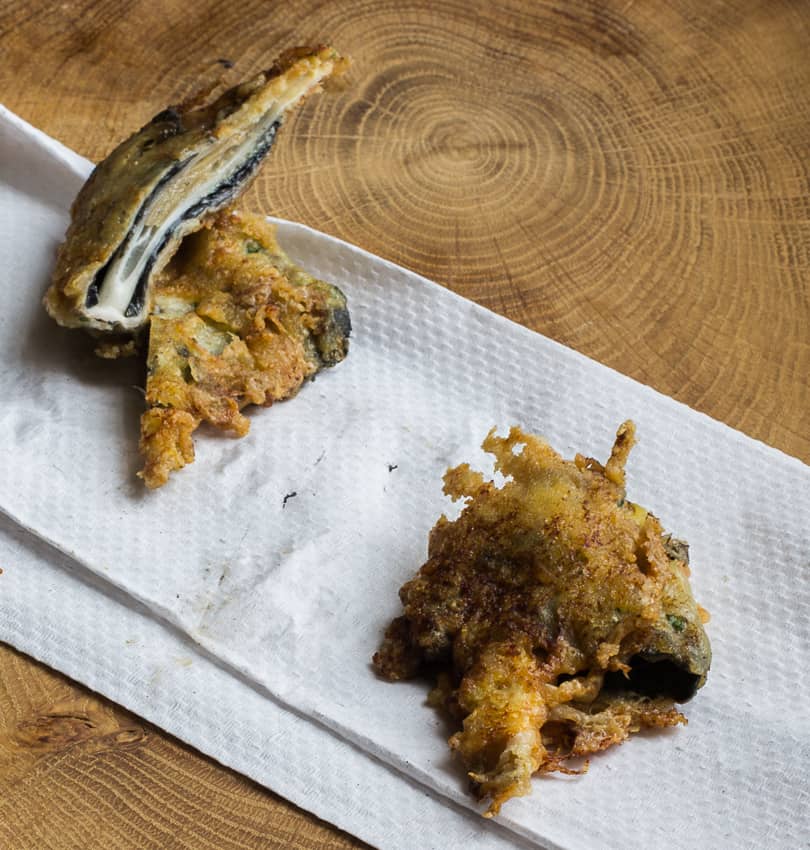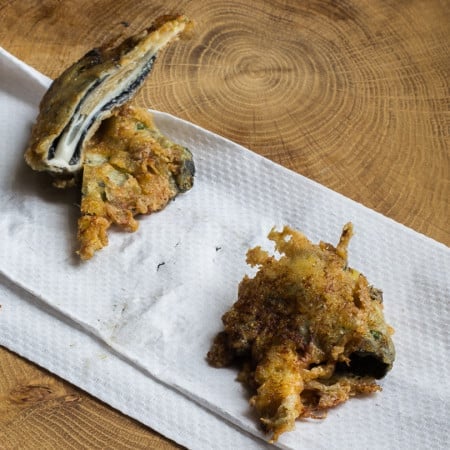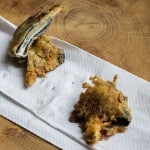 Print Recipe
Parmesan Crusted Shaggy Mane Mushrooms
Ingredients
Shaggy mane mushrooms

All purpose flour

as needed for breading (could be gluten free)

Eggs beaten with a splash of milk

as needed for breading

Freshly Grated Parmigiano Reggiano

Grana Padano, or nice domestic parmesan, as needed for breading

Fresh chopped parsley

to taste

Kosher salt and pepper

to taste (go easy on the salt because of the cheese here)

High smokepoint oil

like grapeseed, lard or canola

Lemon wedges

for serving (optional)
Instructions
Season the egg mixture with a pinch of salt and pepper. Combine the beaten eggs and chopped parsley. Keeping one hand reserved for wet ingredients and one for dry so you don't bread your fingers, dip the shaggy manes in the flour, then the parsley-egg mixture, then parmesan cheese.

In a large, wide cast iron skillet or nonstick surface big enough to hold the shaggy manes, heat the oil until hot. Add the shaggy manes to the pan and cook for 2-3 minutes. Don't touch or shake the pan at all, the cheese will still be loose until it caramelizes and becomes a cohesive mass. Once the mushrooms are golden brown on one side, use a spatula to gently loosen them from the pan.

Flip the mushrooms and cook for 4-5 minutes on the other side, or until the mushrooms are completely crisp, and the crust is golden brown. Transfer the mushrooms to a wire rack or a paper towel to cool for a minute and weep oil excess oil. Serve immediately with lemon wedges, or just straight up.
Notes
My shaggy manes were small, with short stems, if you find larger shaggy manes, definitely use the whole stem, it's great; after breading these could be an entree with a salad instead of an appetizer, since the cheese is very rich. Since my shaggy manes were small and sizes can vary, I'm only writing a method here, it's easy.
More