Wood blewits (Clitocybe nuda, and formerly Lepista nuda) are a beautiful, delicious, edible wild mushroom every forager should know. In this post I'll tell you everything I know about hunting, identifying, and cooking them I've learned over the years.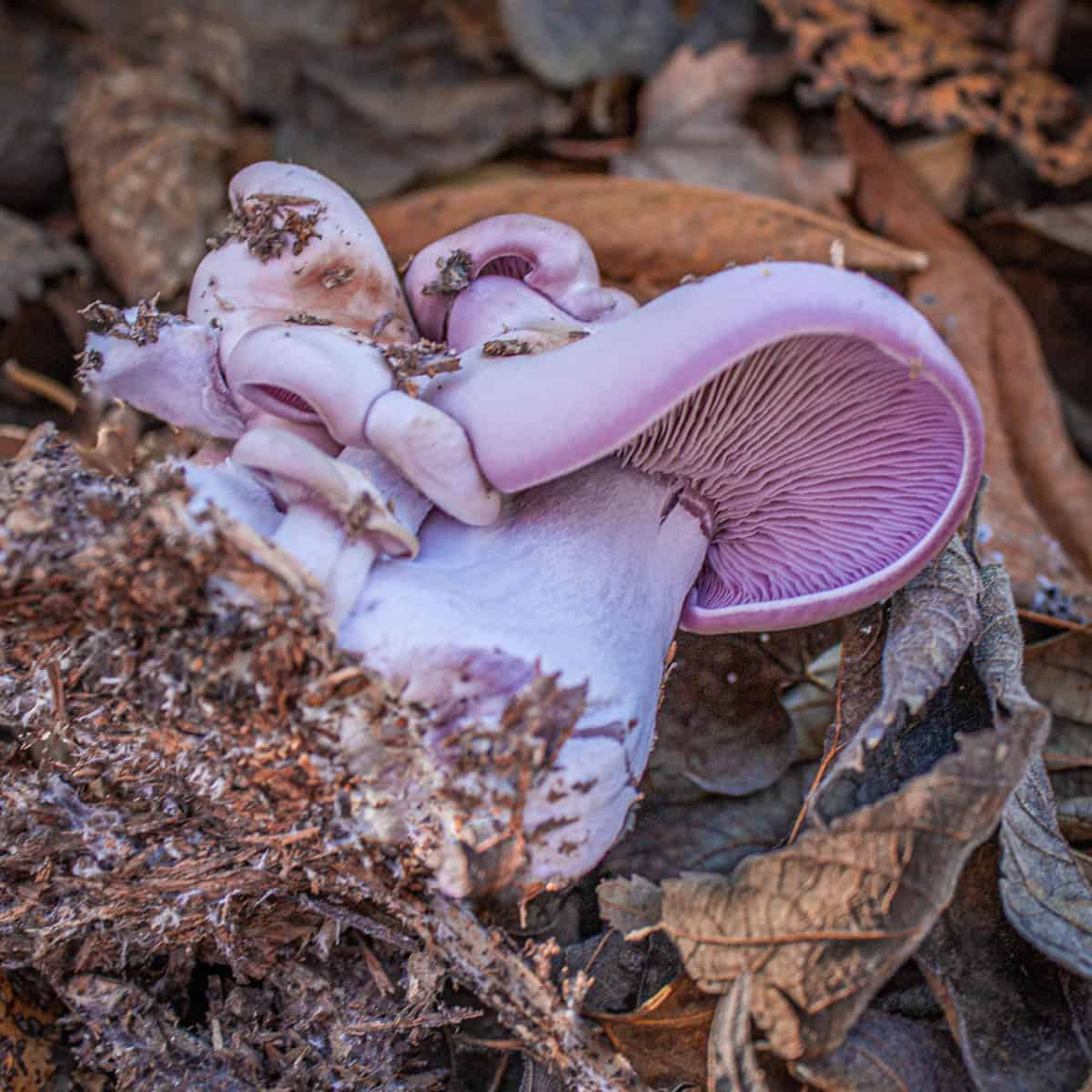 The first thing to know about these mushrooms is that they, and the information around them can be confusing. The name blewit seems to be a misinterpretation of "blue-hat" which is odd as the mushrooms are more purple than blue.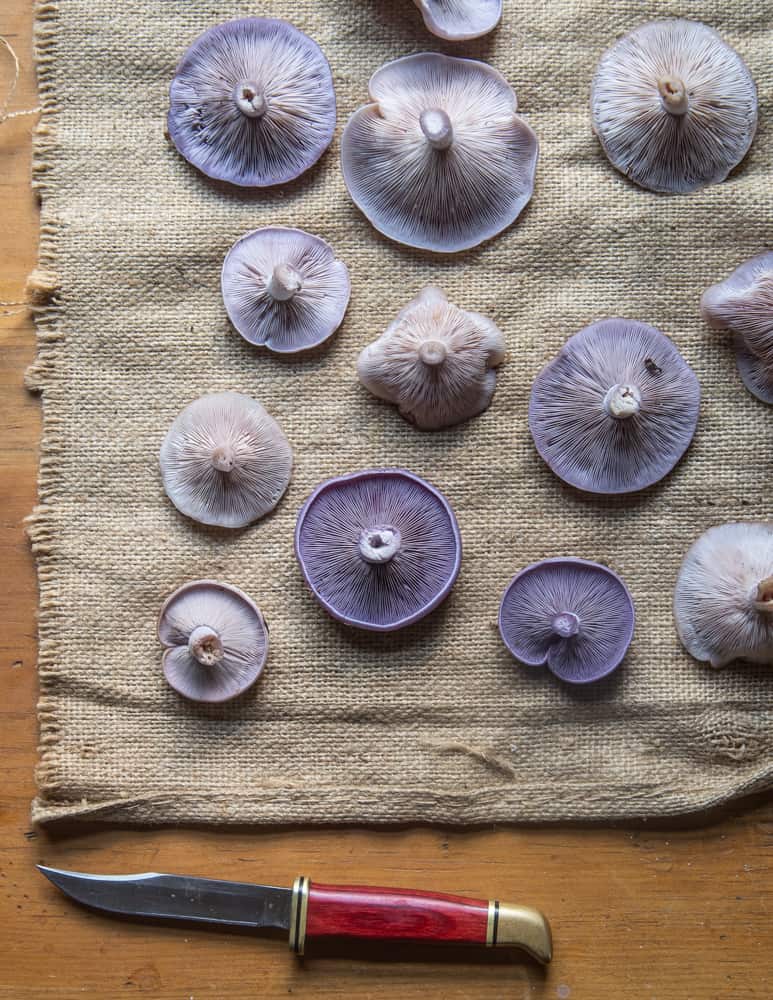 In a field guide, pictures of blewits show elegant, deep purple mushrooms, and aroma that's often compared to fruit, frozen orange juice, perfume or lilacs. Those characteristics are true sometimes, but not always. I love these mushrooms now, but identifying blewits with enough confidence to eat them took me years.
Habitat
Come October in Minnesota or when the weather gets cold I'll start to look for these. Blewits grow on debris and forest duff, so piles of leaves and pine needles are a good place to start looking. One of my best patches has mushrooms growing with pine needles.
A secret I have is that the most dependable place where I find most of my blewits growing is wood chips. During the season I've been known to drive around to every park I can find looking for landscaping and wood chip piles. More often than not where there's wood chips, there's blewits. Woods with a layer of pine needles come in a close second.
Multiple Harvests a Year
Blewit patches can fruit multiple times if they get enough rain to initiate fruiting during their season. When I lived close to a patch in the city, once I knew they'd started to show I'd check all of my patches a couple days after each rain, especially heavy downpours. David Arora writes that cut stems can regrow with the right conditions.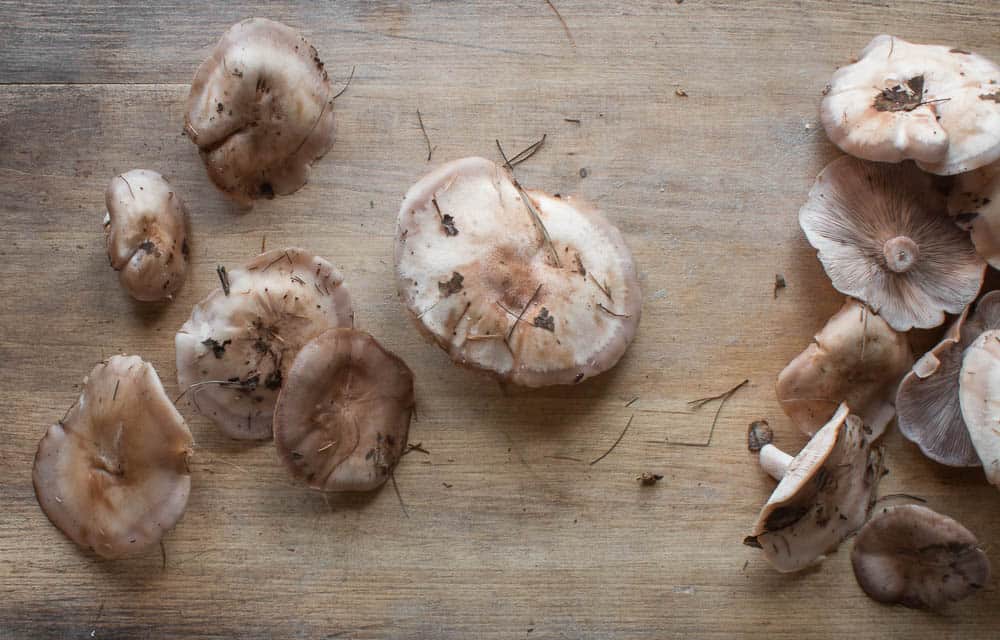 Identification
Looking at images of the purple mushrooms in my mind from field guides was confusing. If you take away only one thing from this article know this: blewit color is variable, and they will change color as they grow. In the book 100 Edible Mushrooms, Michael Kuo points to the color transformation is one of their distinguishing features.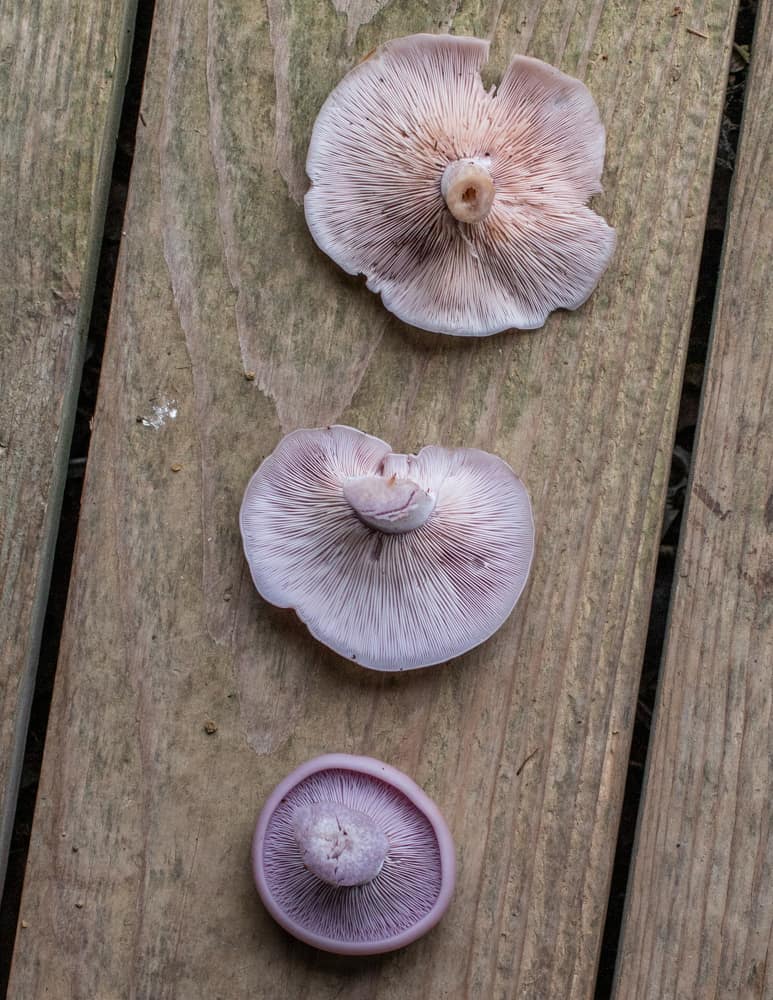 A golden chanterelle is a bright, egg-yellow during its entire growth cycle. The color of blewits varies, and depending on the age they can be lilac-colored, purple-ish, deep purple, cream-colored, or nearly brown.
Look A Likes
Once you think you're found blewits you need to know how to how to rule out imposters. Amethyst deceivers (Laccaria amethystina) can be confused with blewits, but they're edible. The big one, what you need to recognize to be safe, are dangerous Cortinarius species like purple corts (C. plumbviolaceous and others).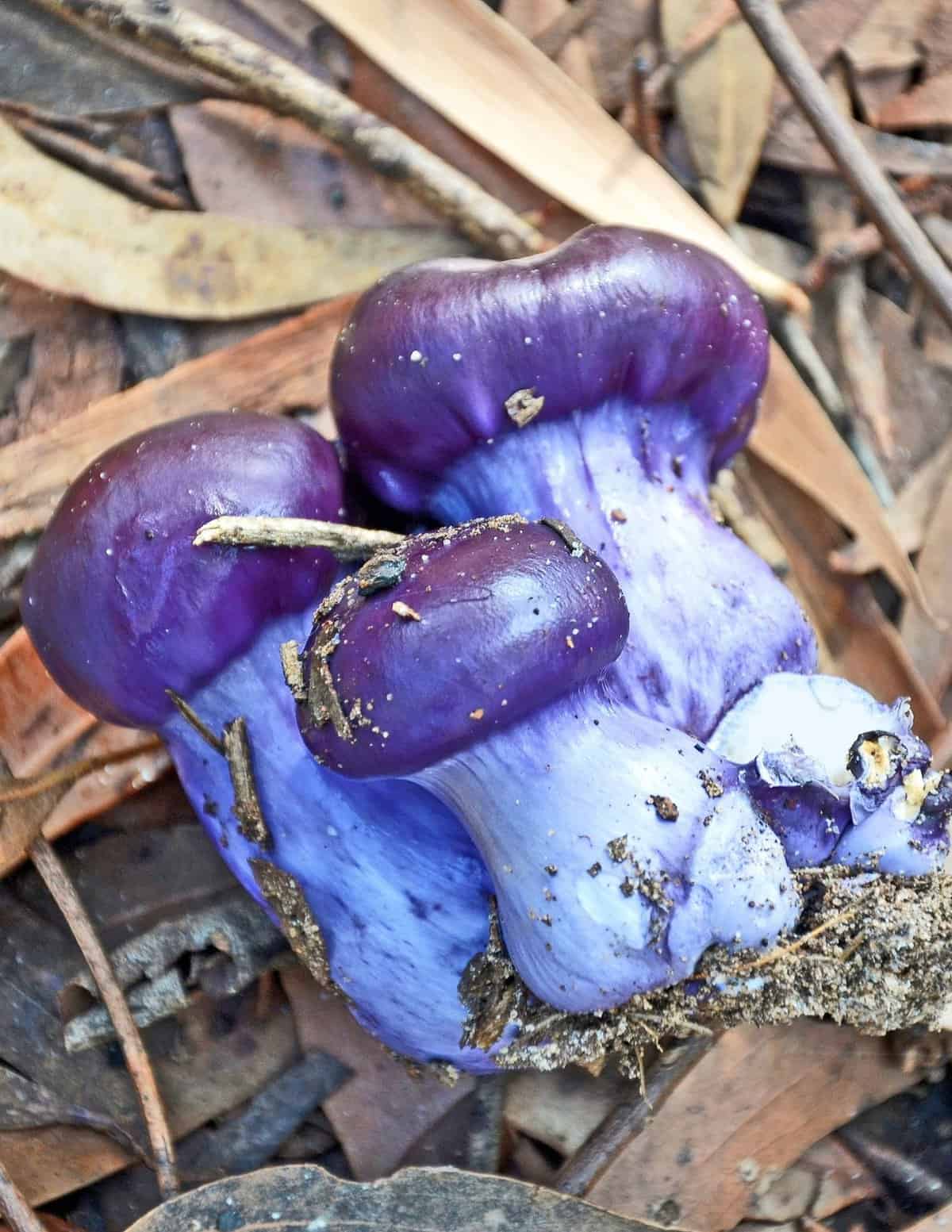 Some people eat violet corts, but it's best to avoid them unless you're an experience mushroom hunter. Clitocybe brunneacephala is said to look similar too, but it's edible and I've never come across it. Telling the difference between blewits and cortinarius isn't difficult once you get the hang of it. Looking for the cortina is often the easiest way to tell.
Cortinarius vs Blewits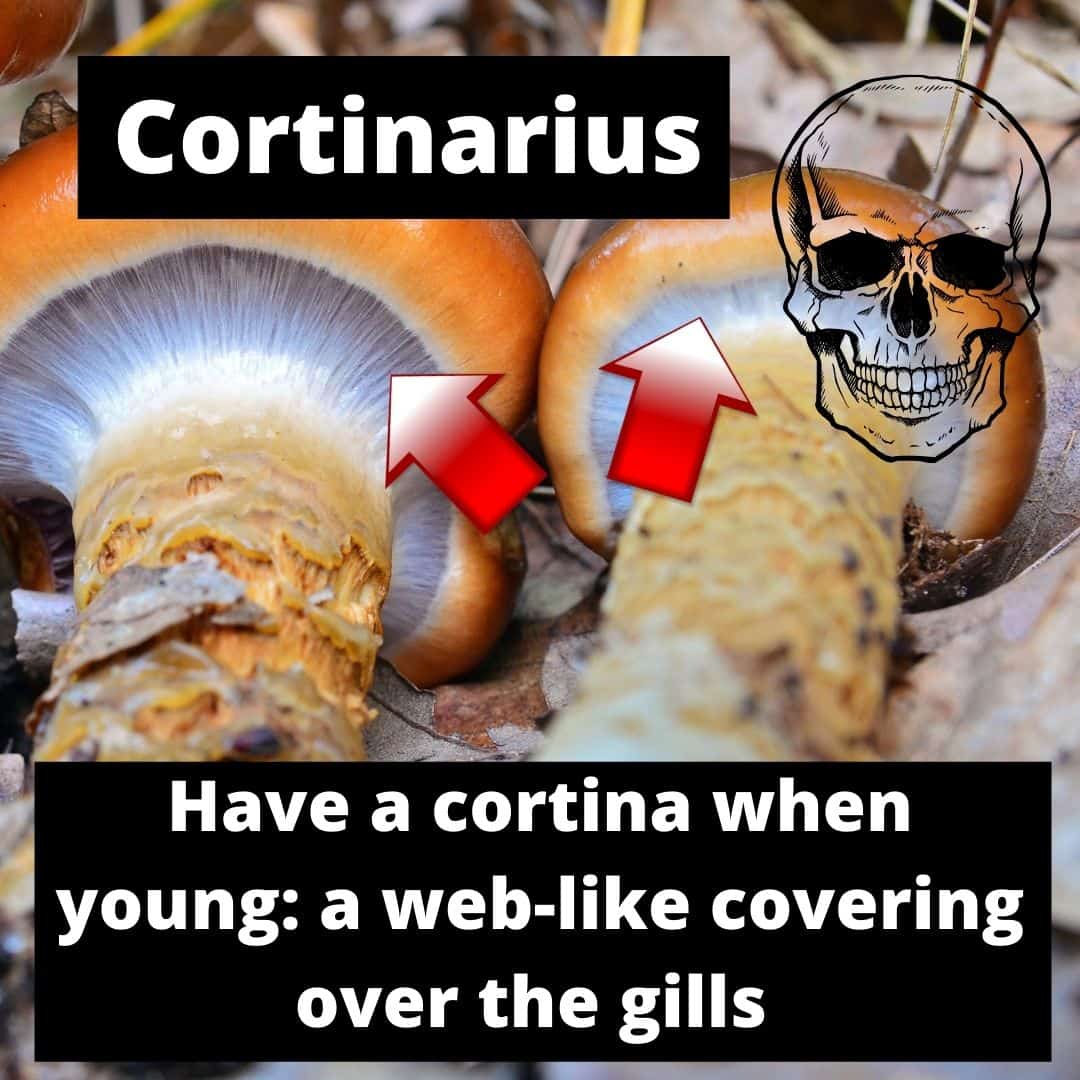 Cortinarius
Species of cortinarius have rusty brown colored spores
All cortinarius have a cortina: a web-like ring or veil covering over the gills when young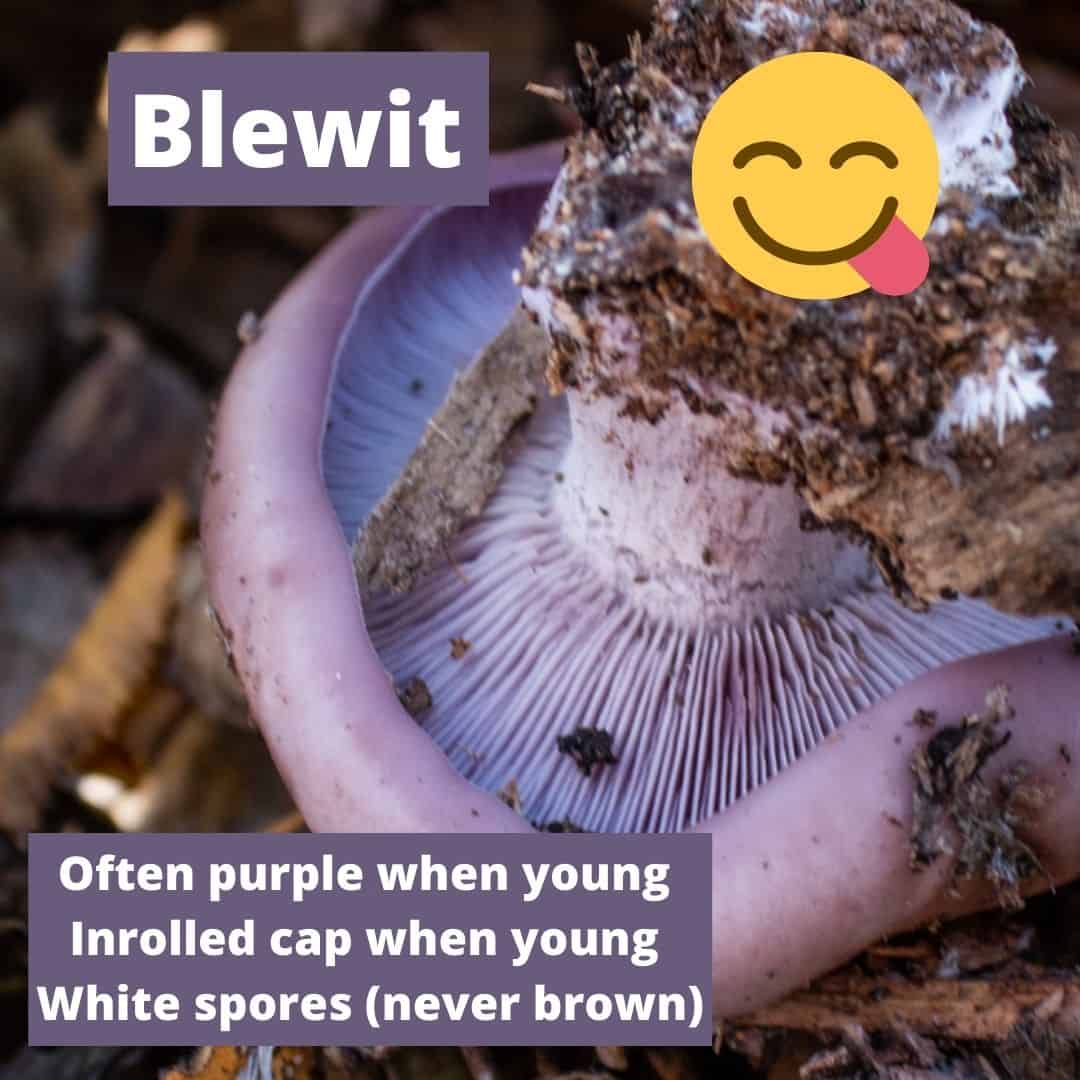 Blewits
They have tightly spaced gills, with a notch before they touch the stem
Seem to grow randomly in leaf litter or other organic debris
Have a delicate fruity smell
Often have a thick wavy edge on the cap when young
Have a pinkish-white spore print-never brown (Cortinarius) or deep pink (Entoloma)
Clumps of debris usually come up attached to the stems when removed from the ground
Often have wavy cap margins, especially when young
Lose the purple or lilac color as they age
The cap has a subtle felt-like texture and can feel slightly tacky when wet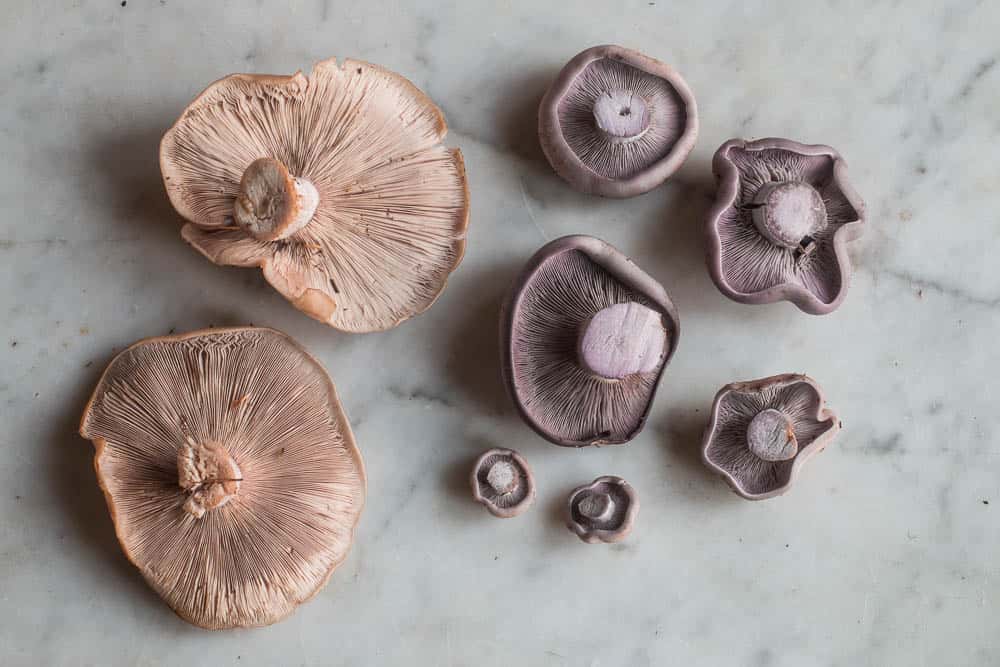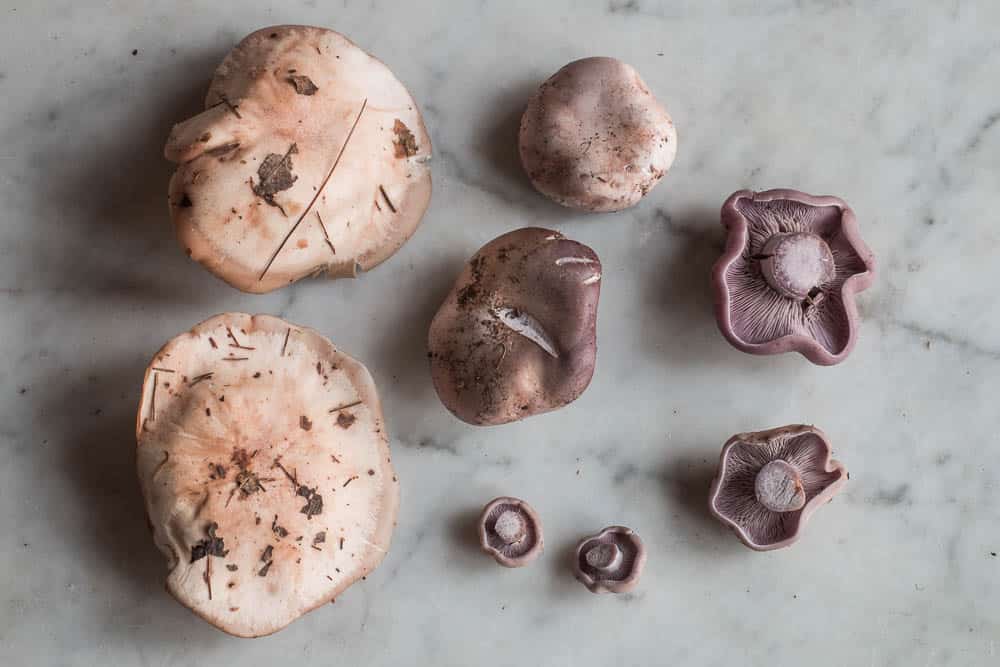 Cultivation
Bewits are sold commercially by wholesalers to chefs and restaurants. Commercial blewits are usually different from the wild ones and are often Clitocybe saeva (formerly lepista saeva) also known as the field blewit or blue leg, due to its blue stem. All cultivated blewits I've cooked have tasted watery and bland compared to wild.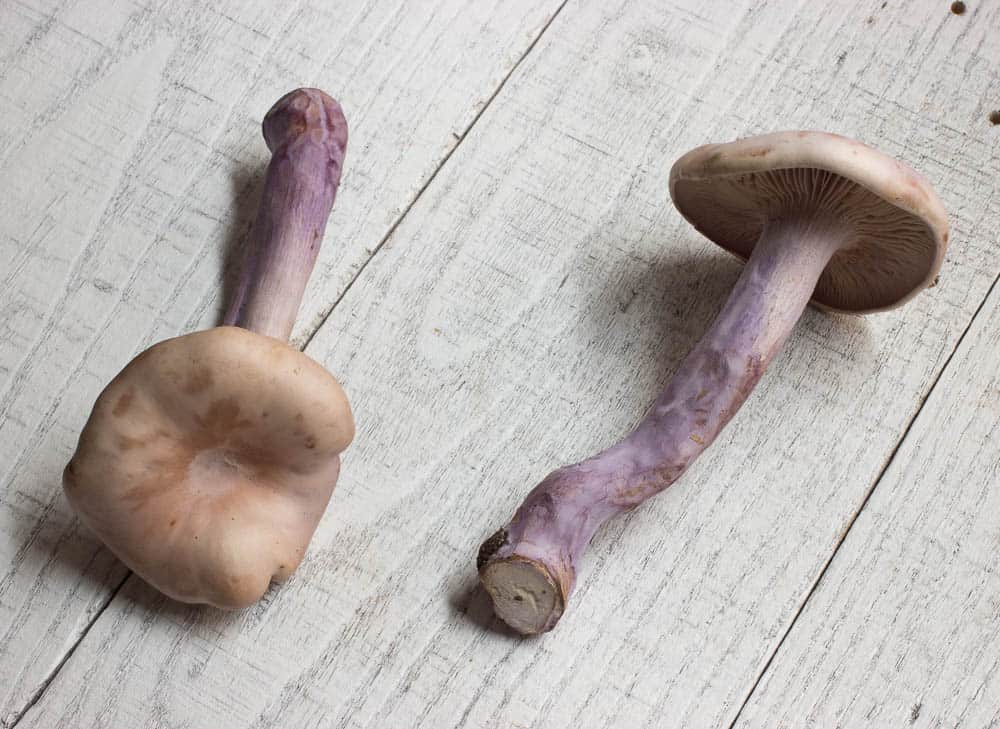 At home, you can grow blewits in your backyard on wood chips or compost piles. In his book 100 edible mushrooms Michael Kuo says blewits can even be grown on a pile of old newspapers! Stories like that have probably contributed to them being called "trash inhabitors".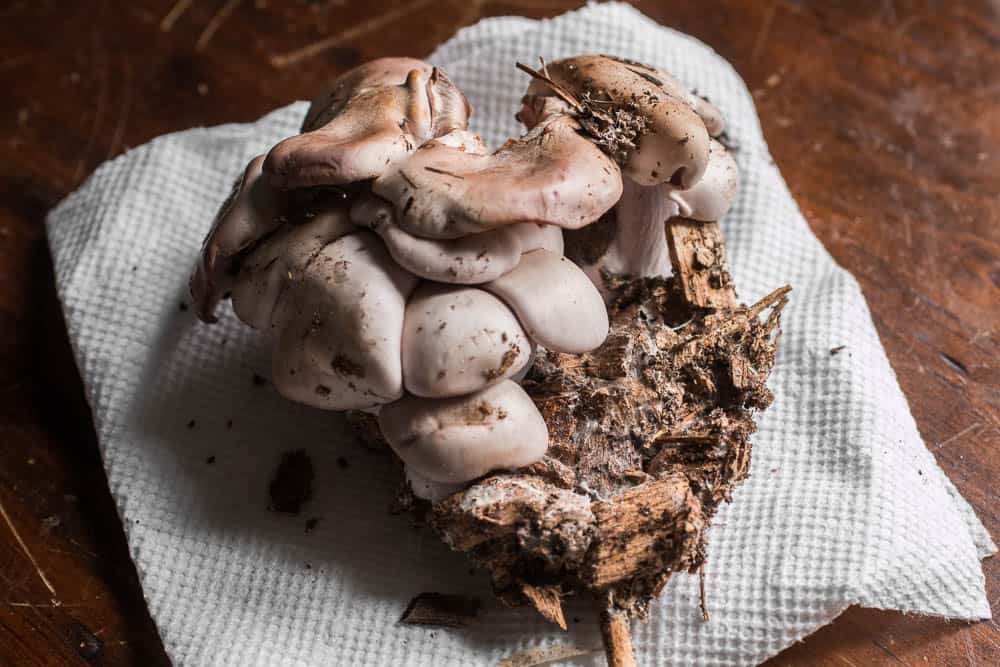 To grow blewits all you need is mushroom spawn. I buy my spawn from North Spore, and if you want to grow your own there's a link to their site at the bottom of this post, although there's more than one company that sells spawn.
Another option is to do it the old fashioned way. I know more than one person who's had grown them in their compost heap from discarded mushrooms.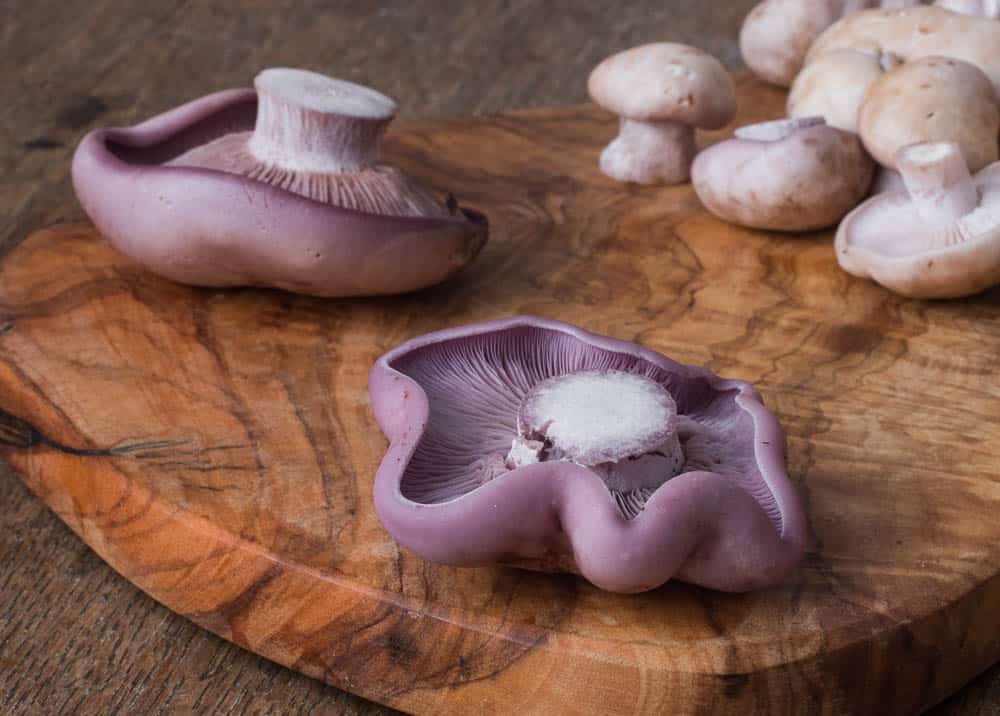 Cooking
I'd had other chefs tell me that blewits were a very strong flavored mushroom. I find them to be mild, delicate and subtle, with a great chewy texture if you leave them whole or in large pieces. Here's a few key points on cooking them I think are helpful:
Like some other wild mushrooms, blewits must be cooked thoroughly, and never eaten raw
If you get too creative all you'll taste is the texture of a mushroom and no flavor
Instead of reaching for the garlic try a shallot
While they're good cooked in a cream sauce like other mushrooms, I like them best cooked simply
Young mushrooms and buttons are the best-cook these whole or in large pieces to preserve their texture
Subtle flavors are the best here. Before you reach for garlic, grab a shallot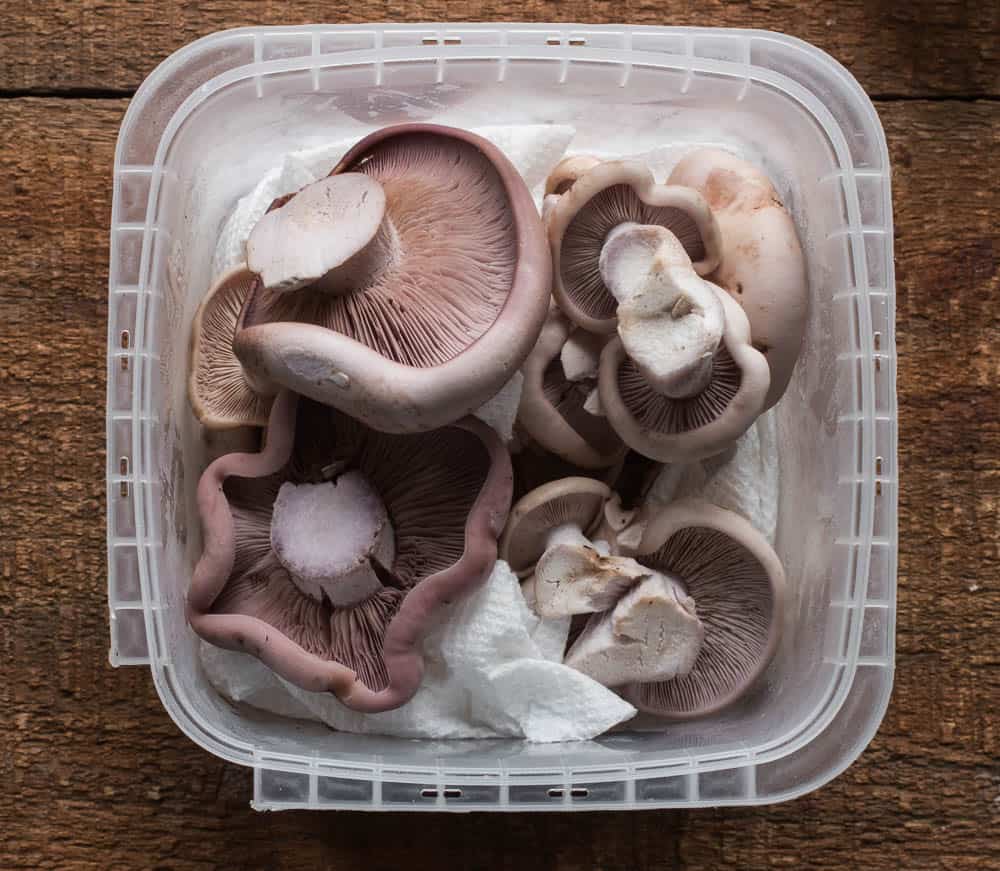 Dry Saute Technique
Most mushrooms contain a decent amount of water. Blewits contain a lot, especially after heavy rains. This makes them the poster child for the dry-saute technique, and it's a great place to start if you haven't had them before.
To make dry-sauteed blewits, put your mushrooms into a pan without oil, turn on the heat to medium-low, and cook until the mushrooms have released their water. When the pan starts to look dry, add butter or fat, salt, and other seasonings, like chopped shallots.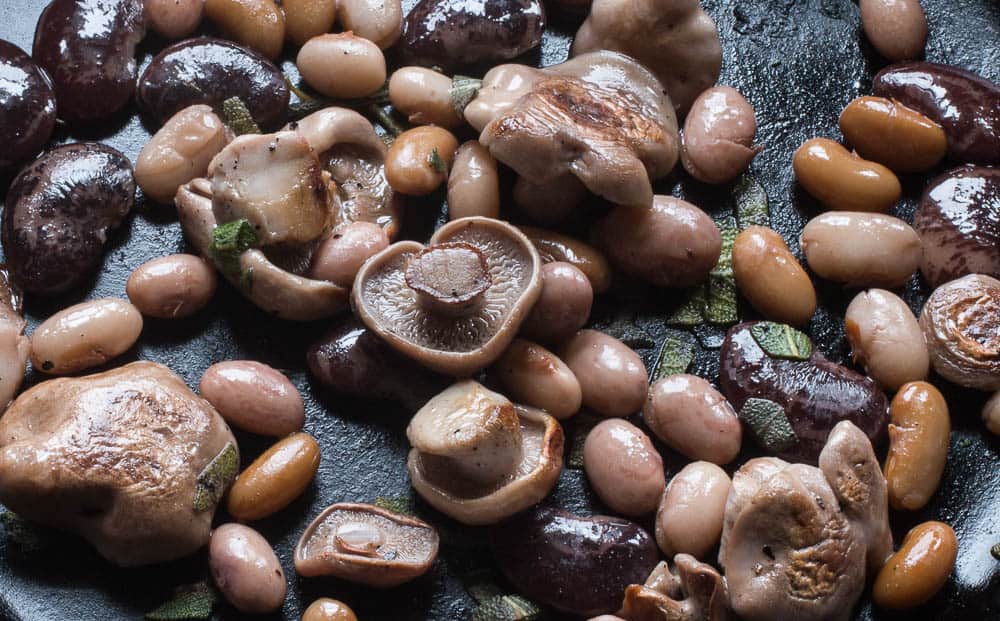 The wet saute works good with blewits too. To do that, start the pan with a splash of water and cook until the pan is nearly dry, then proceed as for the dry-saute.
Preservation
Whole or halved, young blewit buttons make great pickles. They're also good in soups or stews, and just about anywhere you'd use mushrooms.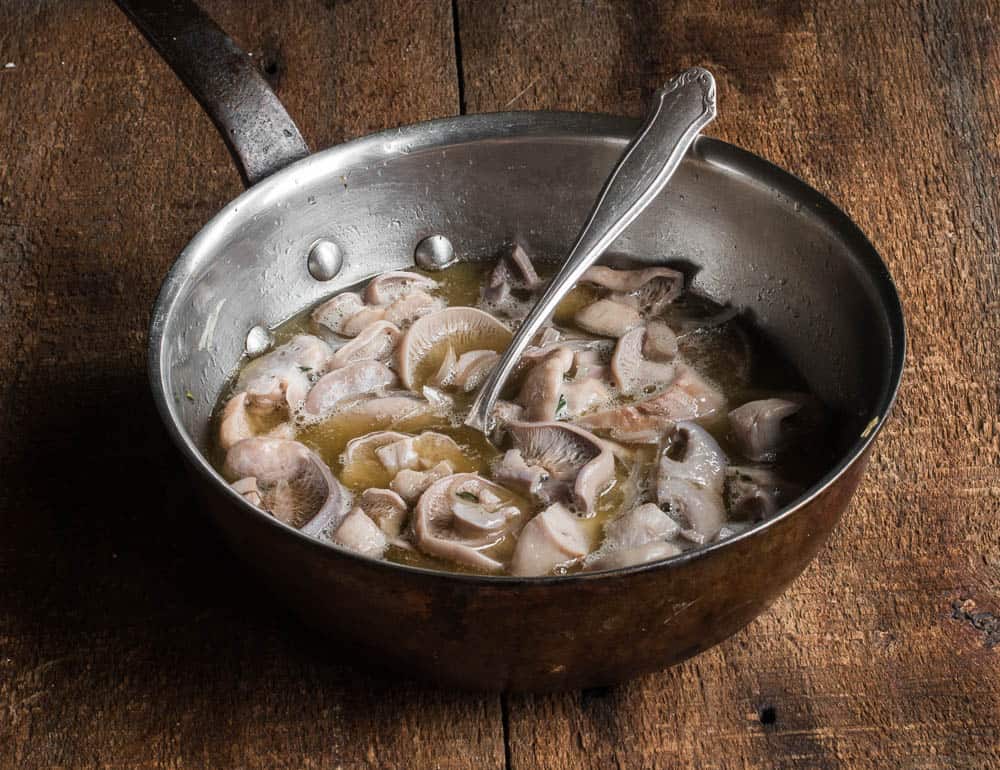 Blewits can also be dried or dehydrated, and I often do that with older mushrooms when I have a large harvest. The dried mushrooms can be used in soups, stews and sauces.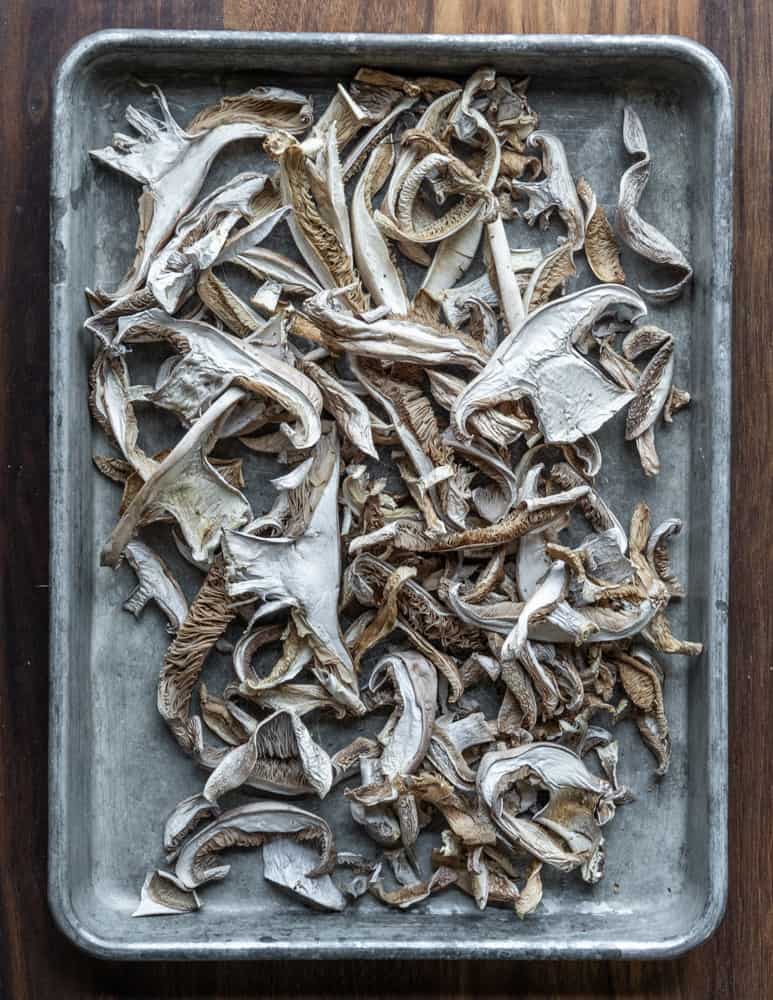 Recipes
Here's a few places I use these, as well as some of my favorite blewit recipes.
More
35 Essential Wild Mushrooms Every Forager Should Know
References