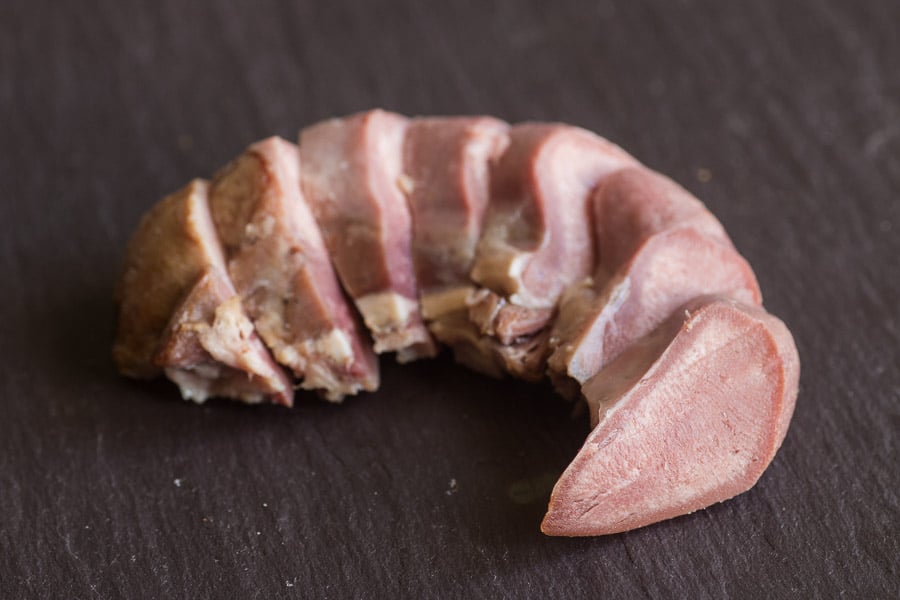 I'm in the middle of shooting a video series for Shepard's Song Farm, mostly based around organ meats. There's currently 10 lbs of tongues in my fridge, and more showing up in a few days. For the series I did a version based on my favorite Argentinian style marinade, but I had a few extra laying around to play with so I tried out a couple things too.
I wanted to develop a dry cure that I could put on the tongues without having to fit a gallon of liquid in my fridge, since it's already packed with meat. After two rounds of testing I have one that I like, it's a blank slate for adding other ingredients or flavors, or it can be used all by itself because smoked meat should be about 2 things: meat and smoke, well, and a little salt too.
After the tongues are cured, I wanted to smoke them. The only problem was currently I'm without a restaurant, and with it, the ease of telling my prep cook to smoke XYZ before I come into work. Thankfully my girlfriend has a great little fireplace, and I figured I could Macgyver an at-home, low-tech hot smoker, I did, and it was easy. I've been planning on putting up a post on how to smoke things at home (without a smoker) and a couple recipes, so I'm not going to go too in depth here. The jist is: just because you don't have an expensive smoker doesn't mean you can't have world-class smoked meat for your family at home.
If you have a smoker, you can probably smoke them a lot longer than I did here (about an hour) and they'll eventually develop a nice smoke ring and be a lot darker in color. I had some farm tobacco that I'd dried and soaked I added to the fireplace embers to add some oomph to mine since they were only going to smoke for a short amount of time since the fireplace was warm and would've dried out my tongues if I left them in all day. My advice: smoke your tongues however you like, with whatever you have available, necessity is the mother of invention.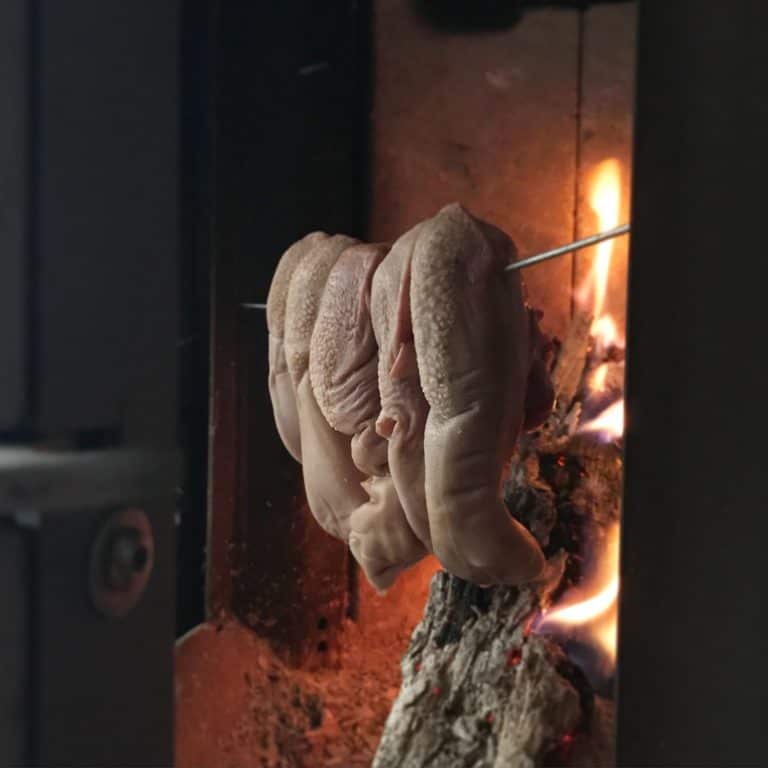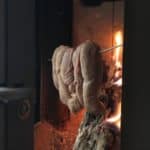 Print Recipe
Cured, Smoked Lamb or Goat Tongues
Ingredients
For the brine
½

gallon

water

½

cup

salt

⅛

cup

pickling spices

optional

½

T

pink salt

1/1

lb

brown sugar

1-3

lbs

lamb or goat tongues
For finishing and braising
1

tablespoon

pickling spices

optional

1

bulb garlic

halved

4

cups

large diced carrot

onion, celery,

Water

to cover
Instructions
For the brine, toast the spices, then combine with the water, sugar, and salt and bring to a boil. Chill the brine, then submerge the tongues in it for 5 days.

After five days, remove the tongues from the brine, smoke for an hour at about 150-200F or longer at a lower temperature, then cover with water add the vegetables and spices and simmer until very tender, about 2.5 hours.

Cool the tongues in the liquid, strain the liquid and discard. Peel the tongues, wrap tightly in plastic, label, date, and reserve until needed. The heart can also be frozen or will keep in the fridge for 5 days.