Ever wondered what the odd-looking pieces of goat meat with bones were at your local Middle Eastern market? They're bone-in goat meat, and they're one of the most traditional cuts of meat in the world.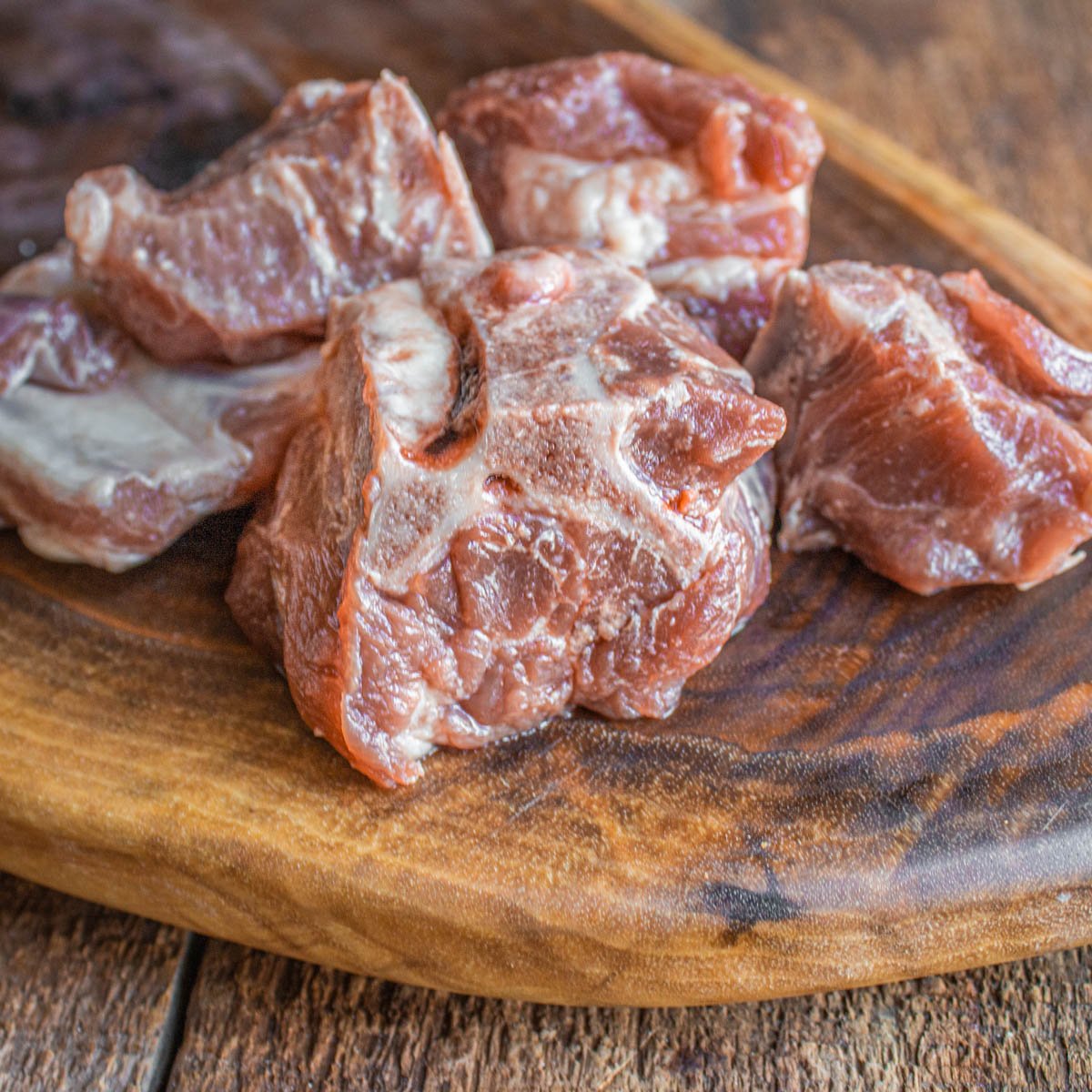 I was trained to butcher animals in the classic western style, anything different was heresy. That is, for the most part animals are separated into ¼'s (quarters) and from there into sub-primals, separating out whole muscle groups: loin, top round, bottom round, sirloin, whole ribeye, tenderloin, etc.
It's always made perfect sense to me that we separate muscles since most of them don't have the exact same cooking times, and the bones must to be used to make stocks and sauces.
By Western logic, you're not going to grill a lamb shank, and you're not going to serve a 25$ chicken breast entrée connected to the ribcage that you could've put in the stock pot.
Doing something like chopping up a whole animal and putting it in a piles like you see at halal meat markets seemed to me a plebeian, unrefined, technique that evolved from poverty in third world countries. Now, I'm embarrassed of what I see as an Anglo-centric view of meat that I held.
Goat was no different to me than any other animal and I'd cooked every piece from the brain to the balls over the course of my career, although I knew the sub-primal cuts were significantly smaller.
It wasn't until 2017 that I found I didn't really know as much about them as I thought. I got contracted to be the face and recipe developer in a video series for my favorite goat & lamb farmer (Shepard's Song). One of the cuts I was going to use I hadn't worked with before, but it sounded straight-forward enough: bone-in goat meat.
After I cooked a batch like classic American Dinty Moore stew, picking through root vegetables and meat for bones to discard as I ate, I found myself thinking thoughts American cooks would have if they purchased cooked, and ate it:
"Why are there so many bones in my goat meat?"
"I don't want to pay for all these bones, this is a rip-off, where's the meat?"
The answer to those questions was paradigm shifting for me. I don't know when I had my "aha" moment, but studying world-wide goat use helped. To help break it down for you, consider some reasons humans keep goats around the world:
Goats:
Can be eaten, and are delicious!
May be a beast of burden for moving and traveling
Can have world class fur that's useable for fiber and all sorts of things. Remember cashmere?
Produce dairy that's easier for many to digest than bovine
Are natural foragers and weed-wackers, programmed to find food all over the place
Are portable, and easy to move, alive or after processing compared to larger ruminants
There's been a number of quotes and statistics saying that goat is the most eaten meat around the world. I doubt that it's by volume, since America is full of over eating decadents.
But, when you consider that goats can be raised with a minimum of feed inputs as they're scavengers, and that they're standard fare in about every culture but America, you can uncover a different picture.
The people eating goat around the world aren't eating 2lb goat burgers, they're probably eating it stewed somehow, because it's the best way to stretch the meat and extract nutrients from the bones, and stemming from that, is the most tradtional way to cook it.
The meat on a carcass is a lot less than something like a cow, chicken or pig we've engineered to have extra weight. Pound for pound:
Cutting goat meat into bone-in pieces is the most efficient way to use the animal.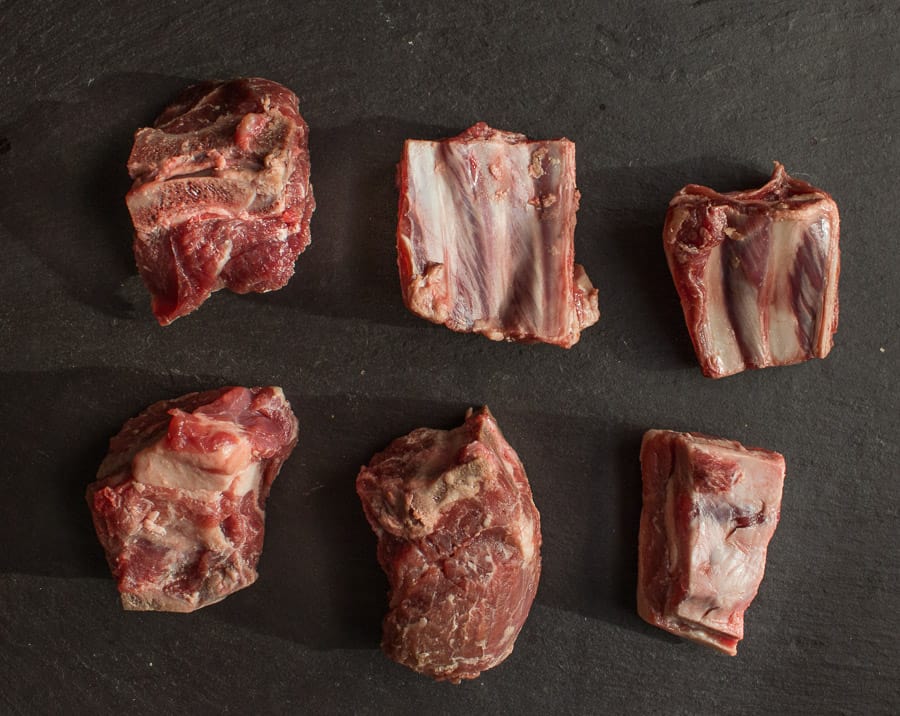 Anyone can cut up a goat and cook it, anywhere
Not only is it efficient, but unlike butchering a pig or a cow, breaking down a goat into manageable pieces can be done alone, by one person anywhere in the world, and with only a single tool: a cleaver.
The entire carcass is just whacked up into roughly equal sized pieces, and cooked, with little to no waste (I can't speak for the head here, but I don't think it's in the meat I get from Shepard's Song). Either way, Its insanely efficient compared to the way we treat animals in the U.S for the most part.
What's it like to eat with all the bones in it?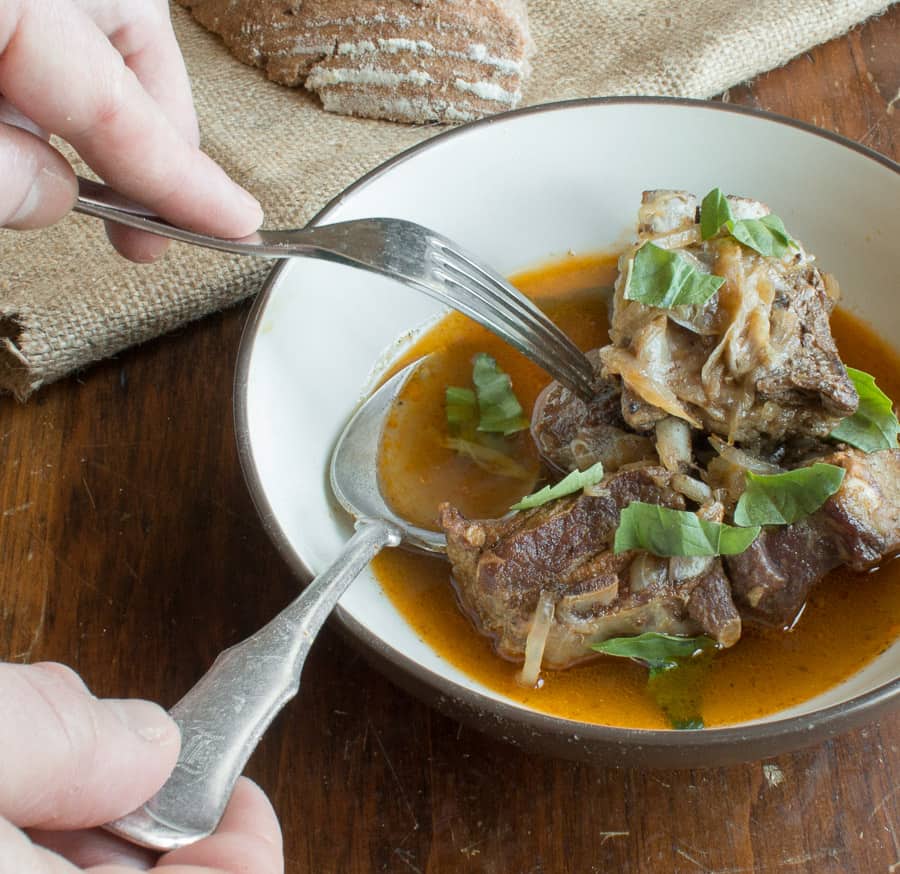 It's different from most Western methods of consuming meat I've had. There's a couple things I think it's good to consider:
1. The high proportion of bone means to extract the most nutrients from it, the meat should be cooked into a soupy-brothy type dish. For the logistics of eating I think it helps if it is a simple broth with a vegetable in it here and there, nothing too complicated so you can easily see where the bones are. Given the combo of meat, bones and broth, I think it's best to serve with a spoon and fork, along with a separate dish for the bones on the side, just like you would serve with a dish of mussels or clams.
2. Working around the bones, hunting for the succulent pieces of meat isn't a chore if you do make it out to be. My girlfriend thought it was nice since being careful as you eat helps you slow down, be in the moment and appreciate the quality of what you're eating. Useful to think about if you're a chef who eats like a shop-vac in between services over a garbage can.
So how do I cook it?
Here's some guidelines
1.Because there's a good amount of bone, you want to cook it in a wet preparation, or a soup, for example my pepper soup recipe I have pictured.
2.Thick creamy sauces can make it easier to crunch on pieces of bone, which can be unexpected, and off-putting for some eaters.
3. Dishes with lots of little additions, like my American style stew with all it's diced root vegetables, can be difficult to eat with this cut because you can get pieces of bone in with a bite of the diced roots.
4. I brown my goat meat before braising, but a lot of other cooks don't. I do recommend it though, it will improve the flavor of the broth.
5. Look online for recipe inspiration, Goat Pepper Soup and Jamaican Goat Curry are two time-tested classics.