Going to the farmers market always gives me inspiration. It's fun to not have a set idea of what I want to cook and just let my instinct (or cravings) guide me.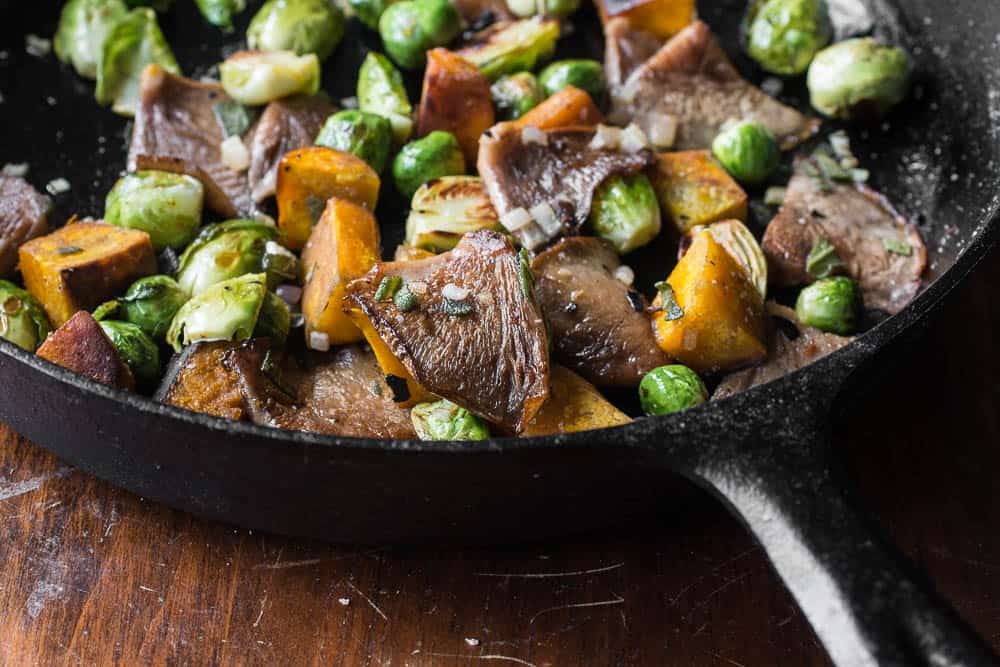 One week this past fall, with a big bag of blewits burning a hole in my fridge I was on the look out for some simple veggies to make dinner with. I grabbed some of my favorite squash (kabocha) and a stalk of Brussels sprouts. I made a simple dish out of them later, and it was one of the most satisfying things I made all fall.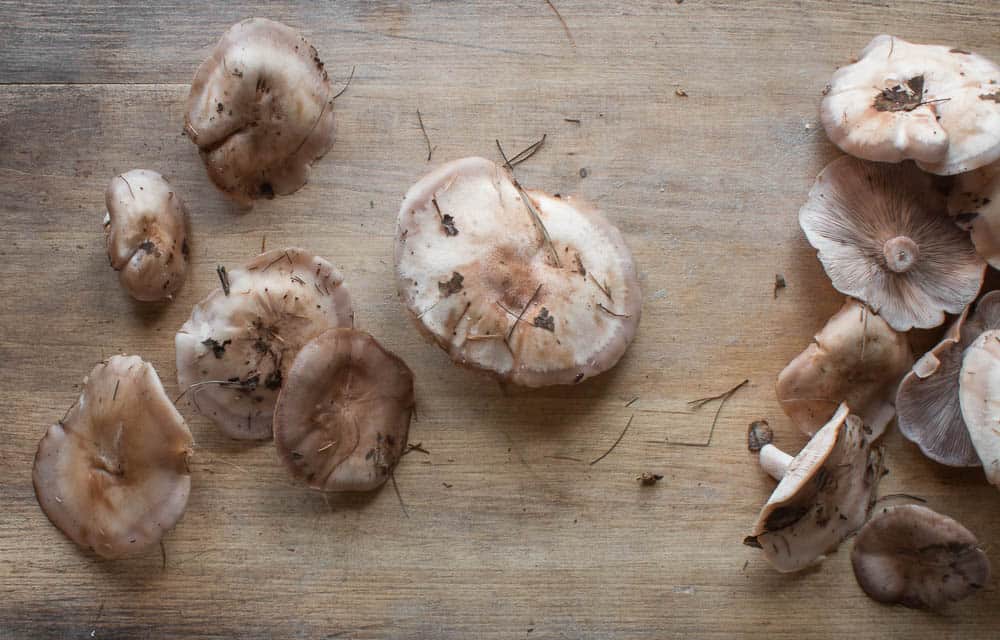 Even though there's only three main ingredients, cooking some simple veggies, and cooking them well can take more attention to detail than you think. Basically you have three different ingredients, mushrooms, Brussels sprouts, and winter squash, each with a different cooking time that you want to be at the perfect stage of doneness at once. Now, allow me to bore you with a few paragraphs on the finer points of cooking squash and Brussels sprouts as I see it.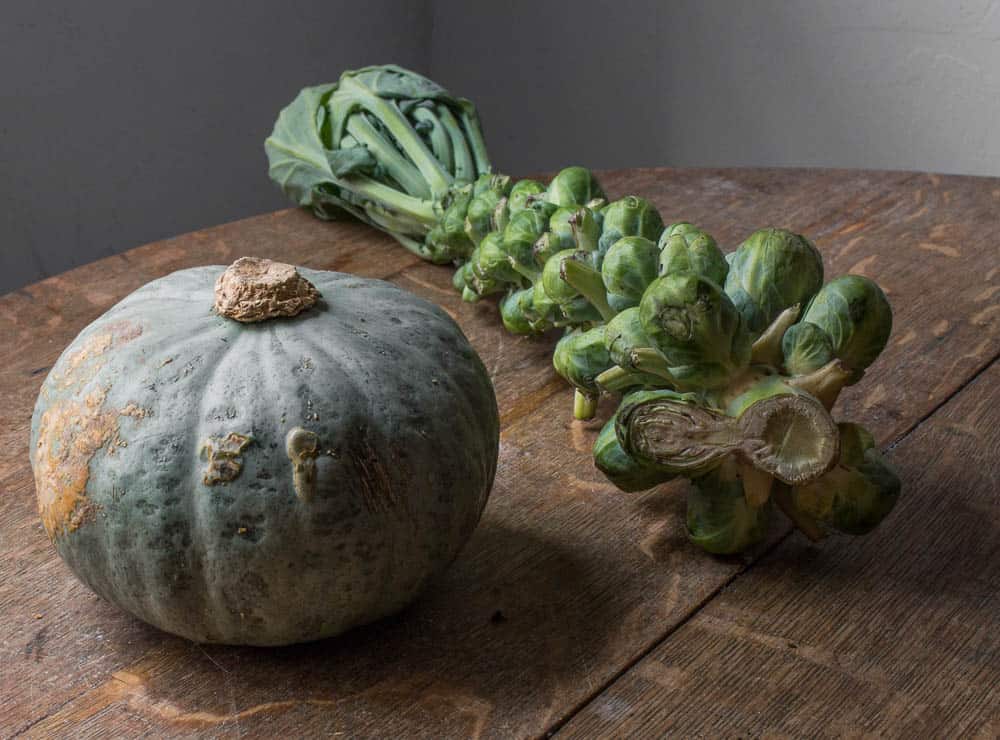 Cut vegetables into similar sizes for even cooking
The first step I do is trim down the vegetables into equal sized pieces (if possible), to ensure reliable cooking time. For the squash, they need to be peeled, then trimmed down into equal sized pieces. The brussels sprouts need to have their roots trimmed, loose or discolored leaves discarded, be halved or left whole depending on the size, and have the root scored with an X if they're large, since having a large root in some will mean they take longer to cook. The mushrooms are the easiest, clean them, rinse any debris off of the capes, trim the stem, and cut into ½'s or quarters depending on size, leaving them in large pieces gives more flexibility with their cooking.
After everything is trimmed ahead of time, you just have to apply some heat, and season.
The Squash comes first, warmed up in the pan, then put in the oven for a few minutes since the direct heat from a saute will probably end with squash burned before it's cooked through, unless diced very small. After that comes the brussels sprouts, then back into the oven.
The blewits need to be cooked on high heat, quickly in a separate pan, for a few reasons: 1. They could overcook and dry out if cooked with the squash and brussels sprouts. 2: Mushrooms thrown into the pan with the squash and sprouts at the end could make steamed mushrooms, and could add unwanted moisture to the pan, even making things soggy if they've soaked up too much moisture.
After the mushrooms are quickly browned, the whole shebang gets combined into one pan and tossed with some shallots, fresh sage and a knob of butter, cooked for another minute or two to temper the shallot and sage, then served.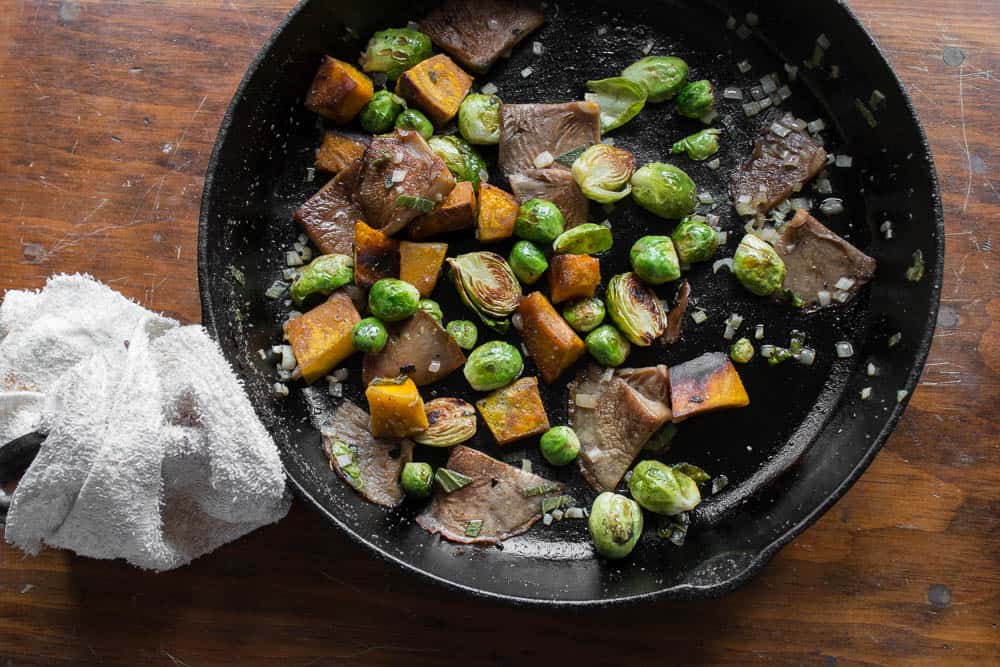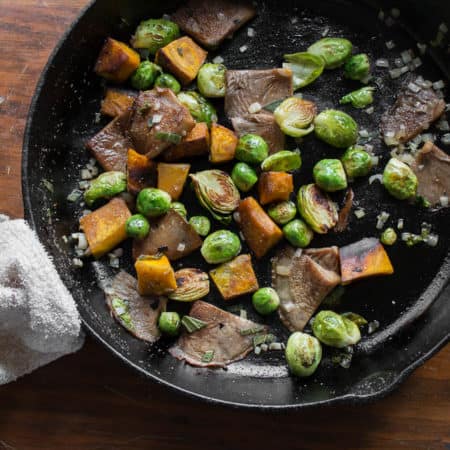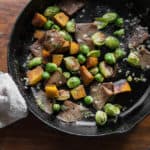 Print Recipe
Pan Roasted Blewits with Kabocha Squash, Brussels Sprouts and Sage
A saute of squash, blewit mushrooms, and Brussels sprouts
Ingredients
2

cups

Brussels sprouts

stems trimmed and scored, larger sprouts cut in half, smaller sprouts left whole

2

cups

kabocha squash

peeled and cut into 1 inch pieces

3

ounces

fresh blewit mushrooms

cleaned, washed if needed, caps ¼rd (This was roughly 4 large mushrooms for me)

Kosher salt and fresh ground black pepper

1

tablespoon

fresh sage

sliced

1

tablespoon

shallot

diced ¼ inch

½

cup

flavorless oil

plus 1 tablespoon unsalted butter for finishing
Instructions
Preheat the oven to 350 degrees, then add half of the oil to one large 10 inch saute pan. Add the squash to the pan, then cook on medium heat for a few minutes, stirring occasionally to coat them with oil.

Season the squash, then put the pan in the oven and roast the squash for 5 minutes.

Take the pan out of the oven, move the squash to one side and put the brussels sprouts in the pan with the squash, cut side down. Add a little more oil if the squash soaked up too much.

Put the pan back in the oven and cook for another five minutes. Meanwhile, heat another pan with the remaining ¼ cup of oil until lightly smoking, then cook the blewits until browned and nicely colored, about 3-4 minutes.

Season the blewits with salt and pepper to taste. Add the blewits, shallots, sage, and butter to the pan with the squash and sprouts, then, cook until the shallots are translucent, about 2 minutes, stirring occasionally.

Season the mixture to taste with salt and pepper, then serve immediately.
Notes
A great side dish to a main course, or the start of a vegetarian entree here, it's a simple combo of fall ingredients. You could easily switch the sprouts out for something else, like kale tossed in and wilted at the end, or cabbage. You will need two separate pans to make this.
More