You can eat green or unripe butternut squash, as well as other gourds. They make a good substitute for zucchini. The first time I harvested them though, it was by mistake.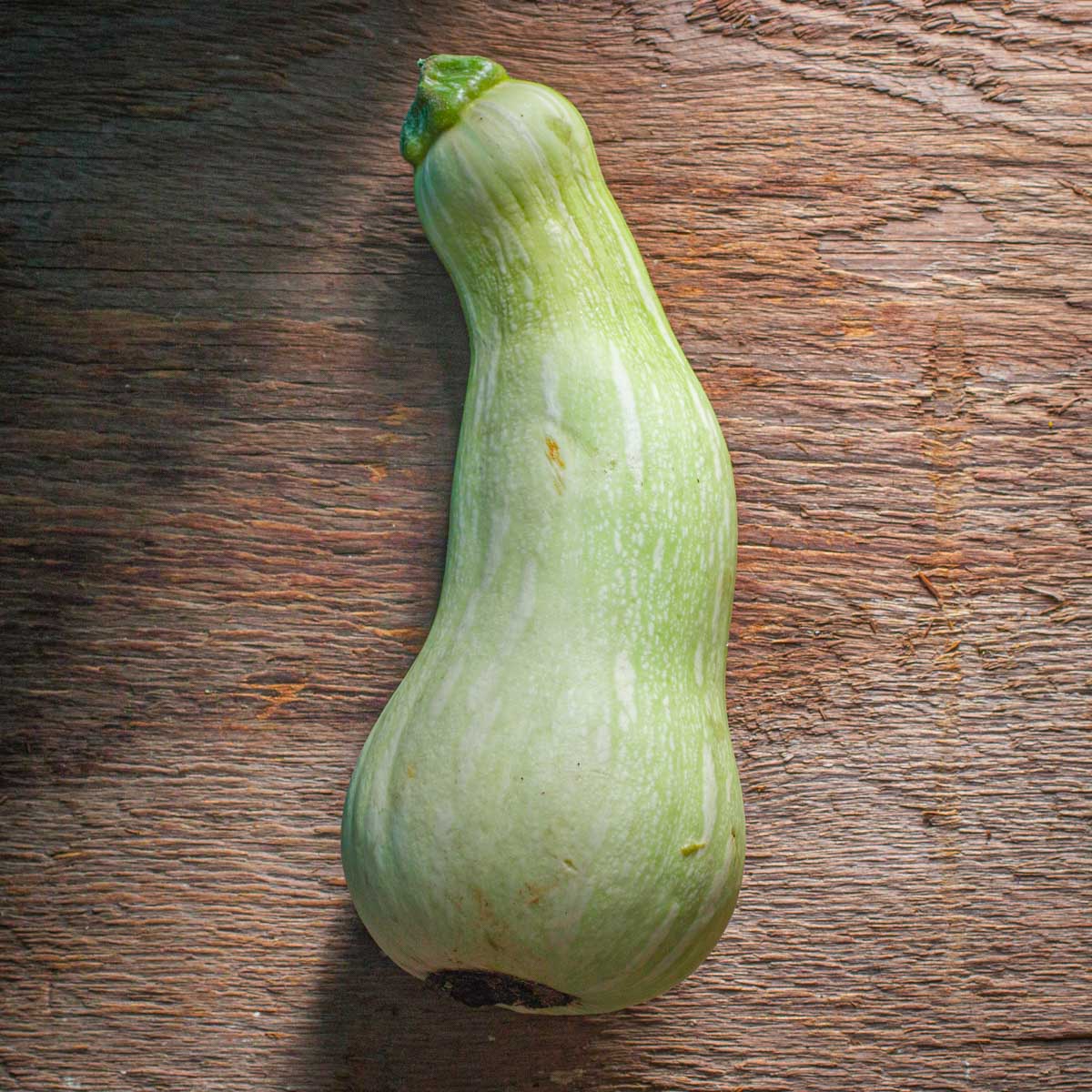 "OH MY GOD! The zucchini-looking squash are huge, I better act quick so they don't get tough!" I filled my arms with giant, bulbous heirloom squash and trucked them to my car, a couple of times.
There comes a point where I'm ok with shredded zucchini bread, pancakes, fritters, latkes, dumplings, noodles, dried coins, kimchi, pureed soup and stuffed boats. But, at the beginning of the year, all I want to do is cook the smallest tiniest summer squash, those butter soft ones, with immature seeds so tender you forget they're there. Too bad what I had just picked was not summer squash.
After a couple trips I went to close my hatchback and took a minute to look at the squash in the backseat. They were some kind of heirloom I couldn't determine, something I hadn't seen before. Wait. Some of the squash had bulbous bottoms. All of the squash were evenly long-necked, and kind of looked like, butternut squash. I had just picked a trunkful of green butternut squash. "Alan you are, an idiot" I thought.
Embarrassed, I sped an hour to the cities, brought them to the kitchen and unloaded them. There was no way I was going to let a silly mistake of mine ruin the squash harvest in the garden. It might be tricky, but I had to figure out something. Then, I had a revelation:
Continual harvest of squash and their shoots throughout the season
"In Nepal, they eat the young squash shoots, as well as the ripe squash. If I were living in Nepal, or another place around the world and farming for subsistence, would I only eat squash if it was ripe, or would I harvest anything and everything I could during the growing season to feed myself and my family, eating as many stages of squash along the way as I could, and the tender growing parts that go along with it?"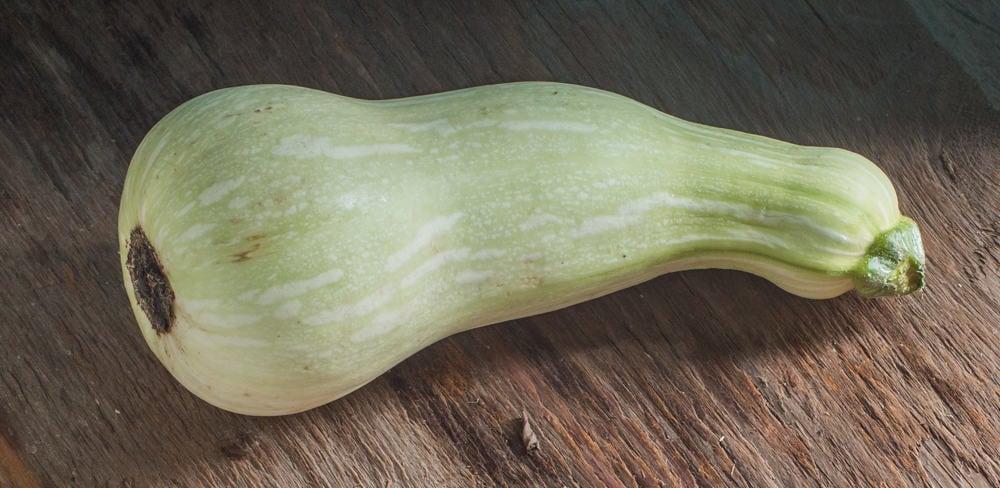 Unripe, they taste like summer squash.
The next day I cut one open, and cooked it a couple different ways to see how it took things, then came up with a plan. The squash was green and unripe, but it wasn't inedible, it was actually good, and without any of the extra starchiness I thought I might get from it being unripe.
It was a little like zucchini, the sweetness hadn't developed yet, so it was definitely more savory-oriented and more firm, but not tough, just with a longer cooking time.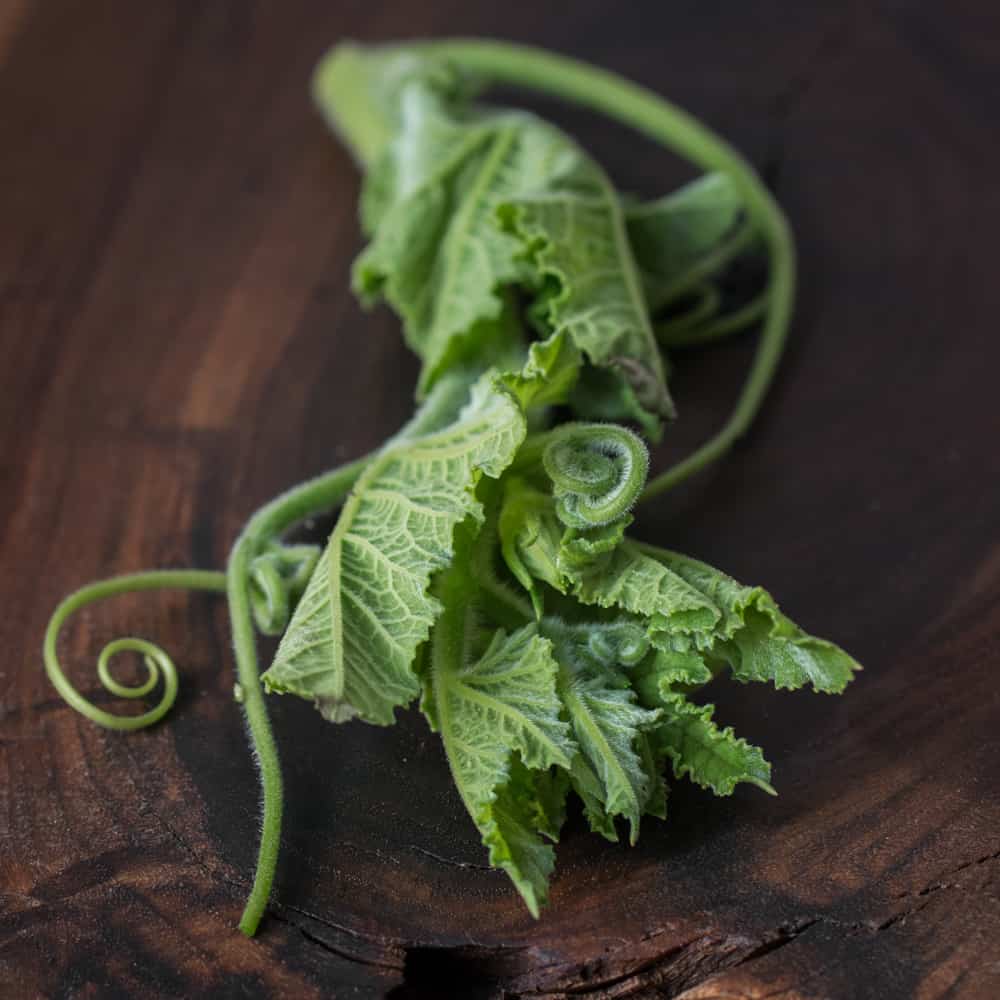 I cooked it a few different ways and settled on an old agro-dolce prep we used to make at one of the Italian joints I worked at. When I gave a bite to the other chef I was working with, he said: "That's good, I want to pair it with apples".
He was dead-on. It would need to be a firm baking apple obviously, but I could taste the two together, the neutral sqaush would be a great partner for a little tangy-sweet apple, a little yogurt or something, some sweet herbs like mint, cilantro, chives and tarragon, cooked shallot maybe, etc, etc, and, that's a dish.
The finished product is a side dish, and is a fun study of squash. Cook a little squash and apple, toss in some green onion and purslane at the end, garnish with a couple squash vines, toasted pumpkinseeds and herby yogurt.
*Update. Oops, I forgot the pumpkinseeds, but they're in the method anyway because they'd be great for a little crunch.*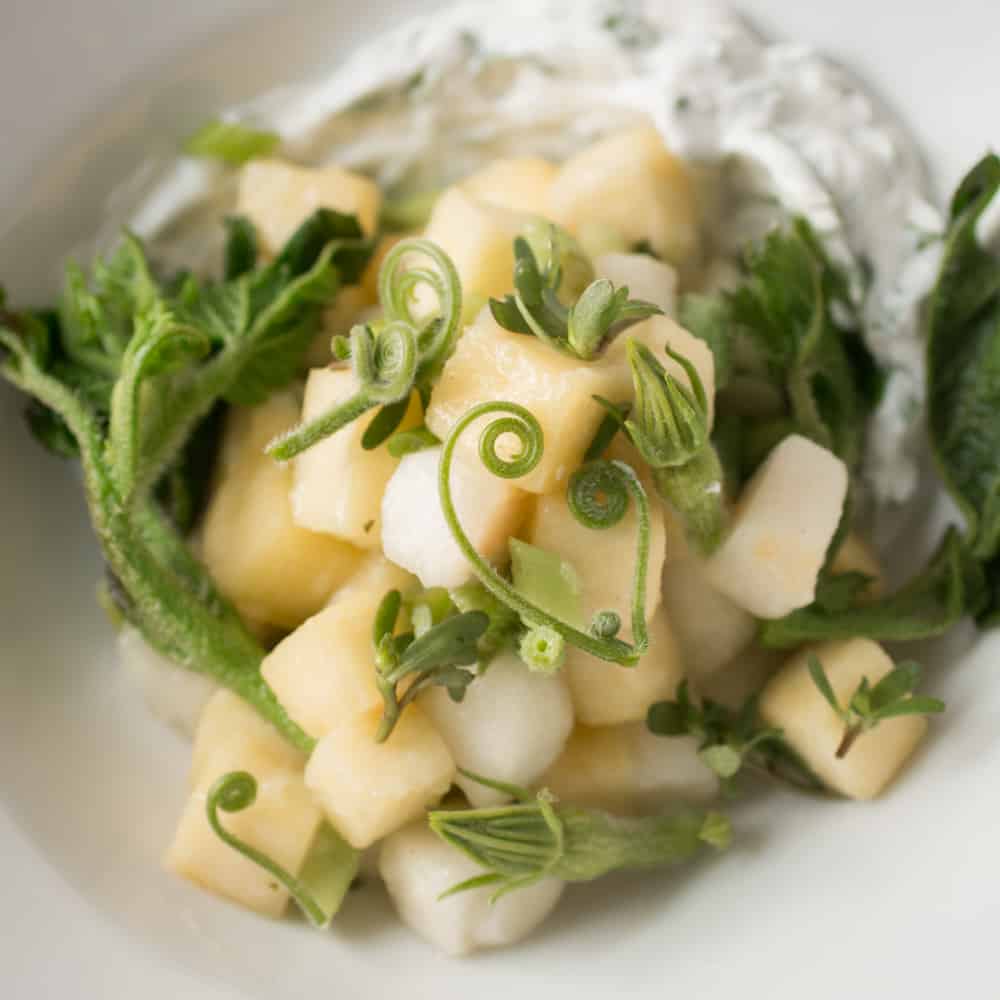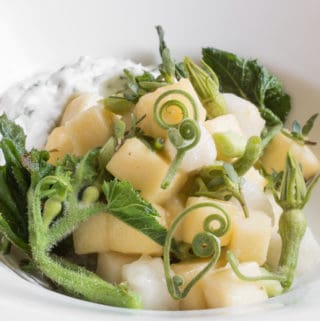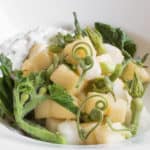 Print Recipe
Green Butternut Squash with Apples, Squash Shoots and Purslane
Unripe butternut squash, cooked with a sweet and sour preparation, apples, and purslane
Ingredients
2  

cups

peeled butternut squash

cut into ½inch dice

1

cup

hard baking apples

like Zestar or Braeburn, or good old granny smith

½

cup

thick Greek yogurt

like Faye

1

tablespoon

sliced spearmint

kosher salt

to taste

Fresh squeezed lemon juice

or taste

3

tablespoons

unsalted butter

2

tablespoon

vegetable stock or water

Purslane tips

a small handful, picked and cleaned

8-10

Squash shoots

trimmed to about 4 inches, large leaves removed, and any small vines and minaiture squash reserved for garnish. Any excess stem sliced ½ inch (optional)

Toasted pumpkinseeds

to garnish

2

large scallion

sliced ¼ inch (optional)
Instructions
Mix the mint with the yogurt and season with a pinch of salt and a dash of lemon juice. Reserve.

Heat 1 tablespoon of the butter and water with the squash in a wide sauté pan, season with a pinch of salt and simmer until the squash is just tender, about 5-10 minutes.

Meanwhile, cube the apples.

Add the apples to the pan and cook for 3-4 minutes more, until the apples are tender. The juices in the pan should be slightly thick, coating the squash and apples lightly. Stir in the scallion and sliced squash vines, if using.

Meanwhile, quickly warm up the squash shoots in the remaining tablespoons of butter, just warm them through to soften, you don't want to sear them. Season the shoots lightly.

To plate the dish, put a swoosh of yogurt in each of four soup bowls, evenly divide the squash-apple mixture between them, then top with two just warm squash shoots, a few pumpkinseeds and clusters of purslane and serve immediately.
Related