Besides tossing them with homemade noodles, a favorite around the world is some type of mushroom on toast. Depending on the cook and location, you might see it on a menu as a number of different things. This French mushroom tartine is one of my favorites.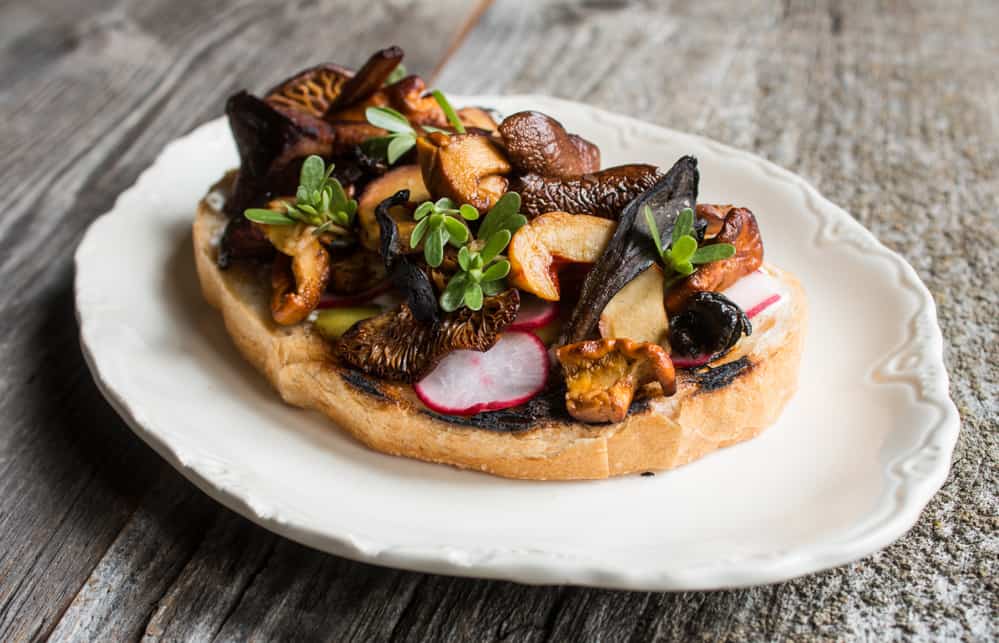 Italian restaurants might call it a bruschetta, (prounounced brewskettah) which to me would mean that the bread was grilled and slightly charred, and probably rubbed with a clove of garlic when it comes off of the grill. You might also see it on a menu listed as crostoni too though, which is how my old chef from Rome would have described it.
French restaurants might call it a tartine, which to me means more of an open faced sandwich but is essentially the same thing. In Scandinavia you could have a Smørrebrød, also an open-faced sandwich. Any way you cut it, it's mushrooms on toast, and it's bomb.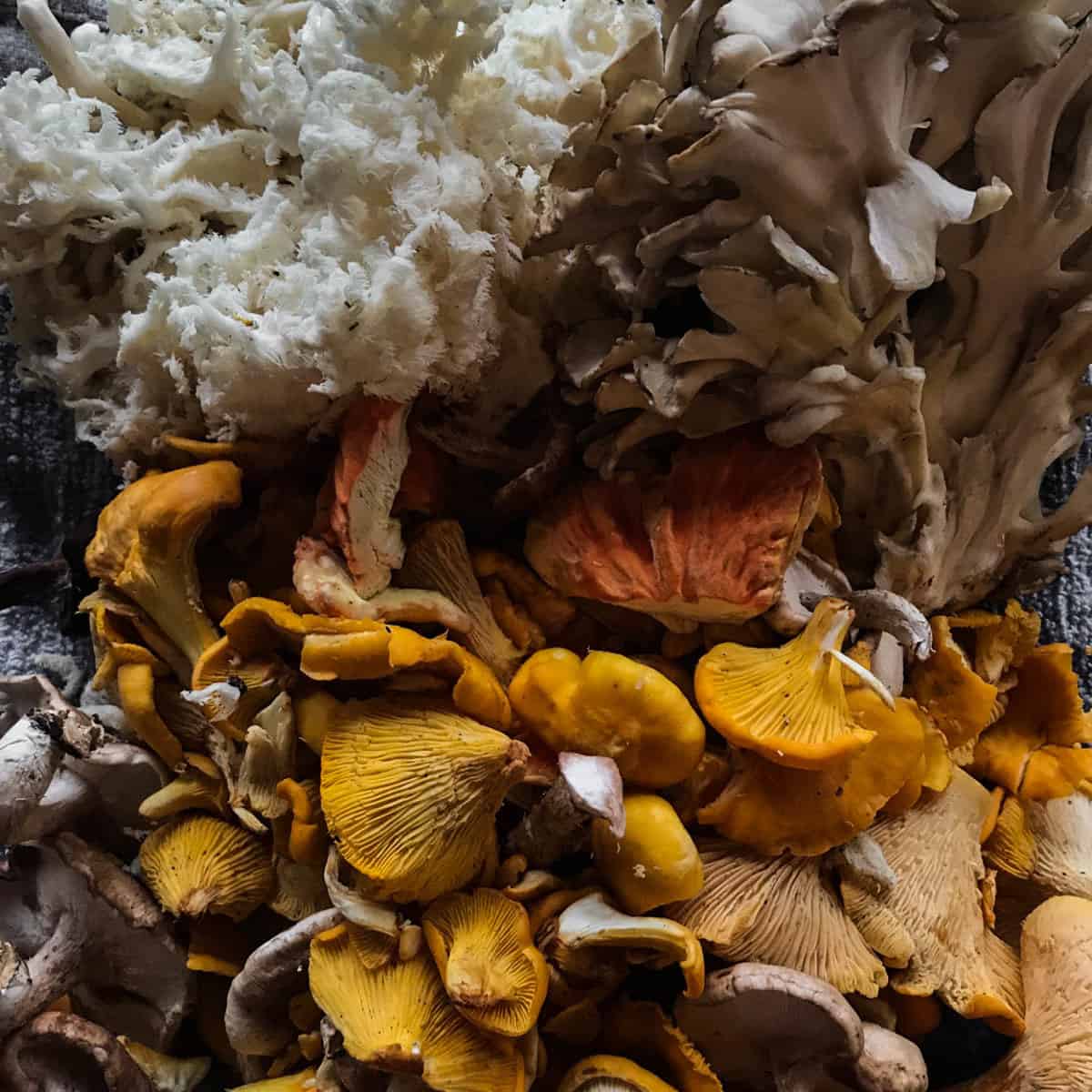 One of the best mushrooms on toast I've had was at Petite Crenn in San Francisco, in the same family as the famous Atelier Crenn and it's 2 Michelin stars which I also enjoyed, but will cost more and requires a reservation. Petite Crenn's mushrooms on toast is the one I've modeled mine after.
My girlfriend and I had just landed in San Fran, a little travel weary, and needed some lunch, champagne and oysters to start our bout of food tourism for the week. We sat down and ordered a couple things, a bowl of mussels, oysters and the tartine to share.
As we were waiting, we saw a bakery delivery come in from a nearby shop, his arms filled with fresh baguettes and country style boules. You could smell the bread in his arms as he passed by, that toasty, yeasty smell that makes your toes curl, and brings me to an important point about your mushrooms on toast.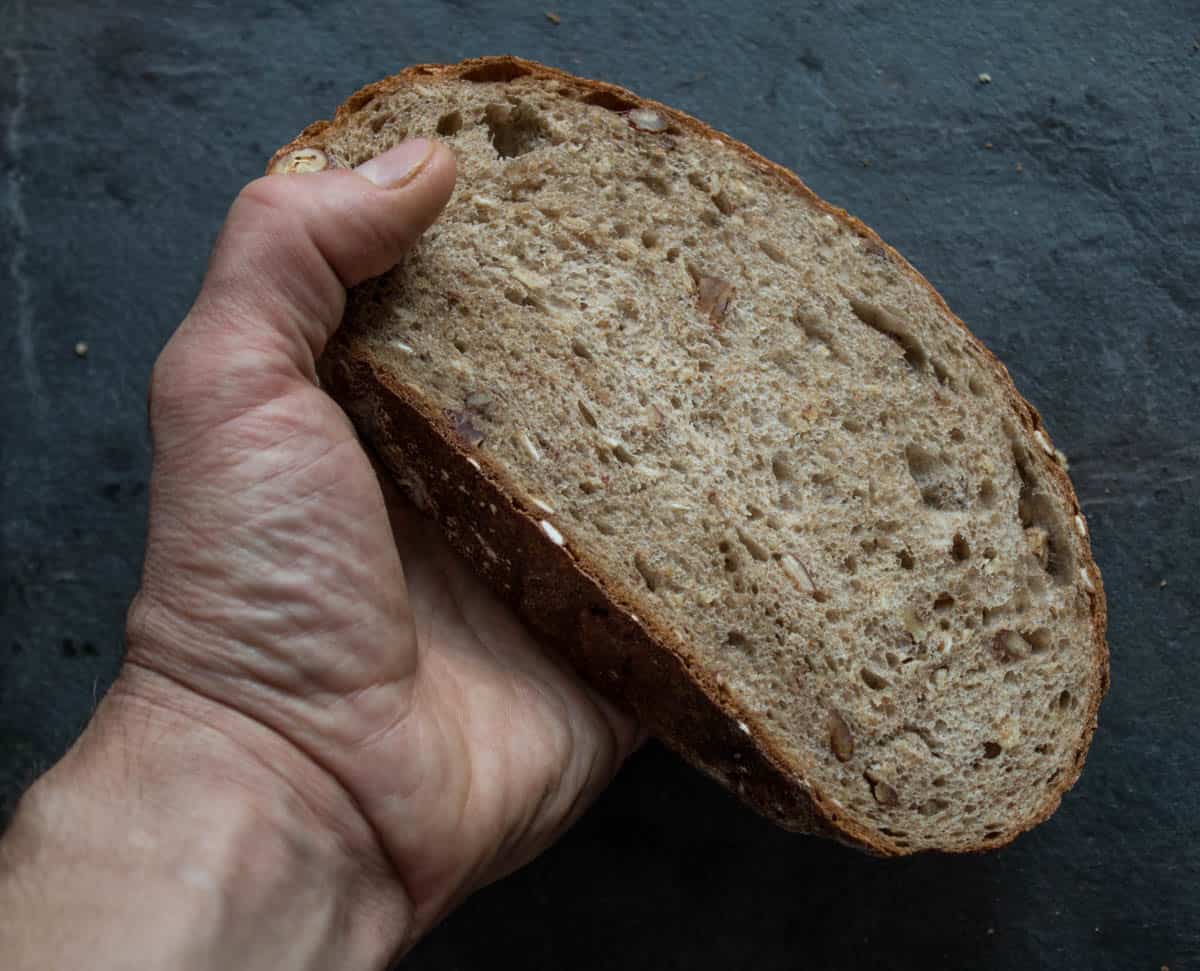 The best bread for a tartine, or any open faced sandwich
Is the best bread you can find. No matter how many funky species of mushrooms you have that you're going to make sexy and fry up in all the butter, garlic, olive oil, or whatever your poison is, get some bread that will do the shrooms justice. You spent all day out in the woods fighting bugs and heat, so go out of your way to find something high quality.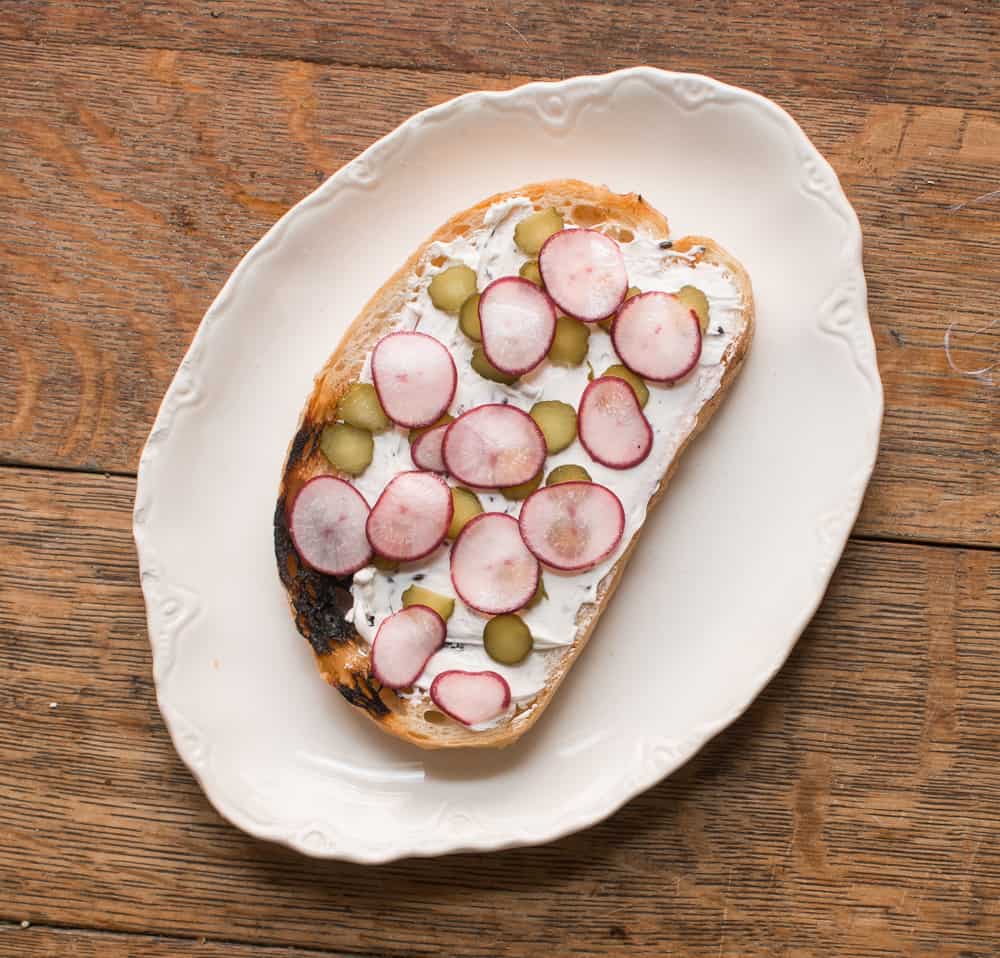 "The double slather"
Back to our tartine in SF, it came to the table a long slice of grilled country boule (see picture above), filled with different kernels of grains and oats, topped with sauteed maitake mushrooms and little pieces of pickled cucumbers and radishes.
There was something else too, butter, butter that I could tell was still melting. Melting because the kitchen first greased the bread and grilled it on a flat top, then slathered it with fat a second time when it came off the grill, making the butter melt and mix in with the mushrooms and pickles. Try it out if you want to spoil yourself. It was simple, decadent.
If you're in the Twin Cities metro area, and want to try some awesome breads you should really check out products made from Heritage Breads and Bakersfield. Both bakeries are relatively new, and on the cutting edge. They're breads are the best I've tasted, and that's coming from a chef whose restaurant has it's own bakery.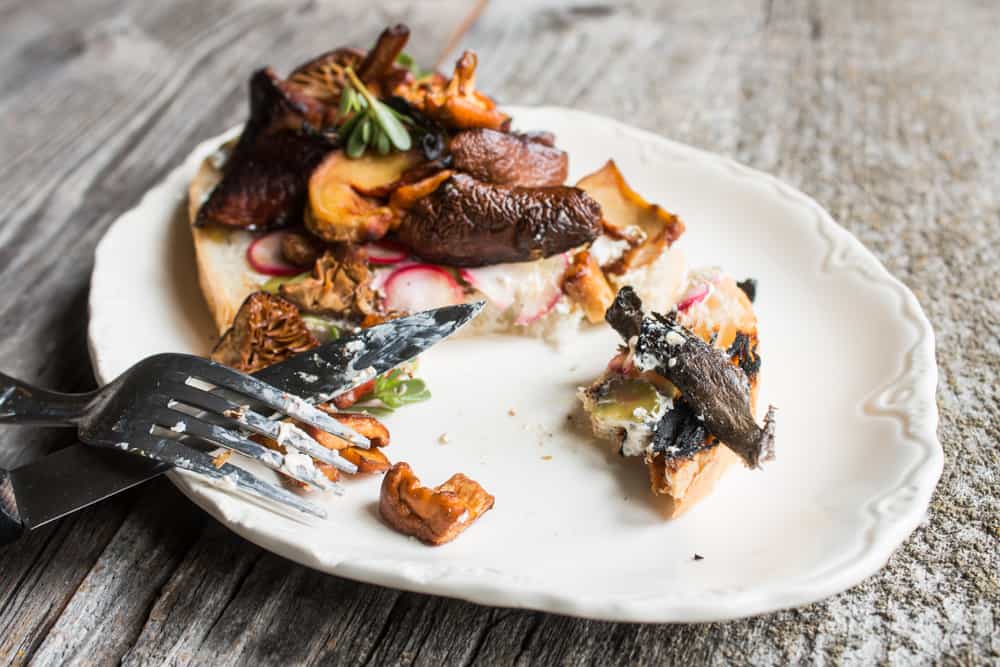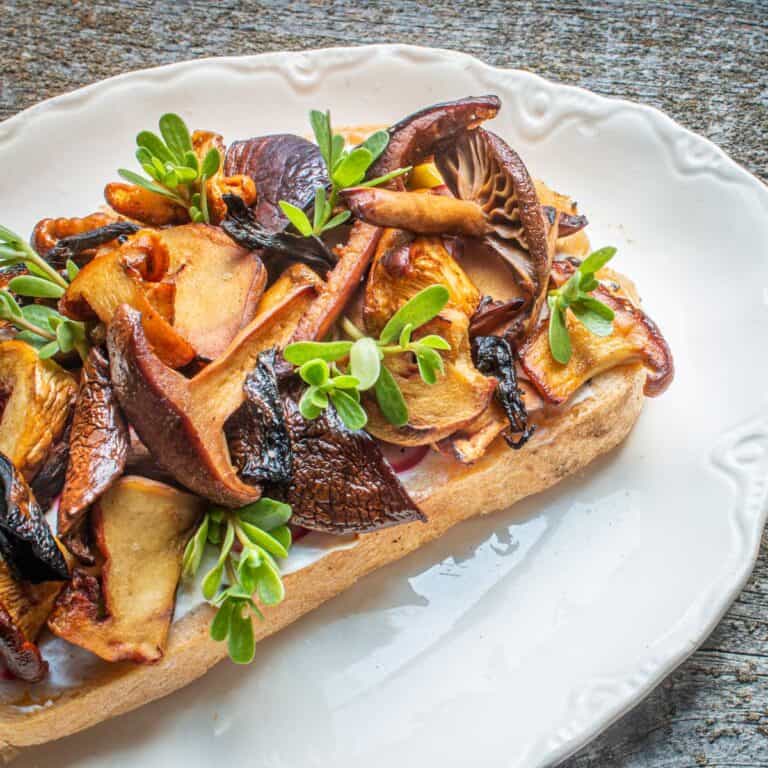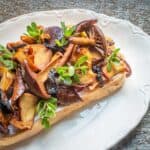 Print Recipe
Wild Mushroom Tartine, with Purslane and Pickled Vegetables
An open-faced wild mushroom sandwich with purslane
Ingredients
2

ounces

fresh wild mushrooms

a big blend, cleaned and cut into roughly 1 inch pieces, or left whole if small.

½

teaspoon

minced fresh garlic

Kosher salt

to taste

Soft unsalted butter

to taste

1

tablespoon

fresh chopped Italian parsley

Purslane tips

to taste, optional

Various pickled vegetables

preferably not too sweet, I like to use thinly sliced cucumbers

Two tablespoons flavorless vegetable oil

a few tablespoons of something creamy to spread on the bread. I used marscarpone mixed with fresh dill seed and some other herbs

but unsalted butter, cream cheese, or high quality ricotta would be fine too.

¼

teaspoon

minced garlic

1

large slice of high quality bread

about ½ inch thick
Instructions
Lightly oil the bread and grill or toast deeply, meanwhile, heat the oil and add the mushrooms and cook on medium-high heat for a few minutes until lightly caramelized.

Season the mushrooms to taste with salt. If the mushrooms are giving off a lot of water which can happen if you had to rinse them to remove grit, keep cooking until the water evaporates and the mushrooms start to brown.

When the mushrooms start to brown and smell nice and nutty, add a knob of butter if the pan looks dry, then add the garlic and stir, then cook until it smells a little toasty, about 1 minutes.

Finally, double check the seasoning, adjust as needed then add the parsley and spread the bread with the cheese or butter, lay some pickles on it, then top with the mushrooms, purslane tips and serve immediately.
Notes
Variations
Feel free to use a blend of your favorite mushrooms here. Chevre, soft butter, or even mayonnaise can all be spread on the bread after cooking. 
Nutrition
Serving:
4
oz
|
Calories:
45
kcal
|
Carbohydrates:
8
g
|
Protein:
2
g
|
Fat:
1
g
|
Saturated Fat:
0.1
g
|
Polyunsaturated Fat:
0.3
g
|
Monounsaturated Fat:
0.1
g
|
Trans Fat:
0.01
g
|
Sodium:
68
mg
|
Potassium:
111
mg
|
Fiber:
1
g
|
Sugar:
1
g
|
Vitamin A:
0.3
IU
|
Vitamin C:
1
mg
|
Calcium:
19
mg
|
Iron:
1
mg