Simple steamed matsutake mushrooms is a good, minimalist way to enjoy the special flavor of this mushroom.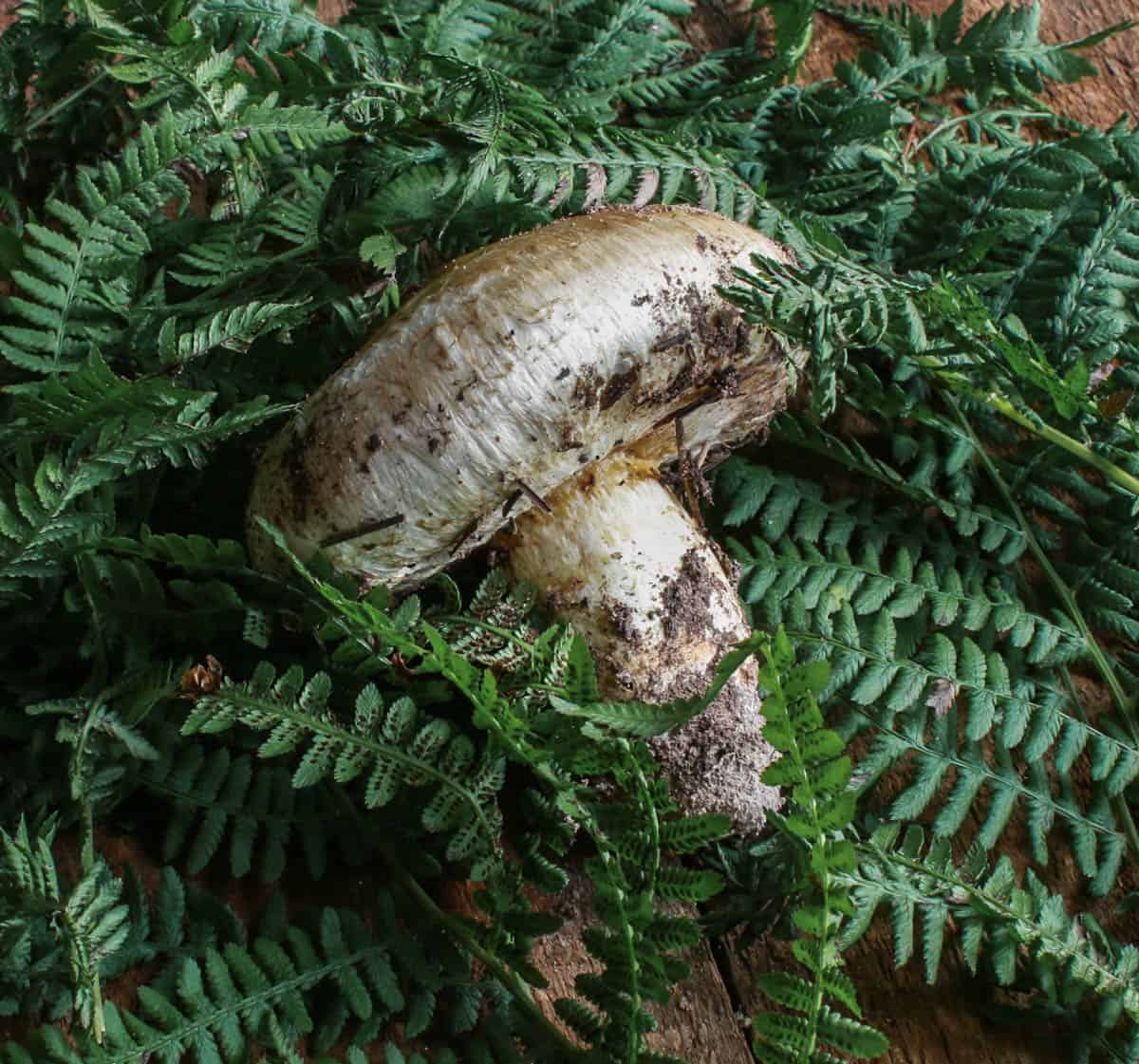 Wild mushrooms vary so much in their texture, flavor and identities but one thing that's constant if you really want to taste who they are is the old "less is more" philosophy.
This is really true with matsutake, their funky, piney smell doesn't want to obey the normal mushroom flavor pairings, I don't like them with cream, butter or cheese, at least no methods I've tried yet. To keep things really simple, I took the first matsie I found this year (up in northern Minnesota in red pines) and steamed it.
As a general rule, we aren't taught that steaming mushrooms is good, if you're used to following European recipes. We're taught that flavor=caramelization=cooking quickly over high heat, and generally speaking that is good advice to follow, older boletes, or puffballs would be horrible steamed. But, like I said, matsutake don't obey general rules.
In Japanese cooking, the most classic way I've heard of them being cooked is in a gohan, or basically steamed with rice. European cooking (the school I was brought up in) doesn't include making gohan, but has a number of different steaming techniques, often using parchment to trap and hold in aromas.
In Italian, you might call something baked in parchment "al cartoccio" in French it might be "en papillote", or described on a menu as being cooked"au vapeur", referring to the cognate word vapor. Despite the different names, both methods are going to include two similar things: parchment and aromatic ingredients meant to flavor the contents of the packet as they bake.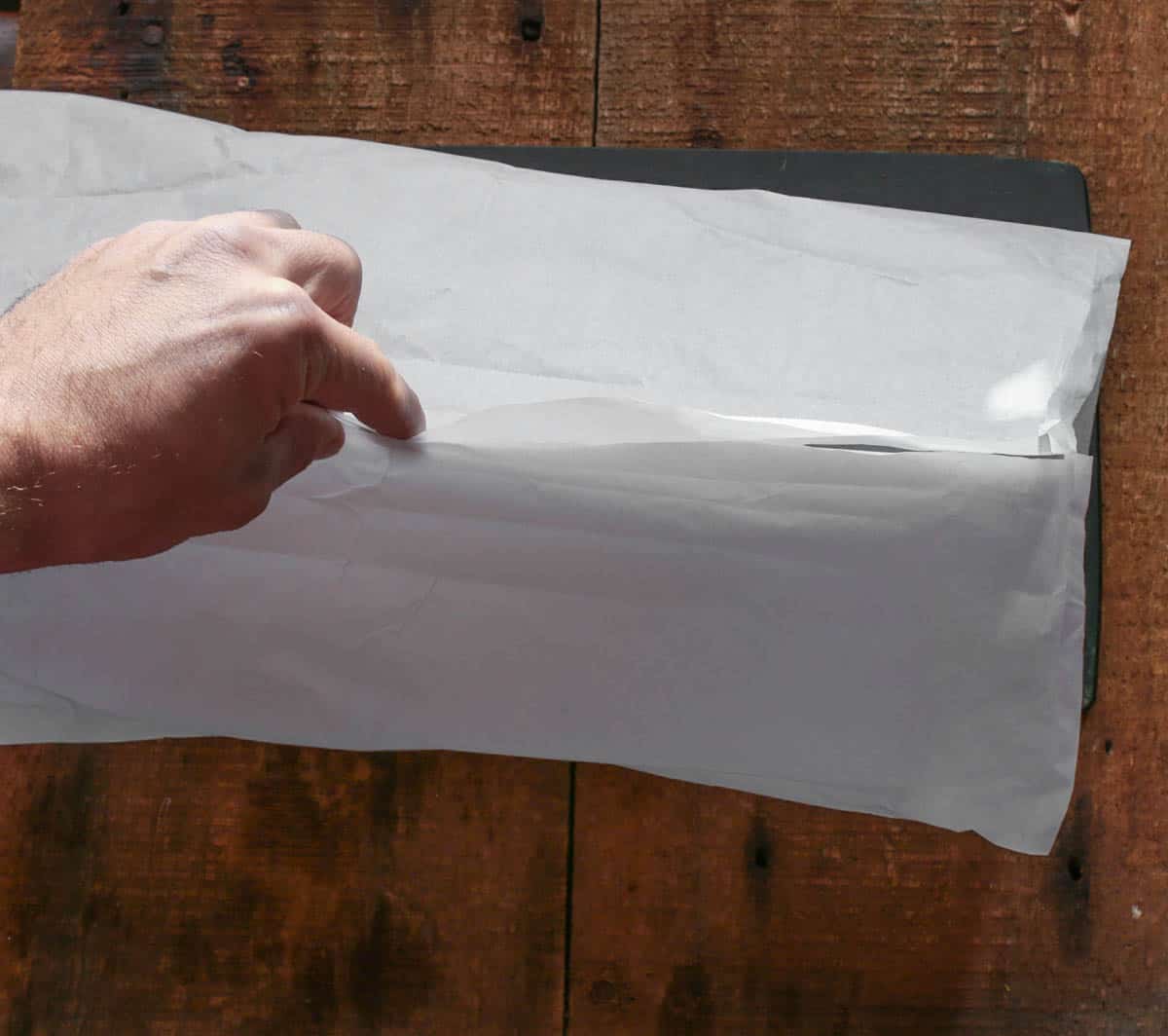 For my matsutake, I picked a few aromatics to put in the parchment I know they like: citrus, cilantro, bay, scallion, garlic, and a few slices of hot chili, and, almost even more important than herbs and aromas though is some sort of oil in your packet, I used a virgin sunflower oil from Smude's in Pierz Minnesota, I like to call it the olive oil of the Midwest.
Smude's has a pronounced sunflower flavor, sesame oil would be great too though, and probably more in line with traditional flavor pairings. Without oil on your subject/centerpiece in your parchment, things can taste a bit lifeless. Make sure to have a little crunchy salt to finish when it comes out of the oven.
This was a nice communion with my second year picking matsutake here in Minnesota, if you find some very young crunchy porcini or boletes they'd be good like this too, and steaming fish, mussels, clams or shrimp in the packet, especially with pasta (or maybe rice noodles with matsutake) would also be very good.
Steamed mushrooms won't be for everyone though, and if you've never had them before, I would make sure to have the rice and soy on the side--some people won't dig the chewy texture of matsutake cooked like this.
I would avoid cooking mature boletes, puffballs, entoloma, or most other mushrooms that taste really good browned like this, unless they're browned beforehand and tossed with something, pasta with tomato, mussels and clams, for example.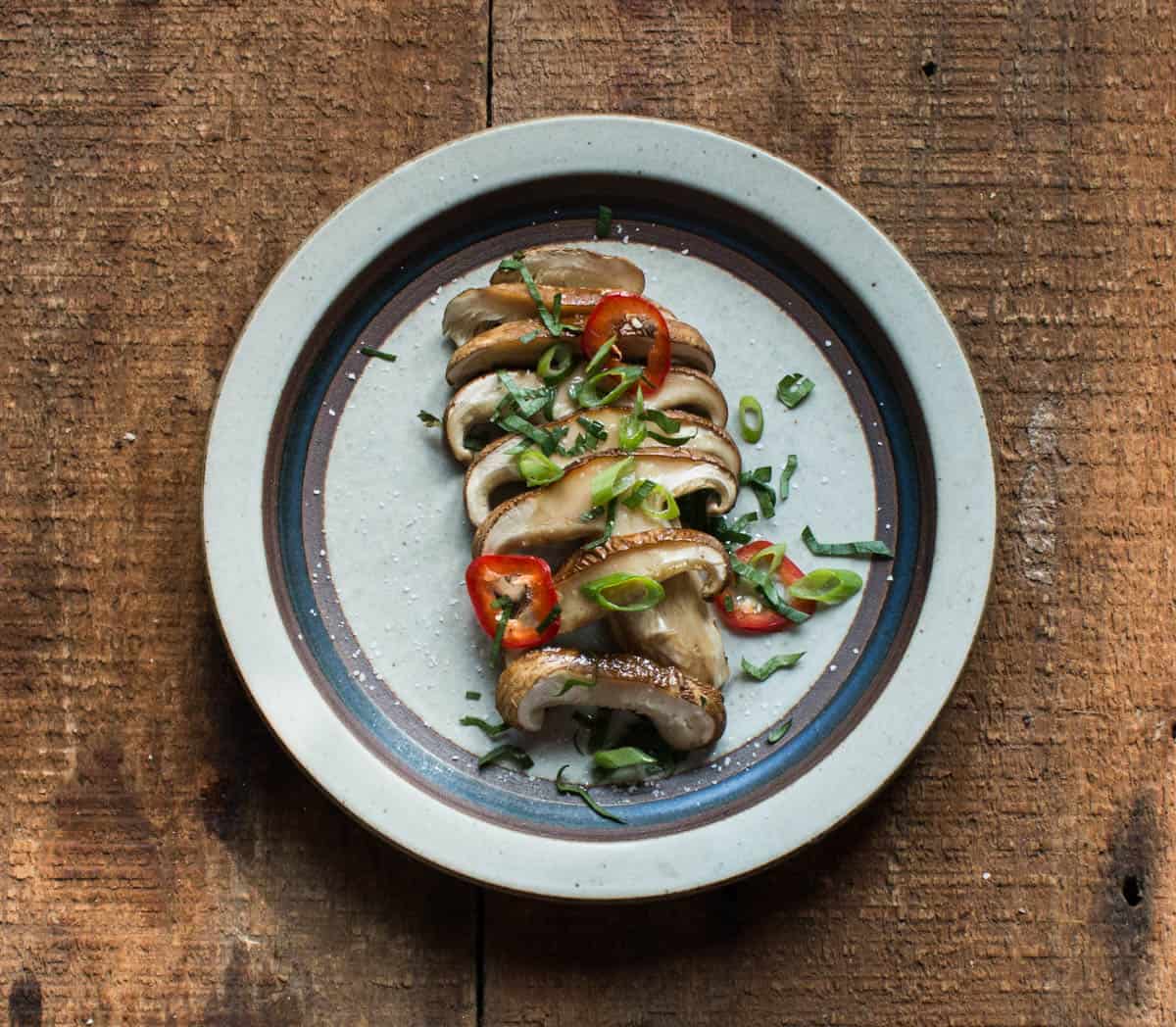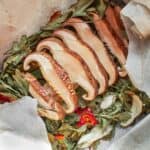 Print Recipe
Matsutake Mushrooms Baked in Parchment
Matsutake mushrooms baked in parchment to capture their aroma, serve with a bowl of rice and soy on the side.
Equipment
1 sheet of parchment paper, roughly 2'x2'
Ingredients
1

large matsutake

sliced, or a few small matsutake, you could also tear them into pieces

small handful of fresh cilantro and attached stems

2

fresh bay leaves

1

large clove of garlic

sliced thin

Zest of half a lime

peeled with a vegetable peeler into 1 inch strips

Kosher salt

or crunchy finishing salt, to taste

Virgin sunflower oil

or sesame oil, to taste

A few thin slices of fresno chili

plus a few more for finishing, optional

2

scallions

coarsely chopped
For serving (optional)
Soy sauce, to taste

Cooked white rice
Instructions
Preheat the oven to 375 degrees.

Lay out the parchment, making a crease in the middle, then place all of the herbs and aromatics in a single layer except the oil. Clean the matsutake with a brush, or wipe clean with a damp towel. Slice the mushroom into ½ inch thick slices, toss with the oil, then shingle on top of the aromatics.

Bring up two sides of the parchment together, then fold the top into a 1 inch crease. Fold the crease, then repeat. Next take each unfolded side, holding the original crease down with one hand, and crease the sides in at 1 inch intervals a few times until you've made a little package.

Bake the package for 30 minutes, or until the paper is lightly browned. Remove the packet from the oven, then using a sharp knife or a scissors, snip open the top to reveal the insides. Use a spatula to remove the mushrooms to a plate, then season to taste with salt, some chopped cilantro and a few extra slices of chili. Serve with rice and a bit of soy sauce on the side.
Notes
This is an example more than a strict recipe, take a look at the ingredients below and come up with a blend of aromatics you like, or, as I mentioned, bake some noodles tossed with mushrooms and topped with a sprinkle of aromatic herbs and a little oil. Slightly under cook noodles that would be baked though, since they will continue cooking as they steam in the oven.
Nutrition
Serving:
2
oz
|
Calories:
7
kcal
|
Carbohydrates:
1
g
|
Protein:
0.3
g
|
Fat:
0.04
g
|
Saturated Fat:
0.01
g
|
Polyunsaturated Fat:
0.01
g
|
Monounsaturated Fat:
0.01
g
|
Sodium:
2
mg
|
Potassium:
41
mg
|
Fiber:
0.4
g
|
Sugar:
0.3
g
|
Vitamin A:
126
IU
|
Vitamin C:
3
mg
|
Calcium:
12
mg
|
Iron:
0.3
mg
More