Each year I try to cook a new critter, or a part of something I haven't before. After cooking thousands of pounds of chicken, fish, beef, duck, pork, lamb and all the usual suspects, somewhere along the line I started to crave the knowledge of meat I hadn't cooked before.
This year I had planned to cook with cuy, or guinea pig, instead, I wound up with a groundhog (a.k.a. woodchuck).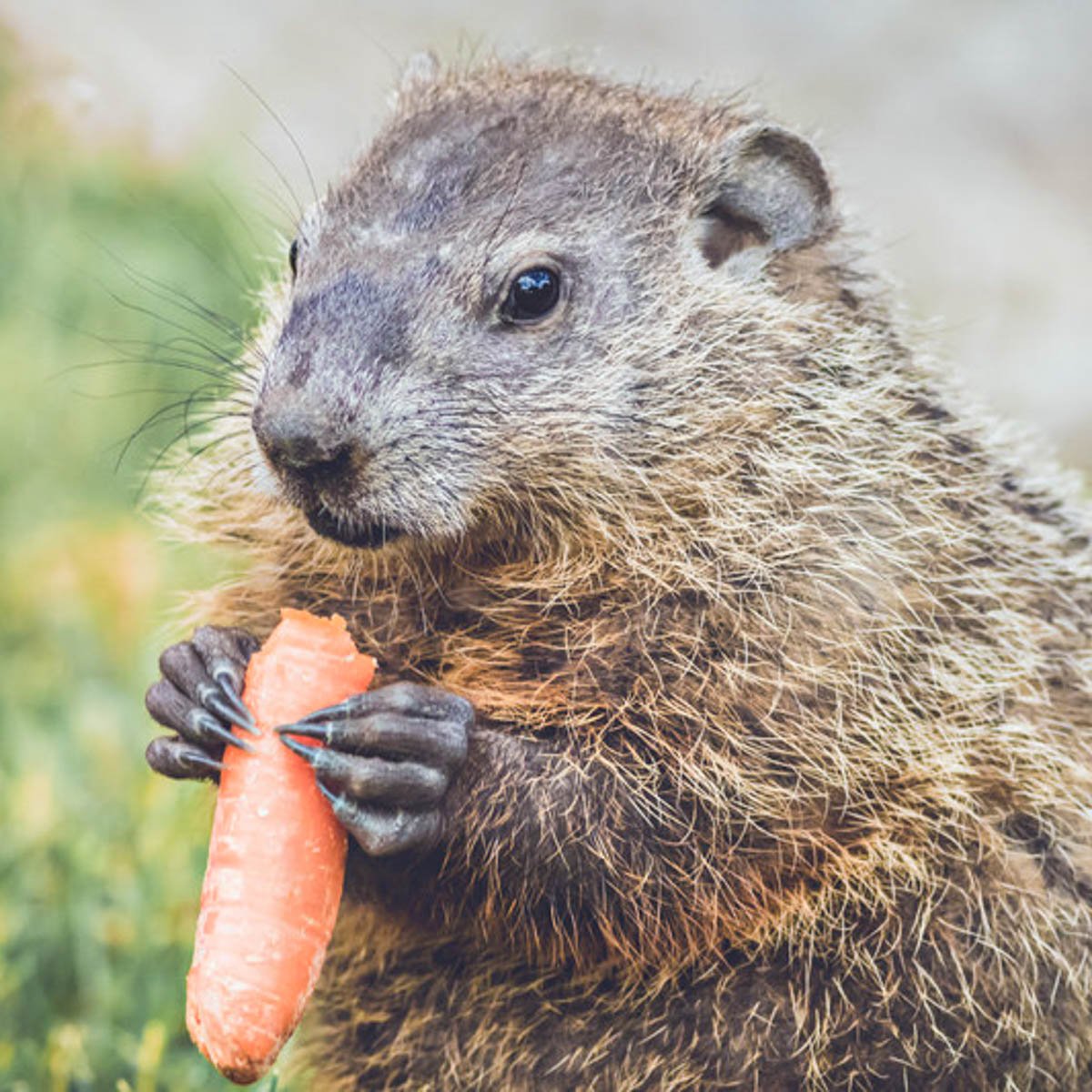 Different meats are more than a novelty, knowing how different animals taste will help you cook the animals you're already comfortable with better by having a deeper understanding of flavor differences between the two.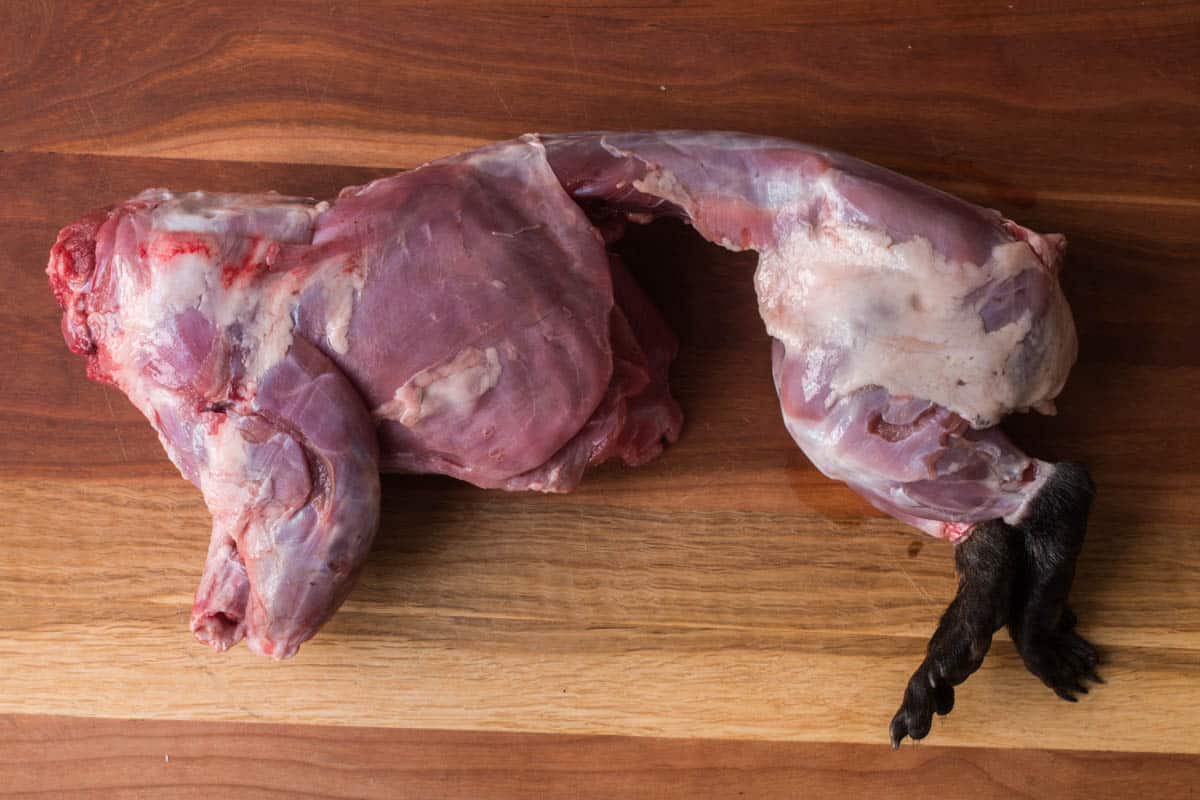 I spend most of my free time on a beautiful farm in Wisconsin filled with forests, a watercress-packed spring and gardens, so many beautiful gardens.
If you know a farmer, or anyone with a decent sized garden, you know there can be pests, especially out in the country, and groundhogs can be some of the most destructive.
They used to dig holes all over my father's farm. I remember us trying all sorts of remedies to get rid of them.
The most exciting strategy for me as a kid was the old garden-hose-in-the burrow trick. I would imagine flooding the underground maze, the groundhog dashing around, but they seemed to always find some part of their labyrinth that was waterproof.
At the farm in Wisconsin, the woodchuck population can be a serious problem, though. The gardens produce a lot of the food people depend on to eat.
Groundhogs can eat a lot of produce, up to 25%-33% of their body weight per day according to what I've seen, and they ramp up the amount of what they eat in the summer and fall to prepare for hibernation. This means they gorge themselves on everything they can get their little black paws on.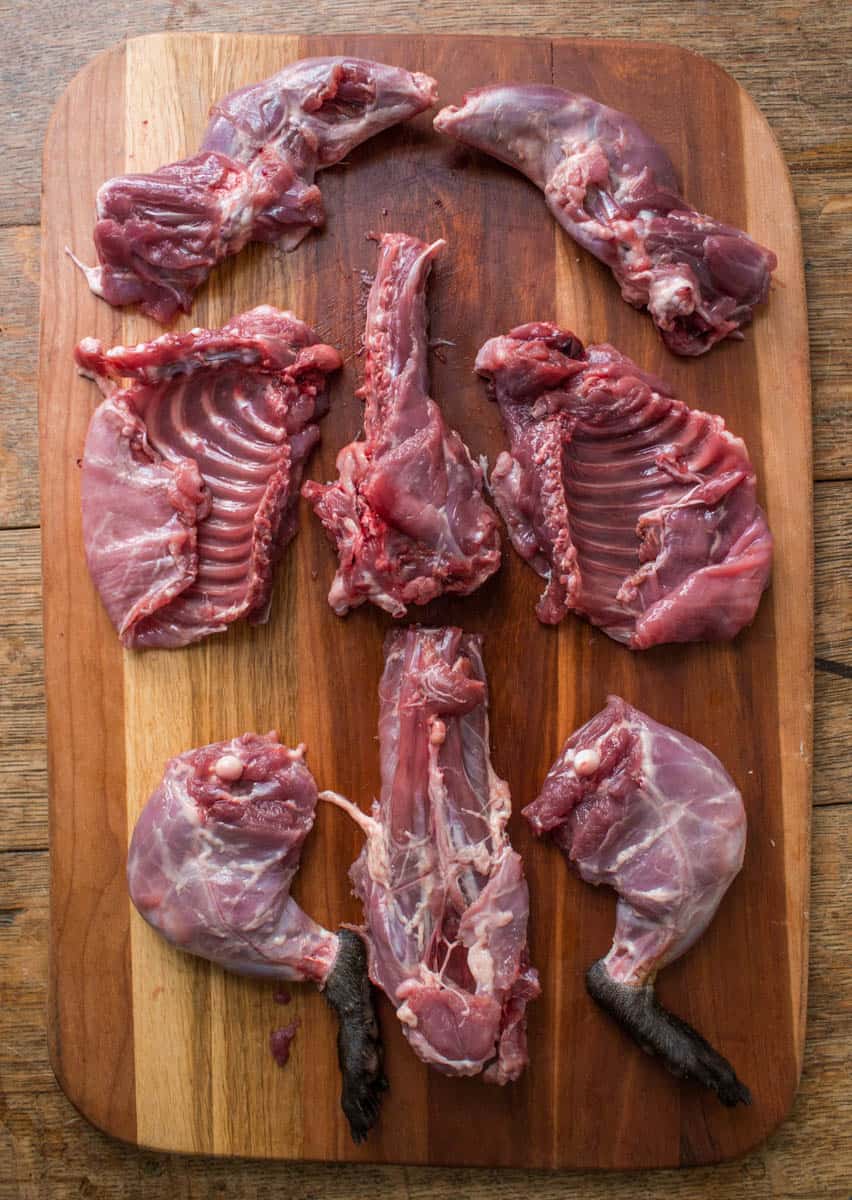 My girlfriend's step dad is a talented handyman, the kind of guy, like my grandpa, who seems to know how to fix and do everything — a man's man. He'd been setting traps around the gardens to catch the garden thieves.
Since he was determined to trap these organic-produce-fed woodchucks anyway, I figured he'd be a great source. It wasn't long until he and I had a bounty agreement on a couple critters, and I had myself a groundhog.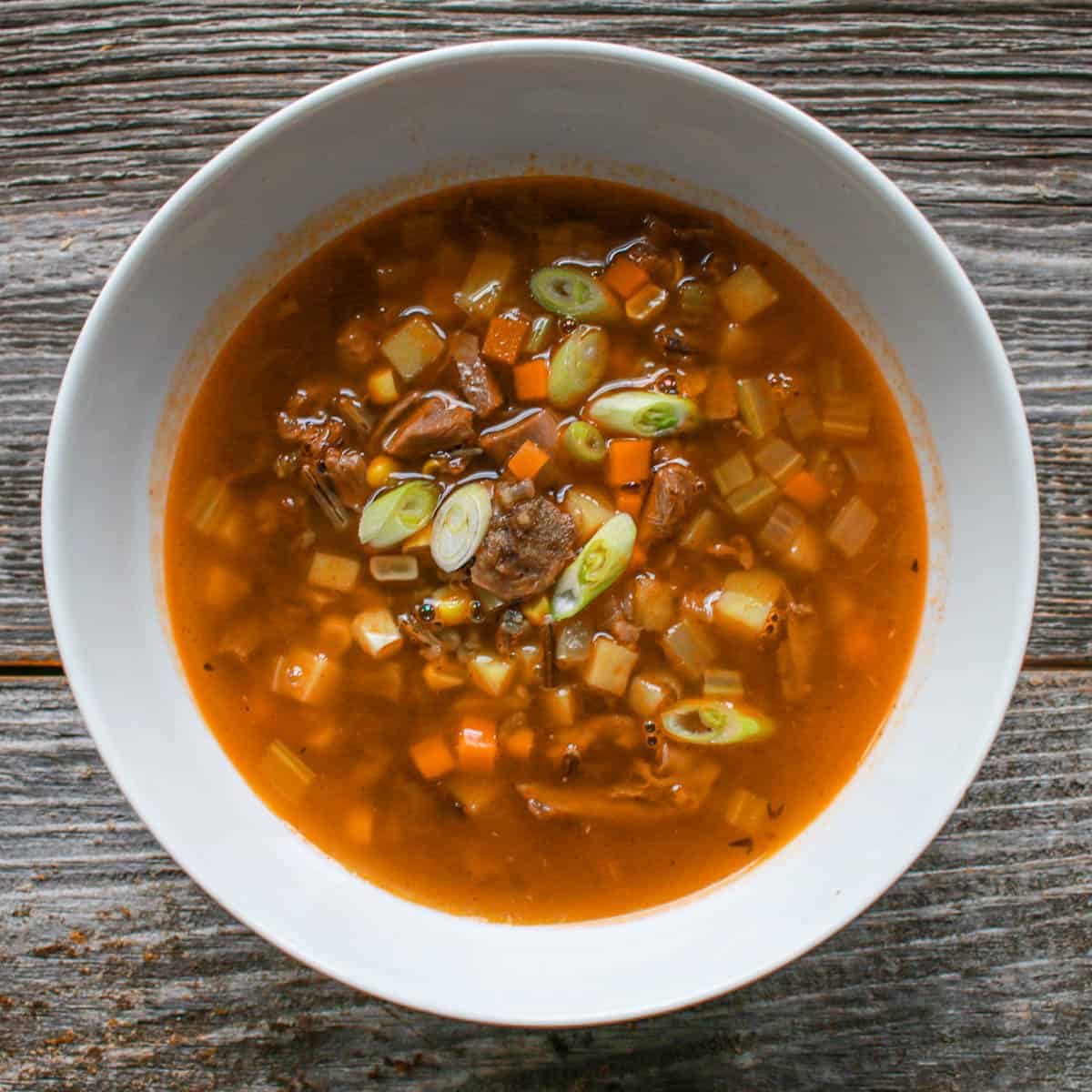 Cooking groundhog? Isn't that like eating roadkill?
That was the reaction I got from most people when I mentioned it. But when you think about it critically, what people describe as unappetizing is bound in their personal experience.
What's gross about a groundhog? Is it how it looks? If you ask me, chickens are a lot uglier. Is it the flavor? I thought it was sweet, like porky-rabbit, a lot better than the squirrel I've had. There's a tenderness to the meat that I don't usually associate with game, too.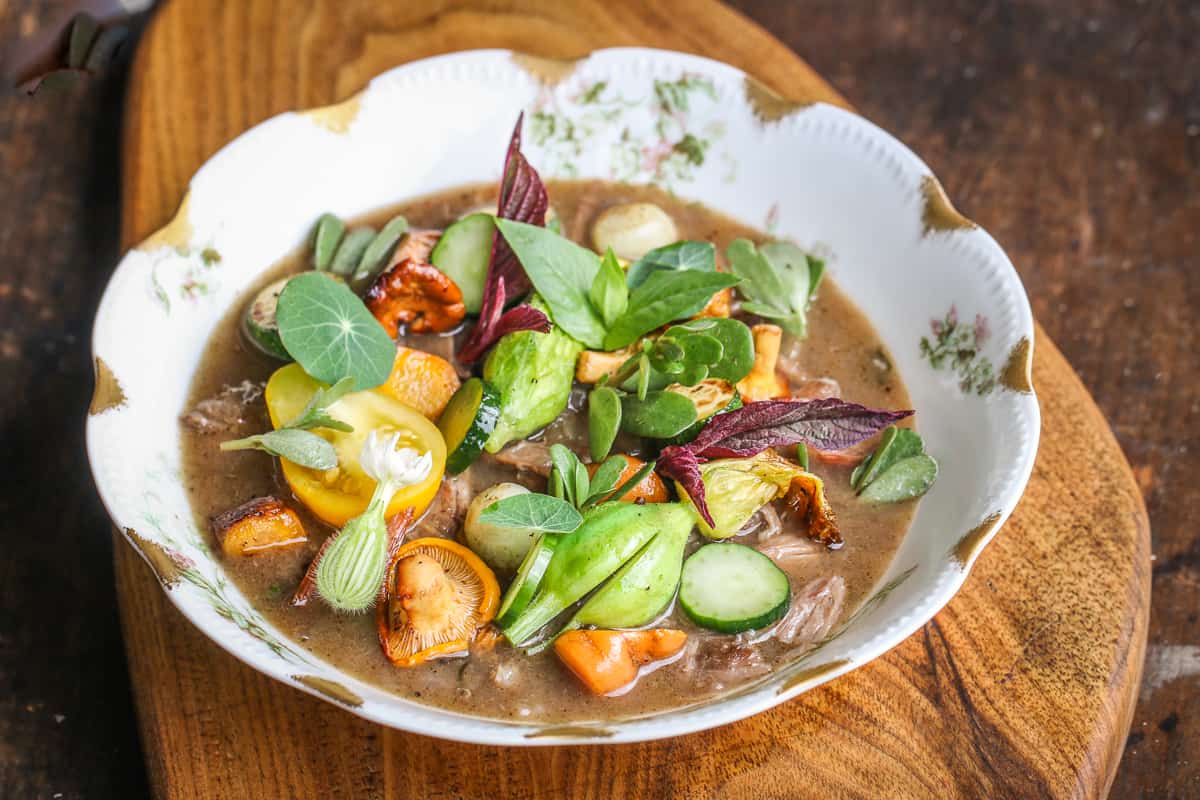 Herbivores vs Omnivores
Groundhogs eat plants, and in this case of this particular woodchuck, he was eating cabbages, lettuce, squash corn and leafy greens, stuff I like to eat. I had a hunch that this woodchuck being fed on garden plants meant the meat would have a rich-yet-mild flavor, and it did.
Eating something like a possum, racoon, or a bear, or other animals that also consume meat, will give the meat a different flavor. Typically herbivores will have more mild tasting meat-so those are the animals I look out for.
Removing the scent glands
Lots of people ask about removing the scent glands on groundhogs before cooking. My experience has been uneventful with these.
On the woodchucks I've eaten, which are generally fat off garden vegetables and relatively young (not noticeably smelly) I never noticed a difference if I removed or didn't remove the scent glands after cooking and pulling the meat for a simple stew like I've made here.
On a related note, do wash your hands after butchering any wild animal. See my pics below of the scent glands, which you can remove, that are about the size of a small kernel of corn located near where the front and back legs connect to the torso.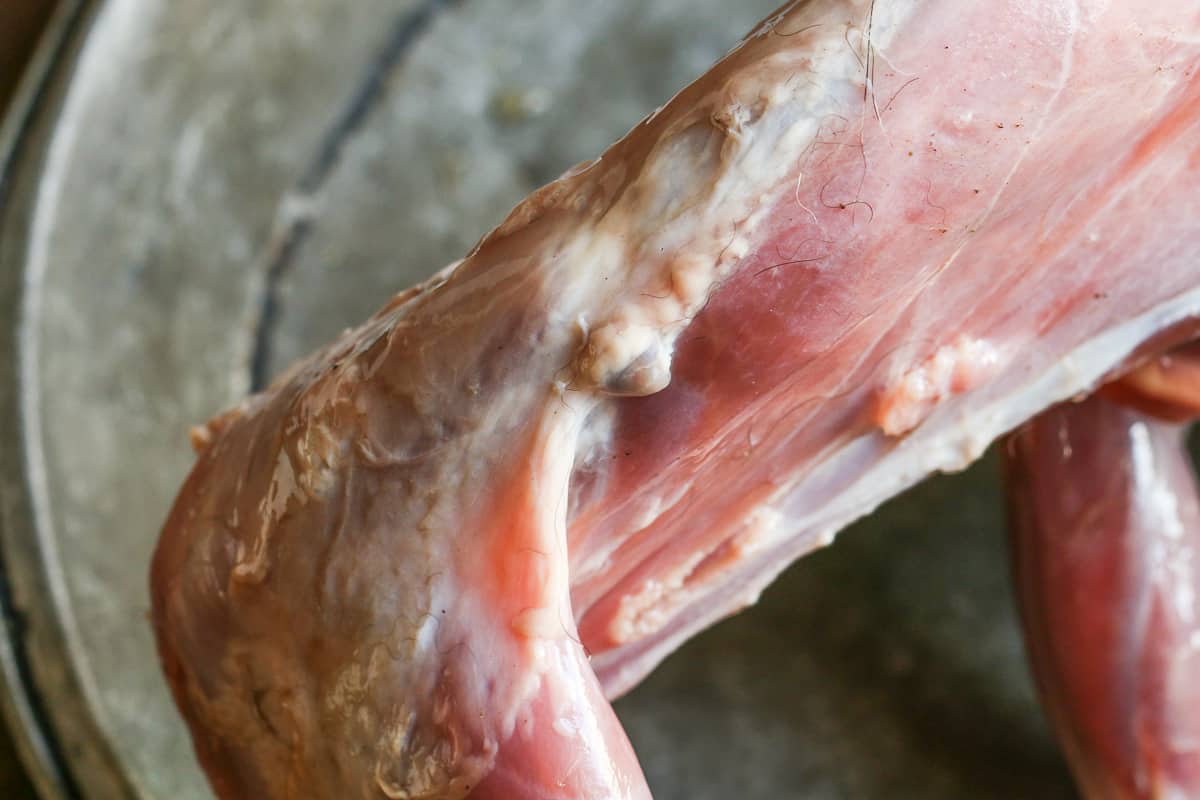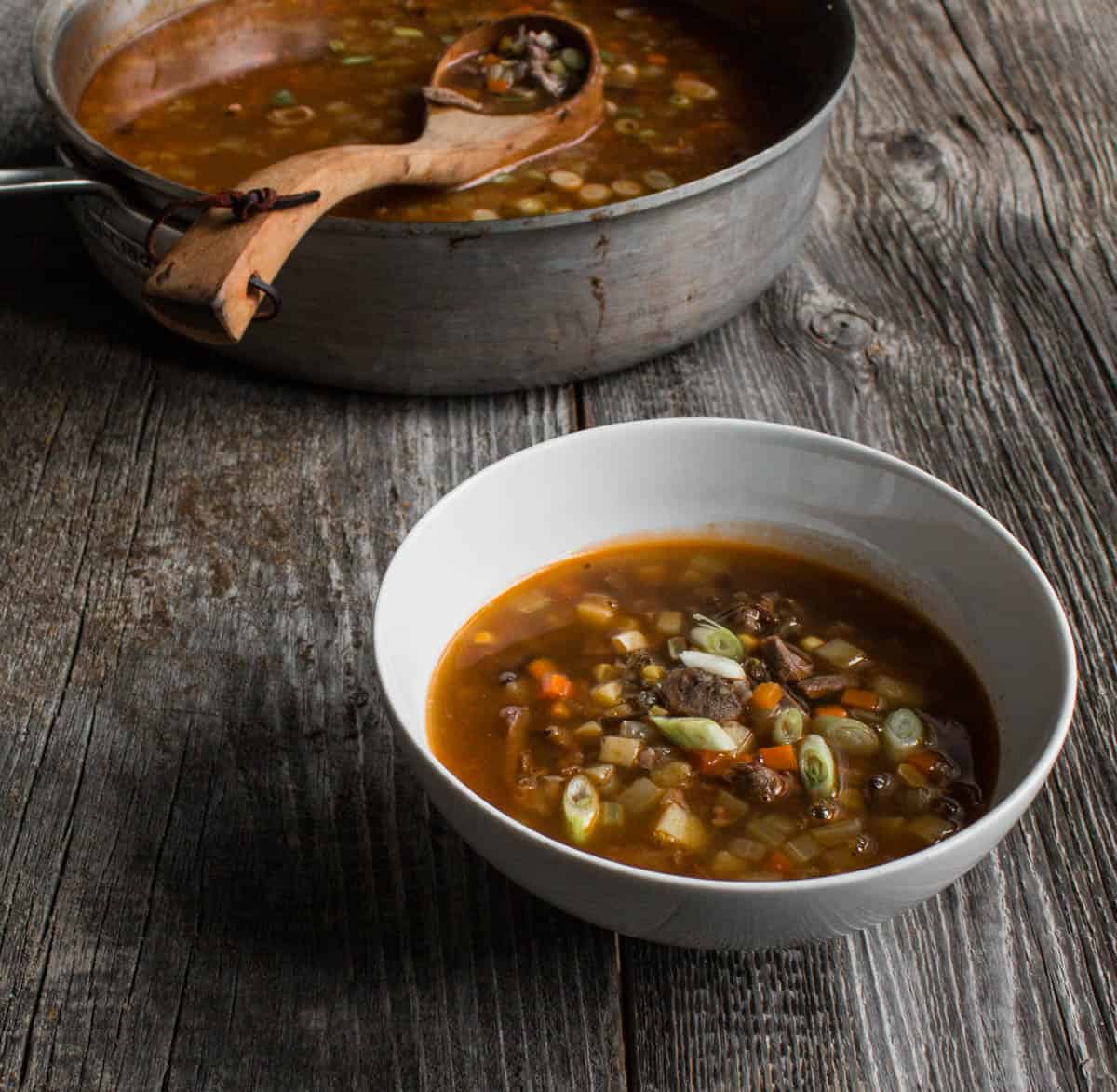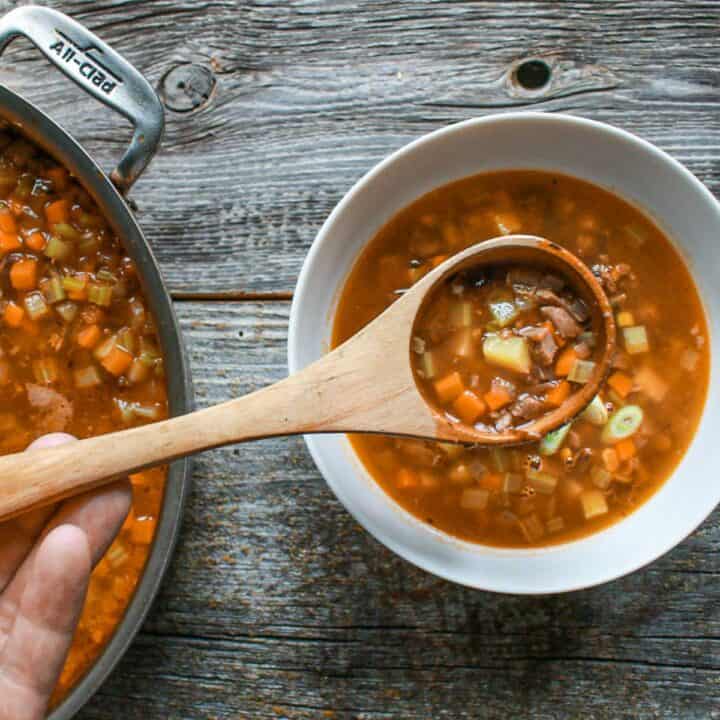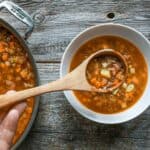 Print Recipe
Groundhog Stew, with Bacon and Natural Wild Rice
Marinate the woodchuck, brown it, braise in stock, remove meat from the bones, then sweat some diced vegetables, add back the meat and cooking liquid, along with some rice, season it up, and voila. Have some good bread around, you're going to want to wipe the bowl clean.
Ingredients
One roughly 2-3 lb groundhog

skinned, gutted, rinsed and quartered (see photo above)
Marinade
3

cups

dry white wine

1

bulb of garlic

cloves lightly crushed with the back of a knife

1

large sprig rosemary

leaves torn off the branch

a small handful of fresh thyme sprigs

roughly 6-7

2

fresh bay leaves

optional

Kosher salt and pepper

¼

cup

blended olive oil

or neutral vegetable oil
For the Groundhog Stew
3

cups

mixed vegetables

diced ¼ inch (I used a mix of carrots, potatoes, onion, celery and fennel)

1

large tomato

Bottom scored, blanched in boiling water for a few seconds, then cooled, seeded and chopped.

3

qts chicken stock

preferably homemade

4

ounces

smoked pork belly or slab bacon

diced ¼ inch

¼

cup

wild rice flour

for dredging the woodchuck, optional

½

tablespoon

garlic

minced

¼

cup

dry sherry

½

cup

wood parched / natural wild rice

or 1 cup cooked wild rice

1

ear of sweet corn

2

tablespoons

unsalted butter

Tobasco

to taste, optional

Sliced scallions

¼ inch, tender white and green parts only, optional
Instructions
Marinating
The night before hand, trim the groundhog pieces of as much visible fat as possible, then season liberally with salt and pepper, toss with the garlic cl0ves, oil, thyme, bay leaves, and rosemary. Put the seasoned groundhog pieces in a wide dish or casserole and pour over the wine. Allow the woodchuck to sit overnight or at least for 4-5 hours, turn it around in the juices now and then if you have time.

Cut the corn from the cob, then cut the cobb into 2 inch slices and reserve both separately.

To prepare the stew, render out the fat from the bacon in a wide 10 inch braising pan, remove the bacon and reserve, leave the fat in the pan.
Browning and Building the Stew
Remove the groundhog pieces from their marinade, pat dry and remove any rogue herbs or pieces of garlic. Toss with the wild rice flour, then brown on medium high heat in the bacon fat. Pour off the spent fat from the pan, deglaze the pan with the sherry, reduce by half, then add the stock, corn cob, cover the pan and reduce the heat to a gentle simmer.

If you have time, skim the albumen and fat that rise to the surface of the pan occasionally as it makes a cleaner tasting stew. Simmer the groundhog gently for 1.5 hours, or until the meat can be picked from the bones.

Meanwhile, cook the wild rice in the chicken stock until just done, then strain out the rice and lay out on a plate or cookie sheet to cool. Reserve the wild rice liquid to add to the stew. It adds really good flavor, and that's why you're cooking the rice in chicken stock in the first place.

Remove the woodchuck pieces and cool, then pick the meat from the bones, give it a rough chop, and reserve. You should have about 2.5 cups of meat.

Remove the stock from the pan and reserve then strain it. You should have about 1 qts of liquid.

Wipe the pan, then melt the butter and add the diced vegetables, bacon and the garlic. Sweat the mixture until it's well cooked, and the vegetables are soft, about 15 minutes, then add the reserved woodchuck liquid, tomato, wild rice liquid and simmer for 15 minutes more.

Finally, add the woodchuck meat, corn kernels, and wild rice. Season the stew with salt to taste, then serve immediately with some Tobasco on the side. If not serving, chill immediately, transfer to a labeled, dated container and reserve until needed.
Notes
You could substitute another small creature here — rabbit, turtle, duck or goose legs would all be great. There are probably some other little creatures I don't know of that would be good too.