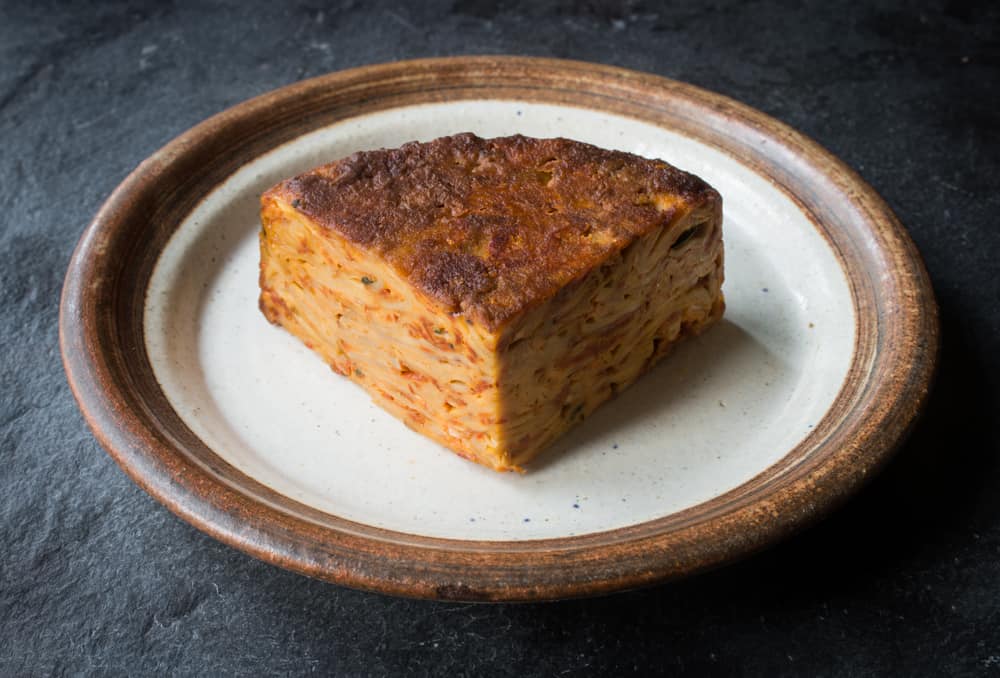 Once again, lobster mushroom season has left me shocked at the amount of fungus a single patch of ground can produce. The years of wandering my patches looking for them has changed the mushrooms I tend to pick though.
When I first started picking lobster mushrooms I would pick everything that wasn't rotten. Mushrooms that were on the end of their life span, and needed heavy trimming, or that were light weight instead of the healthy, heavy, lobster mushrooms I pick now all went into the basket.
Now I'm more choosy with what I pick, just because it's there doesn't mean it has to go into the mushroom bag. Part of what makes lobsters special is their weight, and firmness of their flesh. The pave recipe here is an exciting way to enjoy the firm texture of a good lobster mushroom.
The mushrooms are shaved thin, softened by sweating with a little butter, then layered with a bit of fresh herbs, baked and pressed down with a weight after cooking for slicing into dreamy little mushroom nuggets.
What's a Pavé?
The word comes from French, think pavement or a piece of pavement. Technically a pavé needs to be a square or rectangle shaped piece of food to be true to it's name. Most often I make pavés with layered, sliced ingredients like root vegetables or potatoes.
In my opinion, you could really describe this as either a pavé or a gratin depending on how you're feeling, but, I think of pavés with fewer ingredients than a gratin, there's no cream or bechamel sauce here, no breadcrumbs, just shaved mushrooms, butter, egg, a teeny bit of cheese and herbs.
I'd say a gratin has a little less structure associated with it and can have a little more creative liberty applied to the preparation and description.
At the end of the day, It's my dish, so I'll call it whatever I want and you should feel equally free. If I had the foresight to put it in a square pan and make a larger batch, it would've been a perfect pavé, but whatever, it's a technical moot point.
The Importance of Pressing

This is important but requires some dedicated fridge space. Sometimes people don't press layered dishes like this, and that's just fine, but pressing gives a firm texture that holds it's shape and can be cut into shapes easily.
The thin layers of mushroom keep a great texture, and the preliminary sweating with butter and a little seasoning makes sure they avoid the only downside of lobster mushrooms: blandness. The noodely cross section is great, too.
Lastly, a little word on the shelf life of cooked mushroom dishes. This recipe has no preservative ingredients besides a little salt, that means that after it's cooked, chilled and pressed (preferably immediately after it's been cooked) you need to eat it within a day or two.
As an armchair rule, many mushroom poisonings are due to either eating large amounts of wild mushrooms, those past their prime, or cooked and old (roughly 5 days or more), and it's nothing to toy around with.
Unlike eating something inert like a plant or leaf that's past its prime, (kale for example) wild mushrooms are different. They contain compounds and properties more similar to eating spoiled meat from my experience, and I know people who can testify to the powerful G.I. effects eating them past their prime.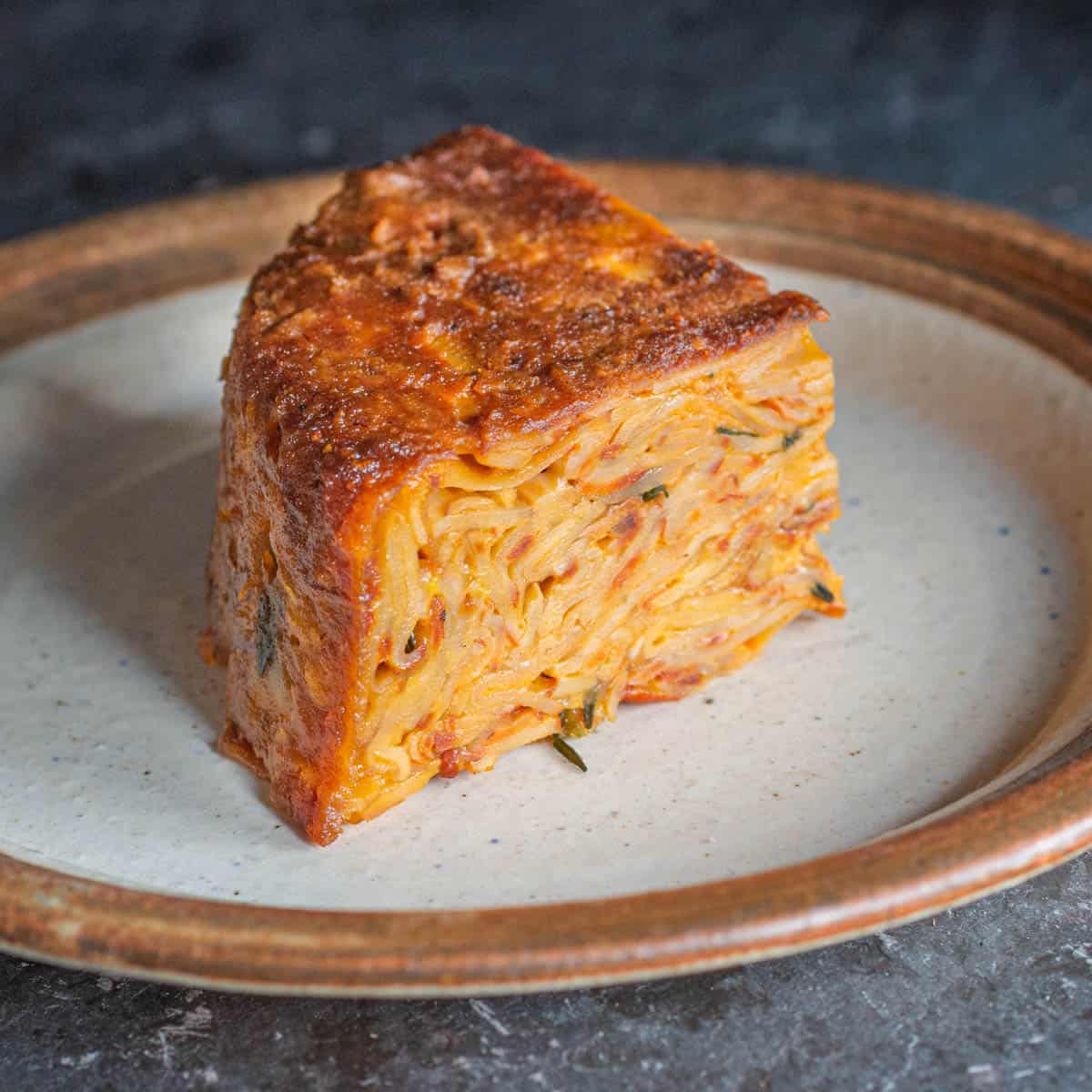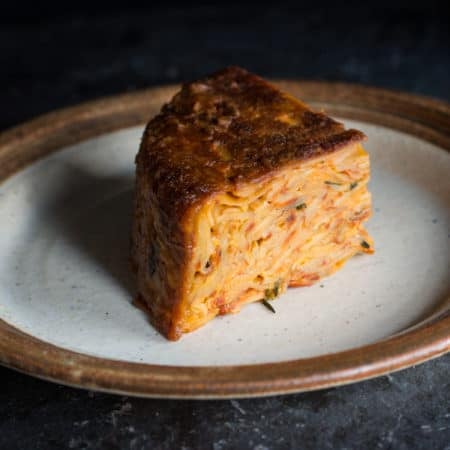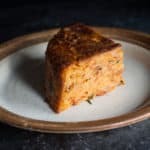 Print Recipe
Lobster Mushroom Pavé
A pressed cake of shaved lobster mushrooms scented with thyme.
Ingredients
1

lb

fresh

firm lobster mushrooms, trimmed with a paring knife and rinsed if needed

1

teaspoon

minced garlic

2

tablespoons

unsalted butter

¼

cup

grated Parmigiano Reggiano

2

large egg yolks

Kosher salt and fresh ground black pepper

to taste

Fresh chopped thyme

to taste, about

Ground

dried lobster mushrooms, about 1 tablespoon, for dusting the baking dish
Instructions
Using a mandoline slicer, shave the lobster mushrooms as thin as possible.  Sweat the mushrooms with the butter, garlic, thyme and ¼ teaspoon of salt until just soft and wilted, do not caramelized the mushrooms.

Transfer the mushrooms to a mixing bowl, allow to cool for 5 minutes, then combine with the cheese and egg yolk. Grease a small baking dish with butter, then dust with lobster mushroom powder to prevent sticking (I used a small 6'' x  2'' cast iron pan).

Bake the pavé at 300 for 45 minutes or until hot throughout, then cool almost to room temperature (use an ice bath to do it quickly), wrap with plastic wrap, and press down with a weight overnight to compress. You could use a mason jar, or another pan, anything that will fit snugly on top of the pavé.

The next day, run a paring knife around the edge of the pavé to loosen it, then remove the pavé from the dish and cut whatever sized portions you like, reheat gently in the oven, and serve.
Notes
The base for a vegetarian entree, or just a really cool side dish. I had it the next day with fried eggs too, which didn't suck either.