Can you make bacon from a lard pig? Technically yes, but you may want to think twice. Read on and I'll show you the most interesting bacon I've ever made.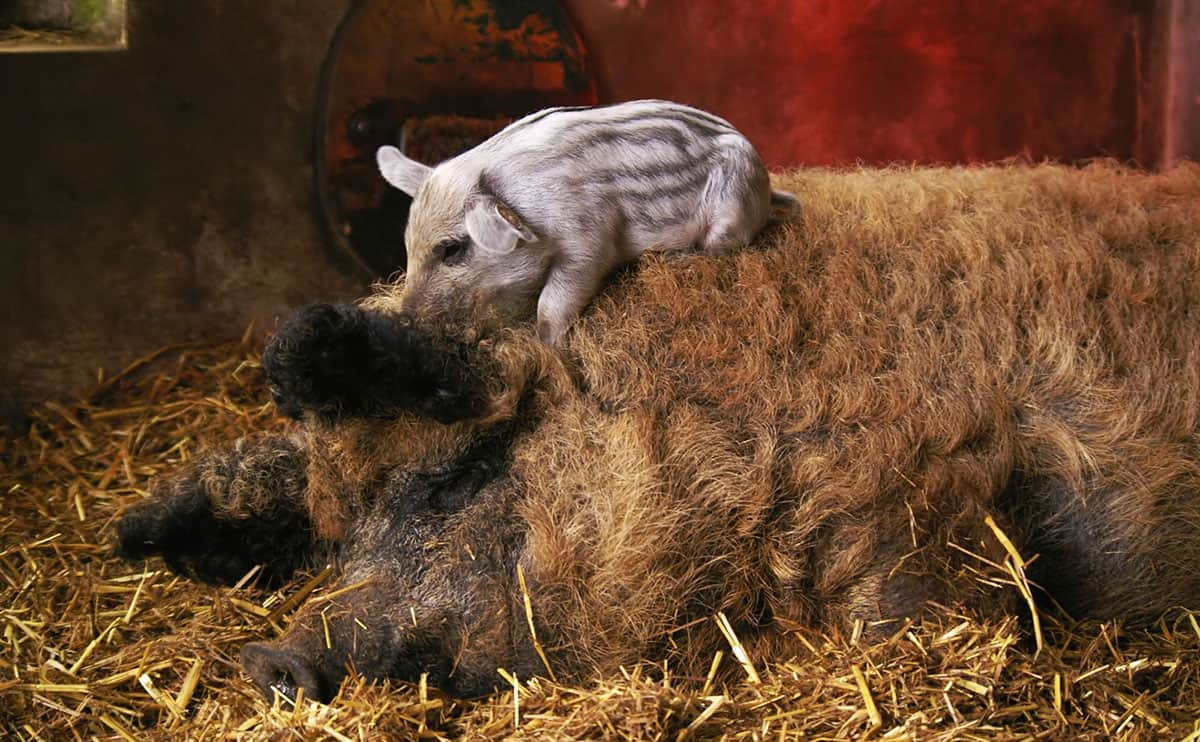 My girlfriend loves to eat great food, and is a health and fitness guru. Two years ago, while on a water fast out west She told me she'd been craving food (on a water fast, go figure) and decided to buy a whole mangalitsa pig (also known as mangalica) and have it delivered along with a new freezer to the farm.
After laughing for a while with jokes revolving around her interesting way to sate food cravings, I called the butcher and walked them through how I wanted the pig prepped. One of the most important things to her was the bellies, as she likes my bacon.
Mangalitsa: a pig raised for it's fat instead of meat
A note quick on pork breeds. For our purposes here, think of pigs as one of two types: (I understand this is an gross oversimplification, farmers please forgive me.)
Meat pigs, and lard pigs. In olden days, some pigs would be raised exclusively for the fat they produce after rendering, the cooking lube of life that made every great grandmother's pie crusts flaky, and fried potatoes rich. In a sense, with lard pigs, the meat was a by-product of fat production.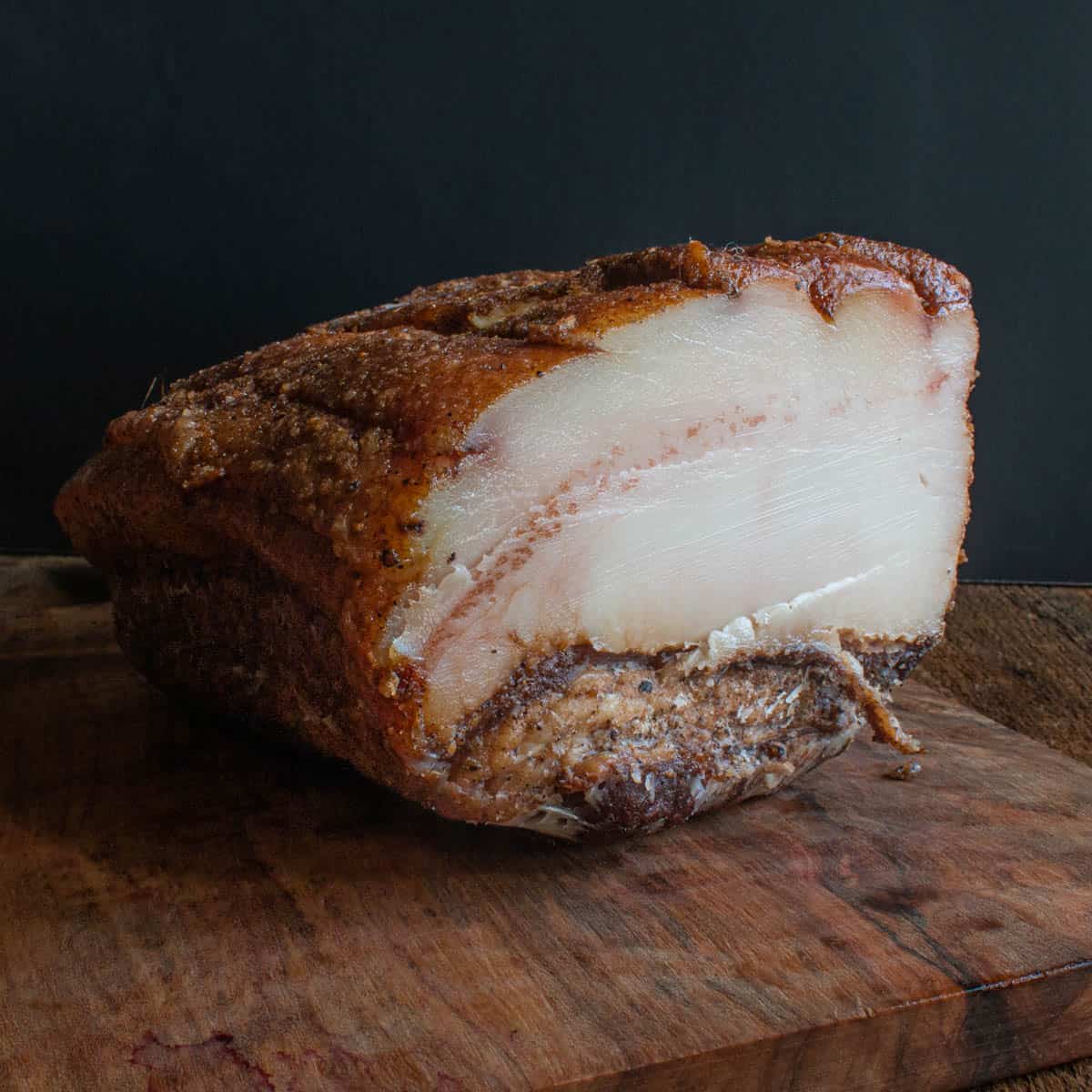 I'd worked with cuts of mangalitsa and other lard breeds before, and I knew what to expect, or so I thought: smaller cuts of meat, a little trim here and there, and plenty of lard to render out. But even with my experience, I was not prepared for this piggy.
When I opened up bags of meat from the chest freezer after the pig arrived, I knew something was different from the mangalitsa I'd worked with. The meat was fattier than I'd ever seen, and there was more lard to render than I expected, a lot more, about 80 lbs.
The composition of the meat was different too, pork chops were so fatty that they ended poaching themselves in fat rather than searing-I'd never seen anything like it, the ground meat was pure white, with only flecks of meat, and useless for cooking, sans lard rendering.
When I looked at the bellies for bacon, I said something to the tune of "dear god help me". They were comical, fattier than anything I could ever dream of. I took them into the restaurant, along with the bags of lard (We cooked hashbrowns in the manga fat at Lucia's for the entire restaurant for at least 5 months off of the one pig) and had enough to start curing them to make.."bacon".
Lard pig+corn=fat
But why were the bellies so different than the mangalitsa I'd worked with? A couple phone calls later we found out the farmer had been experimenting with the pig's feed, using corn not to finish them, but as their exclusive feed. I was a little frustrated that we'd gotten what I thought of as someone's experiment pig, but I knew it lived a happy life, and in the end that's what matters the most.
Now I had to find some way to figure out how to cook the stuff. The farmer said the next batch he planned to have strictly eating wild things they find, like acorns. That being said, in here somewhere is a joke about 'Mericans eating too much corn.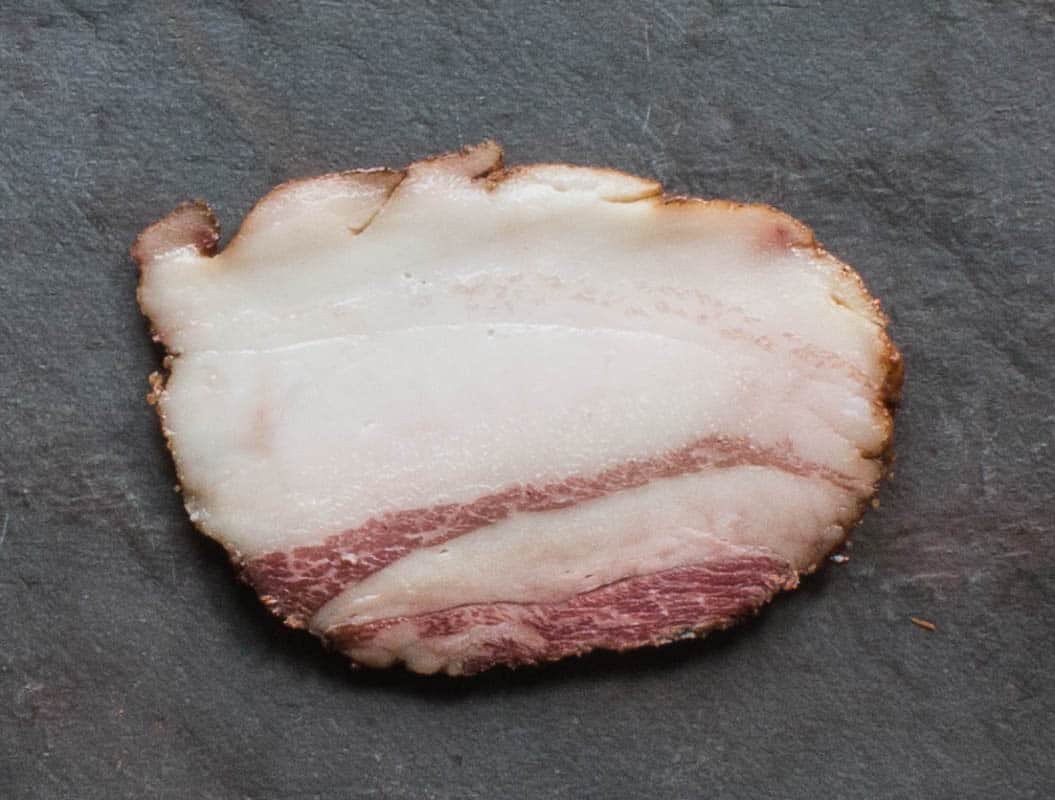 I cured the bacon per usual, then smoked it, saved the oodles of fat that came off, and chilled them down. I cut off a slice and tried to cook some--it was hilarious, basically like eating a warm piece of cured lardo.
Getting it to be crisp took a gentle, slow cook, but even then, I could tell my girlfriend wasn't going to be throwing slices of it into her cast iron pan for breakfast. I brought her a slab of meat pig bacon from my freezer in the Cities and traded for some of the mangalitsa, then brought it into the restaurant to see what I could do with it.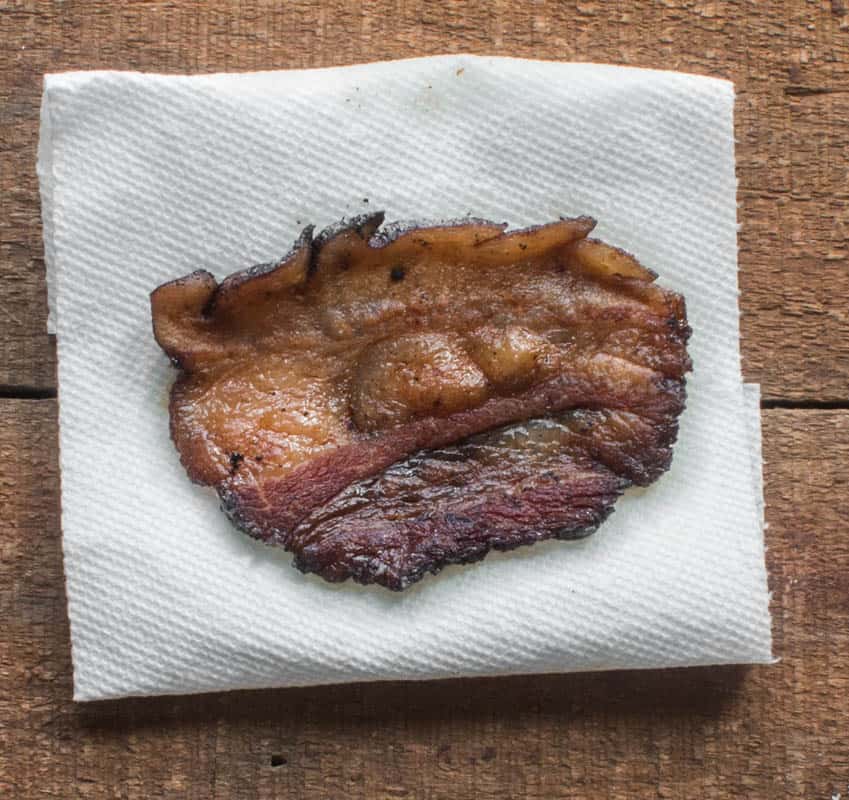 Frankenstein bacon
Eventually I understood the bacon couldn't be treated like bacon, it needed to be treated like lardo. At Heartland we used to wrap rabbit loins in lardo, and it remains one of the best ways I've ever used it.
Lardo is raw though, and much more malleable than cooked fat, so my next best option was doing a play on saltimbocca, the old Italian dish of veal slices layered with a sage leaf and prosciutto I was taught to make with my chef from Rome.
After demoing a few trials, using pork tenderloin I had a solid dish. We were able to render out a good amount of the fat after the bacon was sliced paper thin while half-frozen, and what remained offset the leanness of the pork tenderloin-It was awesome. Here's the recipe.
Related Posts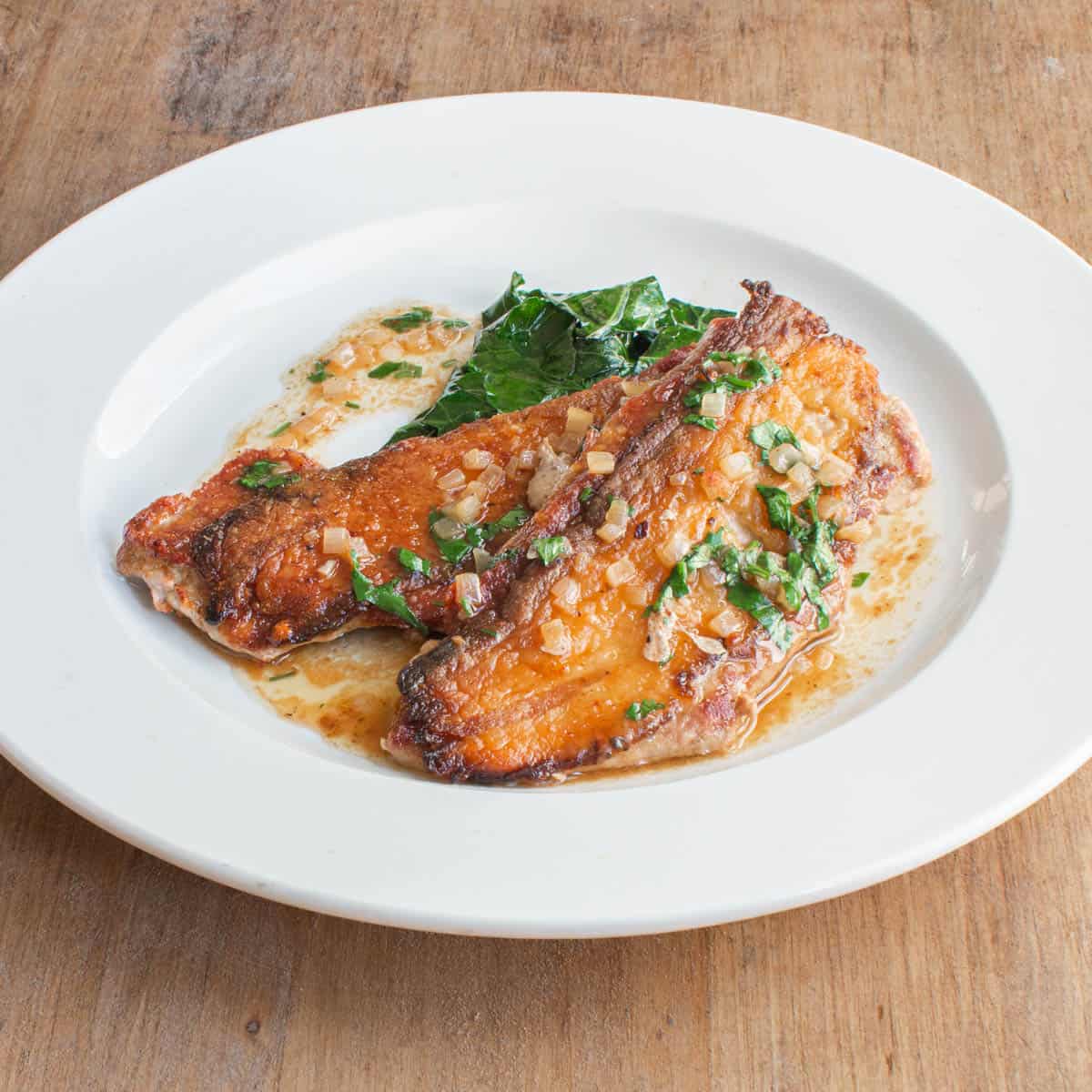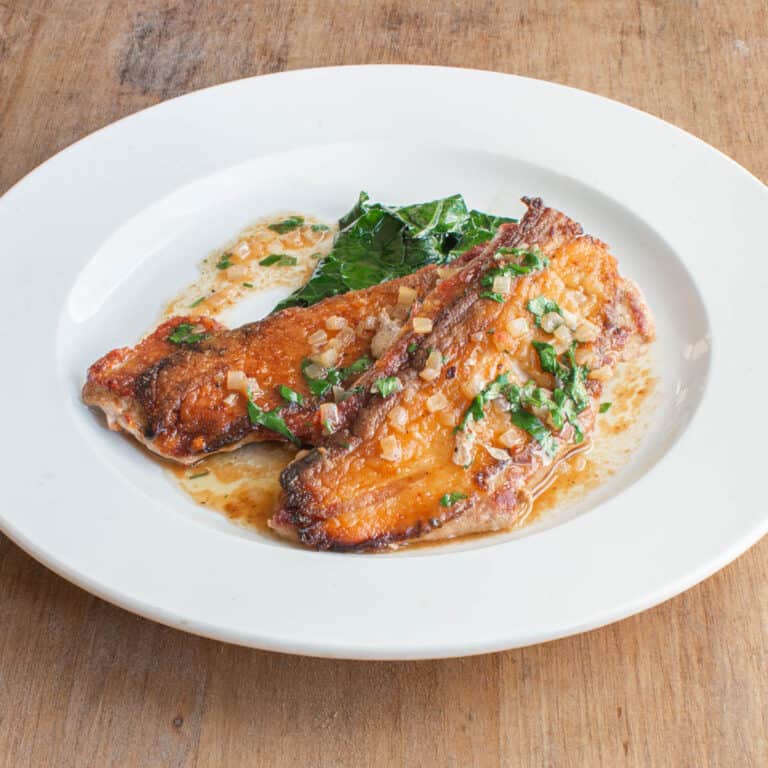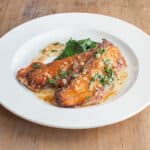 Print Recipe
Pork Tenderloin Saltimbocca with Mangalitsa Bacon
Pork tenderloin saltimbocca with homemade bacon or prosciutto. Serve with wilted lambs quarters or your favorite cooked greens. Serves 4 as an entree
Equipment
1 large skillet

1 Medium mixing bowl
Ingredients
2

lbs

pork tenderloin

cut into 8 equal sized pieces

Kosher salt and pepper8 paper slices of thin proscuitto

pancetta, lardo or another cured meat or your choice

8

leaves

of fresh sage

optional, but traditional

All purpose flour as needed for dredging

you can sub another flour (like a gluten-free one) if you like

1.5

cups

chicken or pork stock

preferably homemade

2

tablespoons

unsalted butter mixed well with 1 teaspoon all purpose flour

for finishing the sauce

+1 tablespoon¼ cup dry white wine

Fresh squeezed lemon juice

to taste

1

small shallot

diced ¼ inch, roughly ¼ cup

Fresh chopped Italian parsley

to taste

¼

cup

flavorless oil or lard for sauteing

1

lb

gently wilted lambs quarters

or another green, for serving (optional)
Instructions
Pound the pork tenderloins with a meat mallet between two sheets of plastic wrap until thin and even, about ¼ inch thick.

Place a sage leaf on the middle of each cutlet, then put a piece of whatever thin-cut pork you're using over it and press down or tap with the blunt end of a knife to secure it.

Season the other side of the meat with salt and pepper lightly, I don't season the bacon or ham with salt since it's already seasoned.

Heat the oil in a large skillet then, working in batches, dip each cutlet bacon-side down in the flour. Tap off any excess and fry, flour side down in the skillet until golden brown.

Remove each cutlet after browning to another dish or plate, trying to keep them as under-cooked as possible since you will reheat them in the sauce.

When all the cutlets are browned, discard the spent oil from the pan, then add the shallots and the tablespoon of butter and cook on medium heat until the shallots are starting to brown around the edges.

Add the wine to the pan, scrape up the browned bits and reduce by half.

Add the stock and the butter mixed with flour and whisk to break up the kneaded roux, simmer the sauce for a few minutes to thicken, then season to taste with fresh lemon juice and parsley.

Add the cutlets back to the sauce for a moment to heat them, or if your pan is too small, add the cutlets to the pan a few at a time to coat them in the sauce.

Divide the wilted greens between four plates, place two cutlets on each plate cascading over the greens, top with some additional sauce and serve immediately.
Notes
You can use prosciutto here, or any other type of cured meat you can slice very thin. Salami, pancetta, anything with good marbling that can be rendered can make a fun variation on the Italian classic. This is not a strict recipe, think of it as a general guide. Great with some wilted greens.
Nutrition
Serving:
2
Pieces
|
Calories:
365
kcal
|
Carbohydrates:
6
g
|
Protein:
52
g
|
Fat:
14
g
|
Saturated Fat:
6
g
|
Polyunsaturated Fat:
2
g
|
Monounsaturated Fat:
5
g
|
Trans Fat:
0.3
g
|
Cholesterol:
162
mg
|
Sodium:
388
mg
|
Potassium:
1718
mg
|
Fiber:
3
g
|
Sugar:
1
g
|
Vitamin A:
10926
IU
|
Vitamin C:
33
mg
|
Calcium:
142
mg
|
Iron:
6
mg