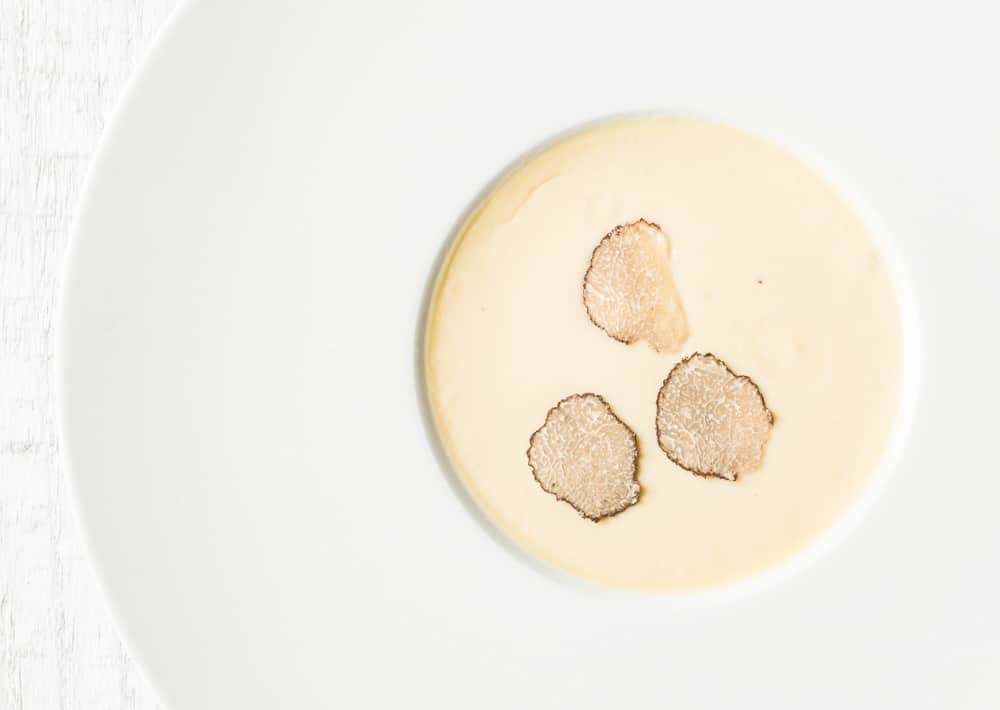 Royale custard is one that is made purely with egg yolks instead of whole eggs. I designed this for my girlfriend who can't have too much cow dairy, but likes truffles. You can mix and match different dairy as you like, cream will naturally give you a richer final dish, half and half will work fine too. Using milk like I've done here makes for a custard with a lighter body. This is a companion recipe to my post on infusing eggs and the solubility of truffle aroma into fatty substances like egg yolk here.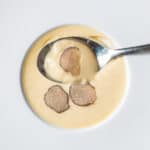 Print Recipe
Goat Milk-Black Truffle Custard Royale
A sweet baked custard flavored with goat milk and black truffles
Ingredients
2

cups

goat milk

7

large egg yolks

¼

cup

honey or maple syrup

or more to taste

10

grams

grated fresh black truffle

make sure to leave a hunk of truffle for slicing over the finished custards to garnish

⅛

teaspoon

salt

½

teaspoon

high quality vanilla extract
Instructions
A day or two before baking, whisk all the ingredients together and refrigerate.

To cook, pour the mixture into ½ cup custard dishes, place in a water bath, cover the pan with foil and bake for roughly 20 minutes at 300 degrees, or until the custards are just set.

The custards should jiggle a bit, but should not look broken or watery.

If you've never baked custards in a water bath before, research it before attempting.

Turn the heat off of the oven, remove the foil, and leave the door open for 10-15 minutes, this helps a skin to form on top of the custard, and will help prevent condensation from forming droplets on top of your finished dessert.

After 15 minutes, remove the pan from the oven and allow to cool, uncovered at room temperature.

Finally, wrap each custard dish in plastic wrap, label, date, and refrigerate.
Notes
Yields 3 cups of custard, to be baked in ½ cup batches in small ramekins, glasses, or other baking dishes