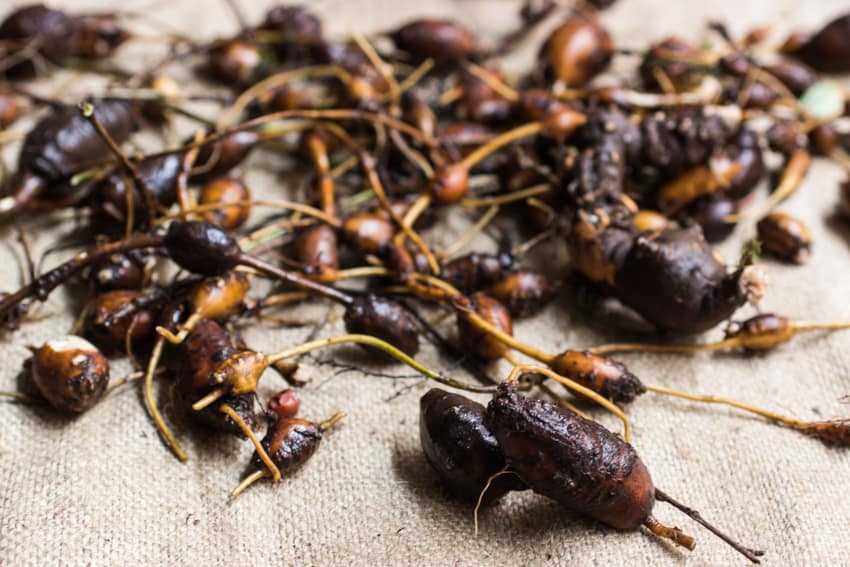 This past week I got to hunt something that's eluded me: the groundnut/hopniss. I read about them for the first time in Sam Thayer's book the Forager's Harvest. In the book, Thayer shows a tuber that can be dug when you find clusters of the vines. Compared to hunting something above ground like a mushroom though, finding things beneath the soil seemed impossible to me-I had pretty much given up.
Lucky for me I have friends. My buddy Dan Farmer is one of the most inquisitive guys I know, he loves to research things, learn, and teach himself just like I do. Dan's retired, so he has a little more time to search for things than me; it ends up being a great way for me to live vicariously through another hunter. Even though it can be hard to connect and go out together with my restaurant schedule, we'll shoot each other pictures and share what we've been seeing off and on.
As luck would have it, Dan located some groundnuts around the Twin Cities before me. He was nice enough to invite me to get together and dig some before the snow fell this year.
After a morning spent digging them I learned quite a bit. Even though I've scoured Thayer's book, I had been looking for a sort of tree or small shrub, (for reasons I don't know) hopniss are more like a bean though. The little tubers in the pictures grow along a vine underground, which is eventually connected to an above ground vine that grows by hanging onto other plants. Where we were digging it seemed to be climbing up the other plants in order to steal sunlight and get a leg up. I should mention too that the hopniss were growing in a very moist area with loose soil-not exactly a place I would be hunting mushrooms in, which could explain why I had never come across them before.
It took us a while to get the hang of digging the suckers, but after a while it got easier. We would find a big vine and follow it down to where it enters the soil. From there all we had to do was feel around with a gloved hand (definitely recommend the gloves) and unearth the little tubers gently, one by one. Be it known that if you try to yank them out you'll break the vine, lose sight of where they are, and get pissed.
We ended up with a nice little basket of hopniss for our efforts-plenty to play with in the kitchen and experiment. Preparing them for cooking was a bit of a chore, but nothing worse than peeling some chestnuts. Looking at the little tubers, you can see there are a couple of different ways they could be approached. I knew to separate them from the connective vine for cooking, but after that, first and foremost was the question if they should be peeled or not.
I did a little taste test, cooking a few peeled and unpeeled, and found that I definitely prefer the texture and flavor of skinless, cooked hopniss. So what about the tubers that are too small to peel? Since they take 2 years or so to grow, I think it's probably best to only harvest hopniss that are big enough to peel, say the size of an egg or golf ball. If you leave them in the ground they should continue to grow, as Hank Shaw states in his excellent post on hopniss here (There are some cool recipe ideas in there too).
While I was peeling and cleaning, I noticed that there seemed to be some damage from some sort of creature eating or burrowing in them. Of all that we picked, I'd say about 20% were damaged or otherwise unusable for cooking "as is".
Besides critter damage, there seemed to be a stringy quality with some of the tubers similar to what I see with root vegetables that are allowed to grow to long: they were stringy. Some of the hopniss even turned black after they were cooked, or showed a mottled pattern in their flesh. Needless to say those that didn't cook up creamy white didn't taste as good, so I'd avoid them.
Of course I had to come up with a fun hopniss recipe to share. It's great, although I discovered a bit of a curveball at the end. I wanted to keep it simple, so I employed a basic technique I use to cook root vegetables, here's the jist: You cook the roots in some stock or water with a bit of salt until they're tender, then add a little butter to their liquid that has reduced which thickens it a bit. What you end up with is a vegetable that's glazed in it's own, juice, it's essence. Obviously you don't have to use hopniss, but it's a fine way to cook them if you can find some.
So what was the curveball? Well the first time I cooked the hopniss I did it in a small stainless steel saute pan, and everything was perfect. The second time I prepared the recipe I used a little cast iron pan. What seems to have happened is that the groundnuts reacted with the iron and turned pink. I laughed about it, then slapped myself. "D'oh!".  Without further ado, here's you pink, glazed hopniss.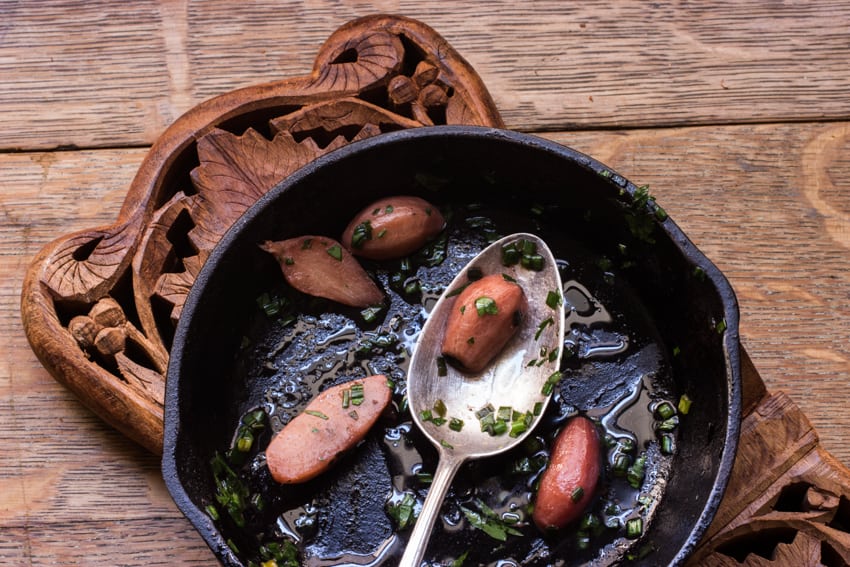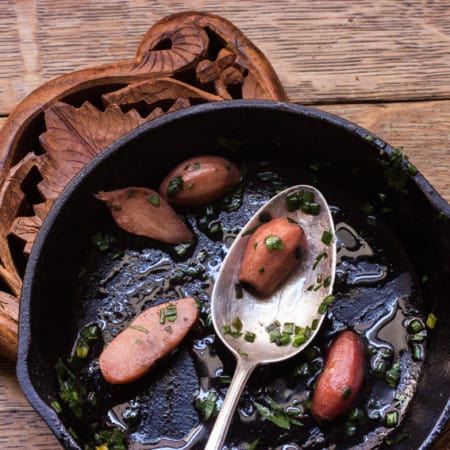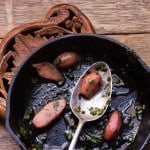 Print Recipe
Glazed Hopniss
Serves 4 as a side
Ingredients
12

ounces

fresh

peeled hopniss, cut into equal sized pieces

1.5

cups

chicken or vegetable stock

you could use water in a pinch

Kosher salt

plus black pepper to taste

2

tablespoon

mixed

fresh soft herbs like parsley, thyme, chives, dill, chervil, etc-your choice

1

tablespoon

unsalted butter
Instructions
Put the hopniss, stock and salt in a high sided saute pan.

Bring the mixture to a boil, then turn down the heat to a simmer until the liquid is reduced by ¾ and the hopniss is tender, about 10 minutes.

Turn up the heat to medium high, then add the butter and swirl it into the pan, continue swirling and reducing the liquid gradually until the liquid emulsifies and thickens a bit.

Double check the seasoning for salt and pepper, add the herbs, stir and serve immediately.