I had the best time last weekend harvesting wapato with my friends Linda Black Elk, Sam Thayer and Alexis. I used the tubers to make a wapato recipe inspired by the areas where all the ingredients grow using duck, wapato, morels and wild rice.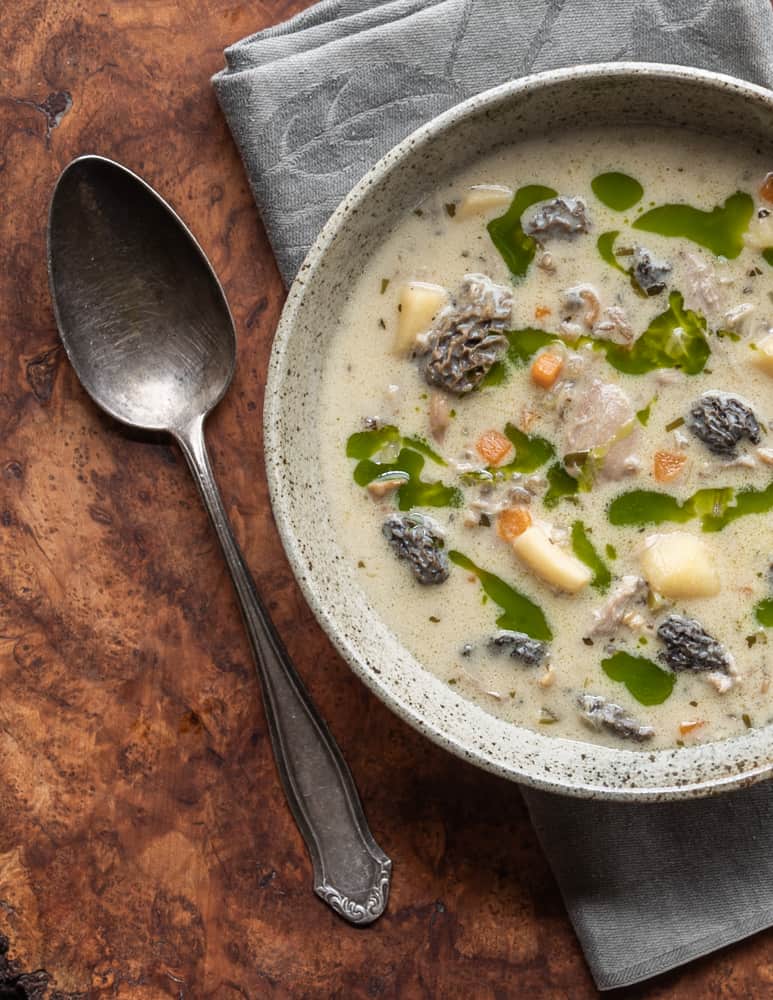 We were in Southeast Minnesota with a group of Dakota from the Prairie Island community who were taking a class on foraging class led by Sam and Linda. Wapato harvesting was the finale, and what a finale it was.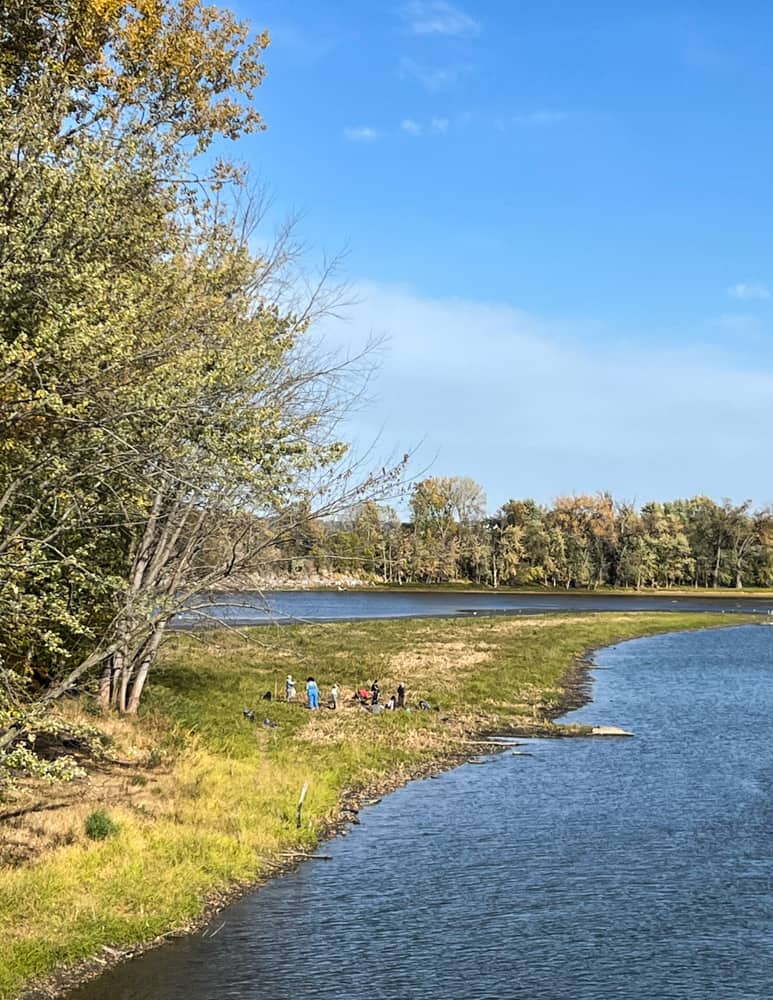 Seeing a group of foragers on a peninsula in the Mississippi covered in mud, many of them shoulder deep in the clay foraging for tubers was an inspiring sight. I think everyone got to take home some wapato.
Wapato
If you're not familiar, wapato, also known as katniss, duck potato or rat potato is an edible tuber from the arrowhead plant Saggitaria lattifolia (other species like S. cuneata are eaten too). I'd harvested wapato before with my friend Dan Farmer, but neither of us were experts and we only got a handful or two of very small tubers.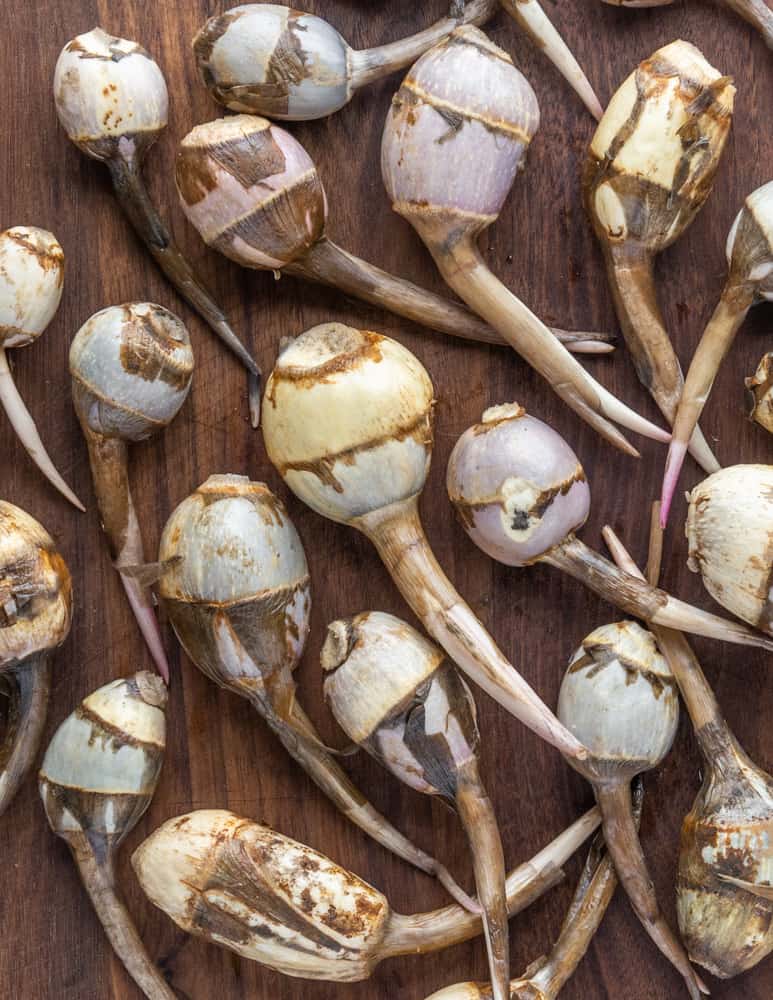 This time I went out with wapato experts and my harvest was much better. I'd been dying to harvest them again, and I learned a lot in the process.
The biggest takeaway I had was the reality of how deep you have to go to actually get at the tubers. The method is to find a group of wapato stalks, and, start digging into the clay with your hands. Most of the tubers were at least a foot deep in the clay, with some of the champions even deeper.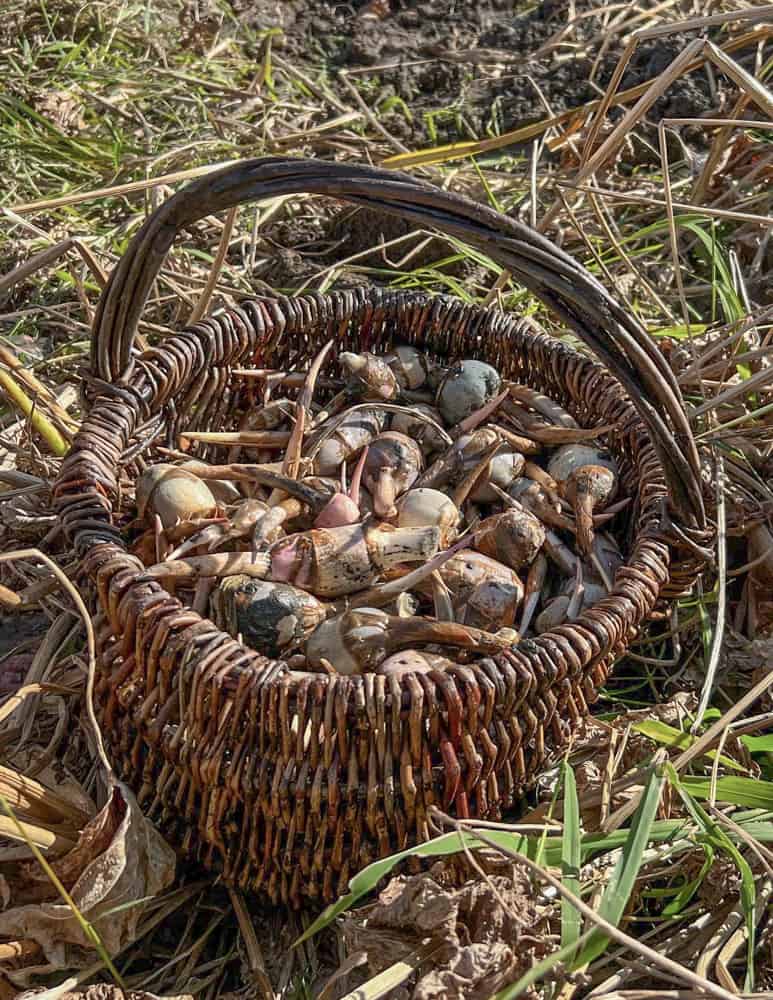 I was thrilled to finally have enough wapato to make a few meals with. The first thing I did was source a nice duck (because aquatic friends) and cook a few wapato in duck fat, which was excellent. The tubers are very starchy though, so a nice soup was my end-goal.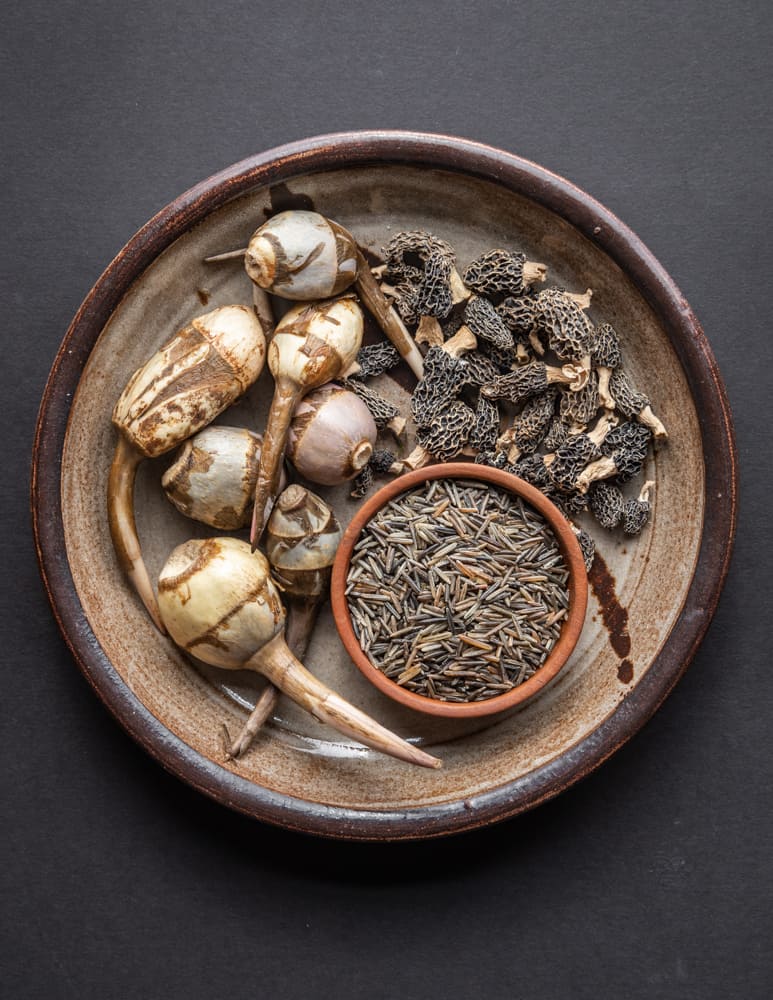 What I settled on was an ode to marshes, rivers and streams: a simple soup with wapato, wild rice, morels, and duck stock. Wapato is mild tasting, so they function like potatoes in a chowder here. Just imagine cream of wild rice soup on steroids, with morels.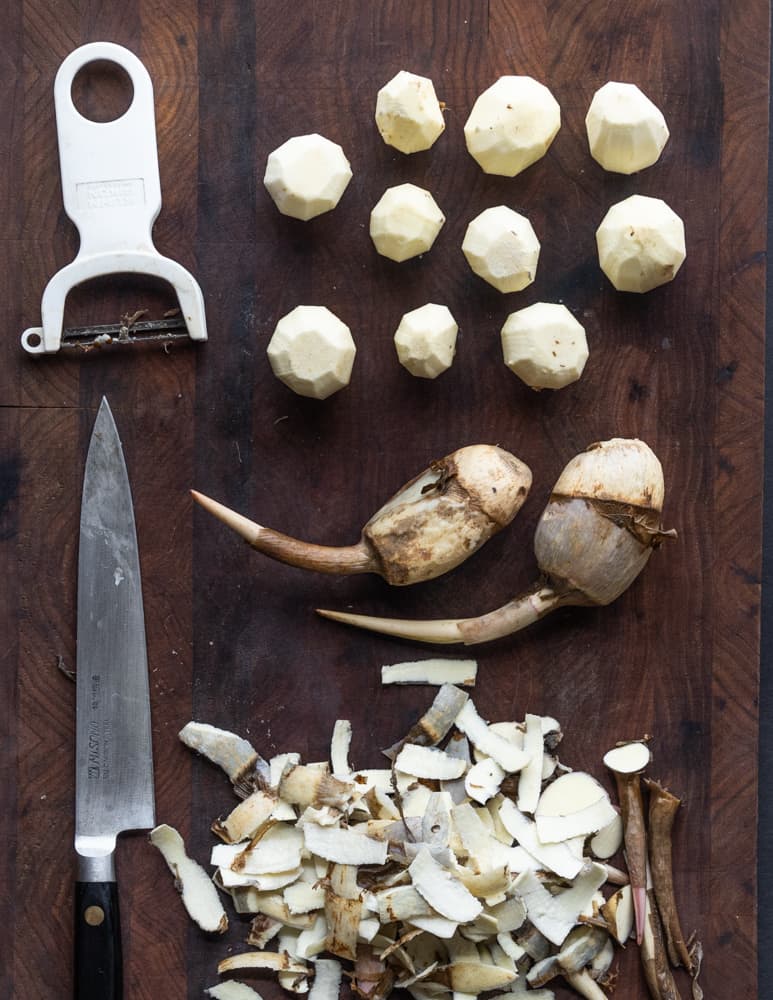 Soup morels
When I harvest morels in the spring I separate them by size and quality. One tree my friend Mitch and I found this year had over a hundred mushrooms, but many were small.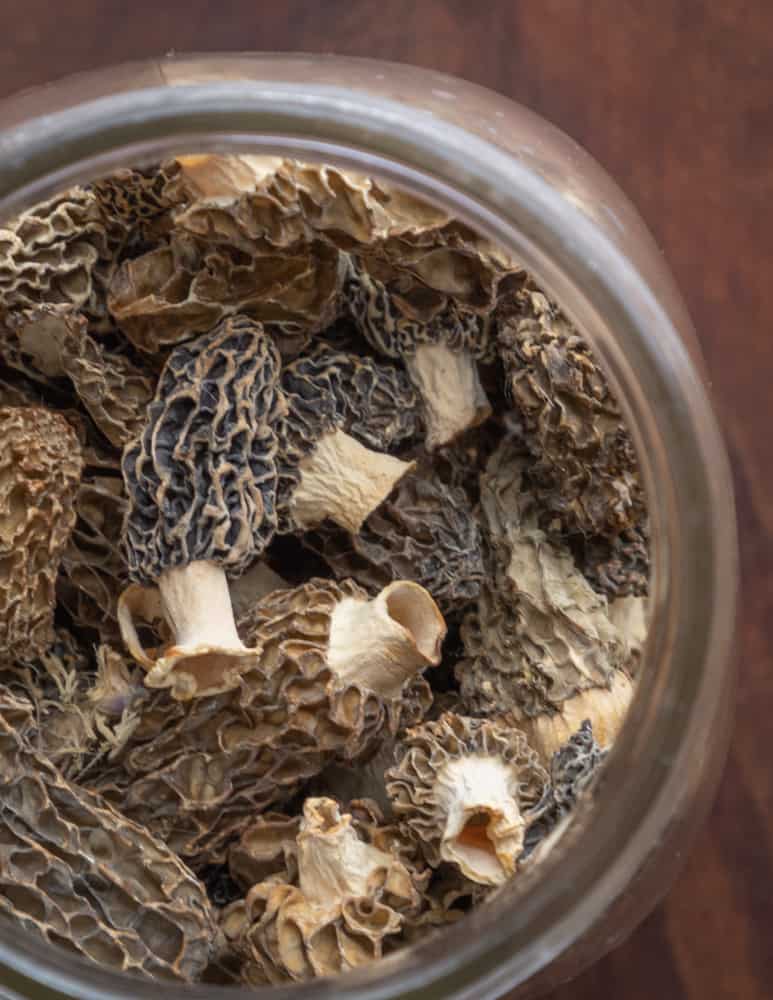 Very small morels are perfect for soup, so I dry them and keep them separate just for things like this.
Wild Rice
I'm using parched wild rice here, and it's the only one I recommend using for most applications. If you're not familiar with the differences in parched wild rice and black paddy wild rice, take a look at my guide to purchasing. Good wild rice is fantastic in soup. Besides texture, it lends a delicious flavor to the broth you won't get from black paddy rice.
Building the soup
This is basically cream of wild rice and mushroom soup on steroids, built like you would a regular version.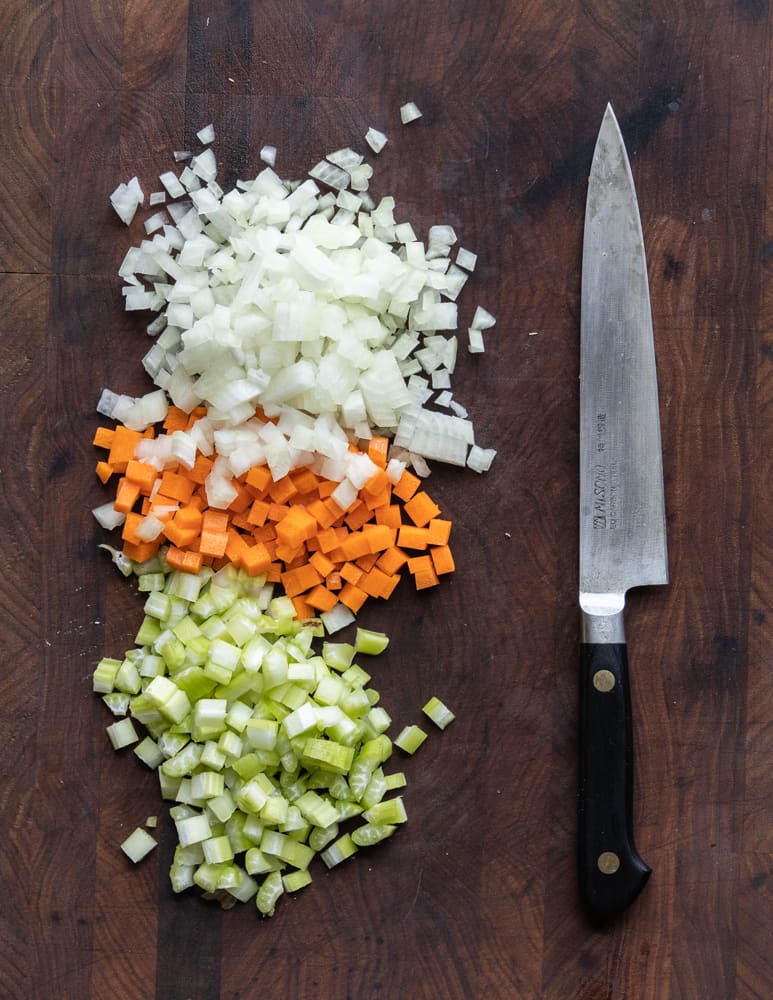 I start with a small amount of aromatic vegetables cooked in duck fat, add a little flour, duck stock, dried morels, cooked wild rice and the wapato tubers.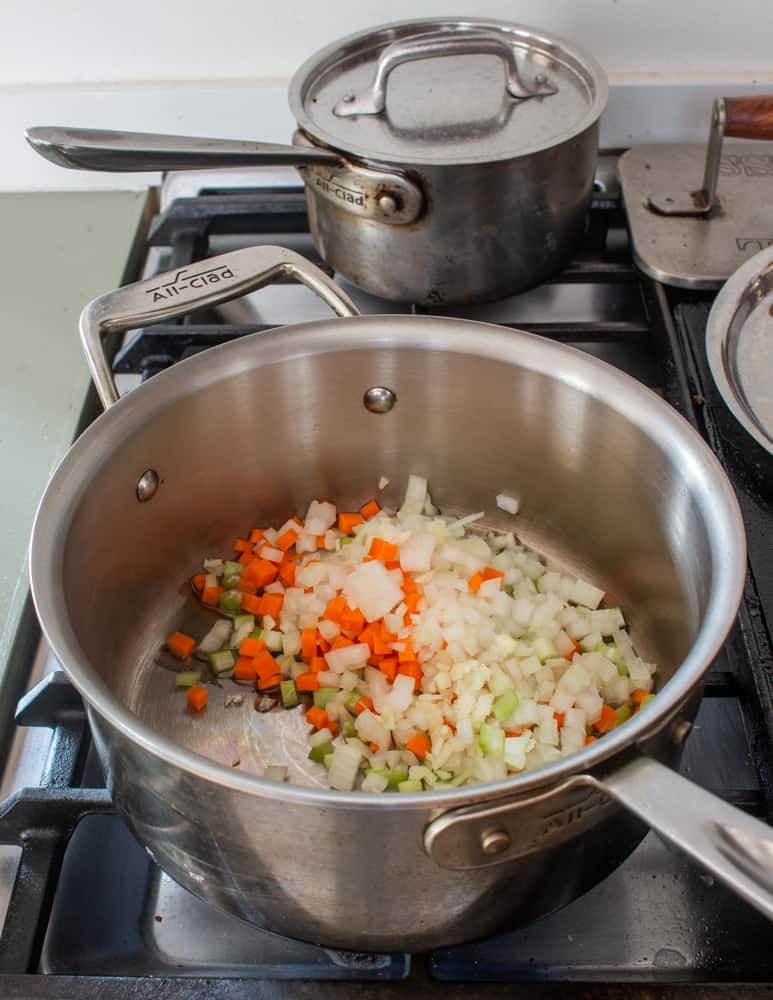 At the very end I add a handful of cooked duck confit, but you could skip it and add a little extra rice, mushrooms, or whatever you have on hand. There's a little ramp leaf oil from the spring in the dish pictured because I can't help but garnish everything, but a couple chives or parsley, or nothing at all is fine too. I hope it can give you some ideas and inspiration.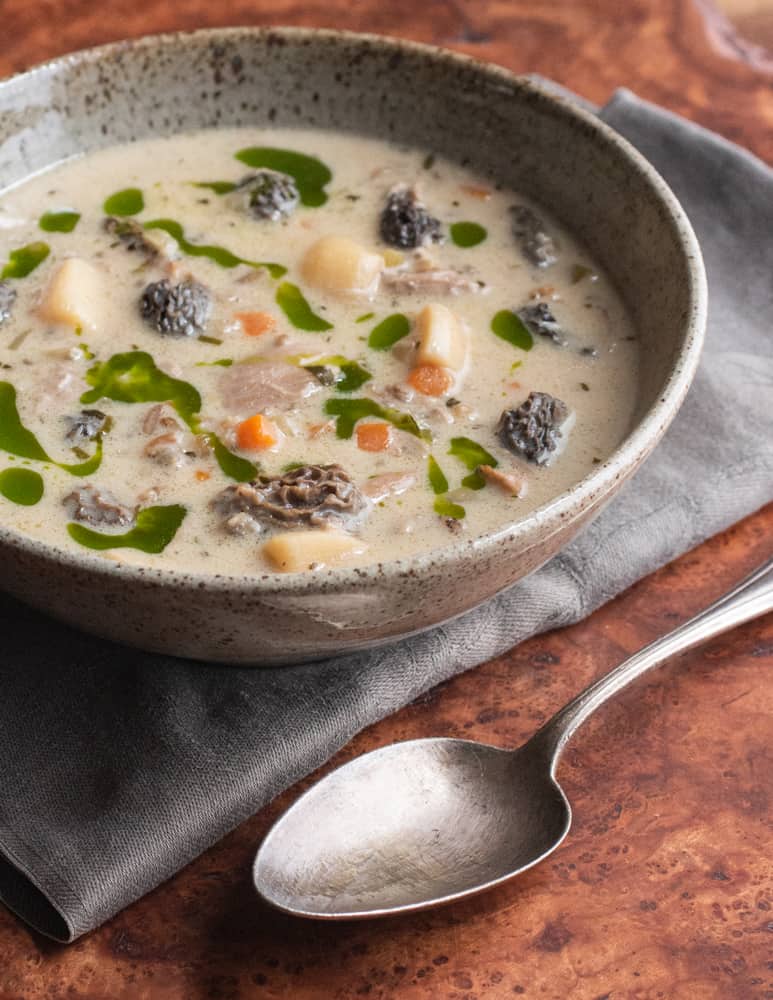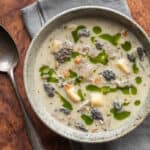 Print Recipe
Duck Soup with Wapato, Morels and Wild Rice
A rich soup inspired by ponds and lakes made with duck stock, wild rice, wapato tubers and dried morels. It's fancy cream of wild rice and mushroom soup. Serves 2-4
Ingredients
2

oz

carrot, cut into small dice

2

oz

celery, cut into small dice

2

oz

yellow onion, cut into small dice

or just one small onion

1

tablespoon

1 large clove garlic, minced

3

tablespoons

duck fat or unsalted butter

½

oz

dried morels

preferably small ones *see note

3

tablespoons

all purpose flour

6

oz

wapato

peeled and cut into bite sized pieces

Heaping cup of cooked parched wild rice

5

cups

duck stock

Generous pinch of dried ramp leaves

Small pinch of dried bee balm

optional

½

cup

heavy cream or half and half

Kosher salt and fresh ground black pepper

Ramp leaf oil

to garnish (optional)
Instructions
Dried morels
Rehydrate the morels in the stock for 15 minutes.

Agitate the morels by swishing them around to help remove any clinging dirt. Remove the morels, squeeze dry and reserve.

Ideally your morels are small enough to be in bite sized pieces whole, if they're larger, cut them into large bite-sized pieces. Reserve the stock and rehydrated morels separately.
Build the soup
In a 3 quart or similar saucepot sweat the carrot, onion, celery and garlic on medium heat in the duck fat until translucent and completely cooked, about 10 minutes.

Season the vegetables with a good pinch of salt. Add the flour, stir to coat the vegetables and cook for a few minutes more.

Add the splash of sherry and cook for a minute to remove the alcohol.

Add the morel-infused stock, making sure to leave any grit that's settled on the bottom behind, along with the wapato, wild rice, rehydrated morels, ramp leaves, bay leaf and bee balm if using, bring to a simmer and cook for 20 minutes on low heat or until the wapato is tender.
Finishing
Finally, stir in the cream, taste and adjust the seasoning for salt and a little fresh ground black pepper until it tastes good to you.

Judge the consistency of the soup. If it looks a little loose, add a little more wild rice, if it looks too thick, add a bit of stock. The soup will thicken over time as it sits.
Serving
Stir in the cooked duck or other meat, heat through and serve garnished with the ramp oil if using. It'll be better the next day after the wild rice has had a chance to absorb liquid and transfer its flavor to the soup.
Notes
Morels 
If your morels are large, make sure to cut them into large, bite-sized pieces after rehydrating. They should be able to fit on a spoon. 
Nutrition
Serving:
8
oz
|
Calories:
213
kcal
|
Carbohydrates:
18
g
|
Protein:
5
g
|
Fat:
14
g
|
Saturated Fat:
5
g
|
Polyunsaturated Fat:
2
g
|
Monounsaturated Fat:
6
g
|
Cholesterol:
26
mg
|
Sodium:
1134
mg
|
Potassium:
403
mg
|
Fiber:
2
g
|
Sugar:
4
g
|
Vitamin A:
2546
IU
|
Vitamin C:
12
mg
|
Calcium:
69
mg
|
Iron:
1
mg