I love cooking with Sam Thayer's bitternut hickory oil. One of the best parts of our friendship is the opportunity to pitch in and harvest nuts in exchange for oil a few months later.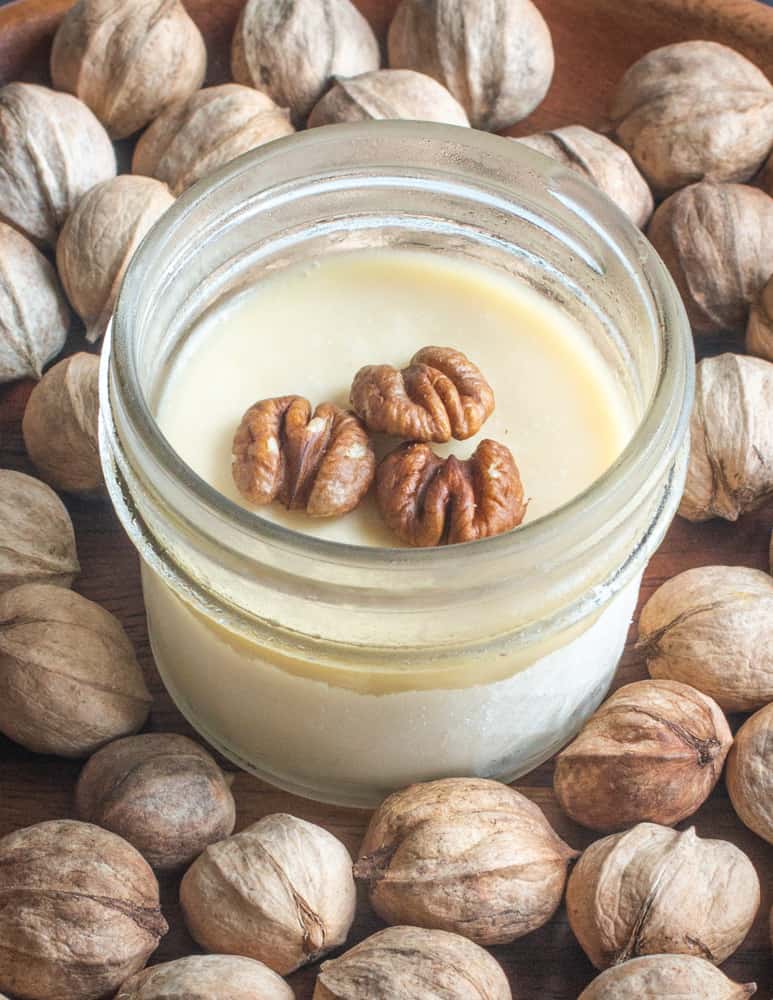 On one of the first outings where he showed me his method for harvesting the nuts, Sam mentioned he'd always wanted to find a way to incorporate the oil into a dessert.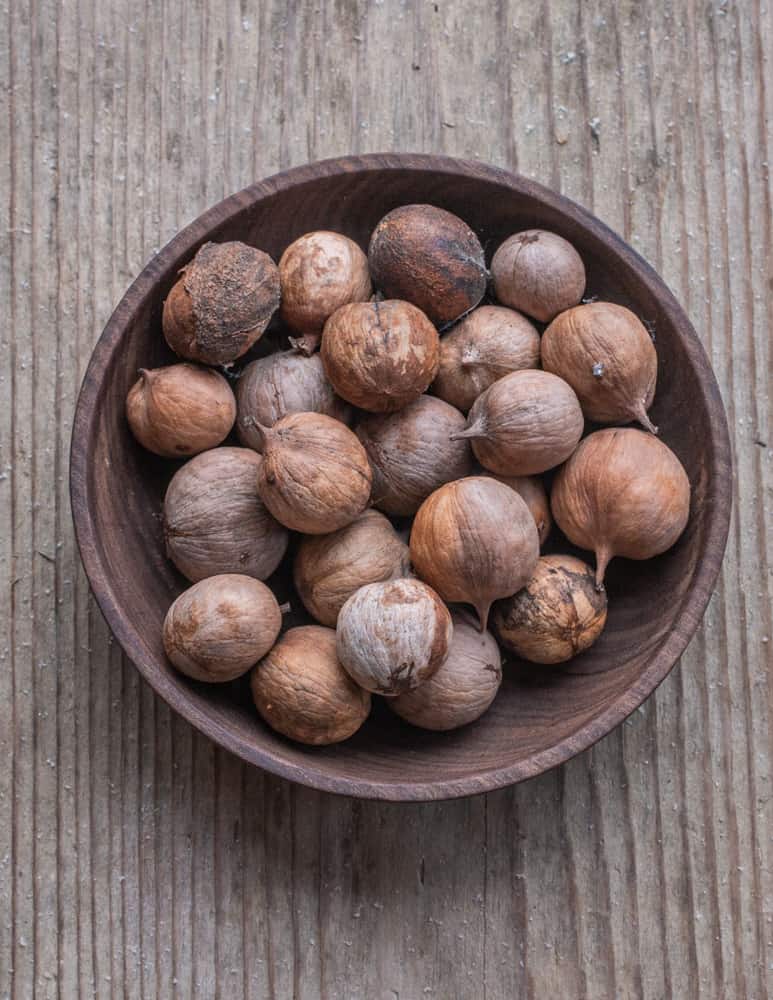 He described whipping or pureeing the oil with maple syrup somehow to make a frozen dessert and it gave me an idea.
I knew he and his wife Melissa were coming over to a Solstice party at the farm I was living on at the time a few weeks later. I thought it would be a lot of fun to surprise them with a rendition of a dessert similar to the one he described. It turned out to be one of the most interesting desserts I've ever. Sometimes cooking with the goal of making someone else happy is where my best ideas come from.
Emulsion magic
Here's my thought process. All by itself oil is, well, oily. But, when oil is bound in an emulsion the mouthfeel changes, just imagine how regular salad oil transforms when it becomes mayonnaise. I knew that if I wanted to make a dessert out of the hickory oil, it would have to be emulsified, which means we'll need somewhere for the oil to go.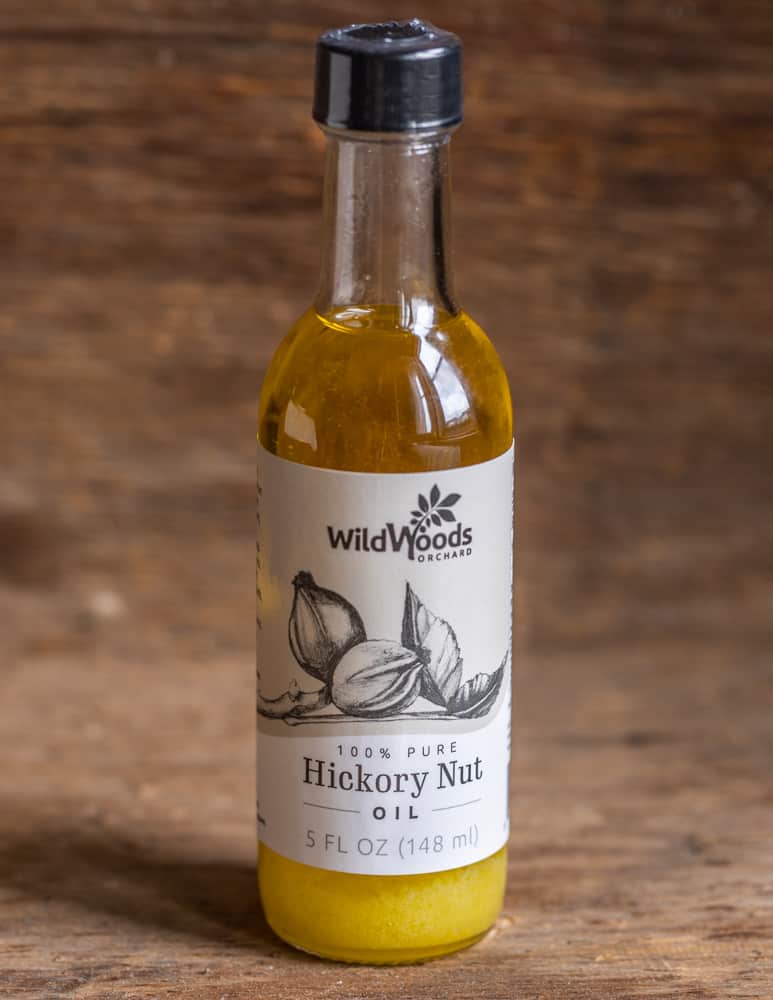 Hickory nut milk
Maple syrup contains plenty of water, and you could probably emulsify pure maple syrup and hickory nut oil, but it would be too sweet. The key turned out to be adding a little extra liquid in the form of hickory nut milk, which, besides allowing the mixture to emulsify, makes the finished dish a 100% forest product-a sort of holy grail among wild food fanatics.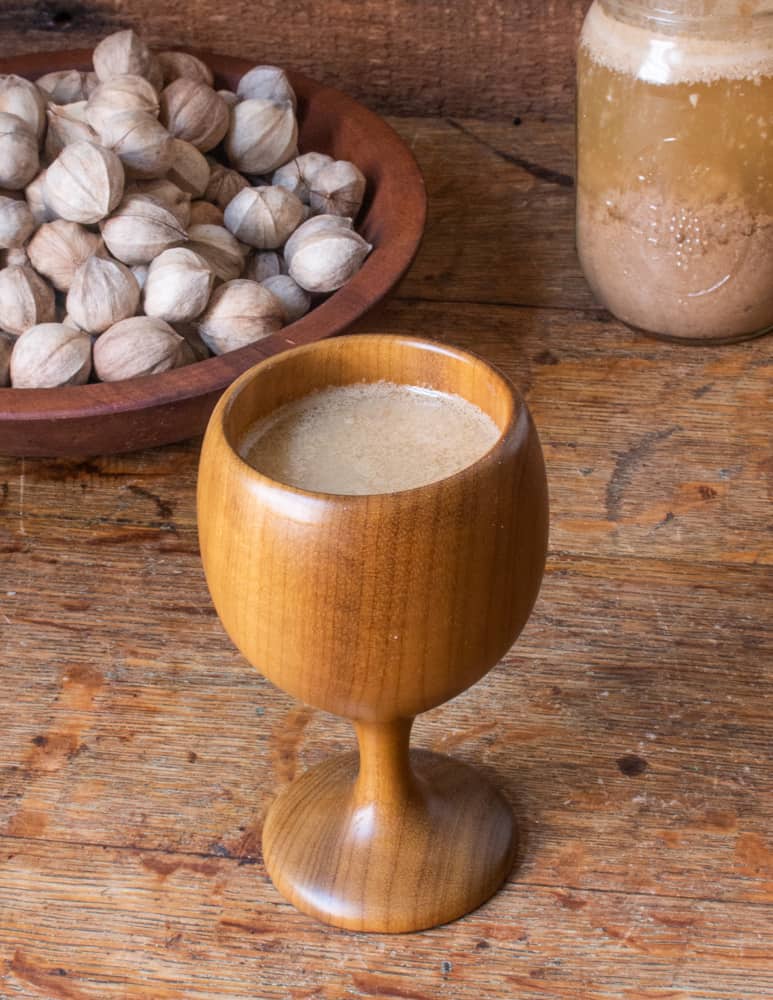 If you don't have hickory nuts to make hickory nut milk, you can use a little heavy cream as you only need a small amount.
To make the dessert, you puree the hickory nut milk and maple syrup, drizzling in the oil to make an emulsion that's not dissimilar to sweet mayonnaise. After the mixtures pureed, you pour it into small serving dishes and freeze it. Fat and sugar doesn't like to freeze, but the mixture sets enough to be solid, similar to ice cream.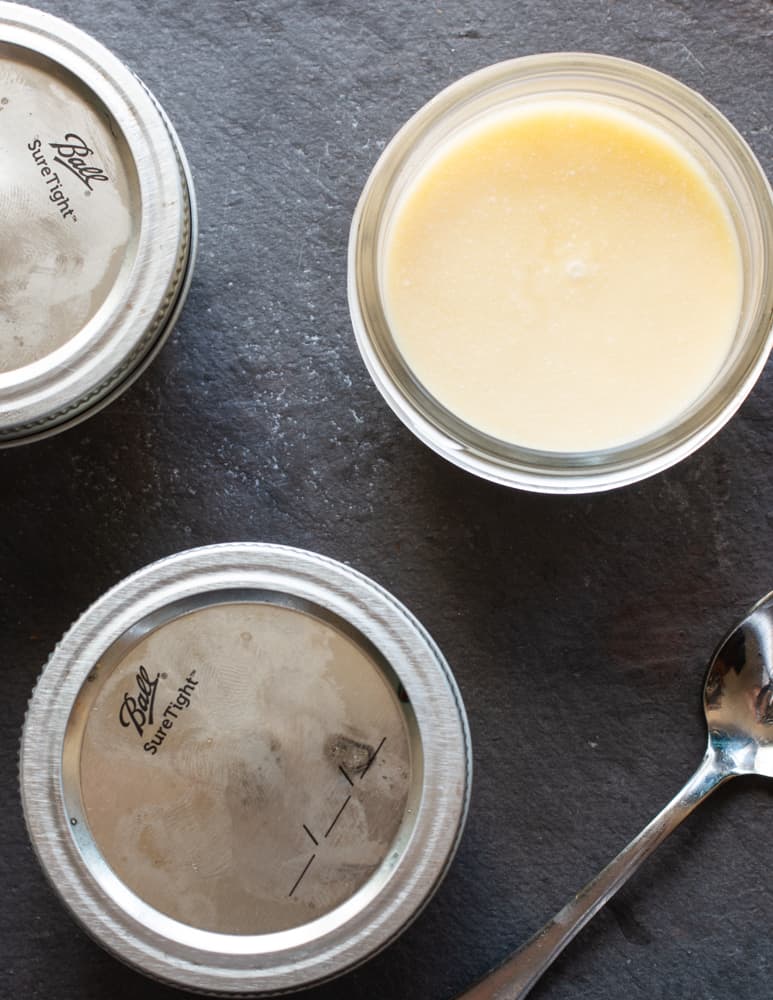 The finished product is unlike any dessert I've made before, and I was blown away at the first bite. As long as your hickory oil is very fresh it will have a noticeable hickory/pecan flavor, and a spoonful melts away like silk on the tongue. You would think the high amount of oil might taste greasy but it doesn't, luxurious is a more appropriate term.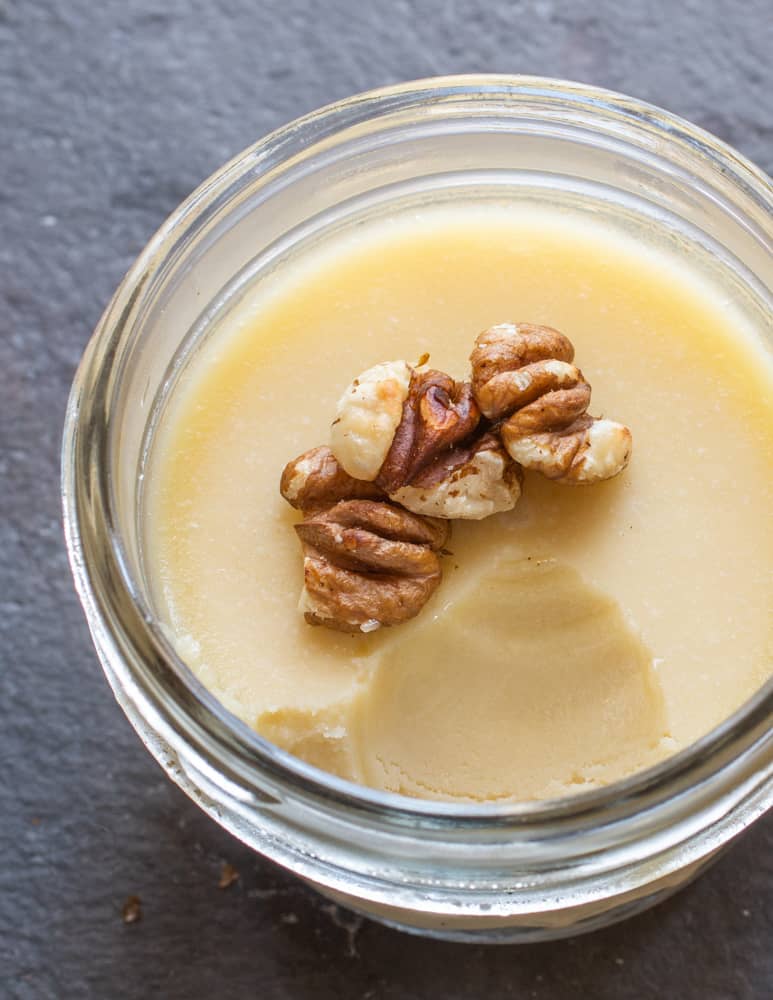 Yes it's high in fat, but it's all good fat direct from nature, and the serving size is pretty small. It's the kind of special treat I'll enjoy once in a while, ideally to celebrate the pressing of the year's hickory oil crop.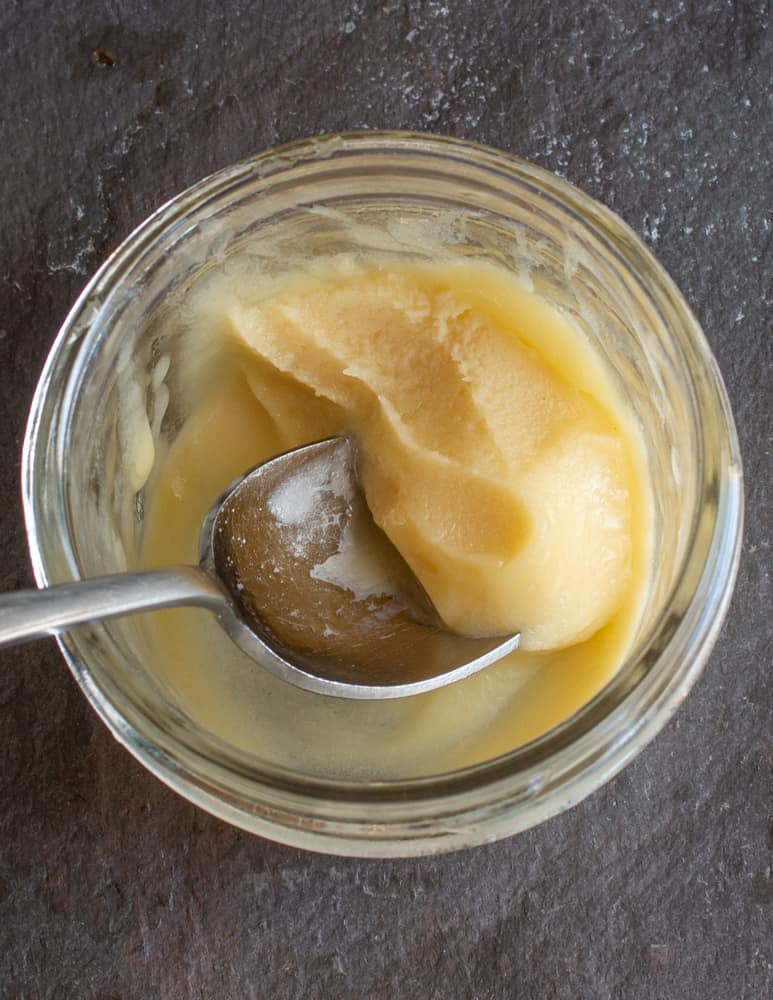 Hickory nut milk vs cream
The 100% forest version of this uses thick, reduced hickory nut milk instead of heavy cream, but you can make it with either. If you're experienced in making hick milk, use it, just know you'll probably have to reduce about 2 cups down to ½ cup for it to be thick enough.
The big takeaway
It was so much fun to be able to surprise Sam and Melissa with the dessert made with their oil. Per usual, after making it, I started to think of different variations I could make using the same sort of technique. Flavorful oils from nuts, seeds and other things are a goldmine of flavor, and you can make something similar using some you like. Pumpkinseed and Smude's sunflower oil are two oils on my list to try.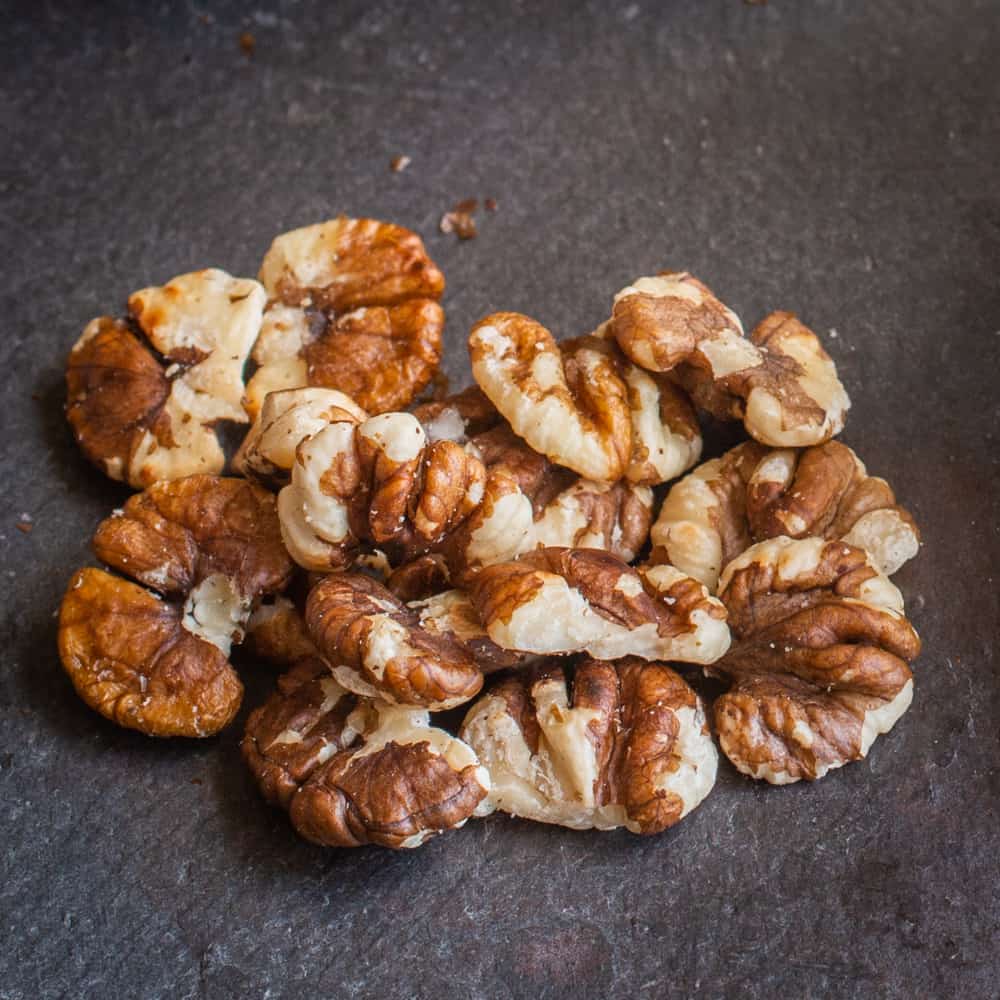 The other takeaway here is simply that oils can be nice in desserts. You don't necessarily have to make the oil-forward version template I'm including in this post either. Oil can be incorporated into lots of different frozen desserts as long as it's emulsified and bound in some way. For example, you could puree some pumpkinseed oil into an ice cream base or panna cotta to add a vibrant green color flavor and silky texture.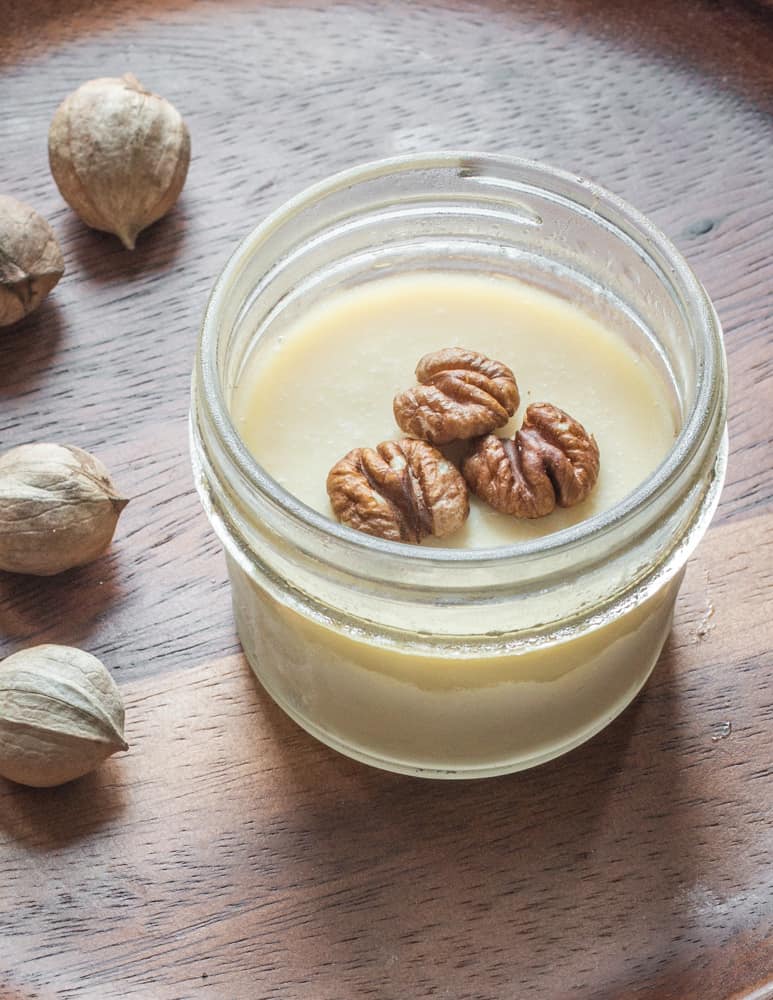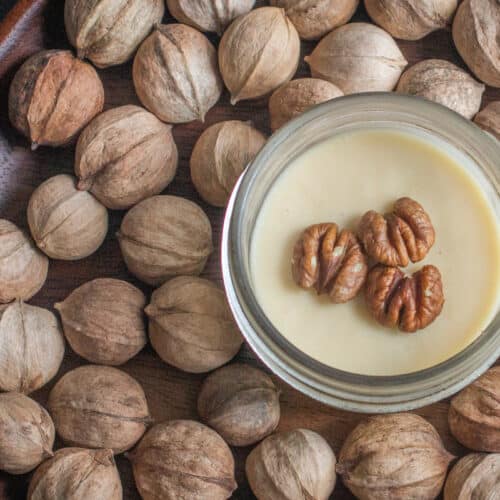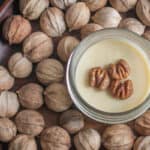 Print Recipe
Frozen Hickory Nut Oil Silk
A frozen dessert that tastes like concentrated pecans made from bitternut hickory oil, hickory nut milk or cream, and maple syrup. Yield: 6 4 oz ramekins, small ones
Ingredients
1

cup

hickory nut oil

½

cup

thick, reduced hickory nut milk, or heavy cream

⅔

cup

maple

Pinch

of salt
Instructions
Before you begin, make sure all of the ingredients are well-chilled.

In the bowl of a vitamix, puree the maple syrup, salt and reduced hickory nut milk or cream. Drizzle in the hickory nut oil in a steady stream to form an emulsion, as if you were making mayonnaise. The mixture should be light and fluffy like mayonnaise.

Immediately pour the mixture into ramekins or other dishes, transfer to the freezer to set for at least 3 hours, then remove and serve immediately garnished with toasted hickory nuts.

The dessert will keep for a long time in the freezer so it's fine to make them ahead of time if you like.
Related Posts  
Sam Thayer's Bitternut Hickory Oil
Traditional Hickory Nut Milk (Kanuchi)
Forager's Guide to Shagbark Hickory Nuts
More Wild Nuts