Wondering how to preserve wild grapes? you can reduce the liquid to a thick, molasses similar to saba, or balsamic vinegar reduction. It's fantastic added so sauces, drinks and desserts.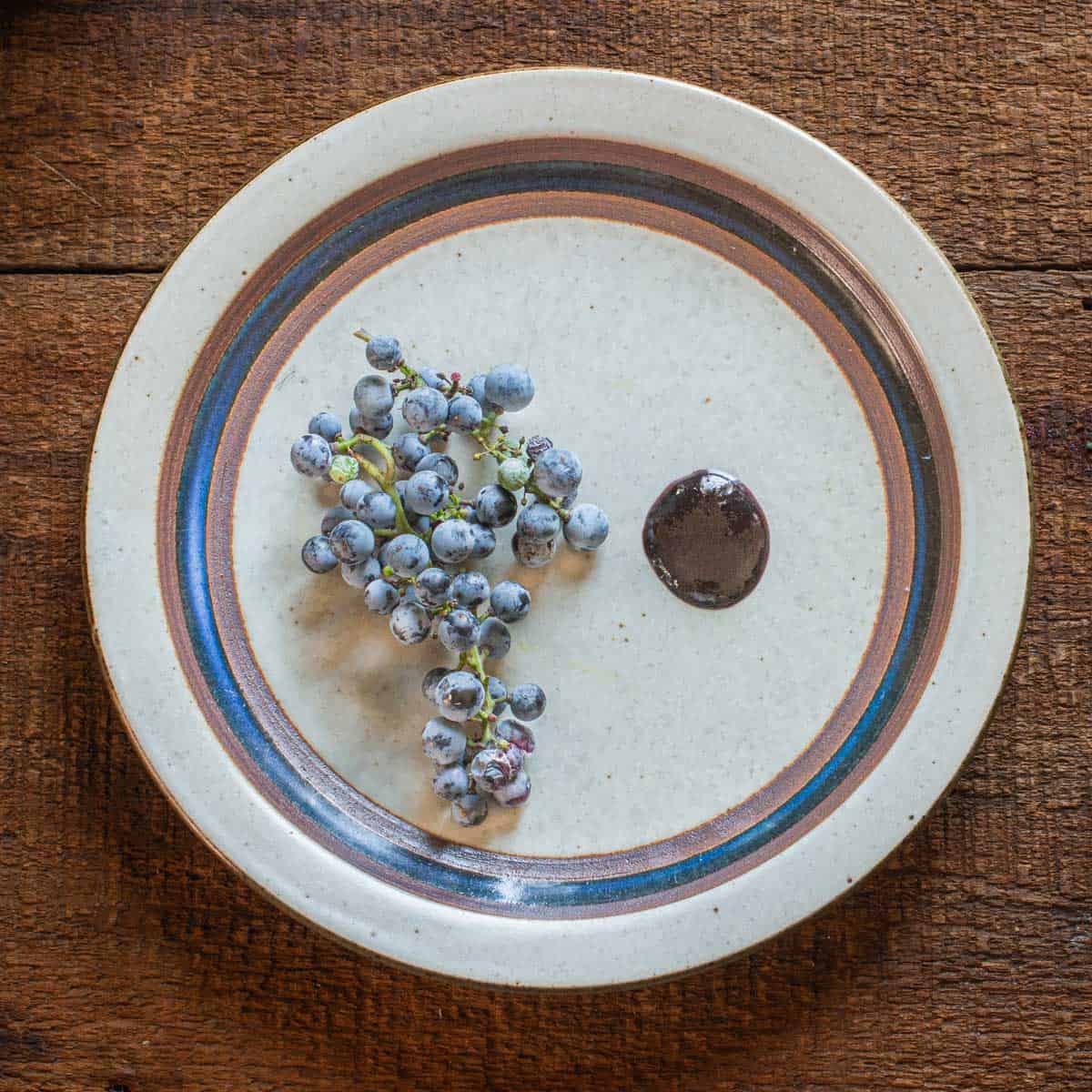 Since this one isn't fermented, it's closer to saba than balsamic but unlike saba, the pectin of the wild grapes seems to thicken it a bit, which gives it a consistency closer to a kind of jam, but a loose one. I'm betting that somewhere along the line, someone else has made this before, it's just a hop-skip from picking a bunch of grapes and needing a simple, low-tech way to preserve them.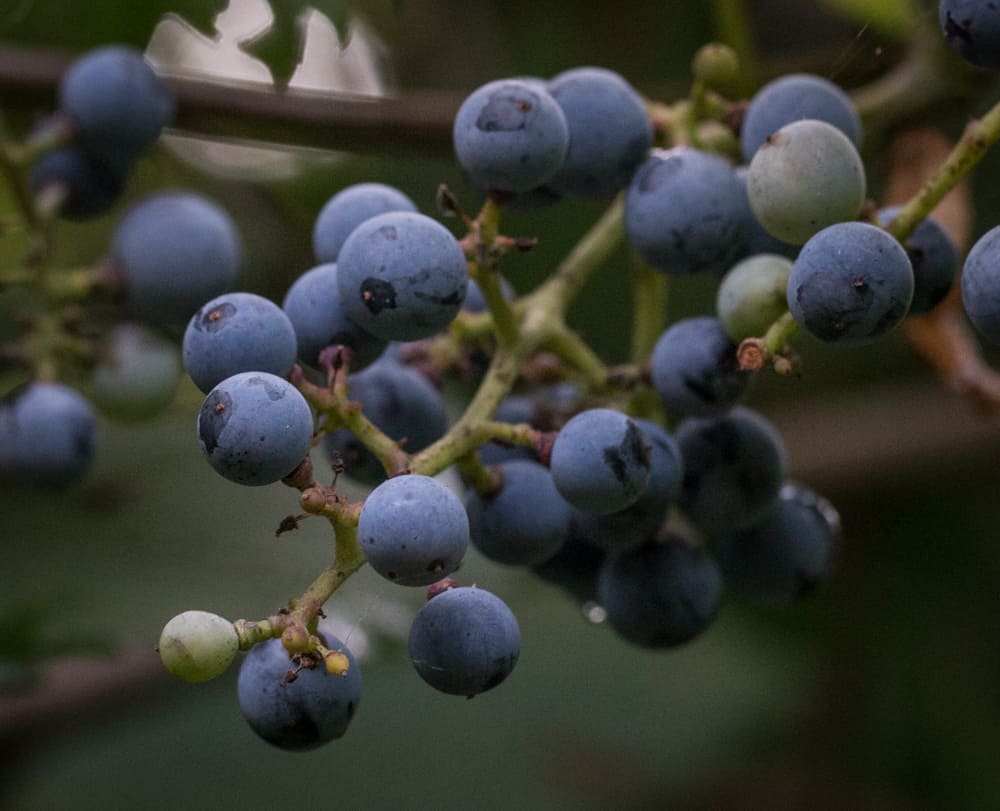 Pekmez: a wild grape condiment somewhere in between saba, and pomegranate
molasses
The finished product is brilliantly sour-sweet, fruity and jammy. One things that had me miffed were the slightly crunchy things here and there, not crunchy like I forgot to remove grape seeds, but crisp almost.
It took me a few days to remember what the small particles in the finished reduction reminded me of: the crystals that occur in really, really good parmesan, Parmigiano Reggiano, and all it's small batch, single source cousins that are popping up, and selling for a king's ransom.
(For the record I'm guessing they're tartaric acid crystals) If you're a chef and you want the best Regg ever (the farms are numbered, not named for secrecy) contact Great Ciao, they ship stuff, and they're basically the kings of food nerdery and freakishly obscure products.
Eventually I heard about pekmez, or grape "molasses" made from cooked wild grape or mulberry juice. Although I originally envisioned this to be like saba, the finished product was a little thicker, and is definitely more like molasses than the black saba syrup you can buy in a store. Traditionally, pekmez is often mixed with tahini and used in desserts, or as a spread all by itself, and that sounds really good!
Ideally, use only cold-pressed wild grape juice
Ideally you will use cold-pressed grape juice here, which is not the easiest thing to process. You can cook the grapes briefly if you have to, but know that it will affect the consistency of the finished product and make it seize and firm from the pectin, which means you will have to warm it to loosen it.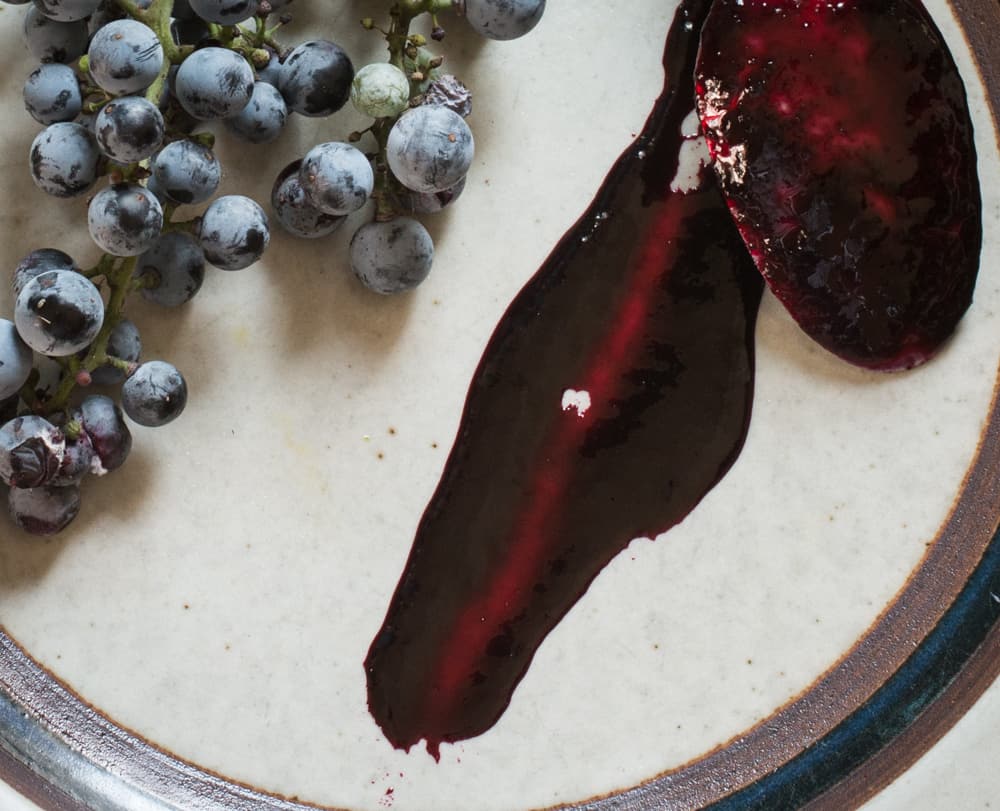 Using the discarded pits, skins, and sediment
The guts leftover after straining can be fermented to make great vinegar, or use them to infuse regular vinegar. Afterwords sometimes I cook it with a little honey and reuduce it like balsamic, or one of the best things I've done is reduce it with a little maple, and add mustard and reduced meat stock as a sauce for grilled pork and chicken.
Below: a gallon of wild grape vinegar in the works, made from the discard of all my reductions. I'll add last years mother to it once it turns to wine, but it will happen naturally with a little sugar and plenty of time, too. The proportion of vinegar is as follows: to each 2 cups of fruit guts, add ¼ cup sugar and 4 cups of water.
Wait until the fermentation slows (about 4-5 days) then strain and pour back into the container, and wait. I don't always use the discard, but the infusions come out so strong with wild grapes that it's definitely worth the trouble to play with them.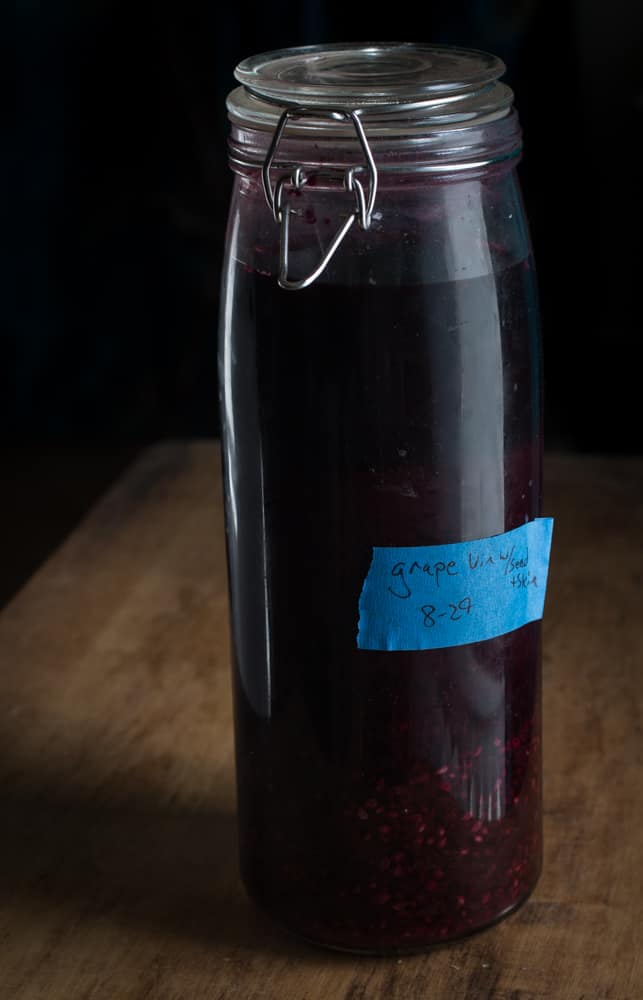 A sugar-free preserve/condiment for flavoring sauces, stews, marinades, etc.
I liked the results I got after trying a small batch with a cup or so, and then three larger ones, increasing the volume of juice I used each time.
I should be clear about my goal for using this stuff though: it would be killer with some rich cheese, but I'll be using it to flavor sauces and stews, and honestly, probably some basic sweet and sour red cabbage. It's an interesting way to preserve wild grapes as I don't eat jam and jelly much.
Sure, you can definitely preserve a harvest of fruit by adding a ton of sugar and jarring, but at the end of the day, I don't want to eat all that sugar, and I'll probably end up giving away the jars to friends as they collect dust anyway, just so that those friends can have the jars collect dust in their cabinets.
Don't get me wrong, I'm definitely not against making fruit preserves with sugar, but I like making them with as little sugar as possible, and I just like to have extra tools in the kit when the season is really kicking.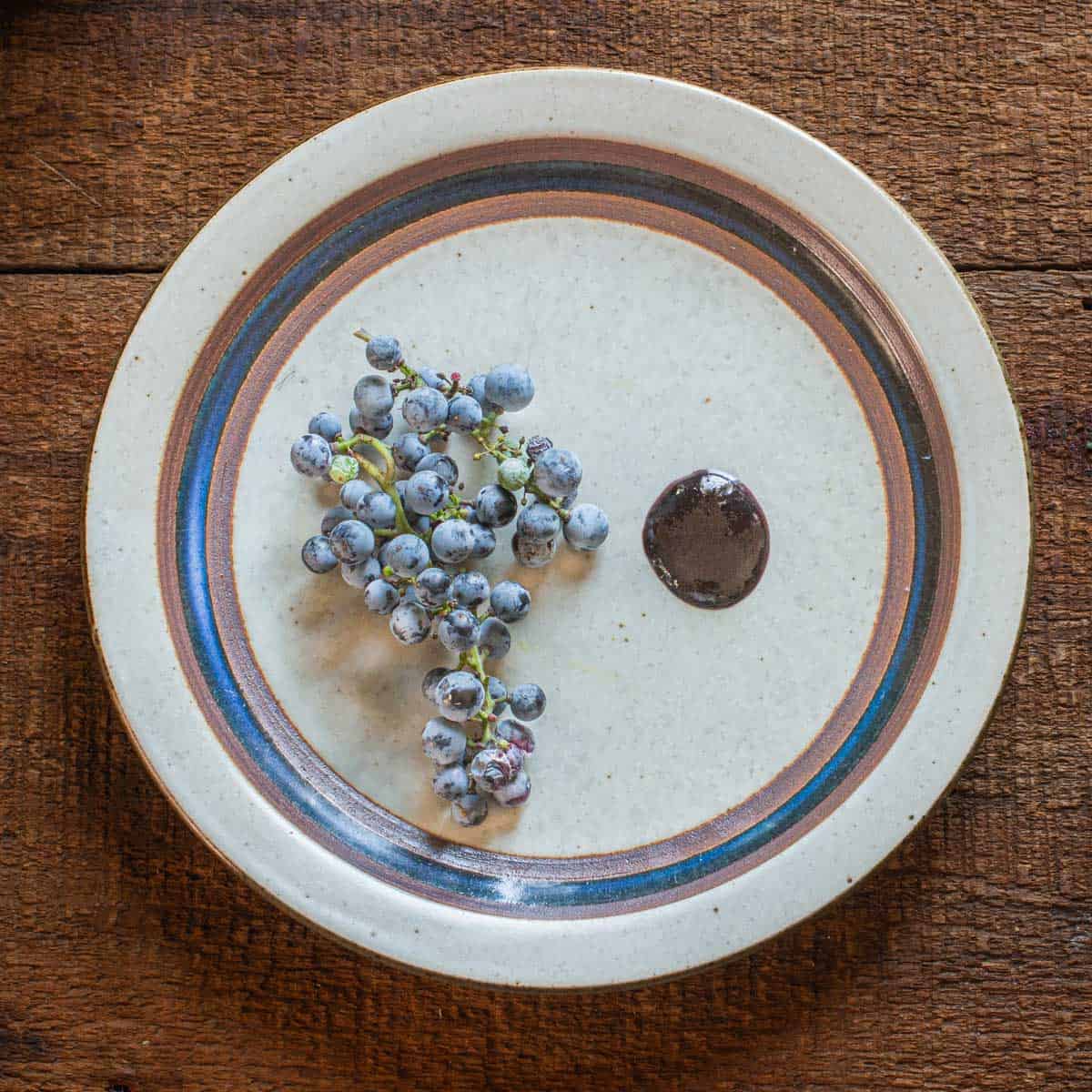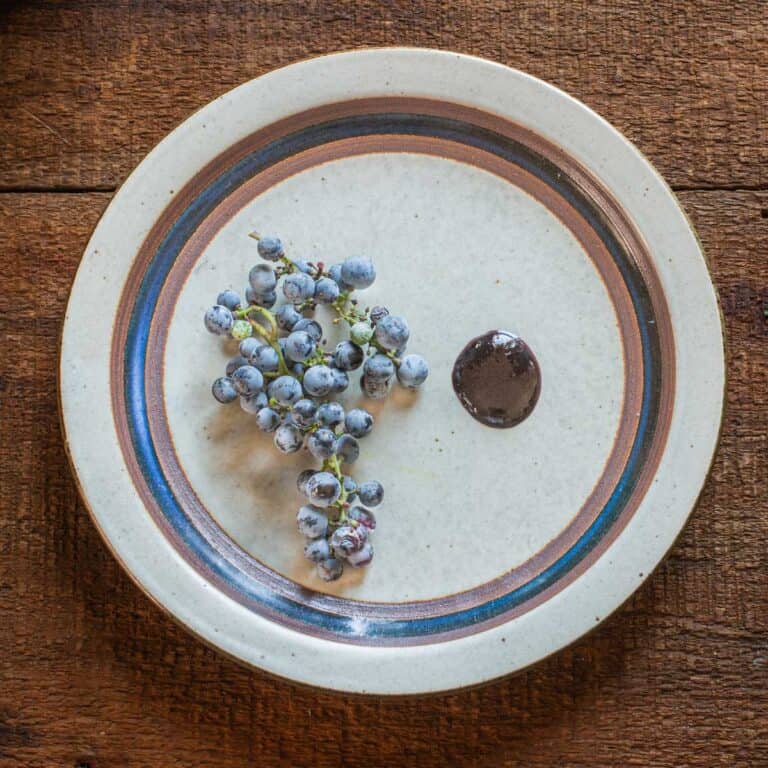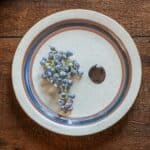 Print Recipe
Wild Grape Juice Reduction (Homemade Saba)
A tangy reduction of wild grape juice with a character similar to pomegranite syrup
Equipment
Cheesecloth

Foodmill, preferably with set up with a medium die

Fine Strainer

Non-reactive sauce pot, such as stainless steel

Whisk
Ingredients
Wild grapes

Red wine vinegar

a few tablespoons
Instructions
Harvest
For an easy, clean harvest, cut the clusters of grapes off the vine using a good scissors. Bring the grapes clusters home, dip them in a sink of cool water to clean them, then don some gloves and remove the grapes from the vines. If you prefer to leaves the grapes on the racemes to make processing them easier, it's ok, but I do recommend washing them.
Extract the Juice Cold
Take the cleaned grapes and put them in a large sauce pot, then mash the grapes vigorously with a potato masher as if they owe you money. Stir the mixture from bottom to top, then mash again.

Consider doing this part outside since wild grape juice can make your kitchen look like it was finger paint time at daycare. When the grapes are mushed up as well as you can manage, add water just to barely cover them and mix it well. If you want, you can gently buzz it with a stick/hand blender, although it may take more time to drain.
Strain
Take the resulting liquid and strain through cheesecloth in a chinois or another strainer, trying not to press or squeeze too hard. The pulp that's left over can be used to make really cool homemade vinegar, or just infuse regular white wine or red wine vinegar (Grape essence is extremely vinegar and alcohol soluble). Allow the juice to rest overnight so the sediment can settle.

Without disturbing the liquid too much, pour off the juice from the top and reserve, discarding the sediment at the bottom of the jar.

Measure the juice to see how much there is so you have a benchmark for reducing by 50% in volume.
Reduce
Return the juice to the cleaned pot, adding 1 tablespoon red wine vinegar per 2 cups (optional but recommended if you will be canning it) and simmer on medium-high until reduced by half and the mixture coats the back of a spoon.

Depending on how well you strained it, and if you allowed it to settle overnight and remove some of the tartaric acid crystals, the juice may be a little syrupy, or it could start to bubble and spurt like mine.

Whatever happens, and however you want it to turn out, make damn sure not to over cook or allow the bottom of the pan to char in any way or the finished product will taste off.

Transfer the reduction to a mason jar, label, date and refrigerate. The reduction will last for a few months under refrigeration, wipe the jar's lid with vinegar occasionally to ward off mold. You can also process the jars in a water bath, 12 minutes for pints as for regular pickles. Use the sauce anywhere you would use pomegranate molasses.
Notes
Saving grape vines for smoking 
If you're industrious or a culinary adventurer, save the wild grape vines for drying as they're great for smoking, (a trick I learned from my old boss and friend Chef Lenny Russo) and you can also do things with the ash that remains (traditionally it's added to some cooked grape juice products, says Leda Merideth)