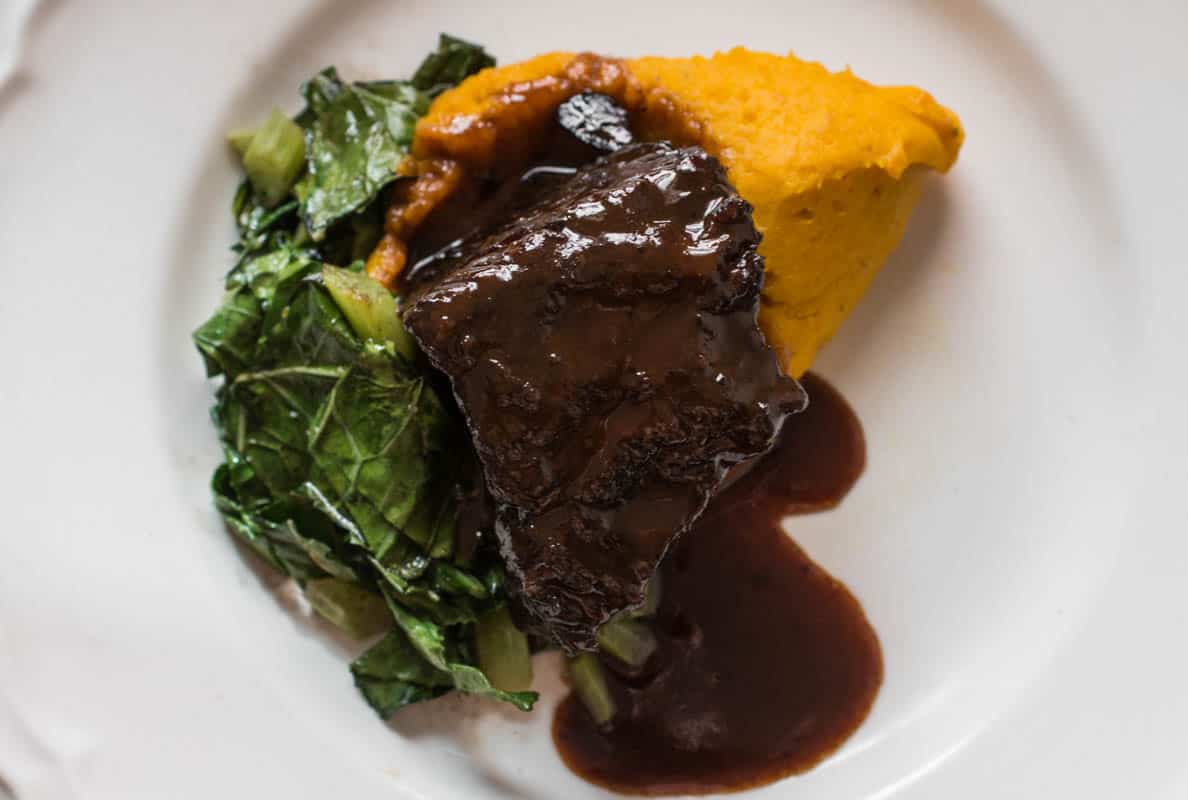 A few months ago I had the priviledge of cooking dinner for some elite female explorers, including the first two to travel the landmass of Antarctica. The group was from around the world, congregating at the beautiful Horst Rechelbacher Estate near Osceola. The estate has a commercial kitchen and helpful staff, so I knew executing the dinner would be simple, but dreaming of what to make took some time.
Cooking for people or paying guests I know is one thing, cooking for people I've never met from across the globe can pose some different challenges. I made sure to stay away from pork and advertise if it was an ingredient, (as in charcuterie) and I avoided meats that are cooked rare or underdone, a bonus for me in the kitchen since braised food is much easier to execute than something cooked to temp.
The piece de resistance I wanted to be something representing the moment of the season. With 14-16 people on the guest list, I knew I could get exactly that many pieces of bison from a chuck roll, so braised bison it was.
On a walk with my girlfriend through her new farmland, we found a nice patch of wild grapes, some were a little young, but I knew I could get some good juice from them. One of my favorite things to do with braised red meat is to soak it in wine overnight, the meat gets softened a bit, and takes on some of the punchy flavor of the wine. I knew I could do a version using wild grape juice as it isn't as sweet as something like a cultivated concord, and I knew it would be good. The flavor should be a little softer than strong red wine, more like using a young wine, letting the meat flavor come to the front instead of the winey punch. I got to work picking grapes.
The rest of the dish was just putting pieces together, I love kabocha squash and paired with bison, it adds a nod to Native American ingredients of our region. After the heat of summer wild greens start to come back up again, so I picked some young nettles and amaranth to wilt alongside, pictured is collard greens and their stems. One dish, three simple components, It was my favorite dish of the evening, along with the smoked sheep belly.
A note on the sauce, it's important to use good stock to braise the bison with since chuck doesn't have collagen or bones in it to thicken the sauce and help it absorb butter and become silky. My advice is to take homemade stock, reduce it by half, and use it for this.
Another way to get around using strong stock is to throw a couple of roasted chicken feet in with the bison while it braises to add some needed gelatin to the sauce. If you dredge the bison in AP flour instead of wild rice flour you probably won't need to worry about it, but it's a good thing to think about.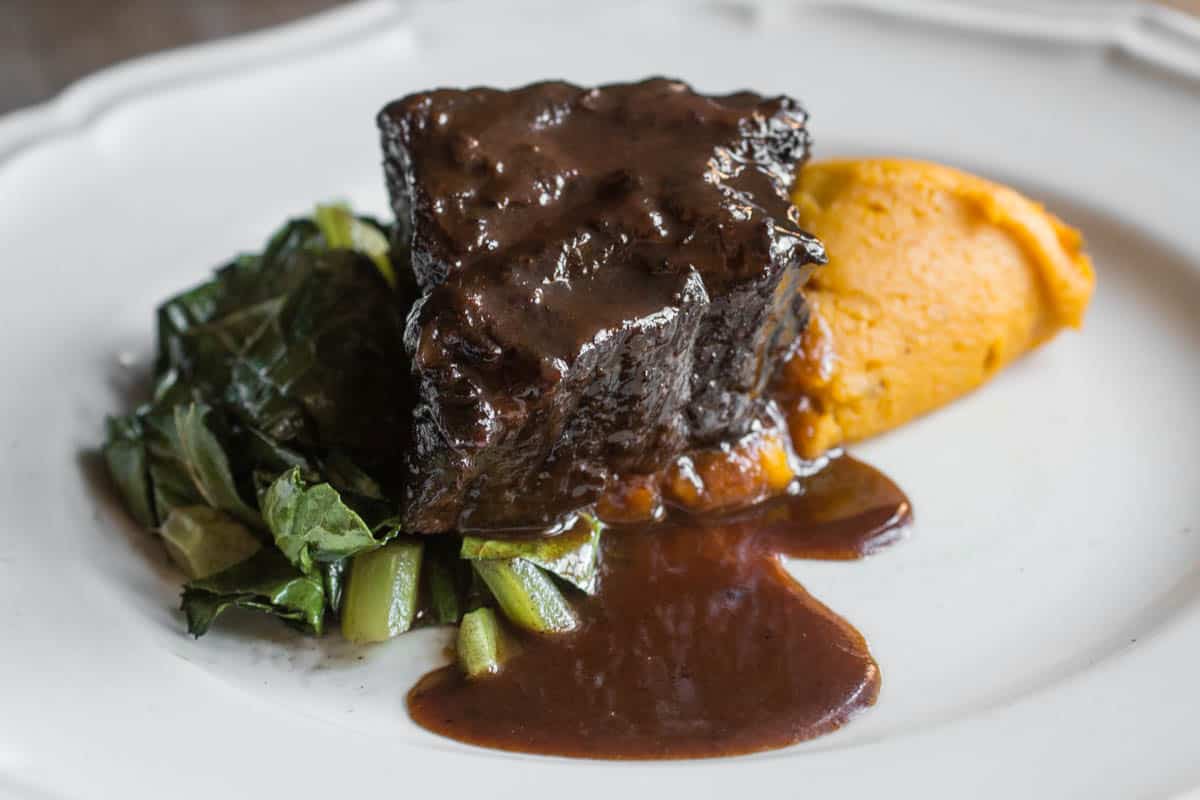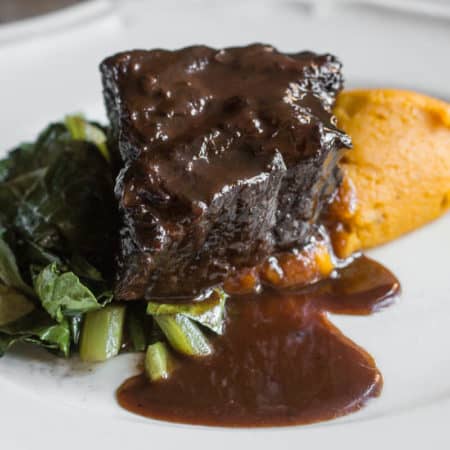 Print Recipe
Bison Braised in Wild Grape Juice
Tender bison marinated and braised in wild grape juice or wine
Ingredients
2

lbs

bison chuck

in one piece, trimmed of fat and silverskin (beef, or venison chuck can be substituted)

3

cups

wild grape juice or dry red wine

1

large carrot

diced 1 in

2

stalks of celery

diced 1 in

1

small onion

diced 1 in

2

cups

strong strong meat stock

preferably homemade, to ensure a silky sauce

2

tablespoons

unsalted butter

Kosher salt and fresh ground black pepper

¼

cup

flavorless oil for browning

wild rice flour

optional, all purpose flour or another flour can be substituted
Bouquet Garni:
Fresh thyme

2

cloves

of garlic

1

dried bay leaf

10

black peppercorns
Instructions
Marinading and Cooking
Cut the bison pieces into 4 equal portions, trying to keep them in equal sizes squares to make sure they hold their shape while cooking.

The next day, remove the bison from the wine, reserve the wine, dry the bison on paper towels thoroughly to ensure they don't spatter when you sear them.

Bring the bison to room temperature for a while before you cook it. Put the bison pieces in a pan along with the jus and bring to a simmer.

Season the bison pieces with salt and pepper, fit snugly into a container, pour over the wild grape juice, they shouldn't be buried, but gently bobbing like hippos, cover and refrigerate for 24 hours, turning the bison over in the wine here and there whenever you can remember.

Heat the oil in a wide braising pan, then dredge the bison in the wild rice flour, and brown each piece well, on as many sides as you can stand, about 15 minutes. Add the vegetables, reserved grape juice, bouquet garni, and meat stock to the pan, then cover and bake at 350 for about 1.5 hours or until the bison is fork tender.

Allow the bison to cool in it's liquid, then remove each piece, discard the vegetables and reserve both bison and jus separately. From here you can make this ahead of time, and I recommend it. Strain the jus and reserve it and the pieces of bison separately.
Finishing the Braising Jus, Glazing and Plating
Reduce the sauce until about 1 cup remains in the pan, then add the butter and melt. Keeping the pan at a simmer, emulsify the butter into the sauce, basting the bison pieces as they warm up and the sauce thickens, eventually they should be glazed and shiny with the pan sauce.

On the middle of 4 pre-warmed dinner plates, lay down a dollop of squash puree and wilted greens, arrange a piece of bison on the side, drizzle each with some of the sauce and serve immediately.
Notes
If you're wondering if this tastes like grape juice, it doesn't. Cooking mellows the fruit flavor, it ends up tasting like you used a young red wine with a bit of natural acid to it, basically just a good meat and potatoes style entree.
Part of why I chose this for the dinner besides cooking meat to temperature was because I can make it ahead, it actually tastes better that way. Put a little work in before hand, then all you have to do is reheat the pieces in the jus, glaze them up with butter, and viola.