Known and loved in Italian cuisine, cardoons like artichokes, which makes sense as they're a giant edible thistle related to artichokes. They're also known as artichoke thistles, cardoni, carduni.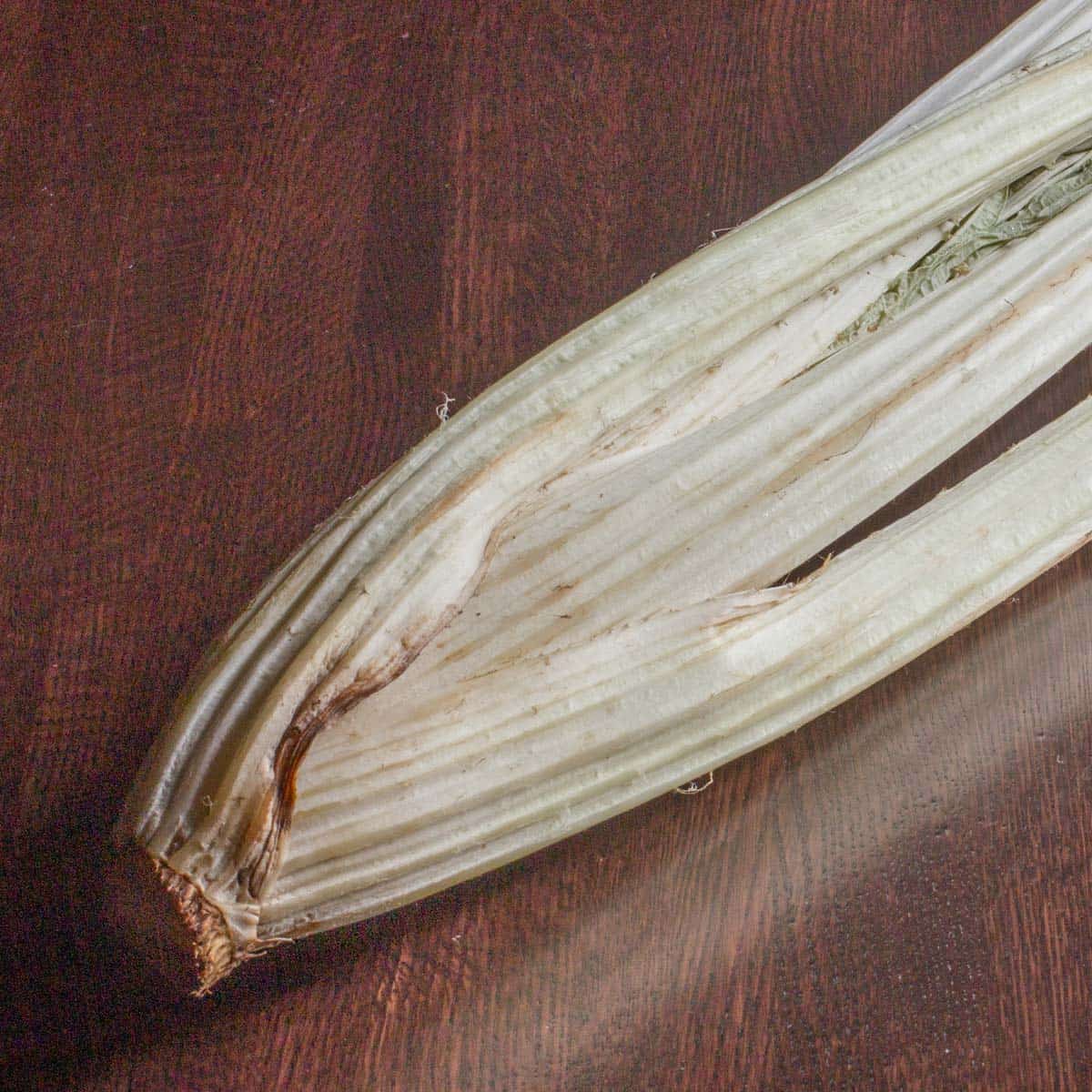 These are a delicious vegetable, but there's really only one recipe I make with them: cardoons a la grecque, which I'll share with you today, along with how I prepare cardoon stalks for cooking.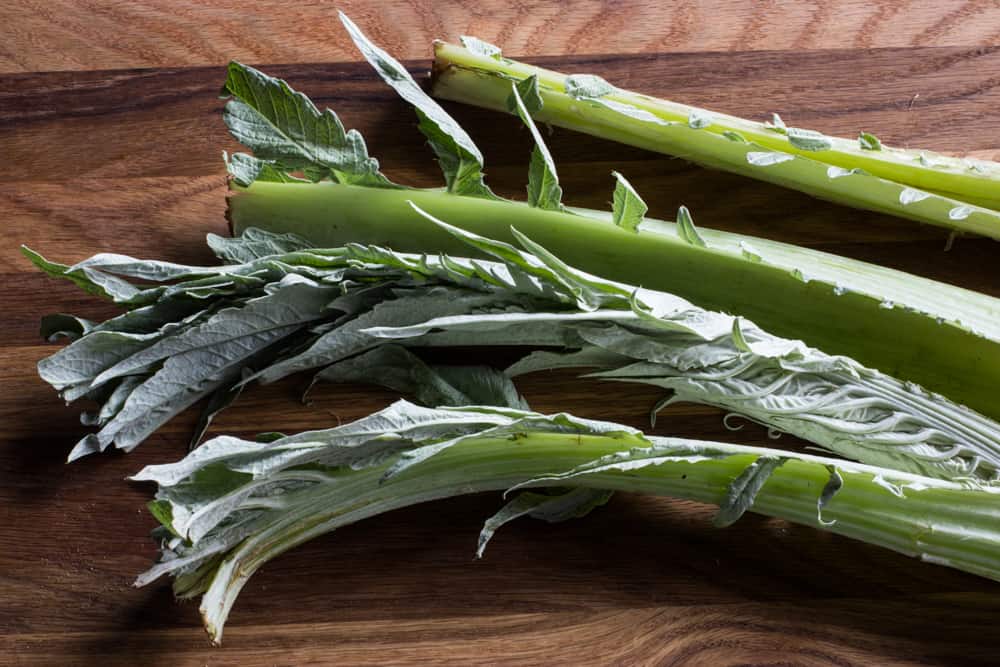 How to Prepare
They take time to clean. When the first cardoons I cooked showed up from a farmer they looked like giant bunches of celery, with a catch. The stalks are covered in long spines and painful barbed hairs, called glochids or trichomes, which are about the same as you'll find on a cactus.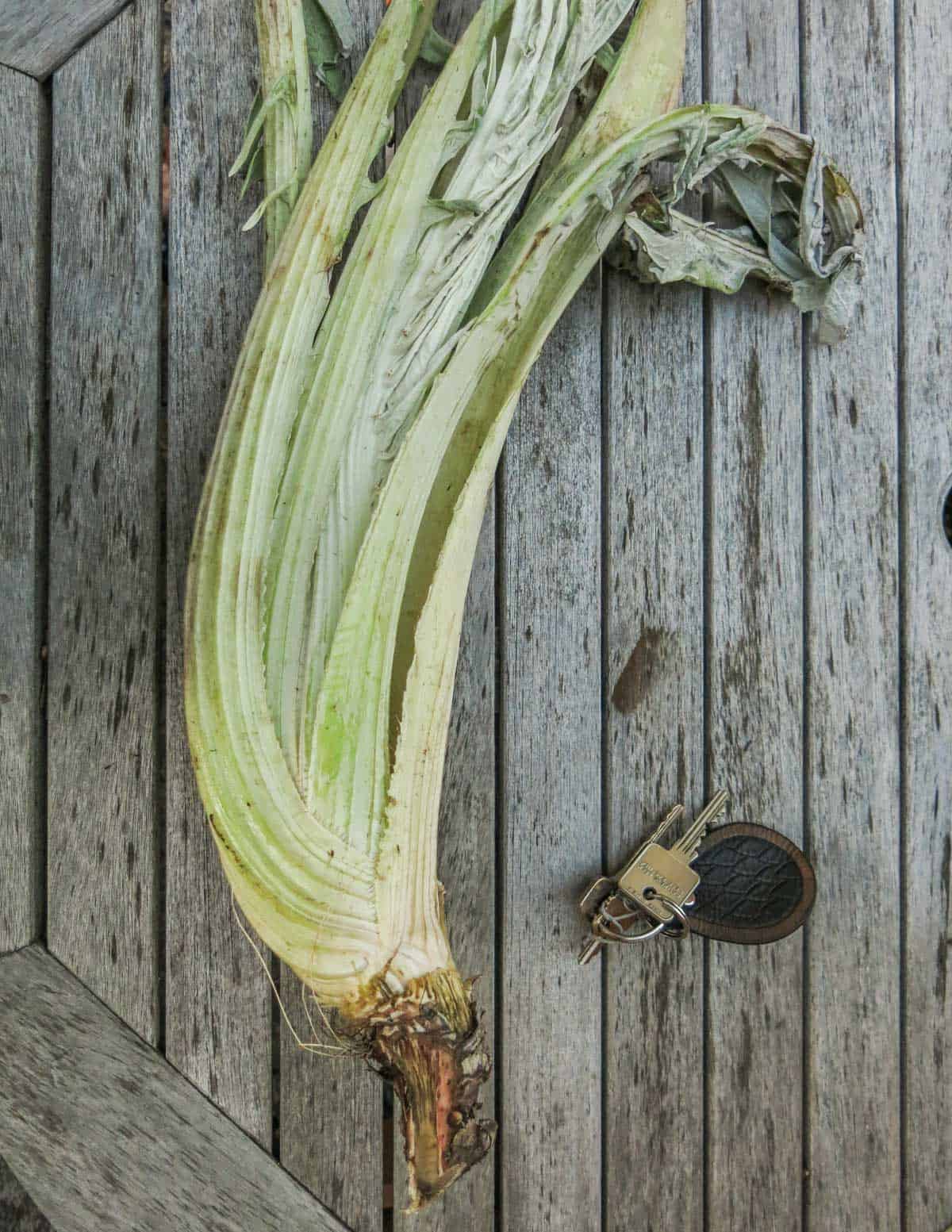 Glochids
Glochids are awful and you won't notice them until they're dug-in deep hours later. I remember waking up at night after cleaning cardoons, hands covered in bloody splotches that stained my sheets. Gloves aren't enough here: you'll need a thick towel to handle the stalks.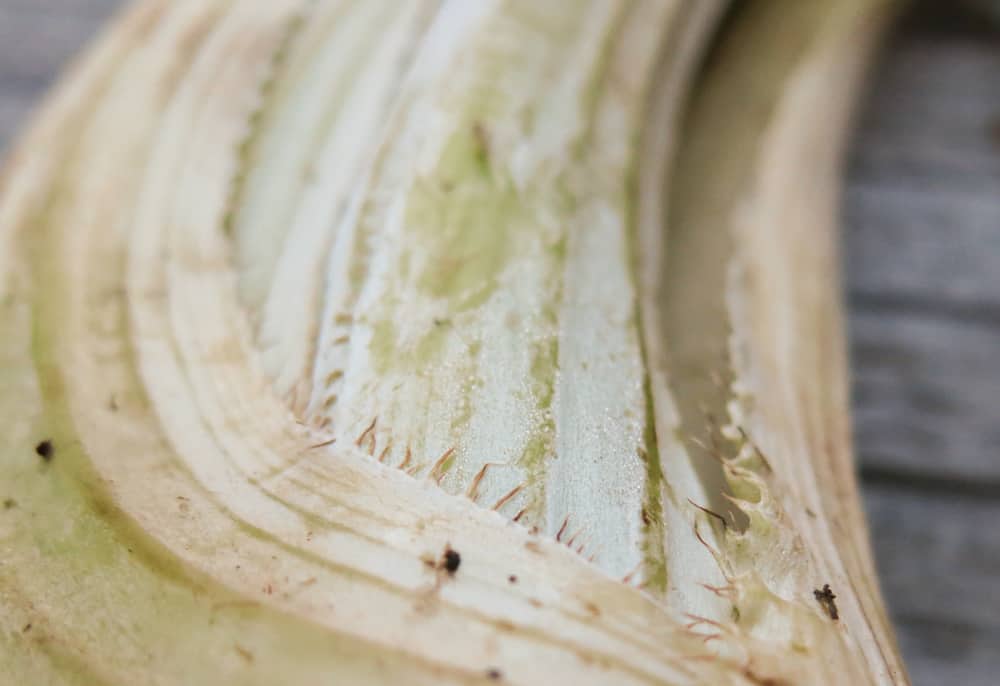 Peeling
To prepare cardoons for cooking, the first thing you have to do is cut the root base off, and separate it into individual stalks, then peel the stems with a Kuhn Rikon vegetable peeler and cut the spines and bitter leaves off the side of each stalk. I use a towel to hold them while I trim with my paring knife.
Cooking
After they're trimmed and peeled, here's what I do to cook cardoons: I cut the cardoons into 4 inch pieces, then bring a large pot of water with herbs, onions and wine and cook until tender.
Boiling cardoon pieces after trimming until tender is probably the most common method I see them prepared, and you can do it in plain water if you have to. See the video below for more.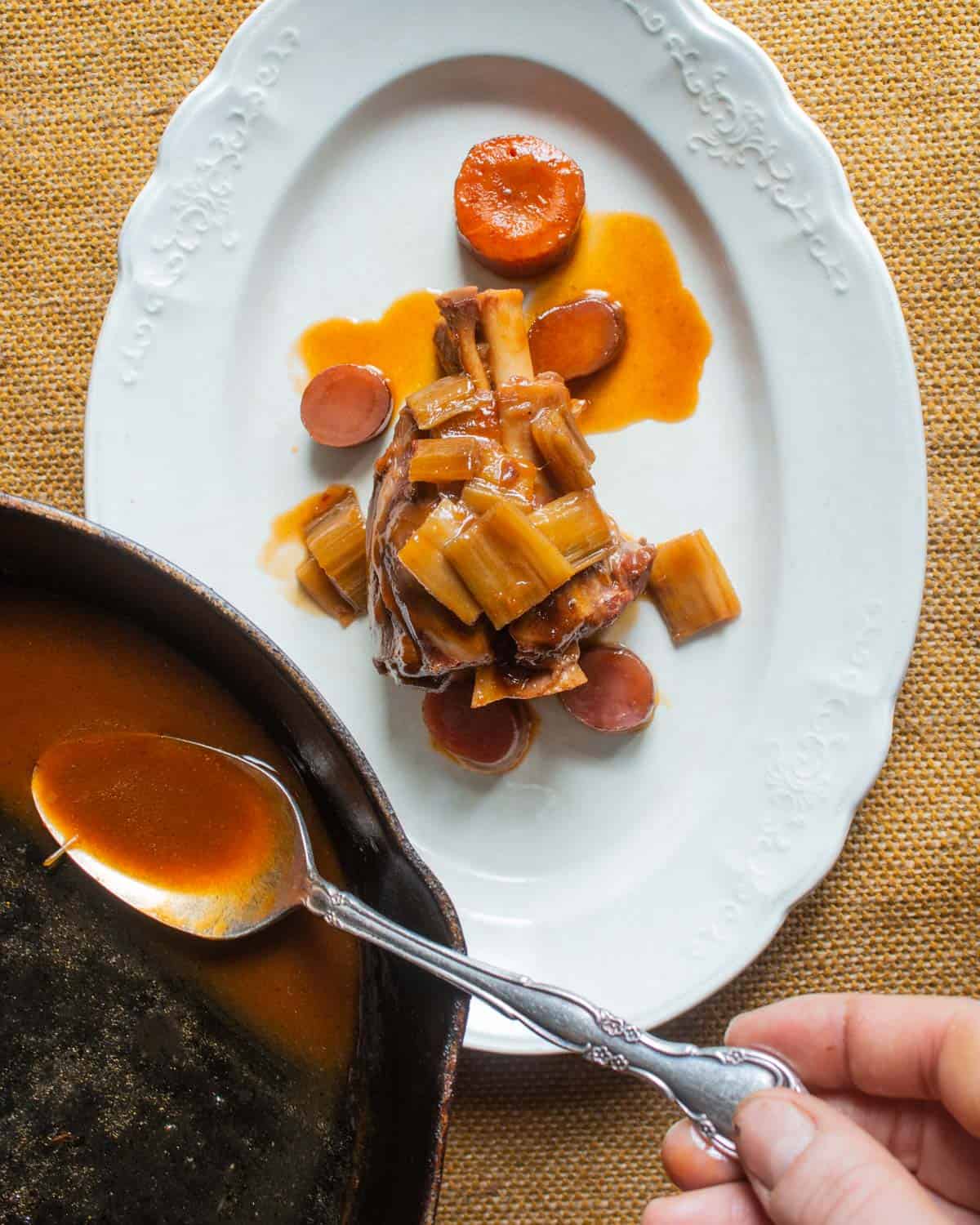 What to Make
Here's some things guests and myself have enjoyed over the years.
Braised with tomato until tender and tossed with pasta, chili and olive oil (see the gnocchi below)
Fried cardoon recipes are an Italian classic. To make that, trim the cardoons, then boil until tender, drain on paper towels, dip them in flour, beaten egg, and finally bread crumbs. Fry the breaded cardoons and serve with lemon wedges and spicy tomato sauce.
Warmed up as an all-purpose garnish for fish.
At one restaurant, I served an alfredo style pasta with a cardoon infused cream, butter and parmigiano. The flavor transfers to cream very well, ending up tasting like artichoke alfredo.
Confit, covered with oil, garlic and herbs and cooked very slow until tender
Added to slow cooked meat braises, especially lamb.
Boiled with a cut onion, a splash of white wine, a pinch of salt and a bay leaf until tender, then tossed with olive oil, lemon juice and fresh herbs as for artichokes.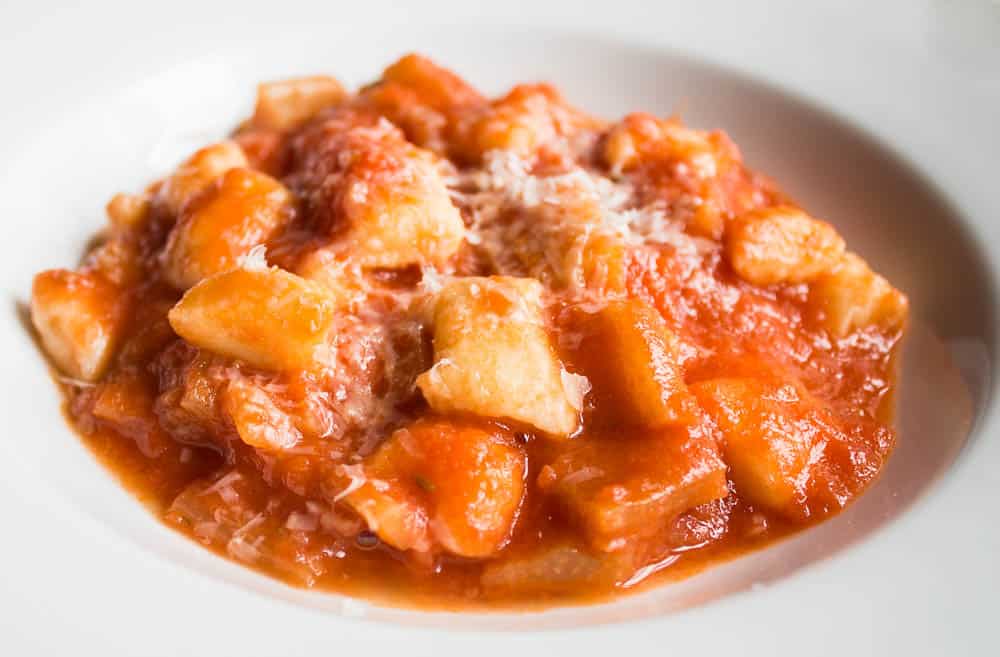 Where to Buy
It's hard to buy cardoons as not a lot of people grow them. They're often "blanched" or tying and covering with soil or hay like white asparagus. Here's a few tips to consider.
Call and special order from a wholesaler or Italian market. A twenty pound case of cardoons used to cost 75$, but $6-7 dollars a pound is fair.
If you're lucky, you can buy cardoons at a farmers market, but not many people grow them. These will be the most expensive.
I usually buy cardoons directly from a farm in California, they're shipped through the restaurant purveyor BIX.
Ethnic markets, especially Mediterranean and Italian markets.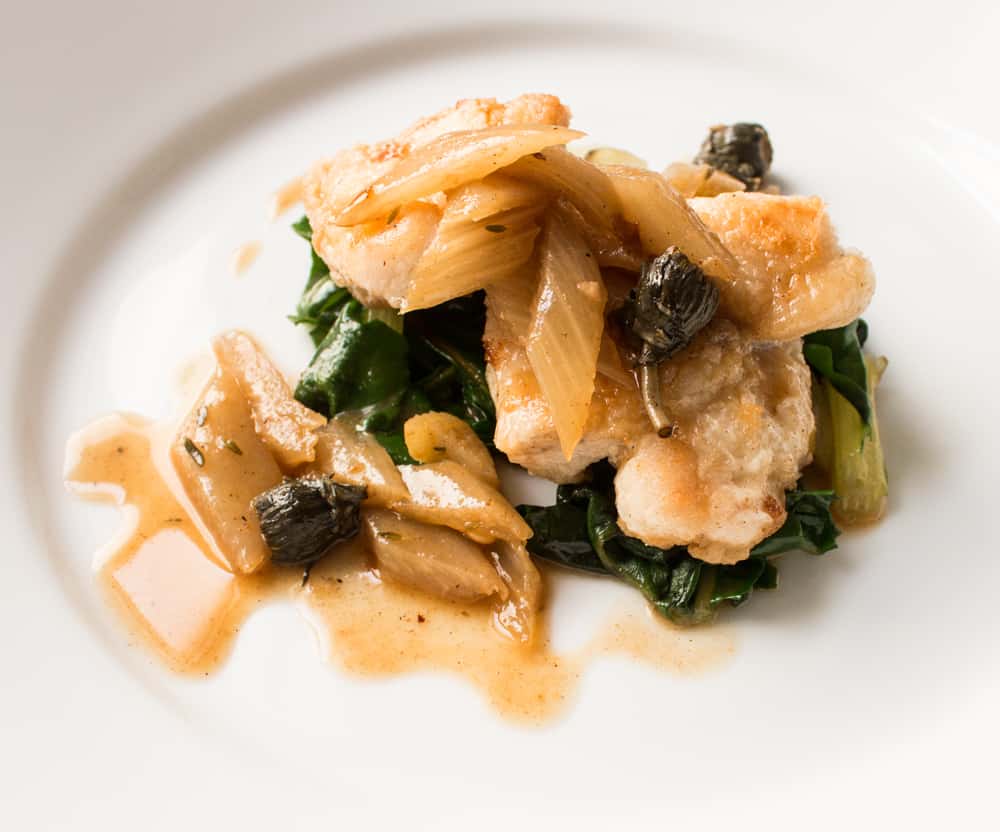 Alla Grecque: a Versatile Preserve
Alla Grecque, or Grecian style, is basically a preserve of the stalks cooked with oil, garlic, wine and herbs that will taste like marinated artichoke hearts. I make it and it lasts for a month or more in the fridge. I add to to dishes on the menu as needed where I'd like acidity and brightness, especially with fish.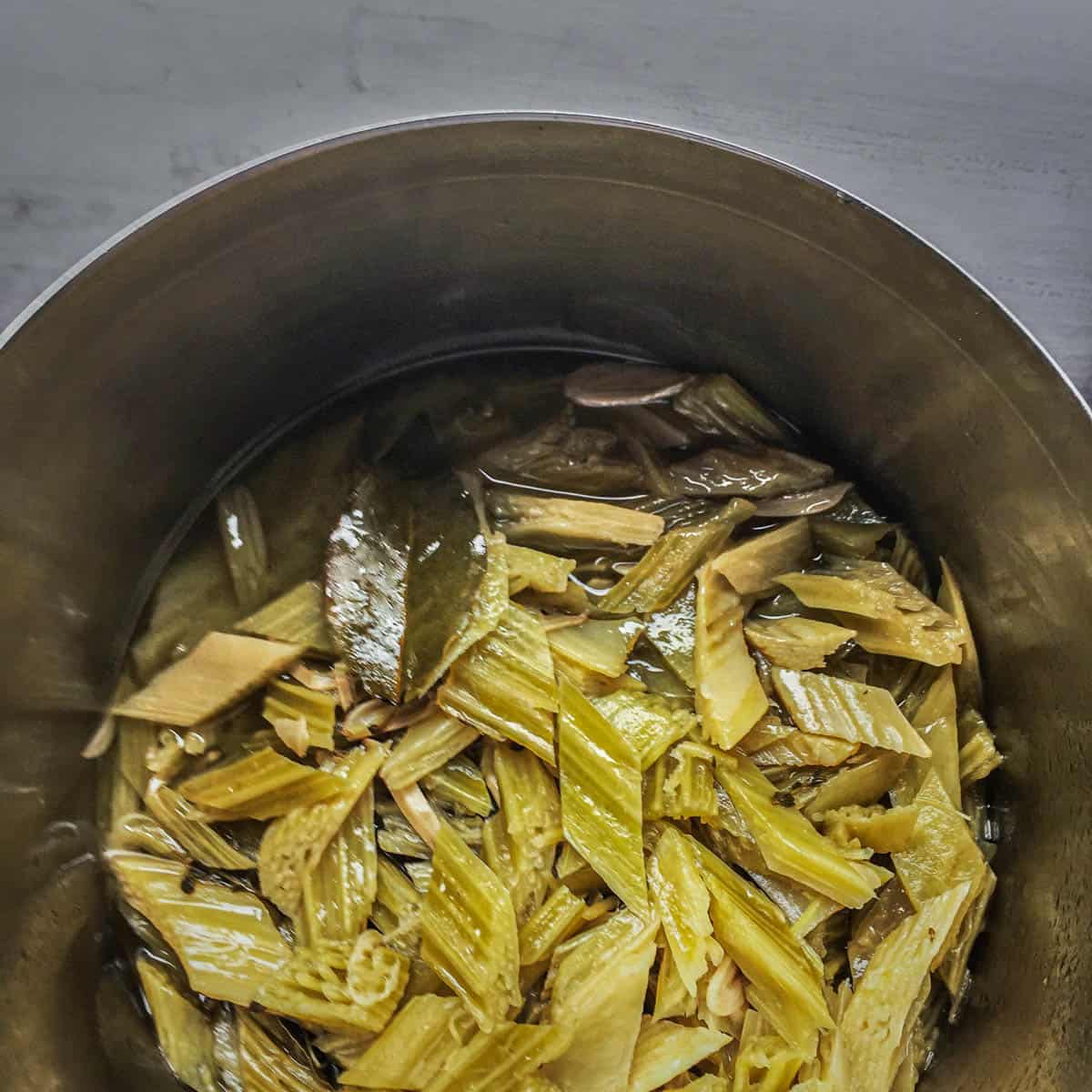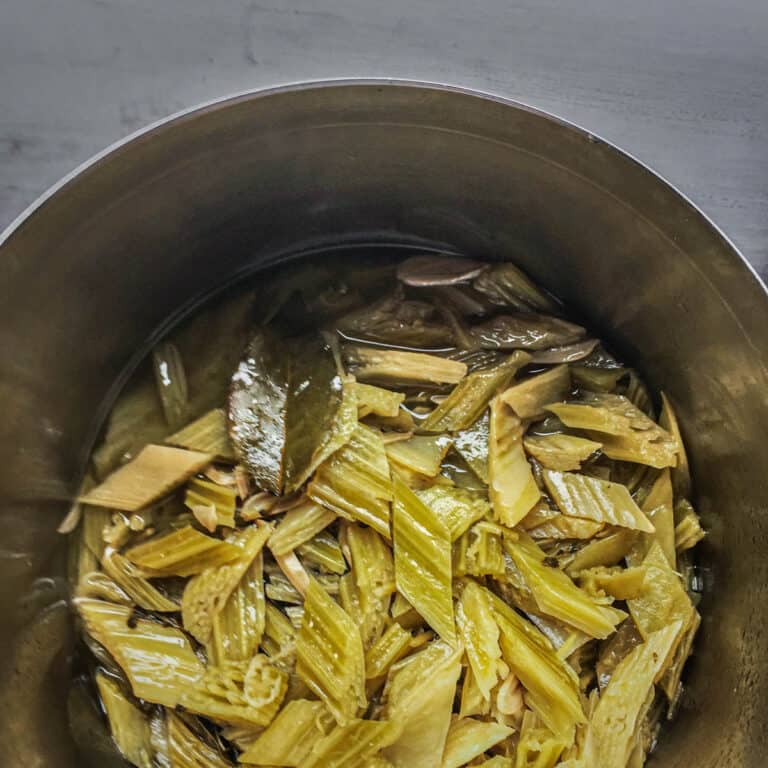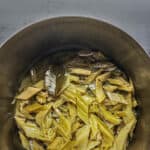 Print Recipe
Cardoons a la Greque
A gentle pickle method to preserve cardoons in the fridge. They taste like artichokes, with a much higher yield.
Equipment
Tall stainless steel pot (don't use aluminum)
Ingredients
1

cardoon

about 2 lbs

3

large cloves garlic

sliced

1

cup

flavorless oil

3

cups

dry white wine

2

teaspoons

sea salt or kosher salt

Bouquet garni of 2 fresh bay leaves and a small handful of fresh thyme

wrapped in cheesecloth and tied together

3

cups

water

Water seasoned to taste with lemon juice

as needed for holding the cardoons
Instructions
Peel the cardoon stalks of their spines and thorns on the side of each stalk using a paring knife, then gently remove the tough outer portion of the stalk, as you would peel celery. Cut the cardoons into ½ inch pieces and place them in the lemon water to prevent browning.

In a large, wide pan, heat the garlic on medium heat until lightly browned and aromatic, then add the cardoons, salt, wine, water, and herbs. Cover and cook for anywhere for 30 min to an hour, or until the cardoons are just tender.

Transfer the cardoons to a labeled container, cover with their cooking liquid and weight down with a plate to hold them under the liquid and preserve them. Under their liquid the cardoons will keep for a couple weeks, they can also be frozen.

To serve the cardoons, reheat them with a bit of their juice and use as you would artichokes.
Notes
It's important not to leave the cardoons in water overnight after peeling. The water reacts with them and makes them curl, and after having their structure altered from peeling they'll twist and curl into a pile of useless fibers, although they could still be cooked with cream. 
Nutrition
Serving:
3
Tablespoons
|
Calories:
150
kcal
|
Carbohydrates:
5
g
|
Protein:
0.2
g
|
Fat:
55
g
|
Saturated Fat:
2
g
|
Polyunsaturated Fat:
4
g
|
Monounsaturated Fat:
5
g
|
Trans Fat:
0.4
g
|
Sodium:
40
mg
|
Potassium:
154
mg
|
Fiber:
0.2
g
|
Sugar:
2
g
|
Vitamin A:
45
IU
|
Vitamin C:
0.3
mg
|
Calcium:
26
mg
|
Iron:
1
mg