A simple saute of matsutake mushrooms and Japanese hakurei turnips is a simple, no-fuss way to enjoy to traditional Japanese ingredients together.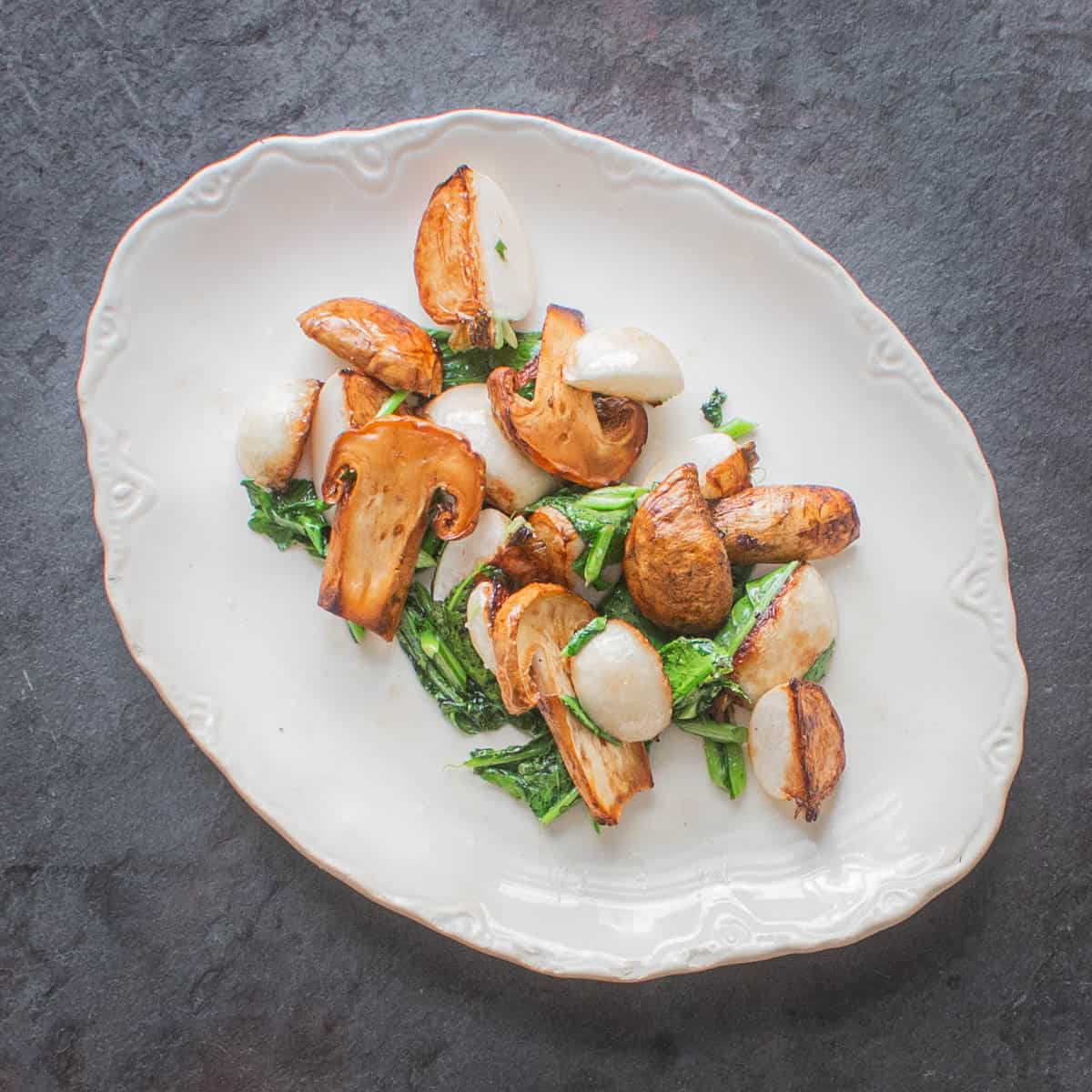 After bringing home a bunch of matsutake this year, I tinkered around with a few different ways of preparing them very simply, since I know from experience that even though they have a strong flavor, just like a truffle it will be overwhelmed if too many other things are paired with them, and you won't be able to taste them at all.
Mistreating one of the most expensive and rare culinary ingredients known to man is not a good thing, especially if you're going out of the way to hunt them yourself. Less is more with matsutake, it's a great time to contemplate minimalist cooking styles: another reason why Japanese influence is important to consider.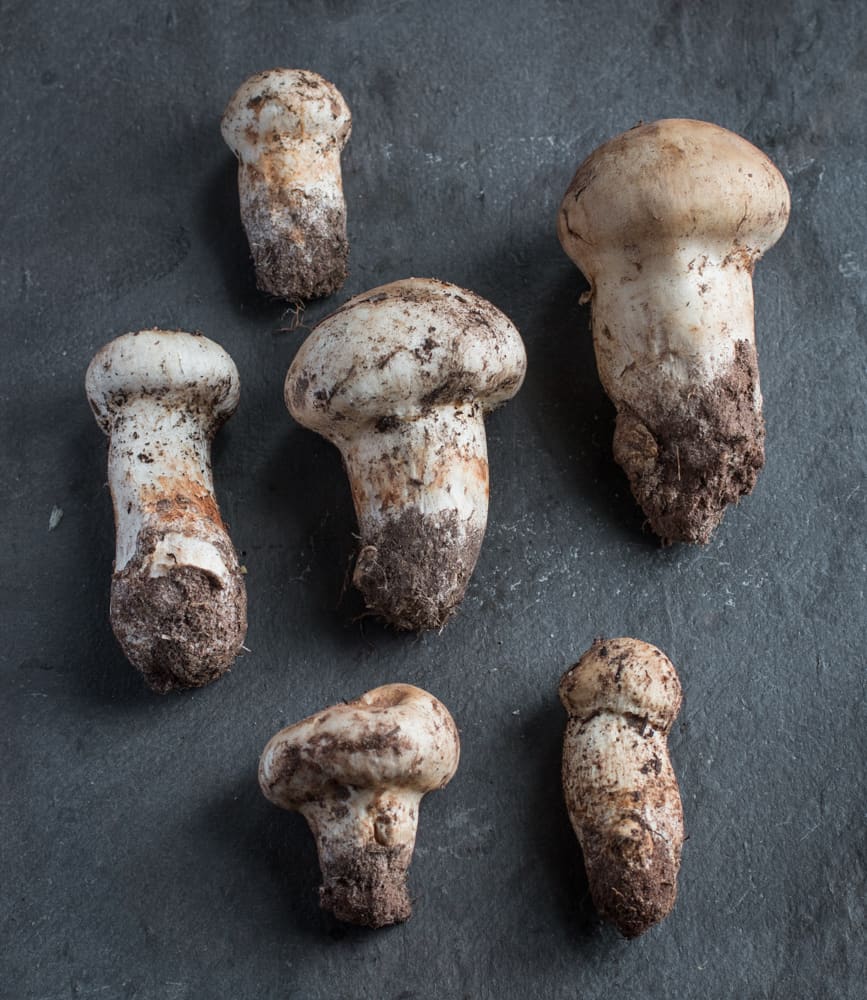 This recipe was a nod to the fact that our Midwestern matsies are more closely related to the coveted Japanese species than the Pacific Northwest variety.
Hakurei turnips, also known as Japanese or Tokyo turnips, are a great vegetable that more and more farmers are growing. In the scheme of turnips, they are by far the most tame compared to the typical scarlet, gold, and purple top varieties of turnips you'll typically see at coops. Hakurei nips are so tame that they're great raw, and most of the time, don't even require peeling as their skin is soft and tender.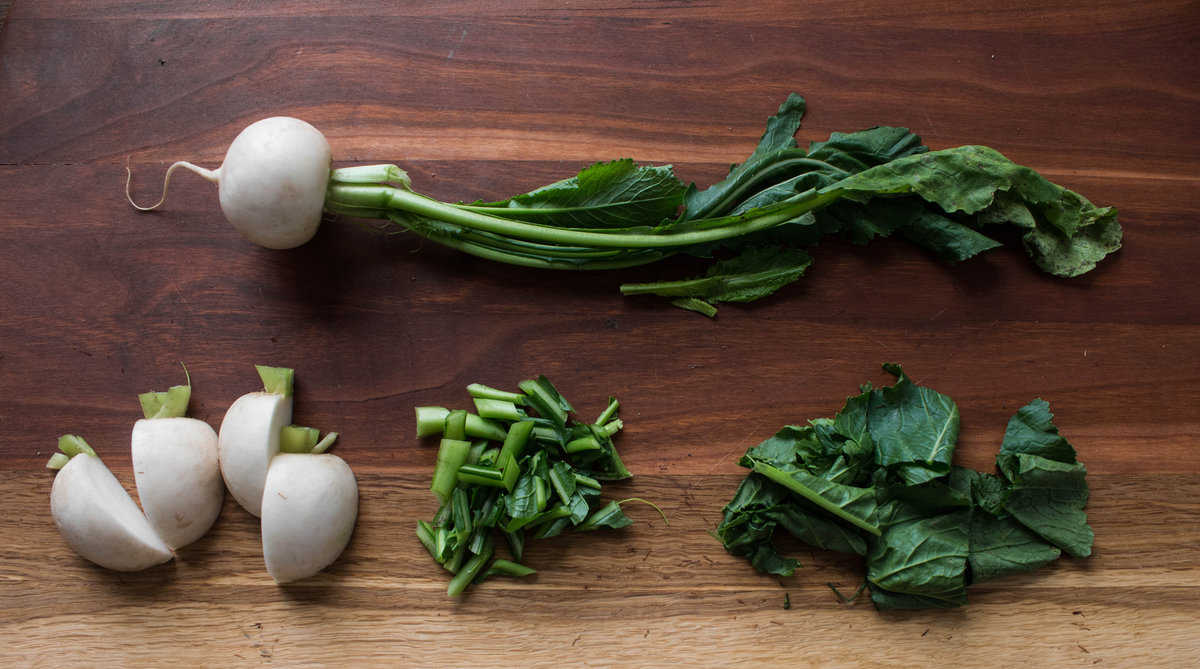 Little Japanese turnips, beloved by chef's the world round for their petite shape and beatiful cross section when shaved paper thin with a bit of the green stem attached on the top on a mandoline. You could garnish the dish with a few shaved slices, if you like.
A simple plate of turnips and mushrooms never tasted so good.
If you look closely, you'll probably see the only drawback of our Minnesota matsutake compared to the Pacific Northwest Variety: bug damage. I've eaten both, and I prefer the flavor of the Matsutake I pick in Minnesota and Wisconsin, (they seem to keep their aroma even when large or after the veil has broken) but the caveat is that they are beloved by bugs.
They are so beloved by bugs that I will literally dig up mushrooms an inch underneath the ground and needle-duff and have to toss them. It sucks. In the interest of not getting skunked on the 8 hour round trip pilgrimage I have to make to get most of them, at the time pictured I had to pick out the good ones and make due.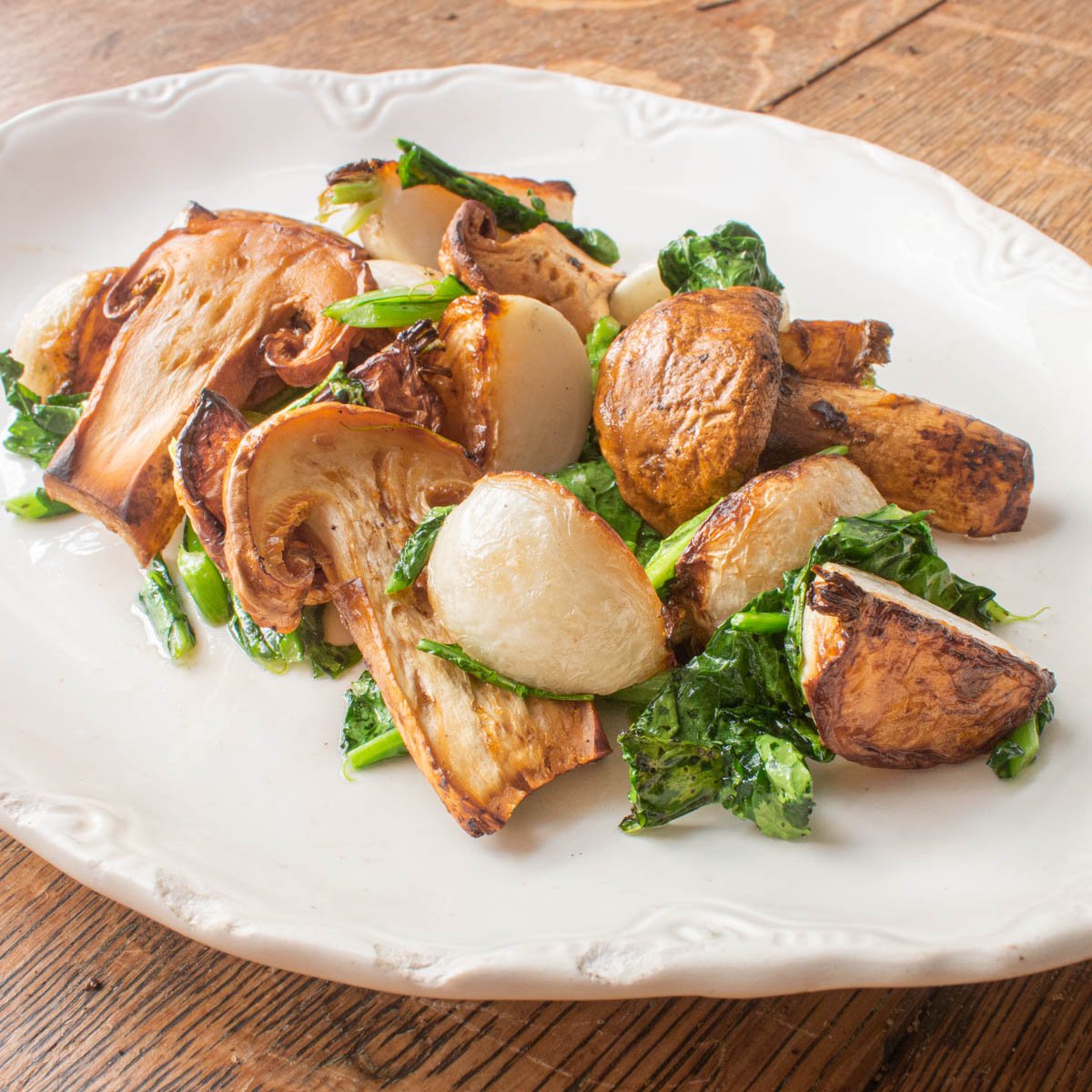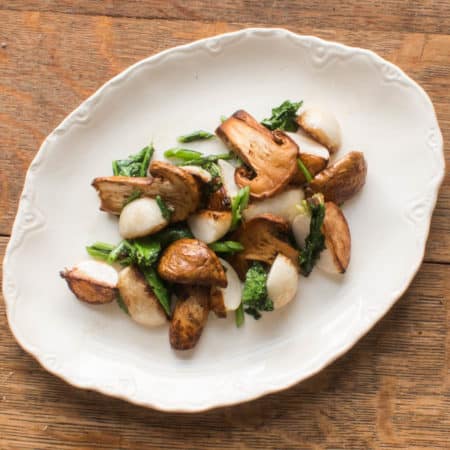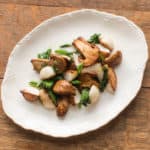 Print Recipe
Matsutake Mushrooms with Hakurei Turnips
Sauteed matsutake mushrooms with Japanese turnips and their greens
Ingredients
4

hakurei turnips

with greens

3

ounces

fresh matsutake mushrooms

cleaned and trimmed, rinsed and dried if dirty

2

tablespoons

lard

or high-heat, flavorless oil

Kosher salt

to taste
Instructions
Remove the greens from the turnips leaving ¼ inch of the green stem attached. Cut the top 1-2 inches of greens off, then slice the stems into ½ inch pieces. Cut the turnips in half if they're small or in ¼s if they're large. Slice the matsutake into ½ inch slices.

Heat the lard or oil in a pan, then add the turnips and matsutake and cook on medium high heat until caramelized and browned. When the mushrooms and turnips are tender, add the stems and leaves to wilt, season the mixture with salt to taste, then serve immediately.
Notes
Substitutions 
There's something special about the small turnips and the mushrooms together. If you don't have access to hakurei turnips, instead of using another turnip, I would use some daikon radish as they have a similar mild flavor. 
Nutrition
Serving:
3
oz
|
Calories:
82
kcal
|
Carbohydrates:
18
g
|
Protein:
4
g
|
Fat:
0.5
g
|
Saturated Fat:
0.1
g
|
Polyunsaturated Fat:
0.2
g
|
Monounsaturated Fat:
0.02
g
|
Sodium:
168
mg
|
Potassium:
633
mg
|
Fiber:
5
g
|
Sugar:
10
g
|
Vitamin A:
742
IU
|
Vitamin C:
57
mg
|
Calcium:
109
mg
|
Iron:
1
mg
More