A simple grilled slab of hen of the woods with a bright herby sauce you can put on anything and everything. It's a great hen of the woods recipe for when you can still fire up the grill.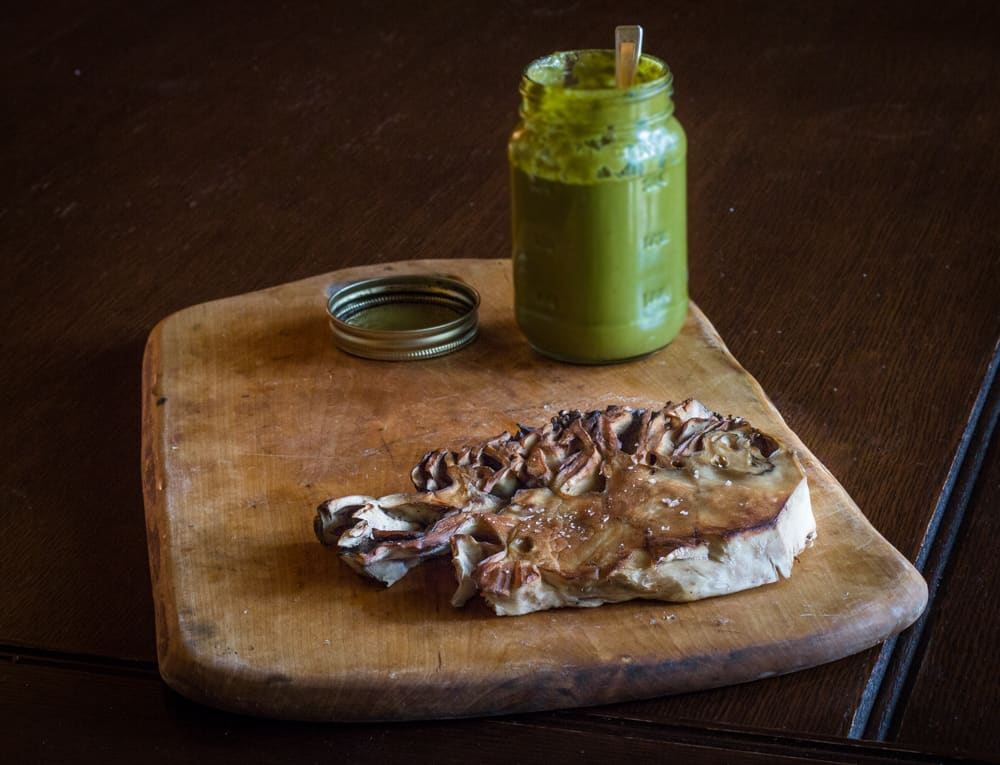 It's that time of year again in the Midwest: time to treat those hen of the woods mushrooms like a piece of meat. Hen steaks, hen roasts, hen pot roasts, I've done them all, and I like them all. There's little more satisfying in fall than firing up the grill to warm up, and slicing off a hunk of mr. Grifola frondosa for dinner.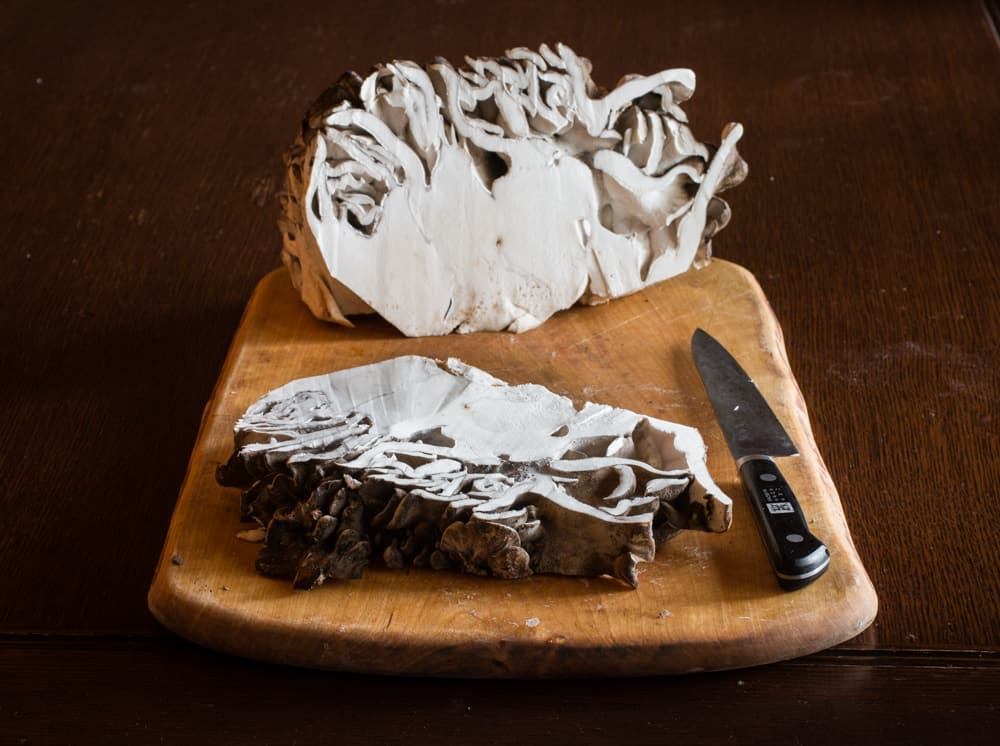 This year via one of my friend's patches in the MN Twin Cities Metro, I got a hen that was so big that instead of breaking into clusters to grill, I was able to cut steaks from the damn thing with a sharp knife and a couple vertical slices.
Obviously sizes vary with hens, so yours might look a little different than mine but that's part of the fun of these mushrooms. Not all the hens may look the same, but generally speaking, they're all going to be big hunks of meaty shroom you can cook just like a steak.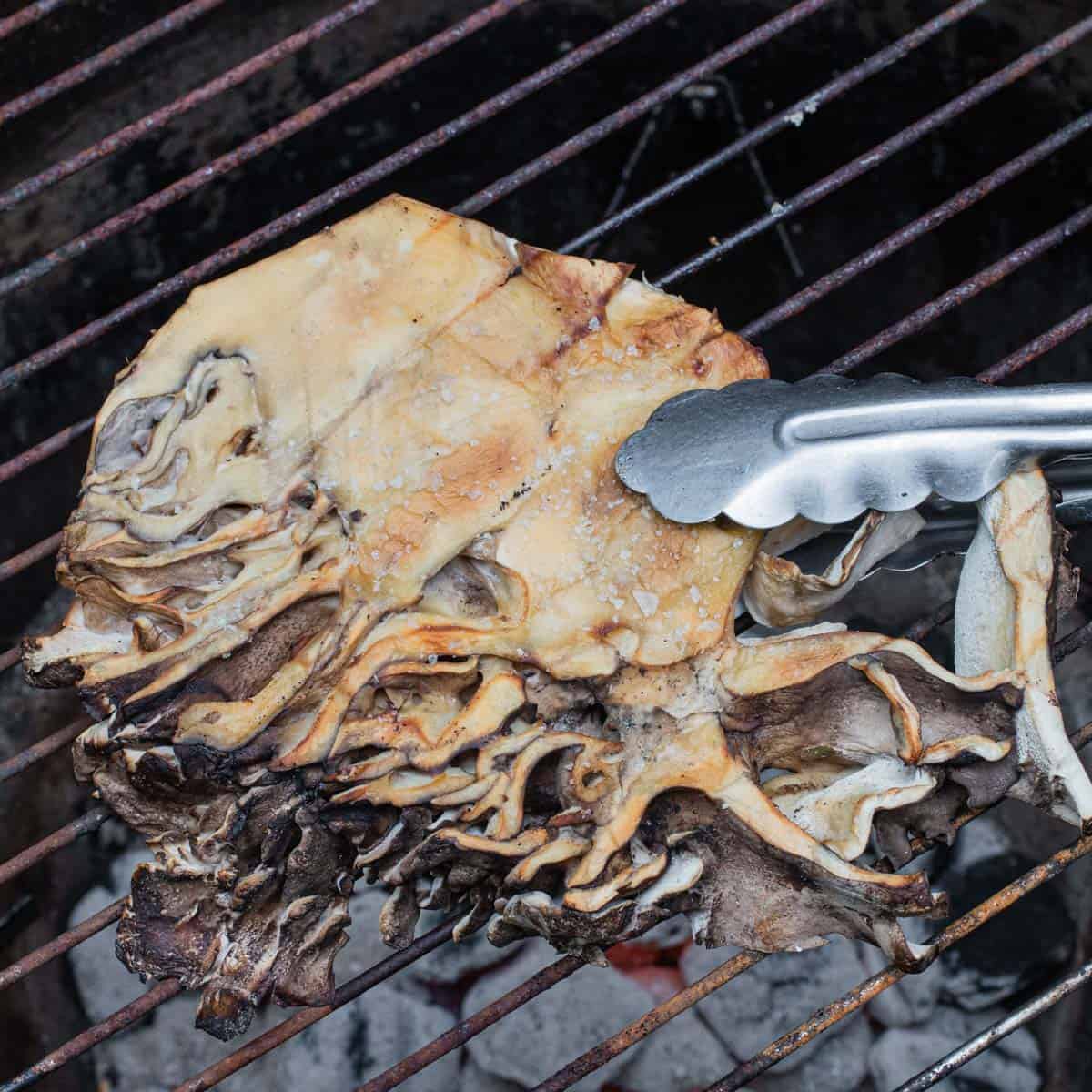 Honestly, I didn't even think putting a recipe up for a method like this would be useful, but I got so many direct messages after posting a couple pictures that I can see, once again, what my chef mind thinks is useful to share and what others find useful can be a bit different. So, without further ado, here's how I make hen of the woods or maitake steaks.
Garden herb salsa verde
Just one more thing: the green sauce. The sauce is what makes this, and it should be a post in itself since I use it so often. It's basically a pureed chimichurri, made with all the garden herbs that I can gather at the moment blanched and buzzed up in the blender with garlic, chilis, s&p, oil, lemon or red wine vinegar, and the secret ingredient: water.
I never really make it the same way twice, and I kind of like it that way. That being said, there's a few variations of herbs that are better than others, so I'll touch a bit on some constants to keep in mind. As far as the description/name I'm using a little creative license, but with the best intentions.
Here's a couple info nuggets, to prevent me from droning on with 500 words on the definition of salsa verde and then various herb combinations. Salsa verde isn't the only condiment I use on these though, the anchovy sauce from 2015 is excellent, too.
Salsa verde in latin countries refers to somthing made with tomatillos. In Europe it refers to an herb based sauce. Here we're using the European description, albeit without the typical capers or pickles you might find.
Argentinian Chimichurri is very similar here, but typically includes fresh oregano and IMO should be chopped by hand.
Only herbs with a soft texture are used for this: basil, lovage, oregano, bergamot, parsley, cilantro, culantro, chives, tarragon, lemon balm, lemon verbena, mint, pennyroyal, etc. I never use hard rosemary or thyme, for as much as the aggressive flavor as that the herbs are physically more difficult to blanch than the aforementioned leafy herbs but soft, tender thyme like lemon thyme could work in a pinch.
The water, along with your choice of herbs is a very important part of the recipe, it thins the sauce to a spoon-able consistency, and prevents it from being mulchy.
After a day in the fridge, the salsa verde will change color to a slightly baby-puke green, but it has no effect on the flavor. Make it right before serving if you want it bright, and make sure the use citrus juice as opposed to vinegar.

Related Posts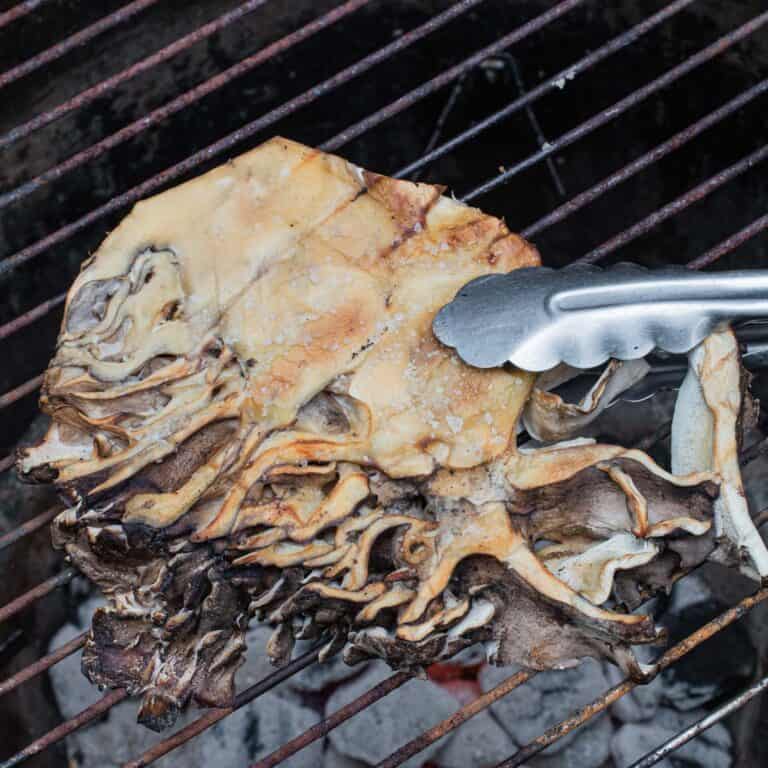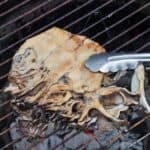 Print Recipe
Grilled Hen of the Woods with Herb Salsa Verde
Juicy mushroom steaks with piquant herb sauce
Ingredients
Hen of the woods steaks
24

oz

roughly fresh hen of the woods (maitake) mushroooms

Kosher salt and fresh ground black pepper

Flavorless cooking oil

soft butter or lard, a little to oil the mushrooms before grilling

Coals and preferably a few wood chips for the grill

to approximate wood fire cooking
Garden herb salsa verde
2

packed cups herbs: basil

lovage, parsley, cilantro, oregano, etc

1

tablespoon

chopped garlic

Zest of one lemon

Juice of 2 lemons

or ¼ cup red wine vinegar

Kosher salt and pepper

to taste

¾

cups

blended olive oil

high quality (you can use extra virgin but it will coagulate in the fridge and will need to be brought to room temperature)

½

cup

water

½

teaspoon

crushed pepper flakes
Instructions
Salsa Verde
Blanch the herbs in boiling lightly salted water, then immdiately shock in an ice bath. Squeeze the water from the herbs and chop roughly, then combine in the bowl of a highspeed blender and puree with the remaining ingredients except the water.

Process the mixture to a fine or coarse puree, whatever you like, afterwords, mix in the water to lighten the sauce. Taste the sauce, adjust as needed for acid or salt, then transfer to a labeled, dated container and reserve until needed in the refrigerator.

The sauce can also be made simply by mincing herbs and adding the rest of the ingredients, but I often prefer to puree in the blender, especially if I'm short of time.
Hen of the woods steaks
Start the coals for the grill (I like to use a chimney for easy lighting). Meanwhile, clean the hens well, either by inspecting while whole, or breaking apart into large clusters and dipping in water. Large hen of the woods can also be sprayed with hose before they're allowed inside.

Cut the mushrooms into 6 ounce or so pieces, the mushroom slices should be thick enough to handle with a pair of grill tongs, like a piece of meat. When the coals are ready for cooking and the flames have died down, oil the mushrooms well on both sides and season with salt and pepper a few minutes before you cook.

Move the coals to one side of the grill to allow you a cold and hot zone.

Grill the mushrooms for 5-6 minutes on each side until golden brown, then remove from the heat. It's important that the mushrooms are completely cooked for them to taste right, and as a general best practice habit.

If you don't know how to tell if they're completely cooked, or if you have really large pieces of mushroom, you might roast them in the oven for a bit at 250-300F while you make a side dish or something to allow them to heat through completely, since they'll taste better that way.

When the mushrooms are completely cooked, serve on pre-warmed dinner plates, with the salsa verde on the side.
Notes
Chef's tip
Mushrooms are lean and basically fat free, so it's very important to thoroughly oil them before cooking. That said, as moisture is released during cooking, this can make a charcoal grill flare up. The key is cooking the mushroom with indirect heat away from the coals. This was they'll get golden brown without burning. 
Nutrition
Serving:
6
oz
|
Calories:
395
kcal
|
Carbohydrates:
6
g
|
Protein:
5
g
|
Fat:
41
g
|
Saturated Fat:
6
g
|
Polyunsaturated Fat:
5
g
|
Monounsaturated Fat:
30
g
|
Sodium:
11
mg
|
Potassium:
542
mg
|
Fiber:
2
g
|
Sugar:
3
g
|
Vitamin A:
11
IU
|
Vitamin C:
4
mg
|
Calcium:
7
mg
|
Iron:
1
mg