Creamy, smooth and rich, dried lobster mushroom bisque is a great thing to make with your dried mushrooms.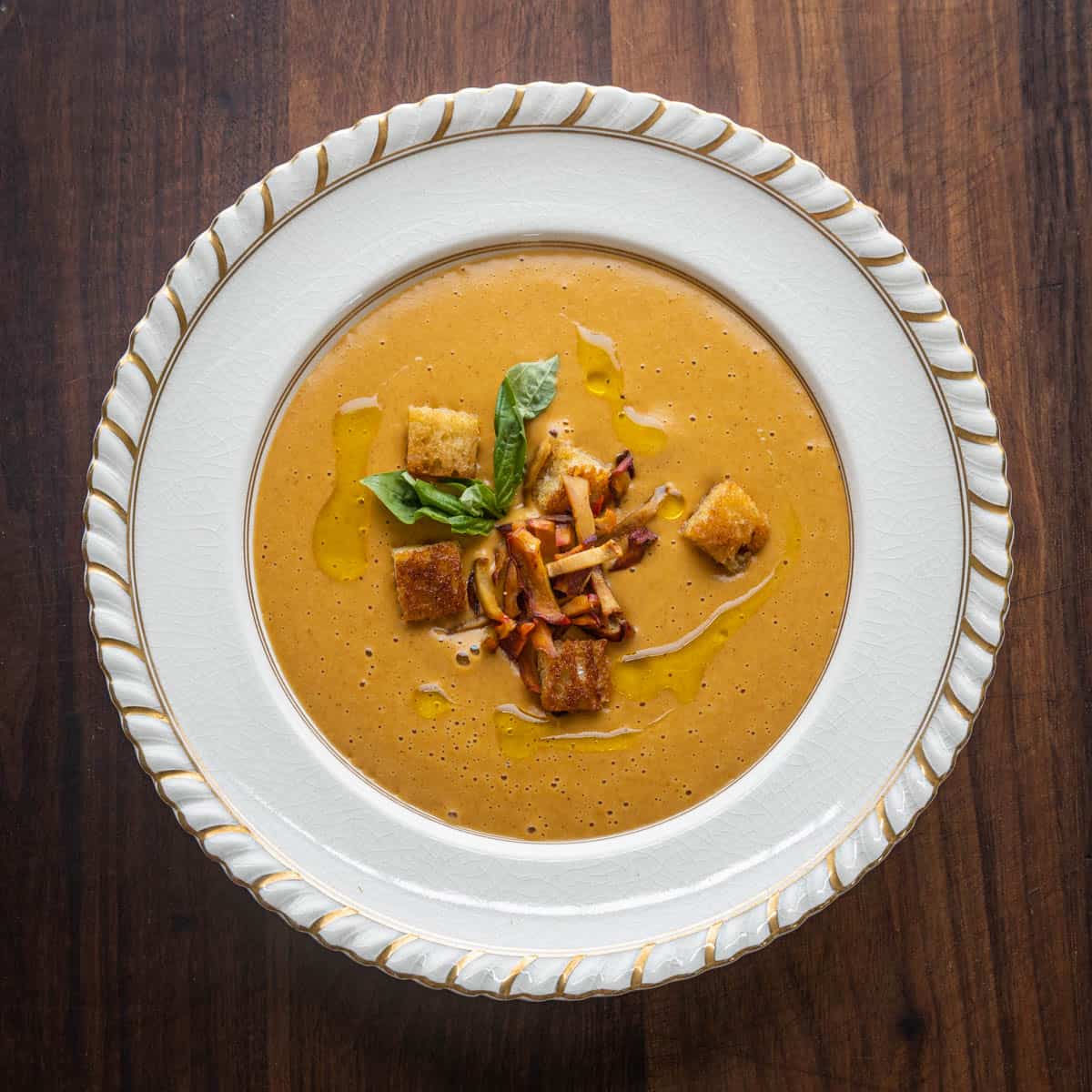 I like to make this in the winter when I'm using up my foraging stash from the growing season, but you can make it with dried or fresh lobster mushrooms. Dried mushrooms will have a stronger flavor.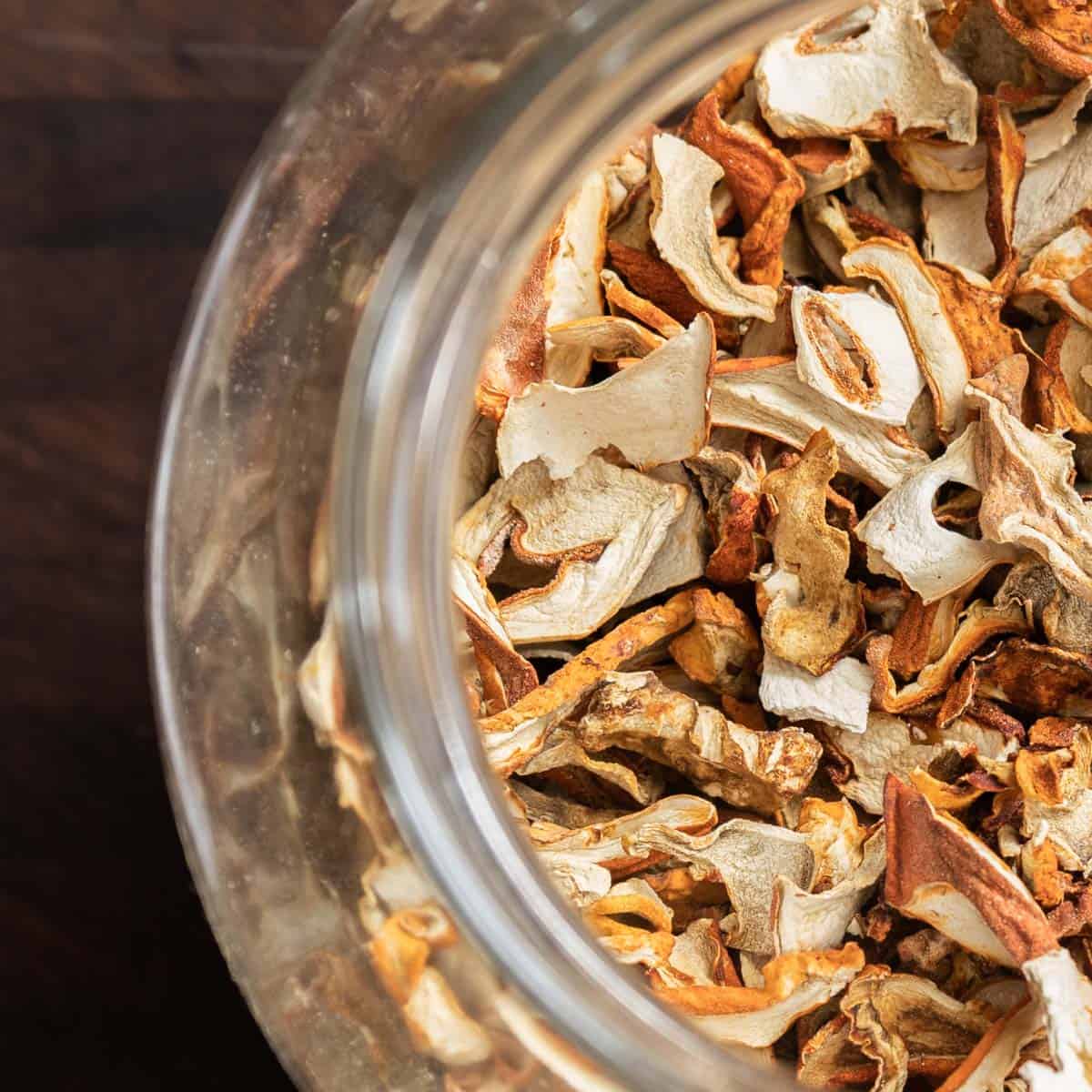 Lobster mushrooms (Hypomyces lactiflourum) have a mild taste fresh that concentrates when dried, revealing their subtle shellfish aroma. That said, don't expect a bisque made with dried mushrooms to be as potent as true lobster bisque. What you get is a creamy, rich, dried mushroom soup with the subtle taste of lobster mushrooms.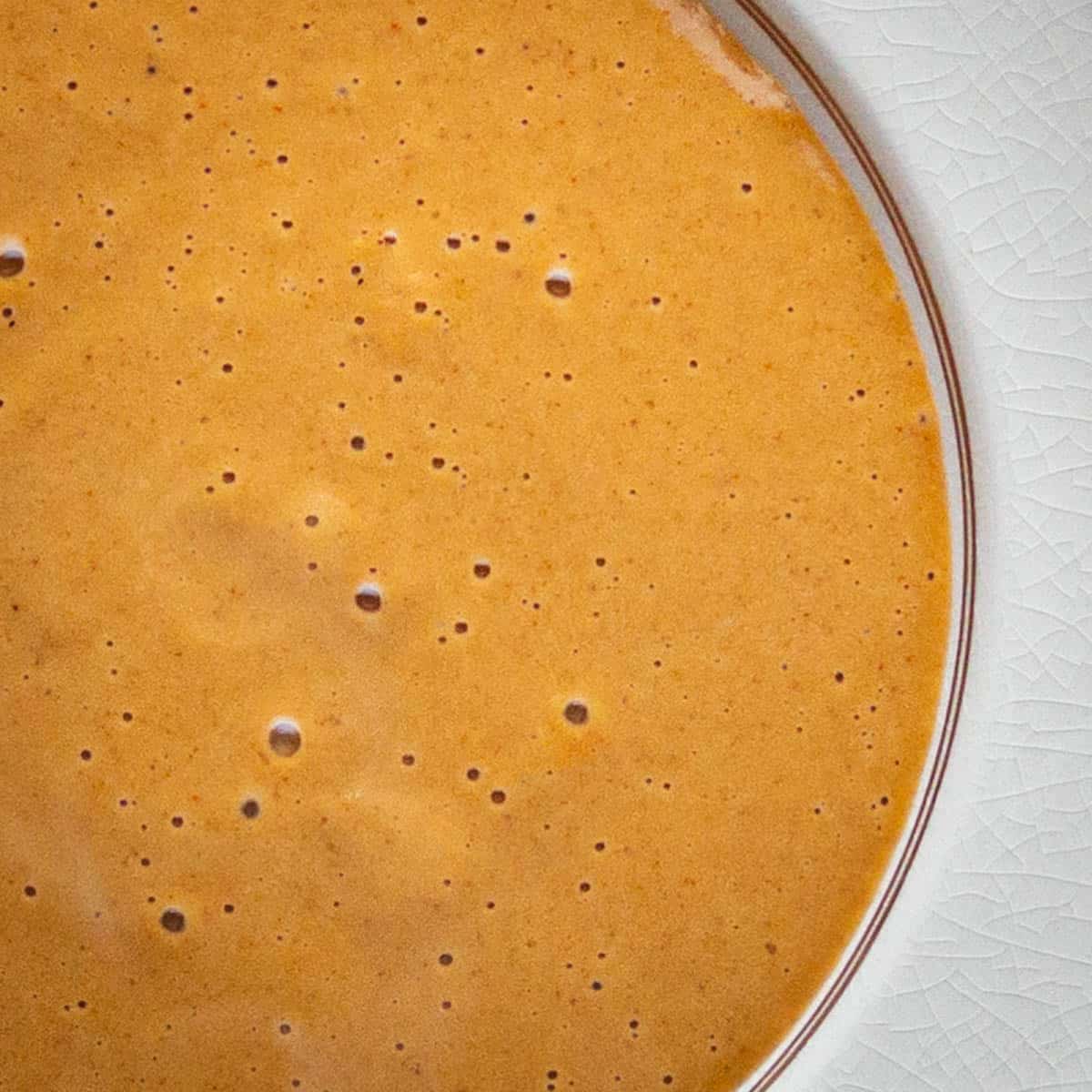 Stock
The most important thing for a good bisque is the stock. Ideally you'll use homemade chicken stock here.
If you want to keep it vegetarian, vegetable stock will work, but homemade will be better than store-bought. I also don't add carrots to the stock I use in my bisques, which can make it sweet. It's easy to make, all you need are some white onion, carrot, celery, leeks bay leaf, and rice.
Step-by-Step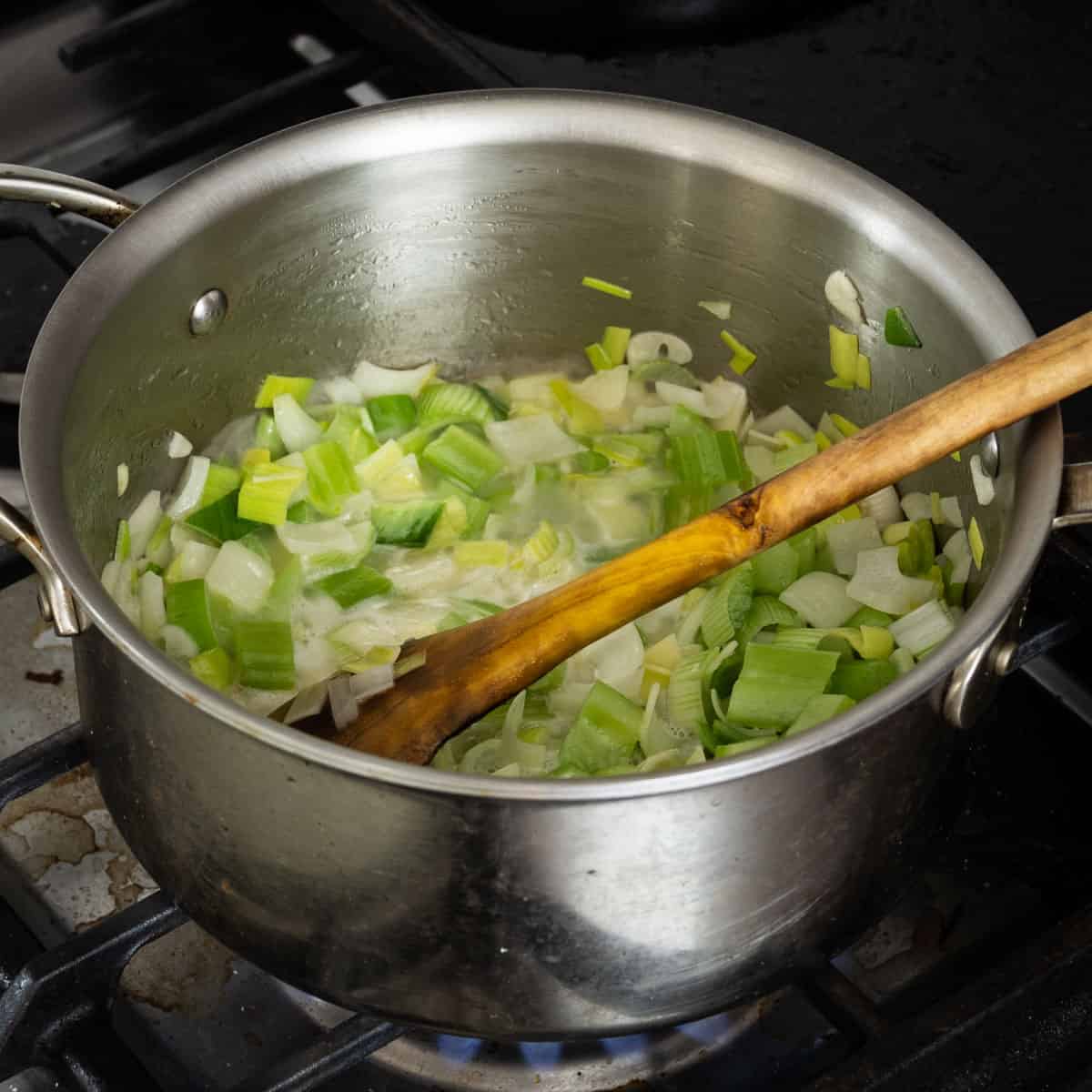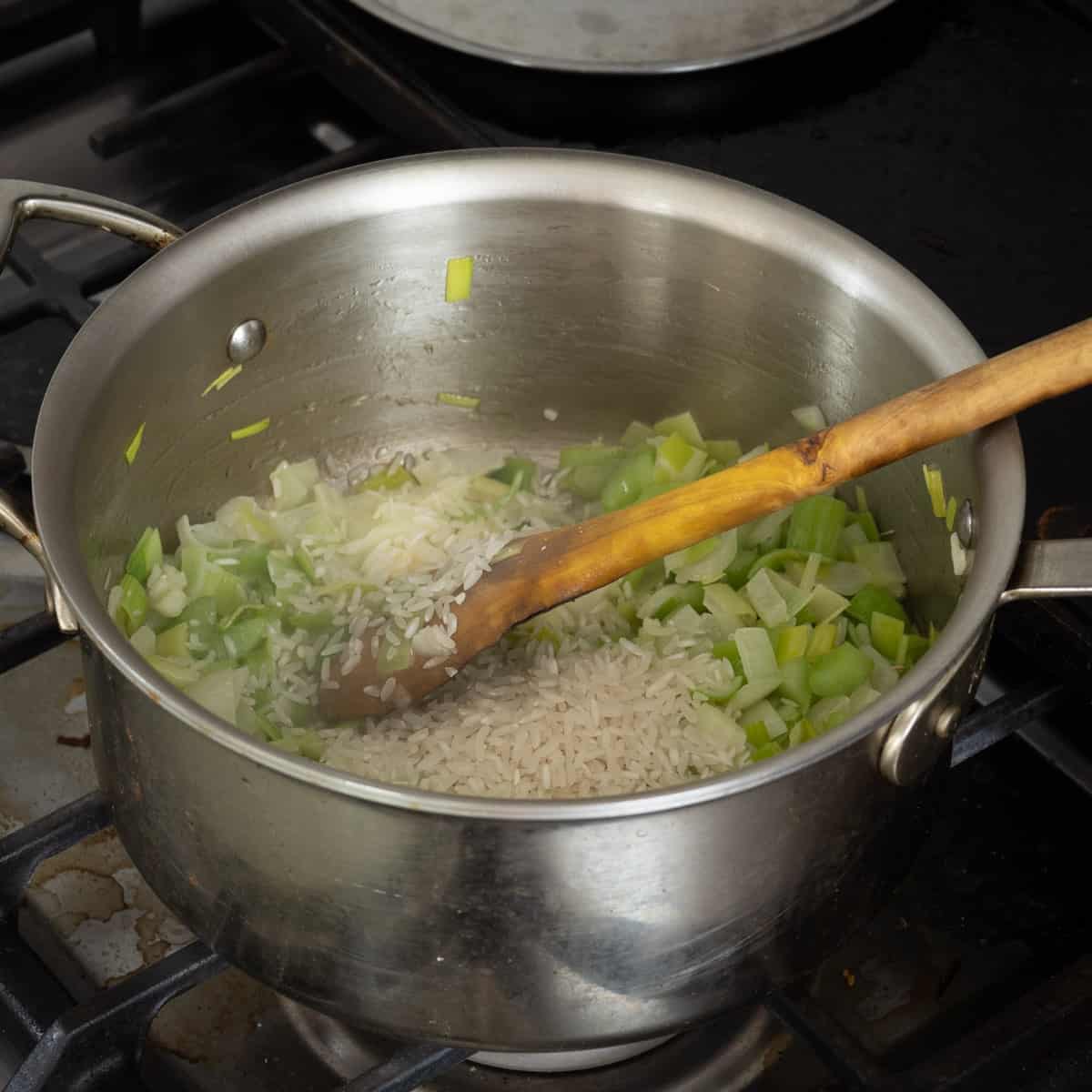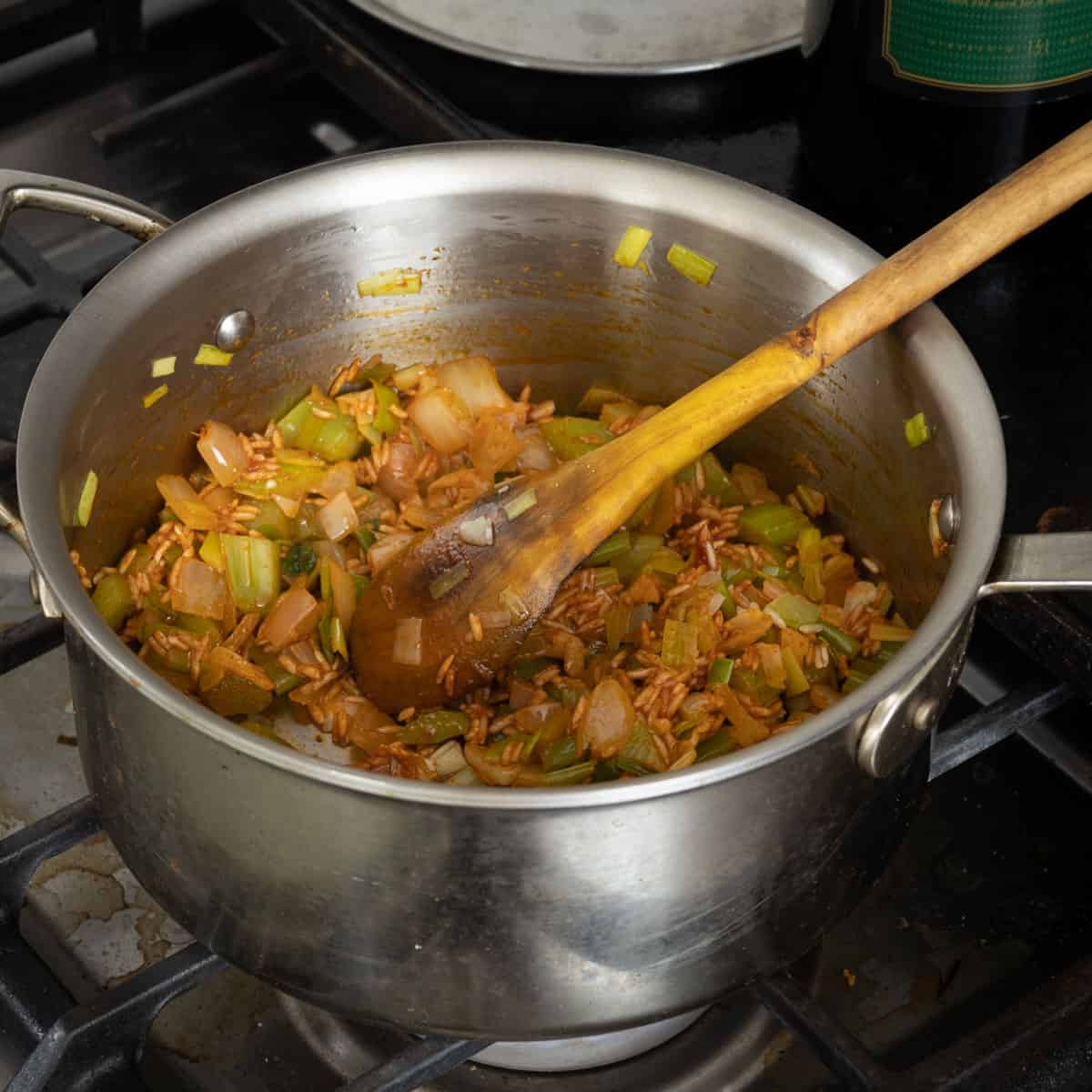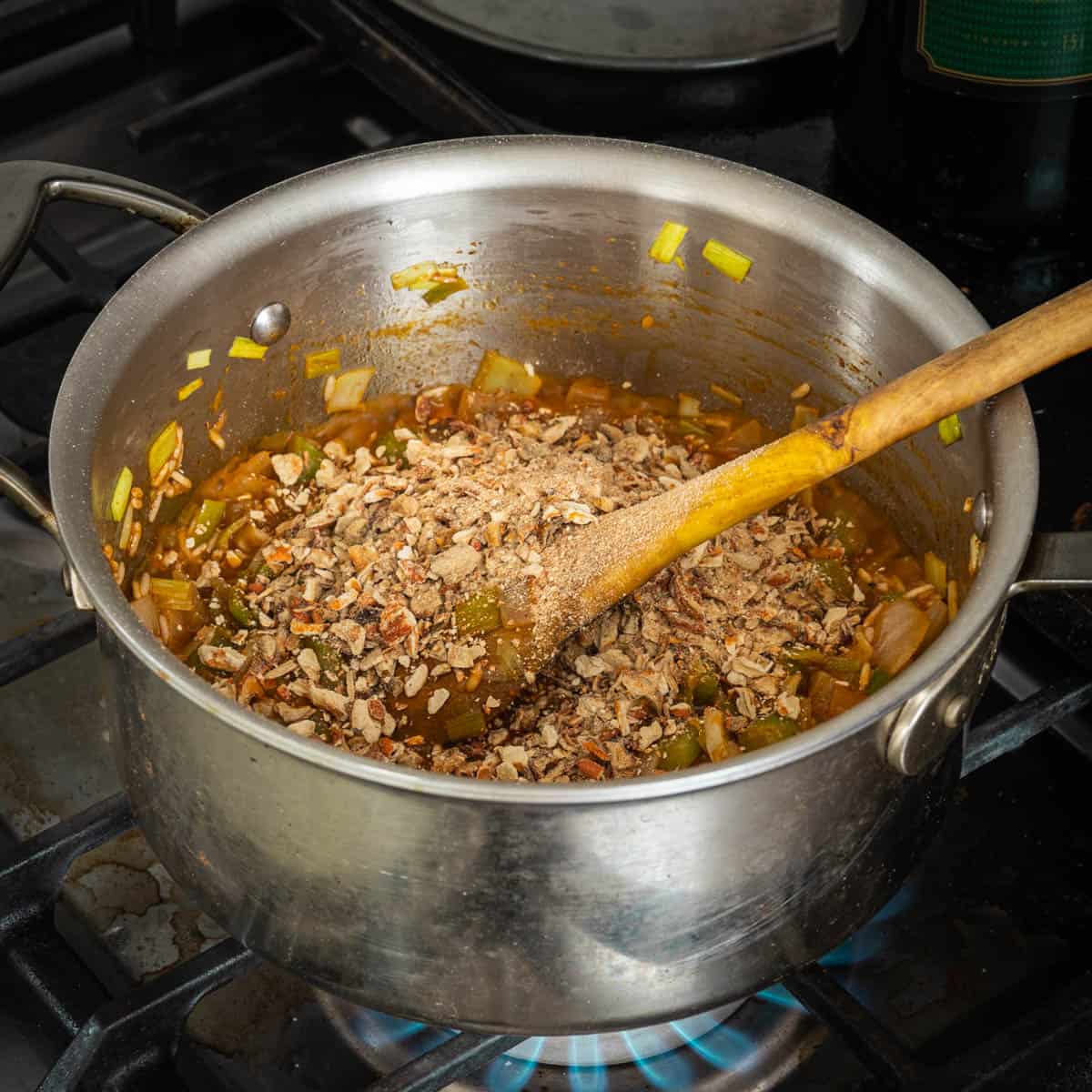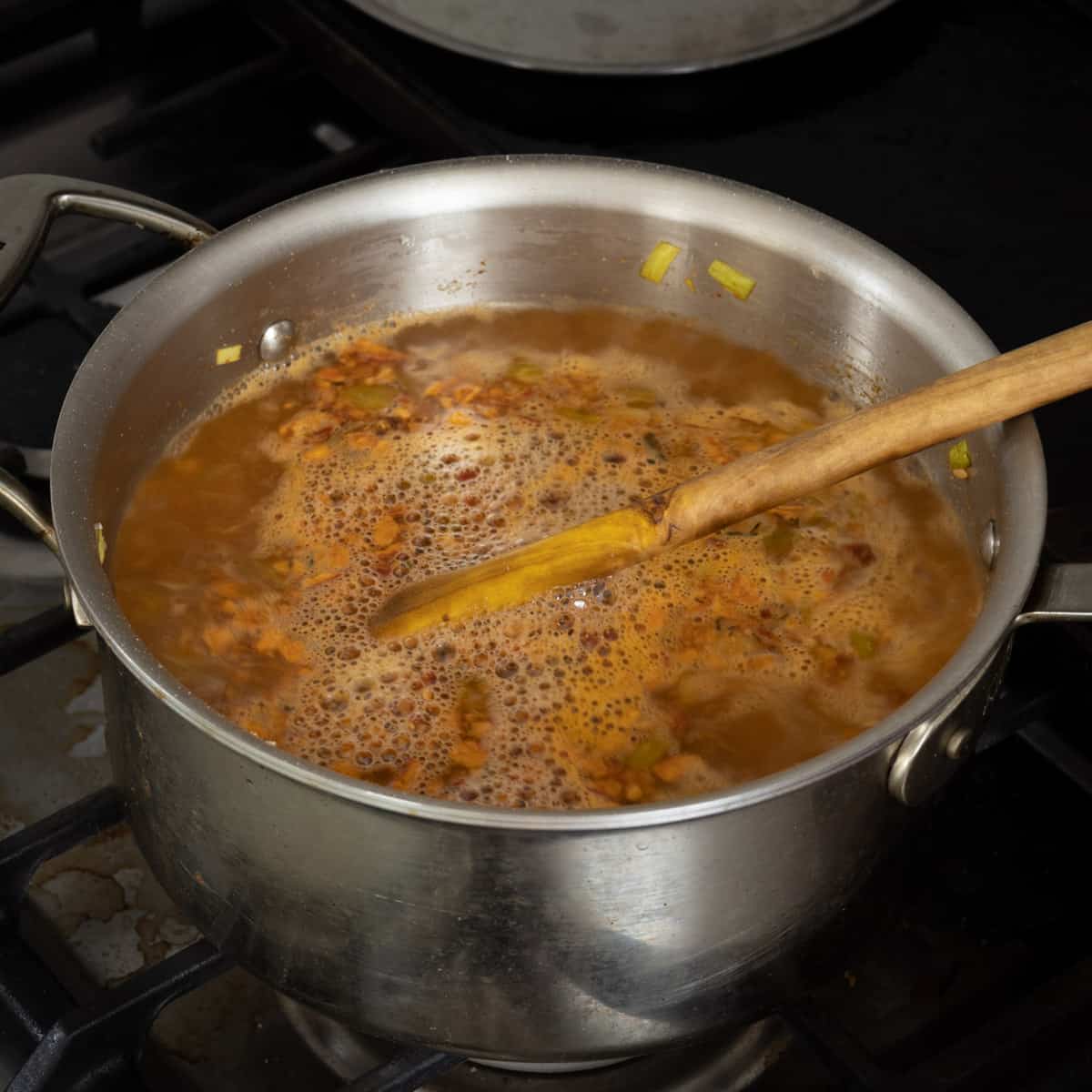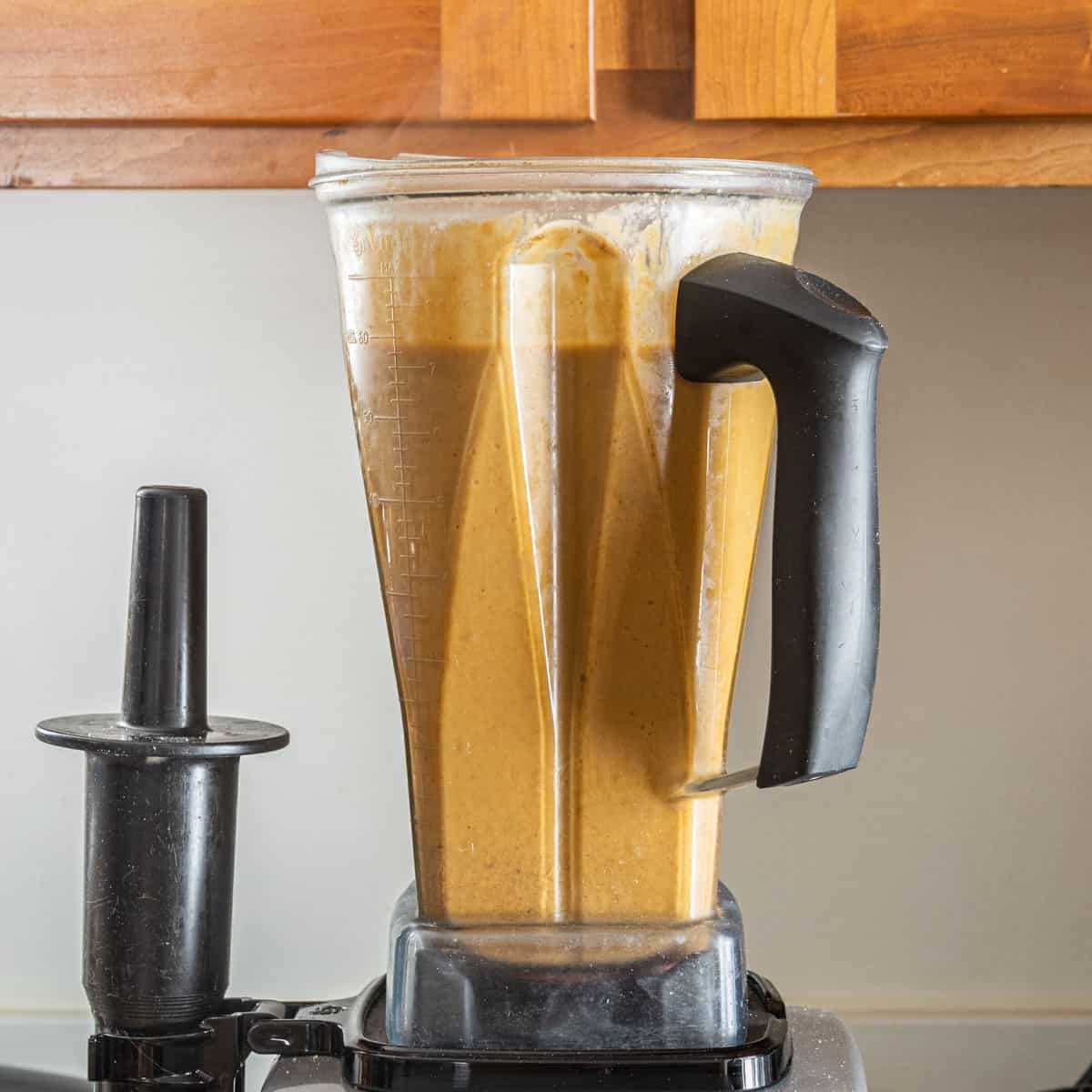 General Tips
A traditional bisque is thickened with rice. Just like roux-based soups, if you leave it uncovered for a period of time it may form a skin. Whisk it to break up lumps or puree with a hand blender before serving if you see lumps.
Garnishing is fun-be creative. Here I use some extra dried lobster mushrooms I've rehydrated and cooked crisp, along with croutons fried in butter.
If you have some herbs they'll help to add depth here. A few leaves of torn basil, a scattering of chives, a few chopped leaves of tarragon added to the bowl at the end will bring it up a notch.
More Lobster Mushroom Recipes
Braised Lobster Mushrooms with Tomato and Leek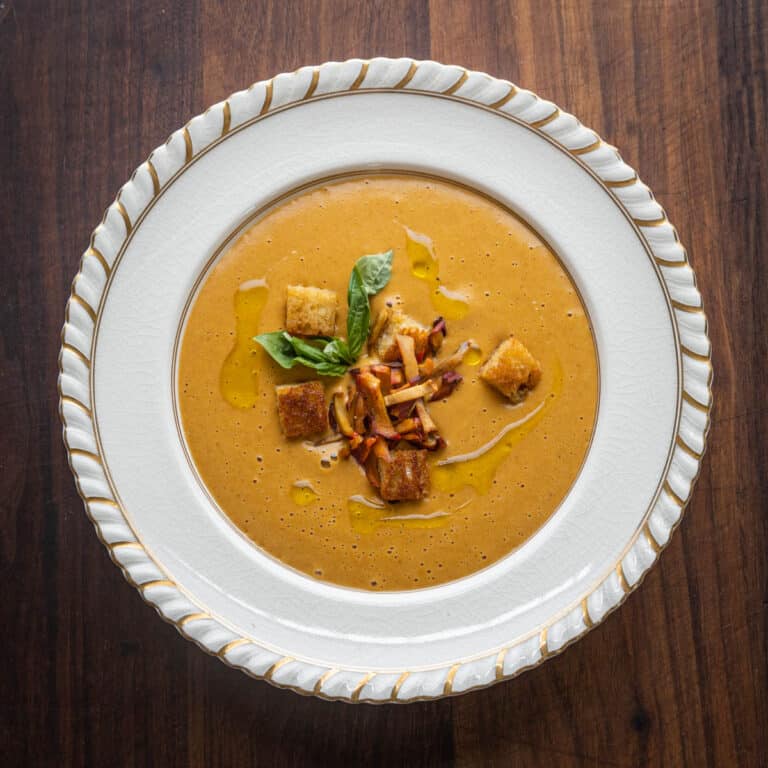 Print Recipe
Lobster Mushroom Bisque
A rich mushroom bisque made with dried lobster mushrooms, stock, vegetables and rice.
Equipment
1 Blender

1 3 quart sauce pot or a medium to large pot for soup

1 Chinois strainer or fine sieve

optional
Ingredients
Bisque
2

Tablespoons

cooking oil

½

cup

dry sherry

or white wine in a pinch

4

oz

(¾ cup) Celery

diced

4

oz

(¾ cup) Onion

diced

4

oz

(¾ cup) Leek

diced

2

large cloves garlic

or 1 tablespoon chopped

1

tablespoon

tomato paste

1

teaspoon

sweet paprika

1

cup

heavy cream

1

dried bay leaf

5

cups

of chicken stock

preferably homemade

4

tablespoons

unsalted butter

⅓

cup

long grain rice

2

oz

dried Lobster Mushrooms

Kosher salt

to taste

Hot sauce

like tobasco, to taste
Lobster mushroom garnish
½

oz

dried lobster mushrooms

1

tablespoon

cooking oil

Kosher salt and fresh ground black pepper

Fresh herbs such as chives or sliced fresh basil

A drizzle of extra virgin olive oil
Fried croutons
4

oz

1 cup small cubes of bread for croutons

2

tablespoons

unsalted butter
Instructions
Bisque
Grind the dried mushrooms to a coarse powder in a spice grinder.

Melt the butter in a 3 quart sauce pot on medium high heat. Sweat the garlic, leek, onion and celery in the butter for 10 minutes, or until softened, stirring occasionally. Add a generous pinch of salt (¼ teaspoon).

Add the paprika and tomato paste, stir, and cook for 3-4 minutes more. Add the rice and dried lobster mushrooms, along with the sherry. Cook, stirring occasionally until the sherry is gone and the pan is nearly dry.

Add the stock, hot sauce and dried thyme and bring to a simmer. Cover, and cook until the rice is tender, about 20 minutes on low heat.

Add the cream.
Pureeing
Working in batches if needed, carefully puree / blend until smooth. You can use an immersion blender, or a regular blender.

Add the cold butter to the blender while it purees. Adding butter while the soup purees lowers the friction of the blades and makes the soup extra smooth. For the most smoothest texture, pass it though a fine strainer or chinois after.

Strain the soup through a fine mesh strainer (optional)

Double check the seasoning for salt and spiciness (it should be mild) adjust until it tastes good to you, and serve with hot croutons fried in butter. See notes to serve as pictured with a few optional garnishes.
Notes
To serve as pictured
To serve the soup as pictured, rehydrate the ½ oz of dried lobster mushrooms in water for 10 minutes, then drain. Slice the mushrooms into a thin julienne, pat dry, and cook gently in the oil until they start to crisp. Season the mushroom julienne with salt and reserve.
Ladle the hot soup into preheated bowls. Place the mushroom julienne in the center of the bowl with a scattering of hot croutons. Garnish with the chopped herbs and a thread of extra virgin olive oil, and serve.
Vegan Lobster Mushroom Bisque 
You can substitute coconut milk for the cream, and vegetable stock for the chicken stock. Make sure to add some herbs at the end to pump up the flavor. 
Nutrition
Serving:
8
oz
|
Calories:
461
kcal
|
Carbohydrates:
30
g
|
Protein:
9
g
|
Fat:
35
g
|
Saturated Fat:
18
g
|
Polyunsaturated Fat:
4
g
|
Monounsaturated Fat:
12
g
|
Trans Fat:
0.5
g
|
Cholesterol:
81
mg
|
Sodium:
341
mg
|
Potassium:
557
mg
|
Fiber:
2
g
|
Sugar:
7
g
|
Vitamin A:
1545
IU
|
Vitamin C:
6
mg
|
Calcium:
66
mg
|
Iron:
1
mg