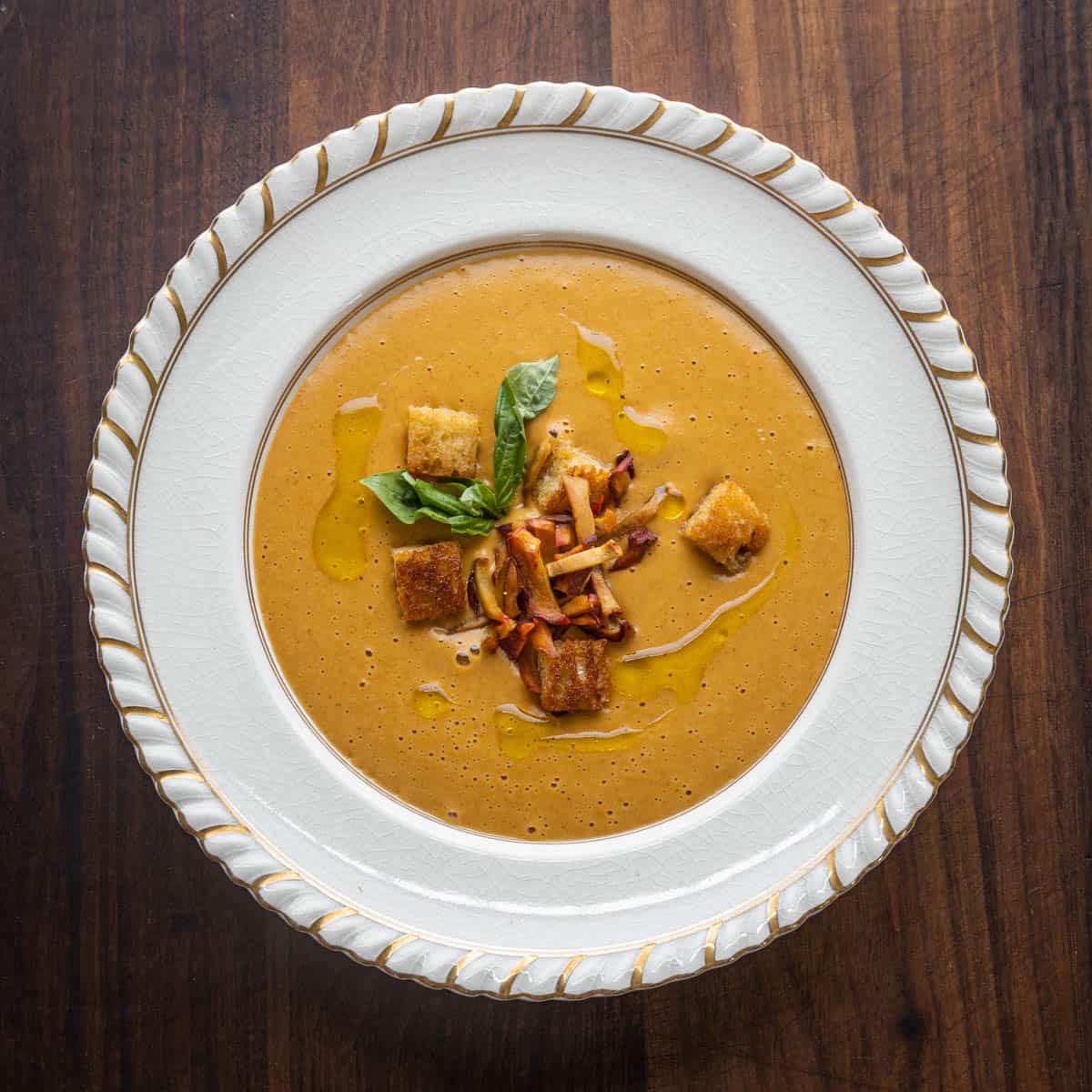 The other day my friend asked if I would help him prep some things for a fancy dinner he was having this weekend. Even in the Winter, I have no shortage of toys laying around, and it's a great time to use up the bounty of dried Lobster Mushrooms from the past year.
I'd been waiting to make a nice winter soup with some as well, I imagined a take on lobster bisque, simply substituting Lobster Mushrooms for the lobster, It turned out wonderful, smooth, rich, and pleasantly mushroomy, but delicate.
The Lobster mushrooms stand completely on their own here, with only some white onion, carrot, celery, bay leaf, and some rice. I wanted to showcase the lobsters, so this recipe uses lots of dried mushrooms.
Dried lobster mushrooms have a bit of a shellfish aroma, when cooked, they will lose a bit of it but it's still there. I wouldn't put too much other stuff in a soup like this, since their flavor is pretty delicate. Suffice to say that if tasting the flavor of the lobster mushrooms is what you want, less is more here, and it is best to just keep it simple.
Lobster Mushroom Bisque
To serve 8 as a first course
⅓ cup Carrots
⅓ cup Celery
⅓ cup Onion
¼ cup tomato paste
½ cup heavy cream
1 bay leaf
7 cups of chicken stock, preferably homemade
4 tablespoons unsalted butter
1 cup of rice
2 oz dried Lobster Mushrooms
Salt to taste
Cheese croutons (optional)
1 tablespoon mild paprika
Hot sauce, like tobasco, to taste
Method
Rehydrate the lobster mushrooms in the chicken stock, let them plump for 15 minutes (or longer), then agitate to remove any grit, remove the mushrooms, strain the stock and reserve both separately.
Dice the carrot, onion, and celery into roughly equal size small pieces.
Sweat the vegetables and the lobster mushrooms in the oil on medium heat with a pinch of salt until tender and translucent, about 5 min. Add the paprika and tomato paste and cook for a few minutes more, stirring to combine everything.
Add the rice, Lobster Mushrooms, cream bay leaf and stock, then bring to a simmer.
Turn the heat down to low and cook, covered, until the rice is soft and cooked through, about 15 minutes.
When the rice is cooked through, remove the bay leaf, then puree the mixture in a blender until very very smooth, working with about ¼ of the soup at a time in the blender. If some of the batches are not "catching" in the blender, add a little bit of water or oil, or stir with a spoon until it will puree.
The mixture needs to be silky, silky smooth, so don't surprised if it takes a while. Be patient. When all of the bisque is pureed, taste it, add salt to taste and adjust as needed, as well as a couple drops of hot sauce.
Strain the soup through a fine mesh strainer (optional)
I served it with a cheesy crouton on top, you could just add croutons, or eat it like baby food, if you like.