I tell people over and over to make mushroom conserve when they have a great harvest of small buttons, especially chanterelles: golden chanterelles, hedgehogs, blue chanterelles especially, although lobster mushrooms and polypores like chickens, hens, and Ischnoderma work good too. See the master recipe for mushroom conserve here.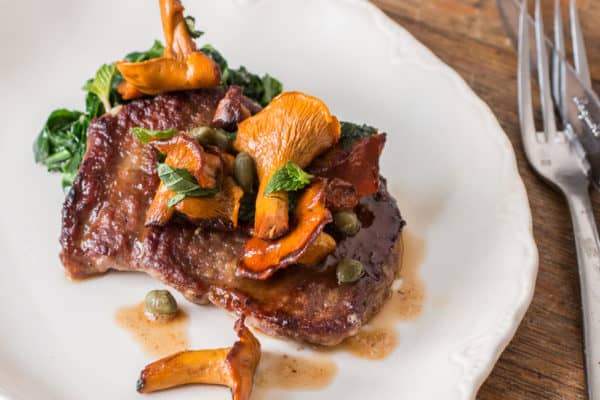 The reason isn't because I eat pickled mushrooms cold out of a jar, but because pickling, and more specifically my conserve recipe, is a low-ish acid preserve that's the best way to preserve the texture of fresh mushrooms I know of. When I reheat them for cooking, it's generally pretty quick, a fast saute in butter or oil, and then they go on a plate, typically as a garnish to a piece of meat. Thin, tender scallopini are a perfect vehicle.
Scallopini I've covered before--they're just a vehicle here, so the kind of meat you use really isn't an issue. The cut of meat is though. Here I used venison backstrap, but a cut from the sirloin tip or "football" roast would be good too. Basically you're just looking for a tender cut that you can pound into cutlets, and the tender loin of most four legged creatures, or a breast of your choice of poultry, will do just fine--just make sure it isn't streaked with fat or connective tissue, since that can make the cutlets curl up while cooking, releasing liquid and decreasing the flavor you get from a good, quick sear.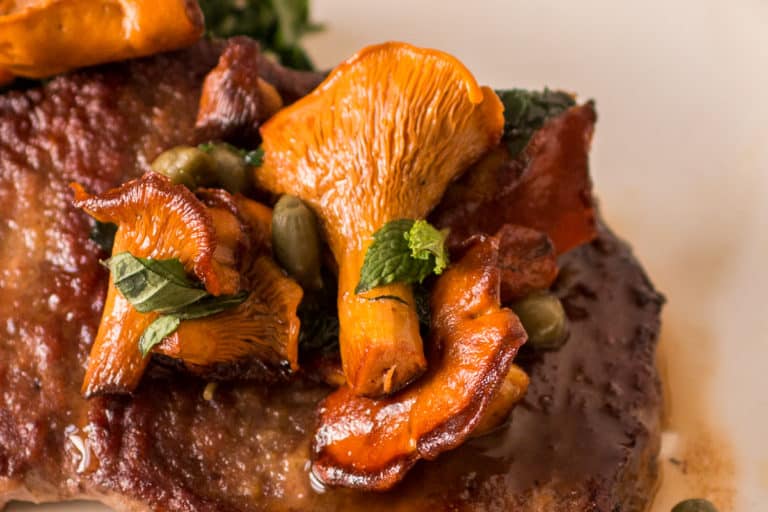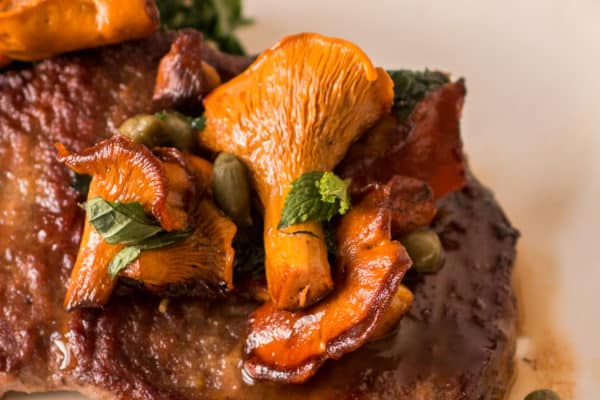 Lastly, this is a minimalist scallopini, and no, it's not picatta, since picatta insinuates being napped in a sauce. These are the most primal form of scallopini--simple pounded cutlets fried crisp, drizzled with the cooking juices from the pan mingled with a splash of wine or mushroom pickle juice--nothing more. There should be barely enough juices to nap the cutlets when you're done. It's a less is more kind of thing.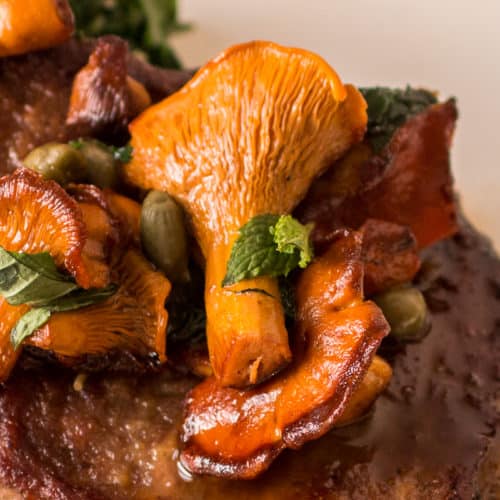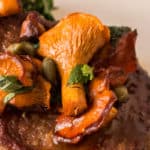 Print Recipe
Scallopini with Pickled Wild Mushrooms
A variation on the Italian classic with pickled wild mushrooms
Ingredients
1

lb

meat in one piece without connective tissue splurge for a tender cutlike loin

tenderloin, sirloin, etc

Kosher salt and pepper

¼

cup

dry white wine

4

tablespoons

unsalted butter

All purpose flour

for dusting the cutlets

1

tablespoon

nonpareil capers

or more to taste

¼

cup

cooking oil

1

clove

of garlic

finely grated or mashed to a paste

Fresh sliced mint leaves

about 2 tablespoons, plus more to garnish

8

oz

or 1 cup pickled wild mushrooms

or more to taste

Fresh lemon juice

to taste

Vegetables

especially wilted spinach or other greens, for serving
Instructions
Cut the loin or other cut into 4 equal sized pieces, then, with a sharp knife, cut them almost in half to butterfly them (see pictures). Next, pound the meat with a mallet on both sides to even it out and flatten it. Season the meat lightly with salt and pepper.

Heat an oven to warm. Heat the oil, a ten inch pan works good. Working in batches if needed, dust the cutlets with flour one at a time, dust off the excess, and brown on one side, until the cutlets are nearly cooked. Transfer the finished cutlets to a pan and keep warm in the oven, and repeat until all the cutlets are done.

Try not to burn the flour in the pan. Add the butter to the pan and cook for a minute or two until it smells toasty like nuts, then add the mushrooms and cook until lightly browned and wilted, about 5 minutes—if the pan dries out, add some more butter or oil.

Add the garlic to the pan and cook for a minute until aromatic. Add the wine and cook down, then toss in the mint leaves, splash of lemon, and serve the cutlets, spooning the with the sauce and mushrooms over each one.

Serve with wilted greens, especially wild ones like nettles, amaranth, or lambsquarters.
Notes
Fresh mushrooms can be used instead of pickled.
If you can, pound the scallopini beforehand and keep them wrapped, flat, in cling film until you're ready to cook to make the pickup faster--this is how I'd do it in a restaurant.