Here's a fun story about why common names are important, and a great recipe for scallopinni with mushrooms you can use with just about any mushroom you have.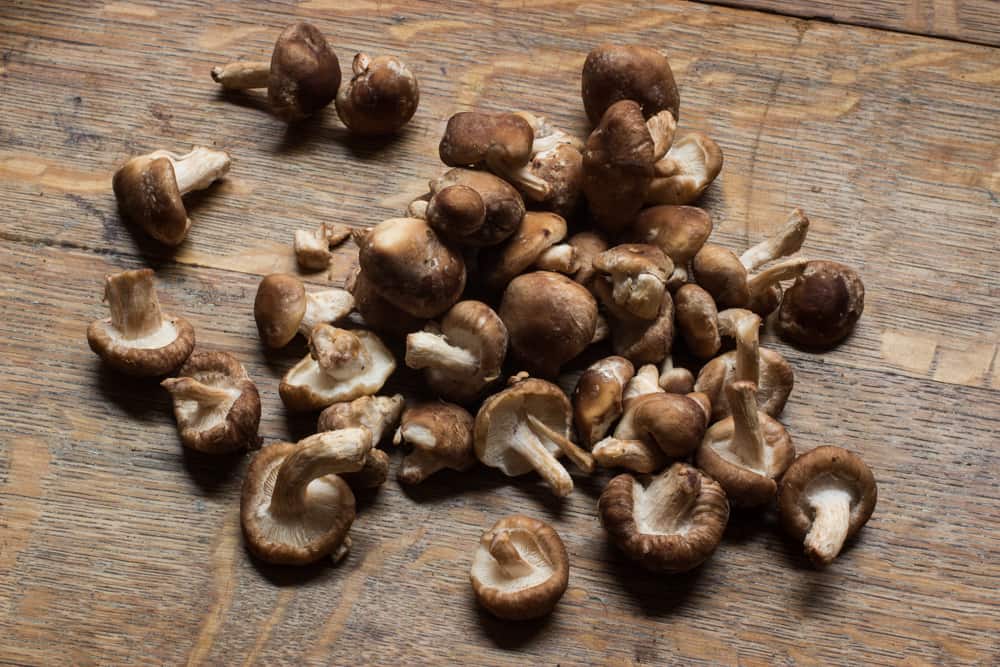 High end wholesalers make plenty of amazing food happen. In the span of about a day, ingredients from one corner of the country or world can be in the hands of someone else, although the availability comes at a pretty high price. Wild mushrooms are easily sourced through a number of different purveyors, and I love to look through the lists from time to time.
A while ago I was talking to one of the largest, respected purveyors I know, and agreed to have some samples dropped off to check the quality. They sent a grab bag, but also let me pick a few from their worldwide selection. When I saw "mousserons" (typically used as another word for fairy ring mushrooms a.k.a. Marasmius oreades), I thought it would be to have a few for a dinner I was planning, so I added them to the sample list.
I should mention I've also seen the word "mousseron" used to describe Clitopilus prunulus, and Calocybe gambosum, but neither of those species is what I have pictured here.
When the mushrooms arrived, I looked through the bags of samples and was, stumped. There were no fairy rings. I called the purveyor, and she described the "mousserons". The mushrooms she was describing were very different from the fairy rings I pick though, so I got curious.
I cooked the mushrooms, which were fine, but not as good as the tiny fairy rings I pick in Minnesota. They had a texture more similar to fried chicken mushrooms, honey mushrooms, or shiitake. I forgot about them for awhile, and assumed I must be ignorant about the species somehow, or maybe that European species of fairy rings must be different.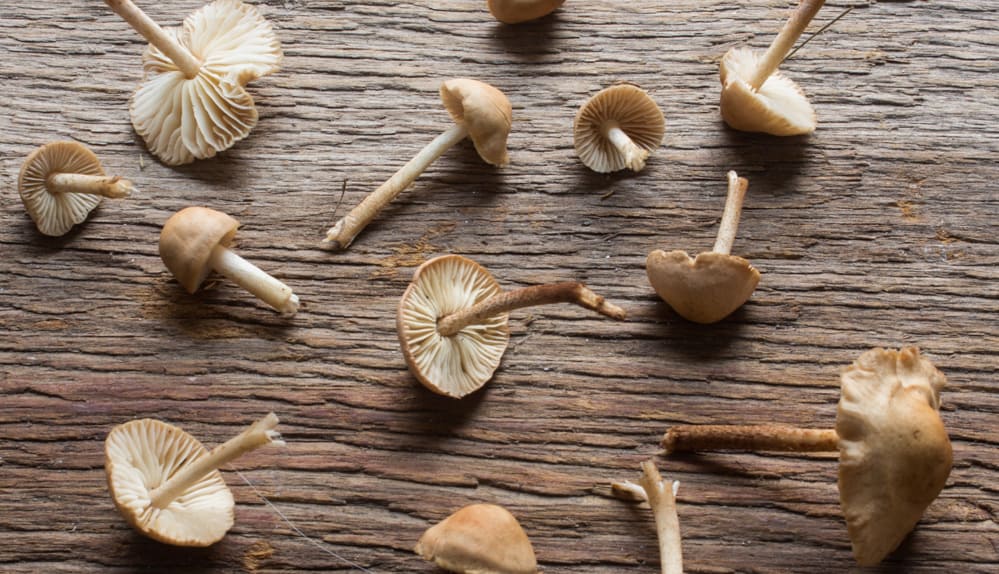 When I went to France I knew something was up. At the markets, I saw "mousserons" more than once, and every time, they were the same tiny, petite fairy rings I pick back home. When I ate at Jacques Chibois in Grasse, I had a great dish of a whole langoustine stewed in it's broth with "mousserons de Pres", again with the same fairy rings I cook in Minnesota.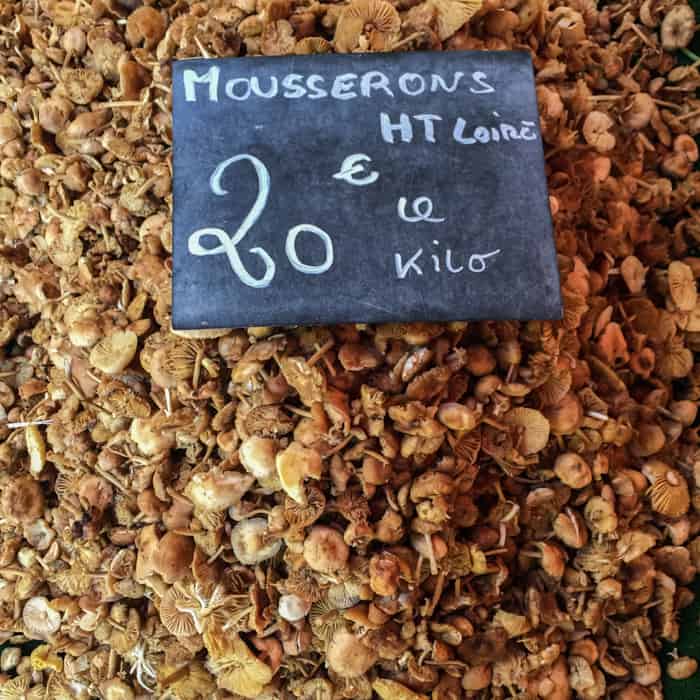 So the questions I have are: what are they/what's their true name? Are they some sort of wild harvested fairy ring cousin? Is the purveyor spreading false information about the species? Can I be any bigger of a nerd?

I did a little poking around online to see what I could find, and the vast majority of photos of Marasmius oreades are the fairy rings I know. There were very few pictures here and there I found of the imposter, which I assume could be from a chef buying them from a purveyor and labeling them as "mousserons", since they're describing them as what they were sold. Either way they're not marasmius looking at all, more like shiitakes with edible stems. For the record, shiitakes don't taste as good as fairy rings.
If any of you have an idea or a guess of what they could be, chime in. Here's some specs about the "mousserons" they sent me:
Cap: ½ inch to roughly 1.5 inch in diameter, slightly convex with an inrolled margin when young, becoming more flat or bell shaped with age, sometimes with a noticeable elevated ring in the center similar to cultivated shiitake
Gills: not connected to the stem, white, finely packed together
Spore print: white
Stem: thick, dense, slightly fibrous, pleasantly edible when cooked
In the end, they were an exercise in questioning authority, casual mushroom research, and comparing species from two different continents. Regardless, after cooking them I made a few different dishes. Here's my favorite.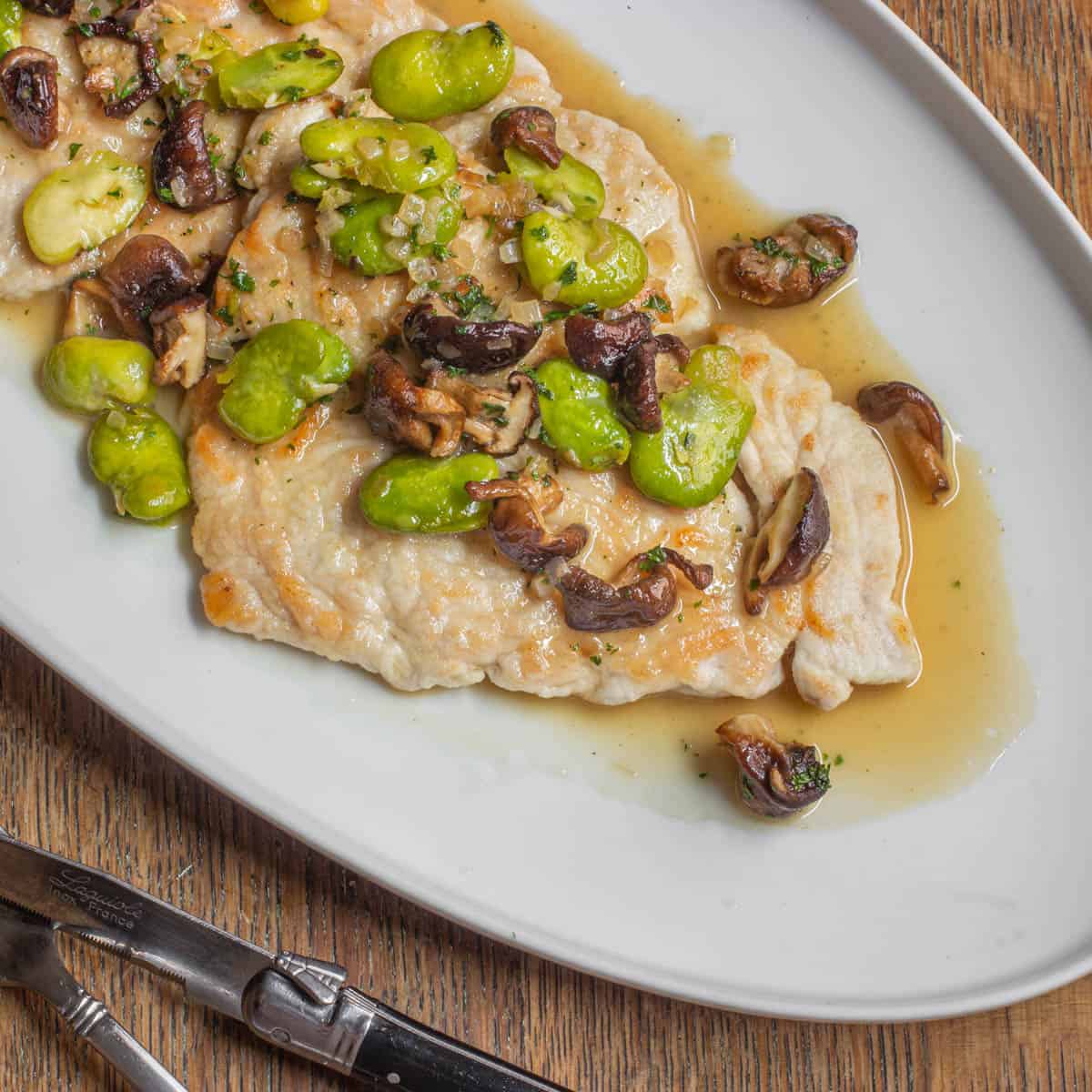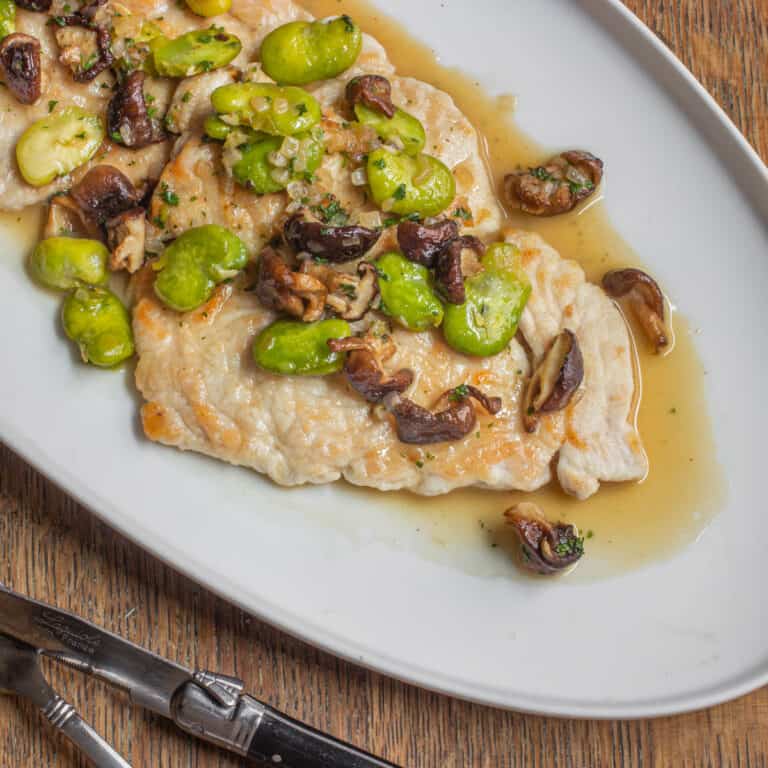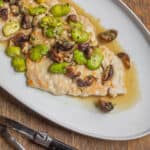 Print Recipe
Turkey Scallopine With Fava Beans and Mousserons
Turkey scallopini with mushrooms and a white wine pan sauce. You can substitute plenty of different wild mushrooms here, it's a very flexible recipe. Serves 4 as a light entree, have a salad alongside to make a small meal 
Equipment
1 large skillet or large saute pan

10-12 inches wide
Ingredients
1.5

lb

turkey tenderloins

1 ⅓

cups

fava beans

blanched and peeled

6-8

oz

wild mushrooms

such as chanterelles or hedgehogs, or just shiitakes

½

cup

dry white wine

1

cup

meat stock

preferably homemade

¼

cup

shallot

diced ¼ inch

Cooking oil

like grapeseed or canola, as needed for browning

4

tablespoons

unsalted butter

Kosher salt and fresh ground black pepper

to taste

All purpose flour

as needed for dredging

1

tablespoon

chopped equal parts parsley

chives, tarragon, and chervil (this is the classic French blend for fines herbes, but you can substitute a blend you like.
Instructions
Slice the turkey tenderloins into 2 ounce medallions, then put between two layers of plastic wrap and gently pound with a meat mallet until flattened to ¼ inch thick, then reserve.

Set the oven to the warm setting. In a large, wide sauté pant, season each of the turkey scallopine lightly with salt and pepper, then dredge in the flour, tap off the excess, and quickly brown in the oil. Remove the scallopine when browned, place on a plate, cover with foil and keep warm in the oven. Repeat searing off the other scallopine.

When all the scallopine have been browned, quickly make the mushroom-wine sauce. Discard the oil from the pan, then add 2 tablespoons of the butter. Cook the mushrooms until lightly browned in the butter, season to taste, then add the shallots and cook until lightly browned. Deglaze the pan with the wine, then reduce by half. Add the stock and reduce by half. Whisk in the butter and cook until thickened enough to lightly coat the back of a spoon.

Meanwhile, warm the fava beans on medium-low heat in a little butter and salt and cook until tender throughout. Reserve.

To serve, toss the scallopine into the mushroom wine sauce for just a moment to refresh them, add the chopped herbs, then divide the scallopine evenly between four pre-heated dinner plates and top with reserved fava beans and mushrooms, finish with the sauce and serve immediately.
Notes
The chef from Rome I used to work for would always add demi-glace to pan sauces for his scallopine, which he also called "piccatina" occasionally. A little demi glace is great here, if you happen to have some on hand. 
Mild, soft herbs are best here, stay away from the rosemary, lavender, or sage)
Nutrition
Calories:
321
kcal
|
Carbohydrates:
4
g
|
Protein:
40
g
|
Fat:
14
g
|
Saturated Fat:
8
g
|
Polyunsaturated Fat:
0.4
g
|
Monounsaturated Fat:
3
g
|
Trans Fat:
0.5
g
|
Cholesterol:
107
mg
|
Sodium:
337
mg
|
Potassium:
85
mg
|
Fiber:
0.5
g
|
Sugar:
2
g
|
Vitamin A:
352
IU
|
Vitamin C:
1
mg
|
Calcium:
14
mg
|
Iron:
0.3
mg