It's chanterelle season again, and I was lucky enough to grab a few reds, which are a little hard to come by in my area. I wanted to make a dish that would compliment them, something easy, uncomplicated.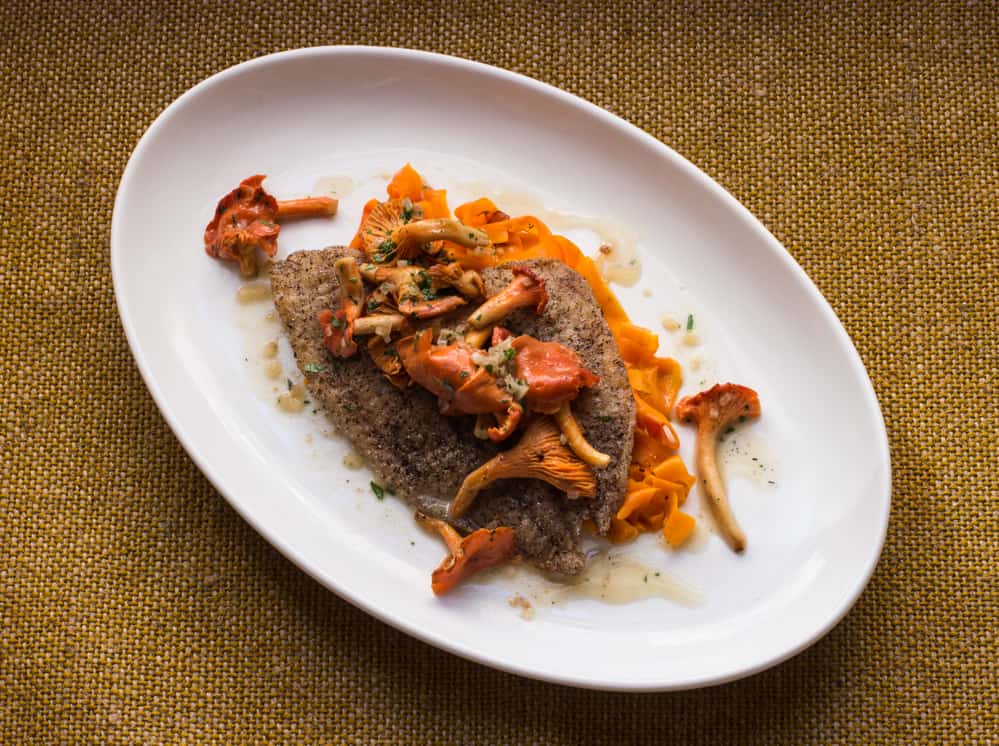 Their aroma makes me think of vegetables that are sweet, in this case some carrots. It's a Minnesota Summer (read as humid) and I don't like to eat too heavy in that kind of weather so I kept it light: a little filet of sole with thin ribbons of carrots and a chanterelle pan sauce.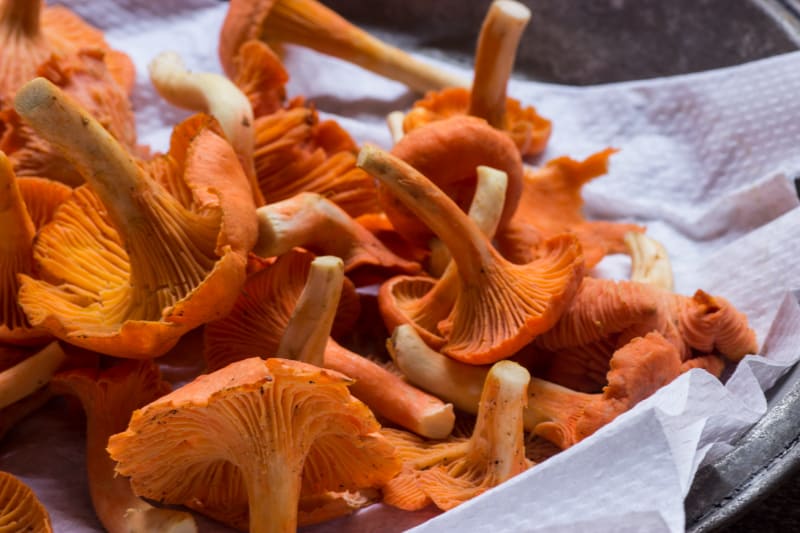 The carrot ribbon technique is a great one and could be a post by itself. You shave vegetables thin into ribbons with a peeler, then wilt them in a pan until soft. It's a technique I do with parsnips, turnips, rutabaga, celeriac, etc, pretty much any fleshy root vegetable will work great. The ribbons are a show stopper when made correctly and not over or under cooked, they turn succulent and tender like pasta, which is why restaurants will often call it carrot pasta, or pappardelle.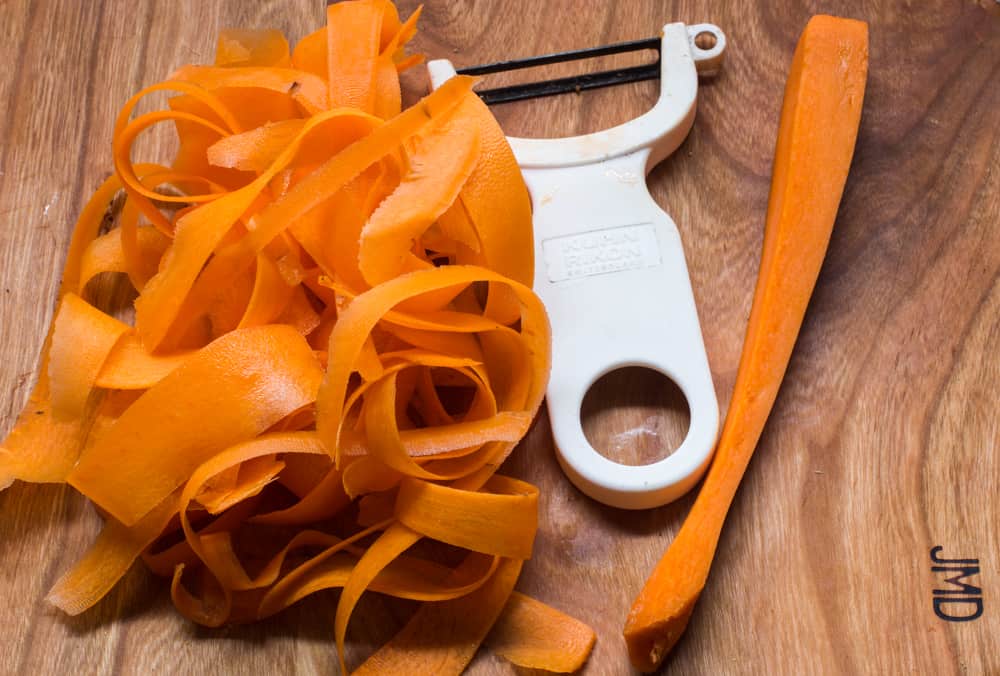 There's a trick to making good ribbons of vegetables you should follow if you make them from any species of carrot or parsnip though: don't use the core, it's not as soft, and cooks at a different rate then the surrounding flesh. From there your job is easy, just sweat the veggie strips until they're nice and just al dente and they're ready to go.
Sole, and thin filets of fish like fluke really benefit from a dusting of something to help them not stick to the pan. I used some buckwheat flour I had in the freezer that gives a nice nutty flavor and a speckled look, but all purpose flour, fine cornmeal, or your favorite fish dredge will work fine too.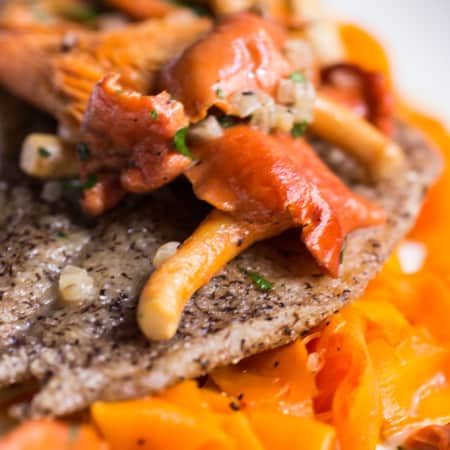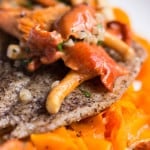 Print Recipe
Buckwheat Sole With Red Chanterelles and Carrot Ribbons
A quick saute of buckwheat crusted sole or other white fish with sauteed red chanterelles
Ingredients
6

ounces

sole filets

this could be 2-4 filets depending on size

Buckwheat flour

as needed for dredging

4

large carrots

3

ounces

fresh

young red chanterelles or golden chanterelles, cleaned, washed and dried on towels if dirty

1

heaping tablespoon shallot

diced ¼ inch

¼

cup

dry white wine

1

cup

chicken stock

preferably homemade

1

tablespoon

roughly chopped fresh chives

parsley, and tarragon

3

tablespoons

high heat cooking oil

like grapeseed, canola, or lard

Kosher salt and fresh ground black pepper

to taste

2

tablespoons

unsalted butter

diced and chilled
Instructions
First cook the carrots and make the sauce. Heat 1 tablespoon of the butter in a saute pan, add the carrots and cook on medium heat until just tender, about 5-minutes.

Meanwhile, heat 1 tablespoon of the oil until very hot add the chanterelles and cook until lightly browned. Add the shallot to the pan, season lightly with salt and cook for 2 minutes more, then deglaze the pan with the wine and cook until evaporated. Add the chicken stock and continue cooking until reduced to about ½ cup, then reserve and keep hot.

Lastly cook the sole. Heat the remaining 2 tablespoons of oil in a large pan. Season the sole filets lightly with salt and pepper, then dredge in the buckwheat flour and fry until just golden, turning the filets only once. When the filets are just cooked through, plate the dish.

Reheat the carrots gently, and arrange on a preheated dinner plate. Meanwhile, reheat the sauce until simmering and whisk in the remaining tablespoon of butter until emulsified and creamy. Double check the seasoning for salt and adjust if needed. Add the chopped parsley. The sauce should be thick enough to coat the back of a spoon lightly.

Lay a filet of sole on top of each mound of carrots, then spoon the sauce and mushrooms evenly over the top. Serve immediately.
Notes
The red chanterelle mushrooms were great here, but golden chanterelles, black trumpets, yellowfoot chanterelles, and fairy rings would all be great.