Talk to a non-mushroom hunter about flavor pairings and you'll probably get responses like "all mushrooms are the same, and they can be substituted interchangeably".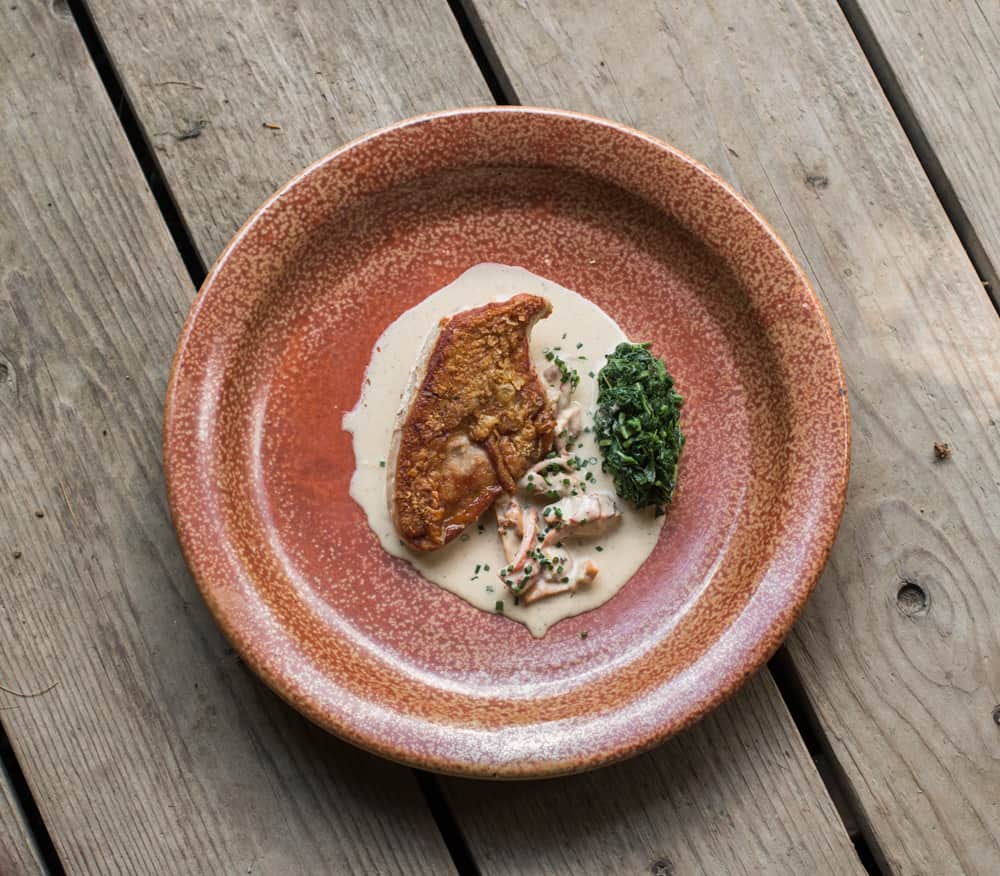 In my opinion that isn't true, but most people give me very strange looks when I describe what I eat. There is truth in that sort of typical assumption that alot of people have though, and for good reason. A lot of mushrooms can be interchanged, and that's what makes them great, but there are some flavor pairings that are special, I think chicken of the woods and lemon is one.
Now mushrooms flavored or doused with lemon is nothing new, the French preparation of "a la Bordelaise" implies finishing with a dash of lemon juice and it's a classic. There's something about the flavor of chicken of the woods though, it's delicate, lighter in weight than the others. It's at the same time similar, but completely different than mushrooms that you would describe as "mushroomy".
A good example is what happens when you cut a really young chicken. It's general mushroom hunting practice to squeal and run to the bright colored fruitings when you see them, but more often than not, the bright color doesn't bely an age at the sweet-spot of enjoying eating. When you do find that brilliant, bright, young and tender nubbin though, it's a sight most people could never even imagine.
I remember the first time I found one, my knife hit the root of mushroom coming from the tree, liquid poured down my knife to my hand, traveling down my arm and staining my t-shirt bright yellow.
There was a strong smell to the liquid, a sort of sweet smell reminiscent of orange juice, and I thought: WTF this mushroom is bleeding on me? I threw the stained shirt away when I got home, but I never forgot about it, and over the years, I've come to judge a good sulphureus chicken by if they weep or not when I cut them. Young and tender mushrooms are juicy mushrooms.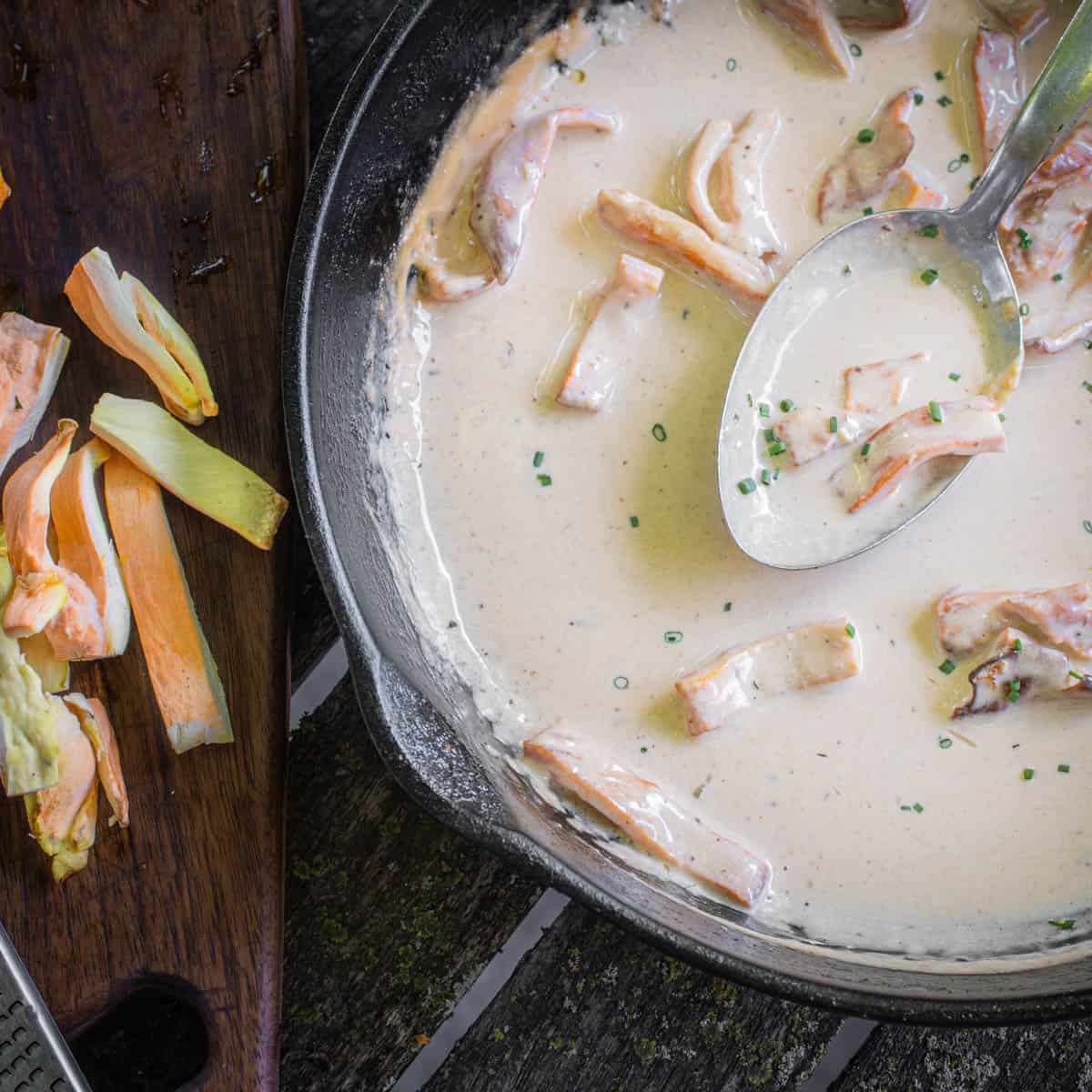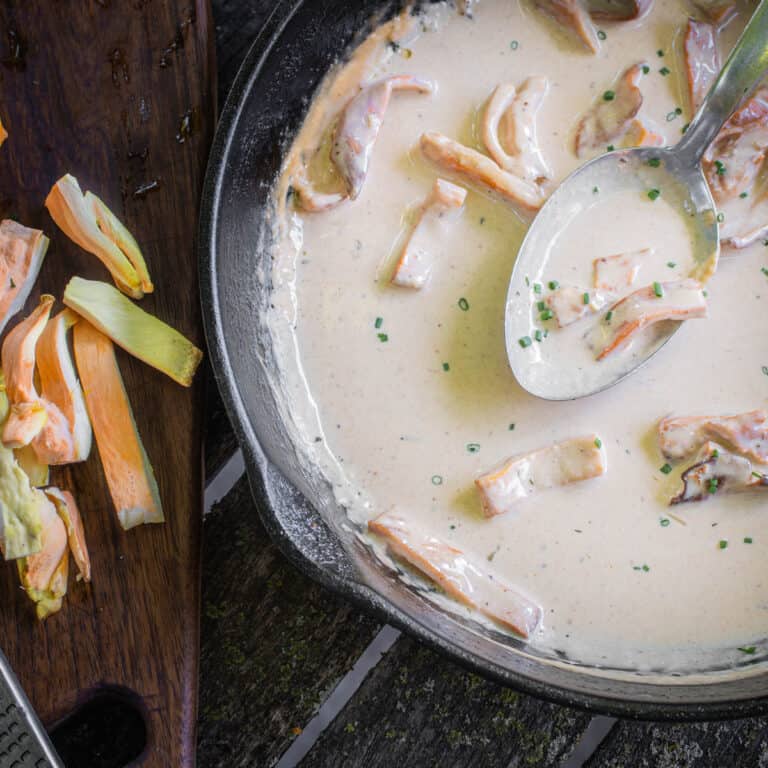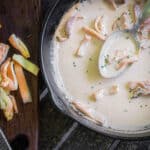 Print Recipe
Chicken of the Woods Lemon Cream 
A simple mushroom cream sauce made with chicken of the woods mushrooms. It's as good with meat as it is tossed with pasta. Serves 2 as a condiment 
Ingredients
3

ounces

fresh chicken of the woods mushrooms

cut roughly or torn into ½ inch by 2 inch pieces

2

tablespoons

dry white wine

2

tablespoons

unsalted butter

Kosher salt and pepper

to taste

Juice of half a large lemon

~1-2 tablespoons, or to taste

1

teaspoon

all purpose flour

1

small shallot

diced ¼ inch

½

cup

heavy cream
Instructions
Heat the butter in a 8 inch saute pan or skillet. Add the mushrooms, season with a pinch of salt and cook gently to remove water from cleaning. If you're chicken of the woods is very clean, it may be drier, and cook faster. You don't want to put color on them too much, just stew them a bit.

After the mushrooms are cooked, add the shallot and sweat for another 2-3 minutes, then add the flour and stir to combine. If your mushrooms were dry and soaked up all the butter, add a little bit more so that a roux can form with the flour. Stir to distribute the flour, then deglaze the pan with the wine and cook for a minute more.

Add the cream and simmer for 3-4 minutes, or until the sauce starts to thicken.

When the sauce starts to thicken, turn the heat off and add the lemon juice and zest, double check the seasoning and serve immediately.
Notes
This is one of the best preparations for chicken of the woods, but it also works well with chanterelles and other light-colored mushrooms like lions mane. 
Nutrition
Calories:
337
kcal
|
Carbohydrates:
6
g
|
Protein:
4
g
|
Fat:
33
g
|
Saturated Fat:
21
g
|
Polyunsaturated Fat:
1
g
|
Monounsaturated Fat:
8
g
|
Trans Fat:
0.5
g
|
Cholesterol:
97
mg
|
Sodium:
22
mg
|
Potassium:
249
mg
|
Fiber:
1
g
|
Sugar:
4
g
|
Vitamin A:
1225
IU
|
Vitamin C:
2
mg
|
Calcium:
50
mg
|
Iron:
1
mg
Related Posts
Chicken of the Woods Mushrooms