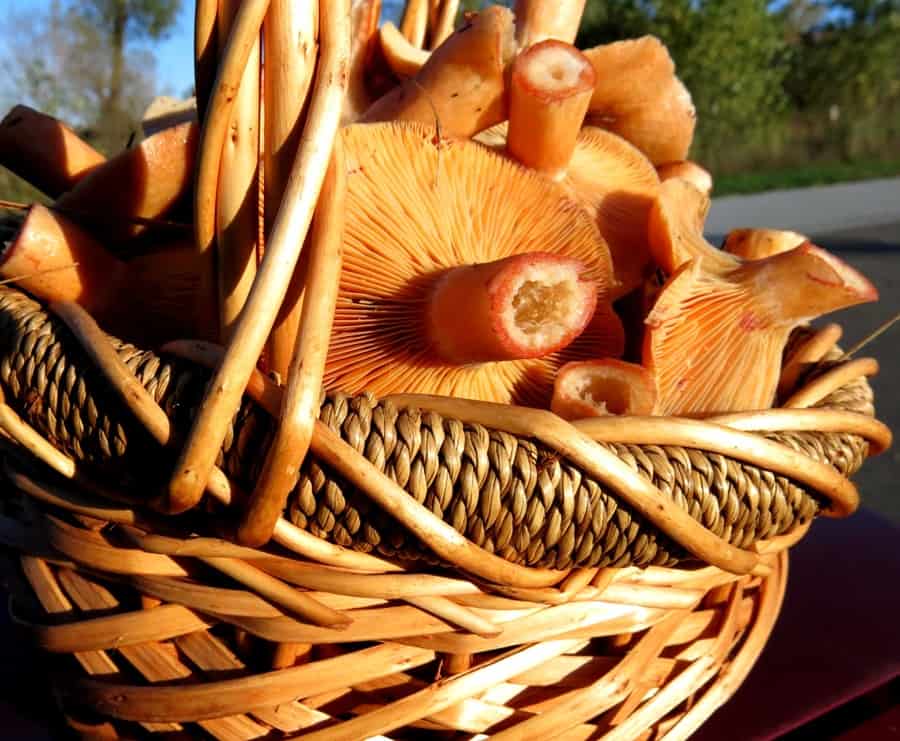 Contrary to what I believed before, the saffron milk cap doesn't grow riddled with bugs and in small quantities, it may be harvested in pristine condition, and in quantity in Minnesota
I had just about given up on Minnesota this year. A funny thing happened last week though; we got rain, plenty of rain. Enough rain to annoy people who don't like it.
At work, my coworkers are used to me jumping up and down when I see a single drop of rain touch the side walk. With the monster drought this year, things were not looking good for a nice end of the season. We had a serious downpour last week, coincidentally, three days after the heavy rains I had a day off.
My days off are precious, and I was ready to make up for a bit of lost time and get out to see any growth the rain would bring, having not been able to indulge my mushroom wanderlust and scout old haunts recently. I expected some entolomas, and the ever present chicken fat bolete. What I found, and how I found it, were quite different from what I was expecting though.
I had some putsy errands to run early in the morning, so I decided to go in the late afternoon. I pulled into the parking lot and started walking. Immediately I noticed fresh fruitings of aborted entolomas, oozing from the roots of a dead elm on the side of the trail. Cool. I cut some nice big ones and kept on.
There is a section of pure pine forest in this particular park, and I was excited to see what might be coming up this time of year in it. Pine forests don't often treat me well as far as mushrooms go, although the chicken fat bolete I do collect in quantity to preserve via drying, as well as various other slippery jacks.
All in all though, my friends and I used to avoid pine when mushrooming, the dense blanket of needles seemed to kill all that would grow by acidulating the soil. Many fine species grow with conifers though. Coming to terms with my ignorance, one of my goals this year was to explore pine forest more. I knew stuff would grow there, but when? After which rains and what time of year do I look? What species of trees do I need to study?
I learned I am over thinking things, just a bit.
About an hour into my jaunt, I noticed I was not alone. Stooping down to pick a few more consolation prize entolomas, I noticed a middle age caucasian guy waltzing out of an equine trail with a black garbage bag over his shoulder. We shared a knowing, silent glance and nod. I thought to myself: White guy, garbage bag full of mushrooms; most likely he found a big chicken of the woods.
After seeing the guy with the garbage bag, I poked around the equine trail and only succeeded in finding much horse poop. Afterwords, I was making my way back to the area of pine, to check one last spot, which is when I saw two Russian families starting down the trail. There were two middle aged men, women, and a bunch of children, around 10 people in all, from what I could see.
The older women and children had large wicker baskets, the men, had giant ten gallon plastic buckets. I knew they were just here for chicken fat boletes, but why all the big buckets and baskets? There's no way they could fill all of those, is there? I kept on hiking my trail, and we went opposite ways, for the time being.
Around now is when I got an email from my friend Dan, saying that he had been in a park and seen a Laotian family picking backpacks full of some small mushroom. He also said that he traded some aborted entoloma mushrooms for some of their small brown ones, and that they were very grateful for the entolomas.
There is not a lot of info on entolomas, or the ground prune as they are called, and I had suspected that the Europeans and East Asian families were not aware of them at all. I was correct. I thought it was pretty cool that my friend had shared some of his score, and passed to the Laotians a little knowledge of Minnesota mushrooms. They in turn, passed to him knowledge of what they were picking to eat by trading. After a bit of research on his part, it appears traditional Laotian cuisine definitely features the Armillaria gallica, or conifer honey mushroom.
After a quick break to read the email and do a google search in the woods for whatever the Laotians were picking, I ran into the Russians again, they had moved back into the area of pine, and had hit paydirt.
They had split up like I had seen before, the women and children covering an area, and the Males together picking in another, with a bottle of E&J brandy as well. I saw the men first, and instead of just walking on by silently, staring daggers, I went up and asked what they were picking, nicely. A tall Russian man with really messed up teeth jumped about three feet in the air.
Me: "Hi, What are you guys picking?"
Russian Guy: "Mushrunz"
Me: "Have you seen this one?" (Holding up an aborted entoloma mushroom)
Russian Guy: "No, are you shore eet eez goood?"
Me: "Yeah it's great, I eat them all the time, here I'll show you" (I broke out the Iphone and did a quick google)
Then I did something I never would have thought I would do: I gave away some of the mushrooms I was picking, not expecting to trade, but just to spread some mushroom season cheer.
The Russian guy looked at me strangely, and then smiled and said thank you. I felt good. A couple hundred feet more I met up with the women and children. The children were all in a big group, buzzing around the mothers who moved more slowly. They were like Tie Fighters returning to a Star Destroyer, going out on little mushroom missions and then returning back to show mom their haul.
I went up to the kids and showed them a sweetbread mushroom. The older Russian boy, who looked to be around 12-13 did all the talking, his sisters were silent.
Russian Boy (speaking perfect English): "Whats that?"
Me: "It's called an entoloma"
Russian boy: "YOU CAN EAT IT?!"
Me: "Yes they're good, I just gave some to your dad back there. They kinda look like little popcorn balls."
Russian boy: (shouting excitedly to his mother) "Momma! Something in Russian, more stuff in Russian........ POPCORN!......More stuff in Russian."
I kept walking and noticed something. The Russian's had picked more slippery jacks than I had ever seen, also, the edges of the trail that were covered in pine needles and grass had been torn up, like really torn up. For at least 100 feet in each direction a foot off of the trail on each side had been uncovered and inspected.
Mushrooms they were not interested in were laying all over the place. One of the shrooms they passed up was a Lactarius, with a grey cap. Looking at the gills I saw they were orange. Curious. Most likely I know this to be the saffron milk cap imposter, Lacatarius deterrimus (See a pic here). If the imposters are fruiting, then I knew the real thing might be lurking nearby, since they share similar habitats.
I kept walking on the trail through the pine forest, and then I saw them, orange mushrooms with a greenish tinge on some of their caps. Now I started to get really excited. The ones along the trail were really small, not nearly enough for a snack even, but where there is one, there is more. This is where I borrowed technique from the Russians, I started to expose the edges of the trail covered in pine needles and grass, and I found a couple more, then a couple more.
It was starting to get dark though, so I decided to take a short cut back to another trail that leads to the parking lot. I was walking past a couple mature eastern white pine, and kept stepping on stuff:"Crunch, crunch, crunch." "What the heck is all this crunchy stuff?!" I wondered. I looked down and noticed I had been trampling over exactly what I was looking for. The crushed saffron milkcaps under my feat were bleeding the brightest orange, screaming their identity at me.
I sat down and just took everything in for a moment, waiting for my eyes to adjust. Often I find that when I locate a patch of something that likes to hide, I just get down low and let my eyes gradually work like I'm starring at a magic eye painting.
I'm telling you, it works. Low and behold they started popping out at me, I was smack dab in the middle of a huge flush of the suckers. They were near impossible to see from above and were absolutely buried in needles and grass. I took these pictures to illustrate.
It was getting dark, and hard to see. Rooting out the milk caps was getting tougher and tougher. Not wanting to be lost in the forest, I chose the better part of valor and headed back to the car.
Finally, I had found a nice patch of young, bug free saffron milkcaps. I had previously thought these to be just an enigma, and would be ecstatic at finding one or two, most of the time near recognizable from bug damage. My drive home was a great time to think. I don't believe in karma, spirits and whatnot, but I would like to. There was a part of me that wanted to say:
"You were nice to the Russians, that's the only reason the saffron milkcaps let you find them."
I know it's not true, but its fun to pretend, and a good way to live. What is true is that by watching them, I learned how to hunt saffron milkcaps. However inadvertently, they gave me a bit of their old knowledge, and I gave them a bit of mine.
More