I've been craving some comfort food and trying to use up my stash of dried morel mushrooms before the next season gets here. A simple pilaf was one of the morel recipes I've been working on lately, and if you like things like Rice-A-Roni like I did when I was a kid, I think you'll dig this.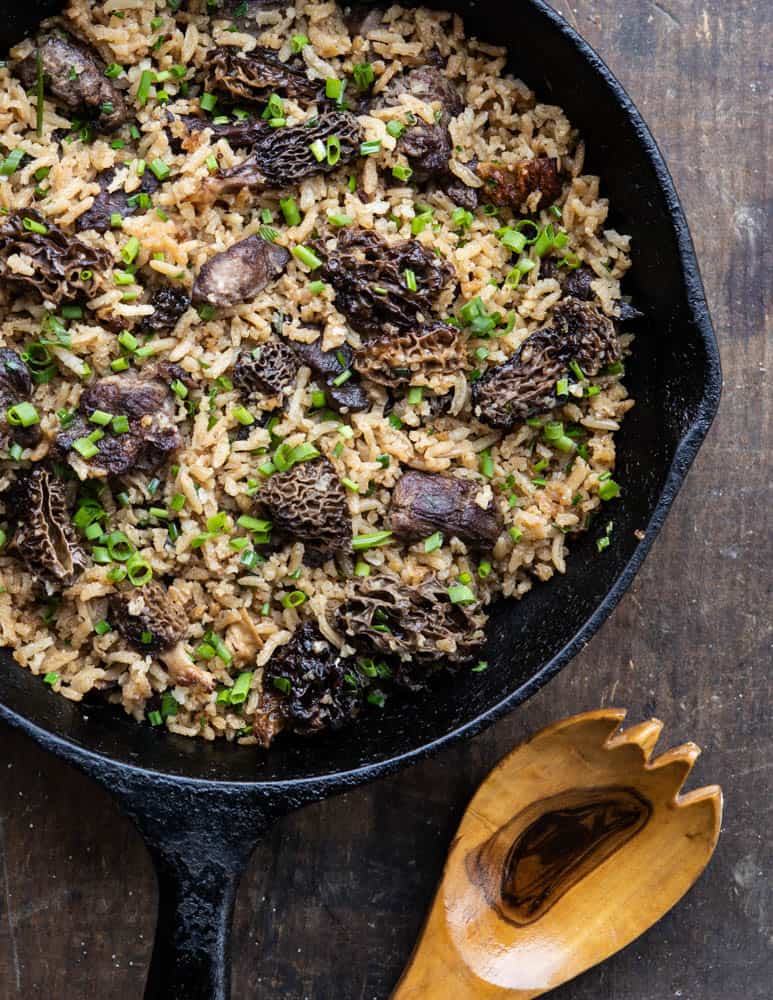 Here's the idea. Dried morels are fantastic-one of the best wild mushrooms to dry, but when cooking with them you're always going to have soaking liquid to figure out something to do with.
The idea here is to make a really, really delicious cooking liquid from searing and braising diced stew meat (I used venison but pork shoulder or chicken thighs would be good too).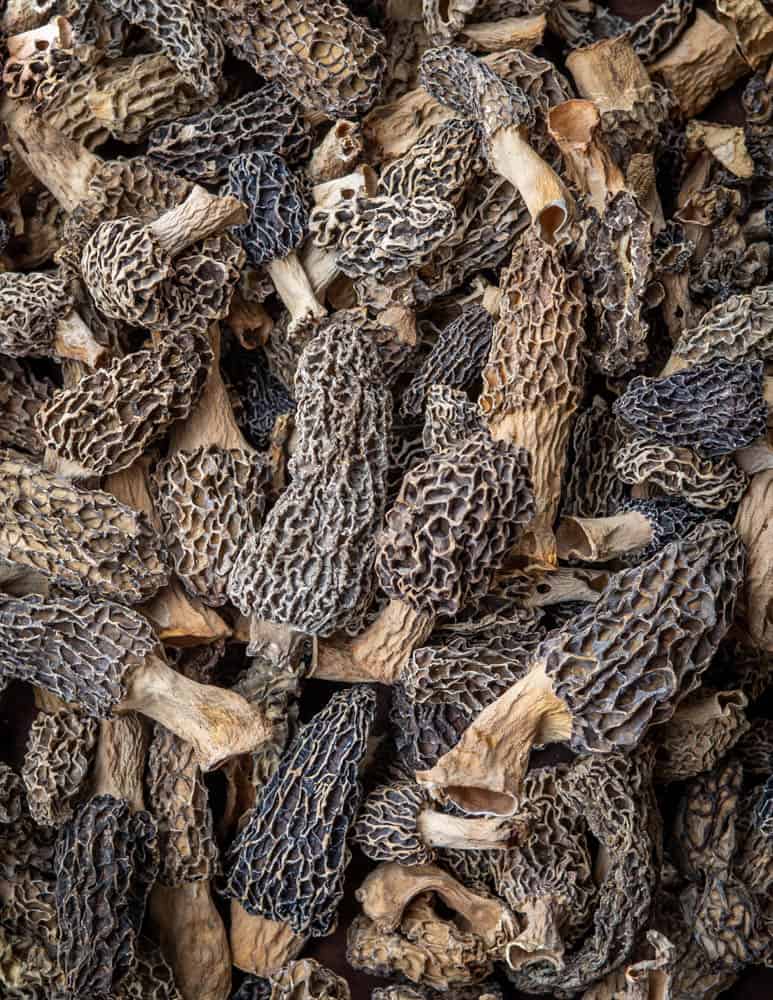 After the meat is nice and tender, you strain the liquid off, and infuse it with a generous helping of dried morels. After the infusion, you cook toasted rice in the cooking liquid. When the rice is done, you heat a pan up with butter and brown up the tender chunks of stew meat with the morels, toss in the rice and a handful of chives or parsley, and call it a day. It's venison Rice-A-Roni with morels.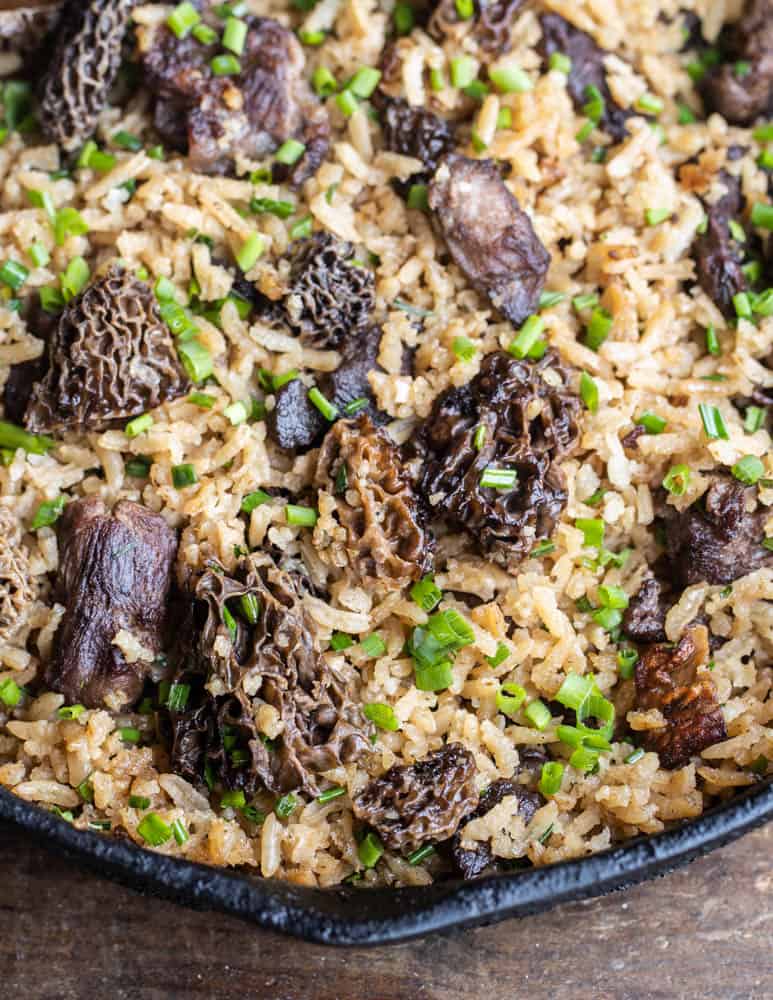 As a vegetarian side dish
This make a great side dish too, just skip the meat and use really good stock.
Instead of meat, adding ½ lb of sliced fresh mushrooms you cook instead of the venison at the end makes a nice double mushroom pilaf.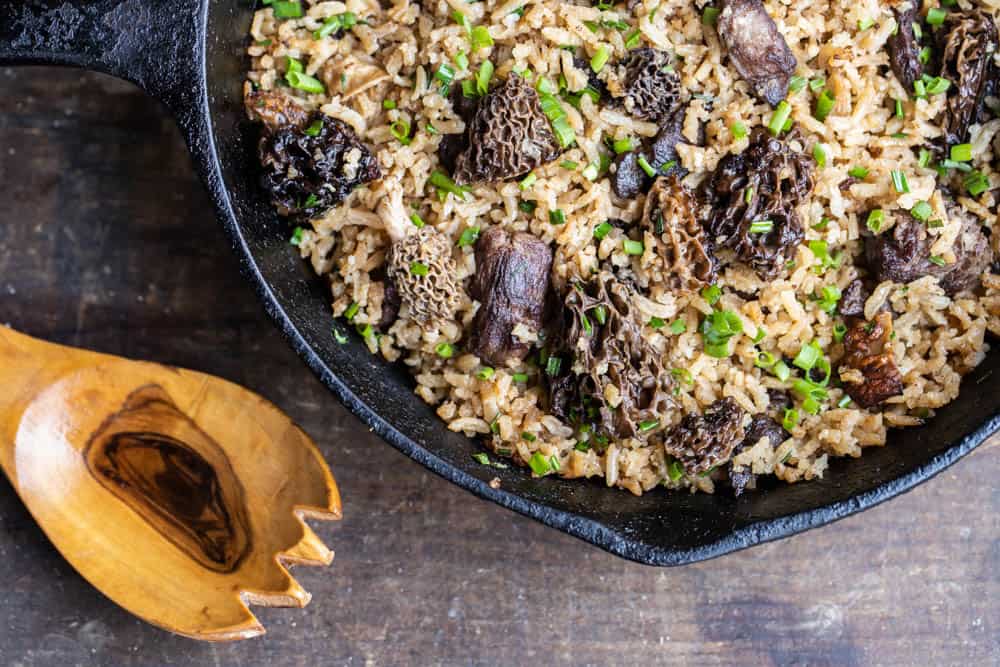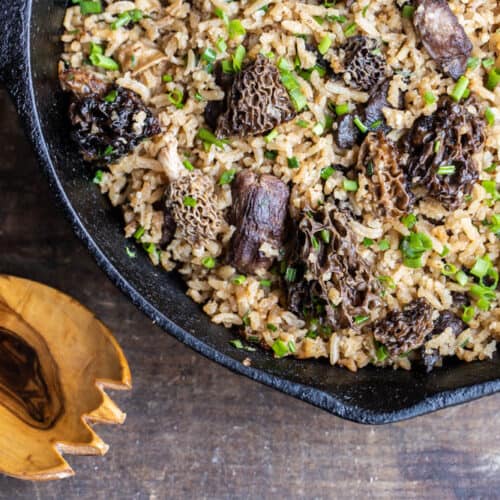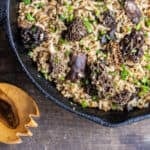 Print Recipe
Dried Morel and Venison Pilaf
Rice cooked in morel-venison broth, with fried chunks of venison, morels and chives. Serves 2-4
Ingredients
1

lb

venison stew meat in 1 inch pieces

1

oz

dried morels

3

cups

meat stock

2

tablespoons

cooking oil

¼

cup

dry red wine

1

dried bay leaf

1

medium

6oz yellow onion

3

tablespoons

unsalted butter

¾

cup

long grain rice

Kosher salt, as needed
Finishing
Small handful of fresh cut chives or parsley

1

small clove garlic
Instructions
Braise the meat
Season the meat with 1 teaspoon of salt and ¼ teaspoon of pepper and allow to sit uncovered in a refrigerator for a few hours before searing, or overnight if possible.

In a dutch oven or other braising pan, heat the oil until very hot and nearly smoking. Pat the meat dry with paper towels, then brown the pieces of venison well.

Deglaze with the wine and cook off, then add the stock, bring to a gentle simmer, turn the heat to as low as possible, add the morels, and cook, covered, for 1 hour. (Baking a pan at 275F works great too).

When the venison is tender, allow it to cool to room temperature, then remove the venison and morels with a slotted spoon or Chinese spyder. Cut the morels into large bite-sized pieces.

Let the cooking liquid sit for 10 minutes, then carefully pour off as much as you can, leaving the last couple tablespoons in the pot since any dirt will be concentrated in there.

If you suspect your morels are at all sandy, swish them in a few cups of fresh water as a secondary precaution. It's a good idea to taste a few pieces.
Toast the rice
Meanwhile, toast the rice for 25 minutes at 325 F in a pan until light golden and reserve.
Cook the rice
Assess the amount of cooking liquid leftover and either cook it down or add another splash of stock or water to make it equal 2 cups. Taste the cooking liquid—it should be lightly seasoned with salt and rich tasting.

Pour the stock over the toasted rice, add one tablespoon of the butter, bring to a simmer, turn the heat to as low as possible and cook for 20 minutes, or until the rice is tender. Allow the rice to rest while you reheat the venison and morels.
Finish and serve
Heat the remaining two tablespoons of butter in a 10 inch skillet, then add the venison and brown lightly. Add the shallot or onion and cook a few minutes more.

Add the morels and cook for another minute or two, then add the minced garlic and cut chives, toss quickly, adjust the seasoning with a pinch of salt and pepper, then add the rice to the pan, toss to heat and disperse the ingredients and serve from the skillet. A side of freshly picked and steamed nettles with butter at the table makes a great side dish.
More