Catalan Saffron Milk Caps, or milk cap mushrooms cooked with tomato and sausage and served with toast is one of my favorite saffron milk cap recipes.
I got the idea for it after reading a passage in a great book "Mushrooms and Russia in History", and it's authored by a very interesting and knowledgeable couple: Valentina Pavlovna Wasson, and Gordon Wasson, who also wrote about the SOMA, but that's another story. See and download your own copy of the book for free here.

In the book, Valentina waxes about the fascination of mushrooms by different cultures, and discusses specific favorites of Europeans from different regions. In the excerpt, Valentina is talking about saffron milkcaps, which the Spanish call either "rovellons" or "nizcalos". (Catalonia is a region in Eastern Spain)
"The Catalan prizes this mushroom highest of
all: he honors it above the cepe de Bordeaux. He puts his mess of rovellons into
a frying pan of very hot oil, and on top of the mushrooms he adds tomatoes
and garlic and parsley and sausage made from pork, and after cooking the whole
for ten minutes or less over a slow fire, he sits down to a dish that he considers
fit for the gods."
After reading the description I had to make a recipe. It's simple, delicious, and just screaming to be put on toast or pasta.
Other Milkcap Mushrooms to Use
Saffron milkcaps aren't the only mushroom you can use here. Any milkcap that you like to eat will work fine, and other mushrooms will work well too. Here's a few examples.
Serving
I like this as an appetizer, but it can also be served as a main dish. If you want to serve it as a main course, it can be a meal with a big green salad or sauteed vegetables on the side.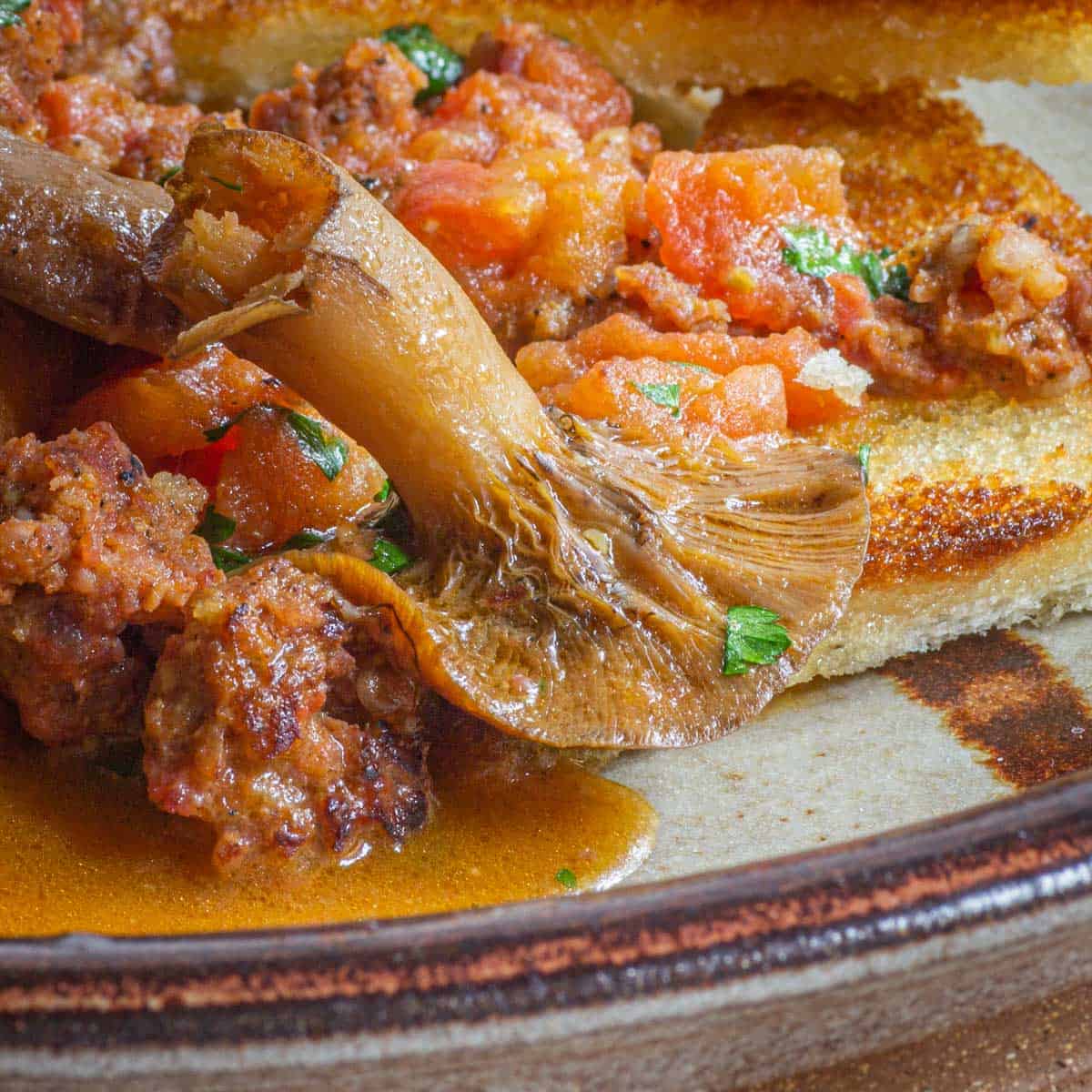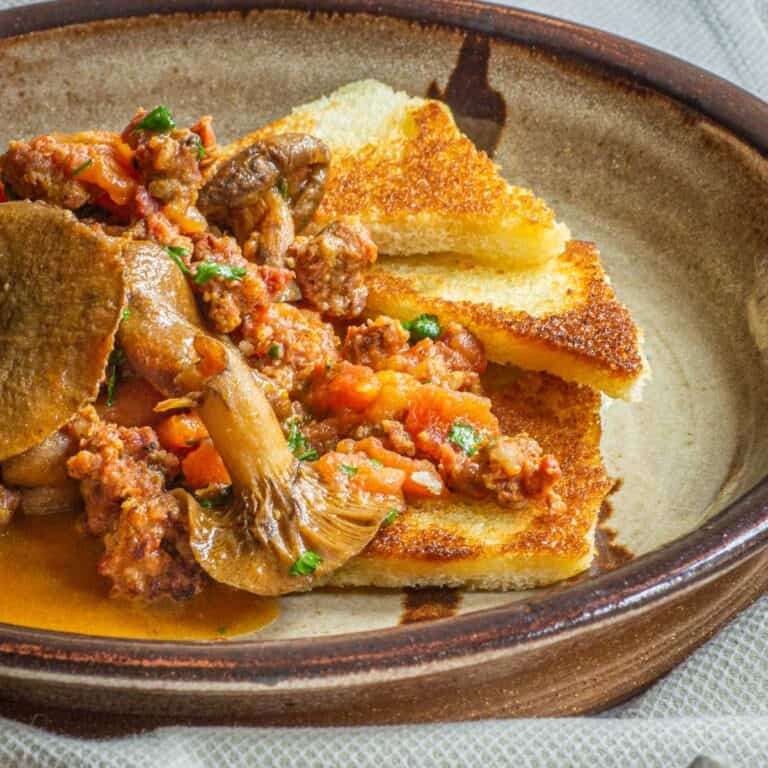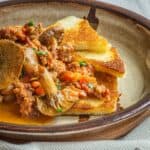 Print Recipe
Catalan Saffron Milkcaps
A rustic mushroom dish inspired by the Catalonia region of Spain.
Ingredients
8

oz

fresh saffron milkcaps

sliced if large, left whole if small

½

cup

chopped

peeled tomatoes

4

oz

bulk chorizo sausage

2

tablespoons

chopped flat leaf parsley

1

teaspoon

chopped fresh garlic

Kosher salt and pepper

to taste

2

tablespoon

extra virgin olive oil for garnishing

preferably a peppery Spanish variety (optional)

High quality bread

crust removed and toasted
Instructions
In a large saute pan, render the fat from the chorizo and brown it lightly. With a slotted spoon, remove the chorizo, leaving the fat in the pan.

Reserve the chorizo until needed.

Heat the remaining fat and add the saffron milkcaps. Cook the saffron milkcaps on medium-high heat until lightly browned and caramelized, about 5 minutes. Season the mushrooms lightly with salt.

Add the garlic, stir and cook for 1 minute. Add the tomatoes, reserved chorizo and parsley and cook for 5 minutes more. Double check the seasoning for salt and pepper, then serve immediately on toast garnished with a drizzle of the olive oil.
Notes
Part of what makes this recipe special is the sausage- seek out a spicy, bulk chorizo from a Latino market for this.
Nutrition
Serving:
4
oz
|
Calories:
188
kcal
|
Carbohydrates:
4
g
|
Protein:
8
g
|
Fat:
17
g
|
Saturated Fat:
3
g
|
Polyunsaturated Fat:
3
g
|
Monounsaturated Fat:
6
g
|
Cholesterol:
18
mg
|
Sodium:
3
mg
|
Potassium:
236
mg
|
Fiber:
2
g
|
Sugar:
2
g
|
Vitamin A:
109
IU
|
Vitamin C:
1
mg
|
Calcium:
11
mg
|
Iron:
1
mg
More