Lactarius indigo is a beautiful, blue mushroom you can eat.
These mushrooms look out of place in nature. Sure, mushrooms come in all kinds of different colors, but blue mushrooms are pretty rare, and of the wild mushrooms I know that share a similar intense blue color, Lactarius indigo is the only one I know that's edible.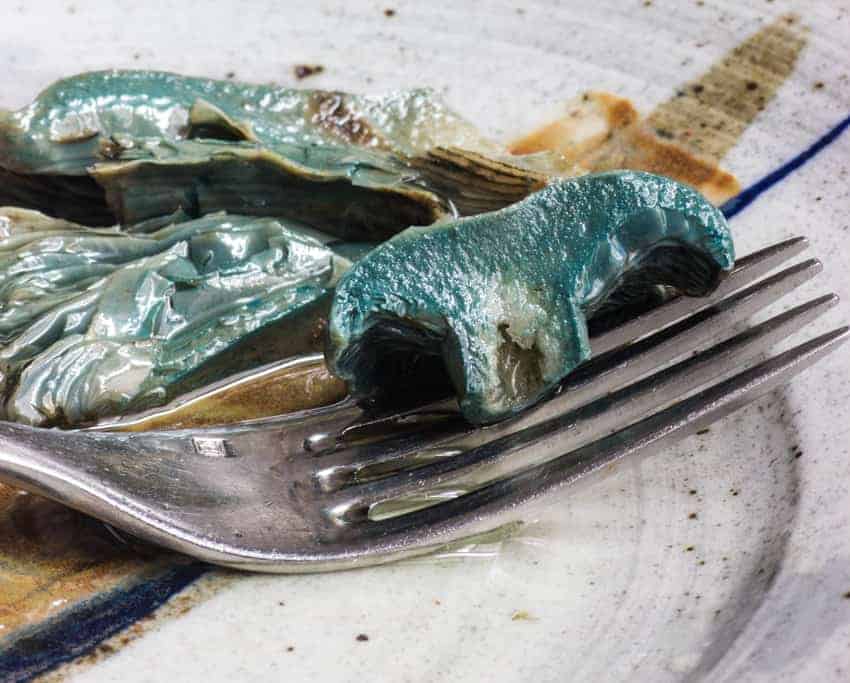 When sliced with a knife, the mushroom stains an even darker blue. They're truly one of the most interesting mushrooms I've ever seen, let alone eaten.
Not all blue mushrooms are "magic"
As an aside (and It's funny I even have to say this) cooking or visually enjoying these mushrooms will be the only thing you do with them.
Just because a mushroom is blue, doesn't mean it's magic (hallucinogenic). The only trip you'll be taking is probably to the grocery store to get some garlic and parsley.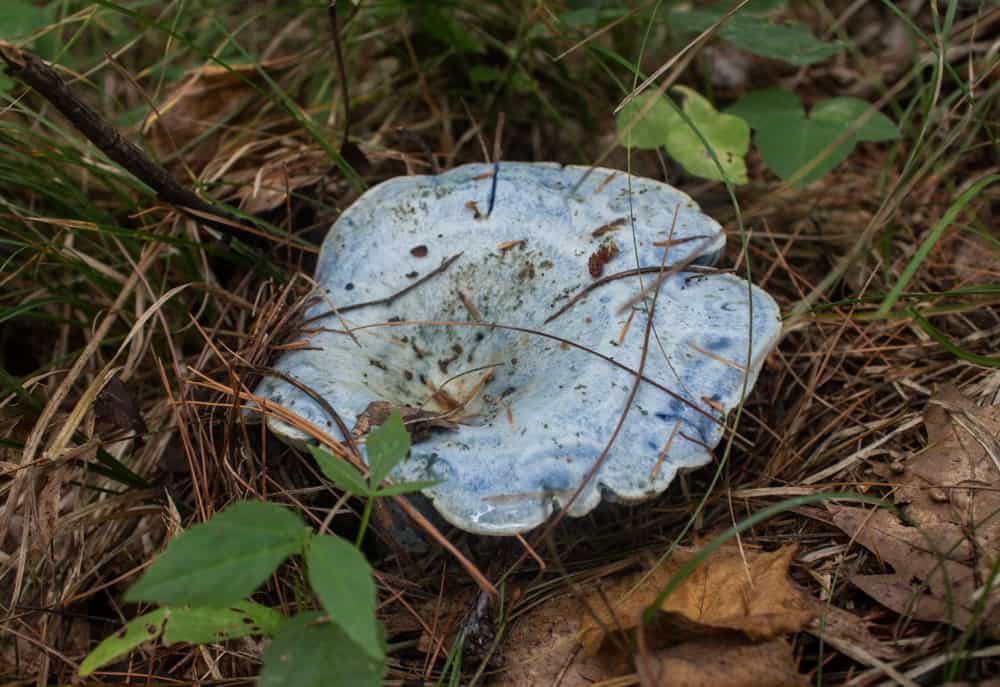 The amount of truly blue foods in the world is pretty slim, and these have to rank among the most interesting. The caveat was every time I would find these for the first couple years they were always past prime and bug eaten, which is pretty typical for Lactarius mushrooms.
I got lucky one day after a massive rainfall in a park where I compete with the Russian ladies for mushrooms (they love pine forests). Out of the corner of my eye I spotted a mushroom under the pine trees, and when I stopped to pick it up, I noticed more, and then more around them.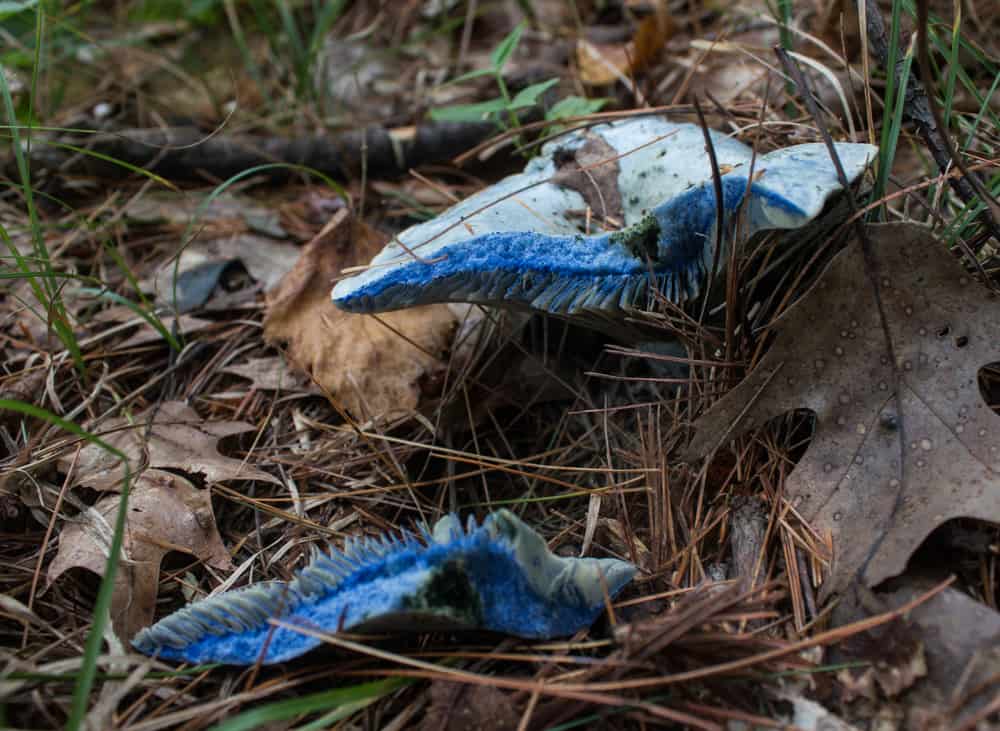 Long story short, the key to finding indigo milkcaps is timing. From my experience Lactarius species need a lot of rain to produce a decent fruiting, so after you've found a place where one or have been spotted, make sure to go there after a good rainfall, and you might get lucky.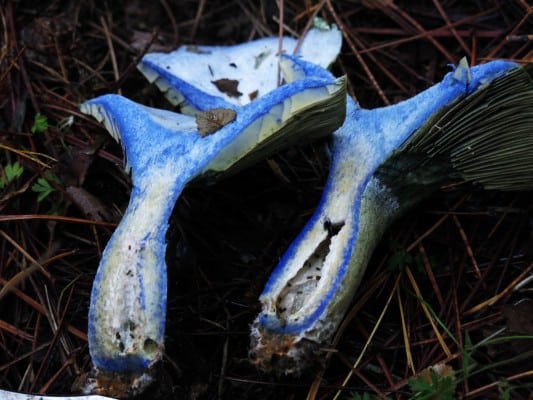 Habitat

I have only found them under Eastern White Pine where I live, typically starting to fruit in late to mid August. I've never seen them in deciduous woods, but it could be possible if the woods are mixed or have some stands of pine in them.
One thing I do know, is that milkcap mushrooms love the same habitat, so if you find a milkcap of a different type (like a saffron milkcap) you'll want to check back throughout the season to see the different types that fruit.
Harvesting
The most important thing I look for first with milkcaps is the stem. More often than not, milkcaps, at least where I harvest them, will probably have been visited by bugs before you get to them. This may mean you cut off and discard the stems, or you may just have to pass on them. Timing is tricky, and a day or two can be the difference between mushrooms for a meal and compost.
Look a likes
The color and shape of these mushrooms is really distinctive-there really aren't any other blue mushrooms that I'd easily confuse with them.
That being said, certain types of dangerous Cortinarius can have slightly similar colors, but mostly they're purple-ish-not nearly the same striking blue as indigo milkcaps.
Cortinarius also have a webby veil over the gills, where indigo milk caps never will. Blewits (Clitocybe nuda) are colored too, but they're more grey or purple, so saying they're a look a like for blue milkcap mushrooms is a stretch, as you can see below.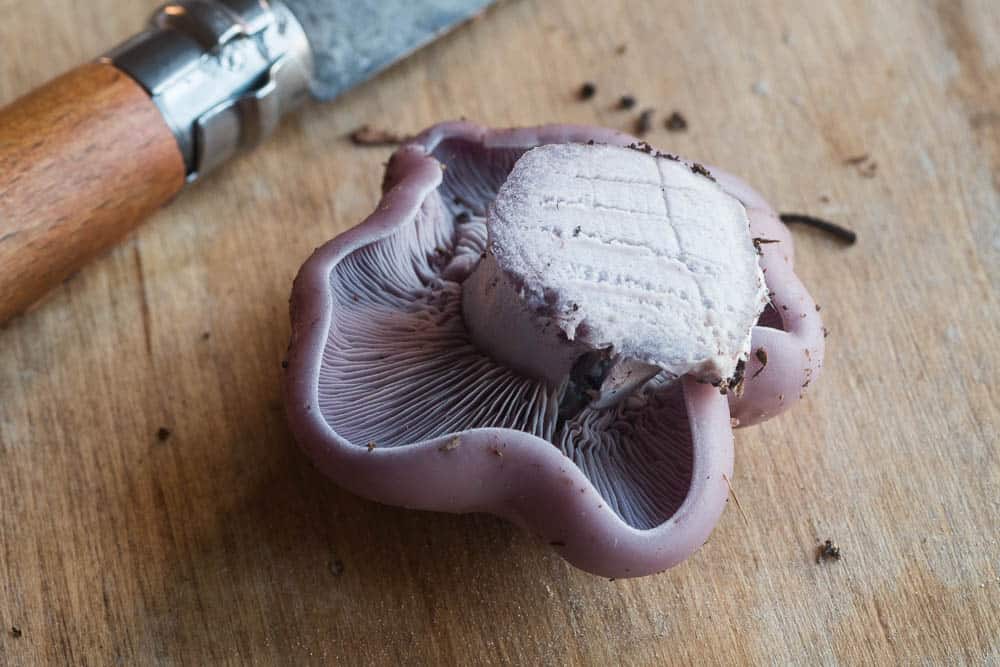 Cooking
Lactarius indigo can be cooked like any other mushroom, and you can substitute them just about anywhere mushrooms would be welcome. These are relatively clean since they grow in coniferous forests, but you'll want to check for the occasional pine needle.
The big problem here is that bugs like these guys, and more than likely what you find may be past prime. You could make some stock out of the buggy ones, or dry them, but there's many other nice mushrooms out there that I only take really nice milk caps home to cook.
Keeping the mushroom's blue color
In the kitchen, these will turn slightly grey as they cook in oil or fat (i.e. sauteing). The color won't be totally gone, but it will be muted and very hard to see, and definitely not the vibrant blue you'll see after you pick or cut them.
To get around this, I've had good success stewing them, basically keeping them very moist and not letting them touch the bare pan with oil, then marinating with herbs, garlic, and vinegar.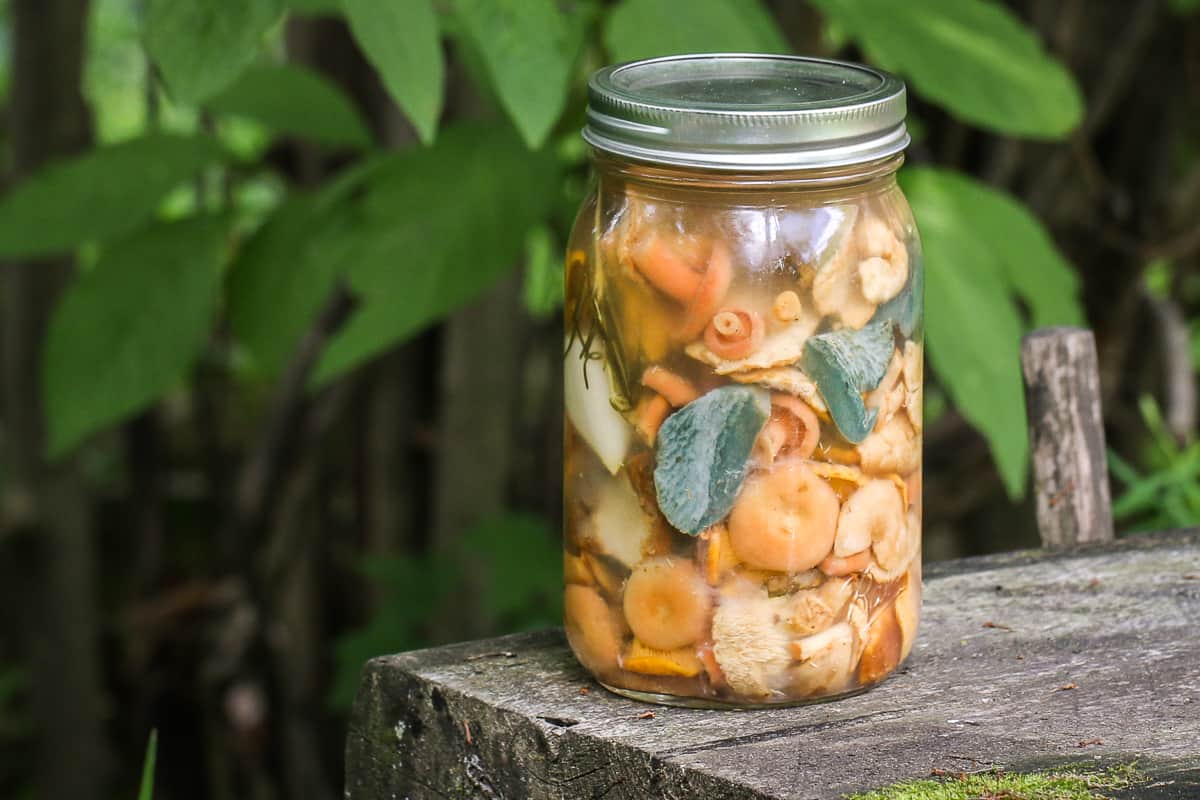 You could blanch them quickly in salted water, which will also retain the color, afterward, they can be marinated with something acidic like lemon juice or vinegar.
But, retaining the color by blanching or pickling does mean that you have to sacrifice the depth of flavor that comes from browning in a pan with heat. Personally, I think the color and novelty is a lot of fun, so I typically try to keep the color blue as opposed to sauteing them.
For some recipes and specific ideas, check out my method for blanching them in pickling liquid to keep the color and then packing them in flavorful oil-here's the recipe Lactarius Indigo preserved in "holy oil"-a riff on the classic Italian recipe for mushrooms sott olio.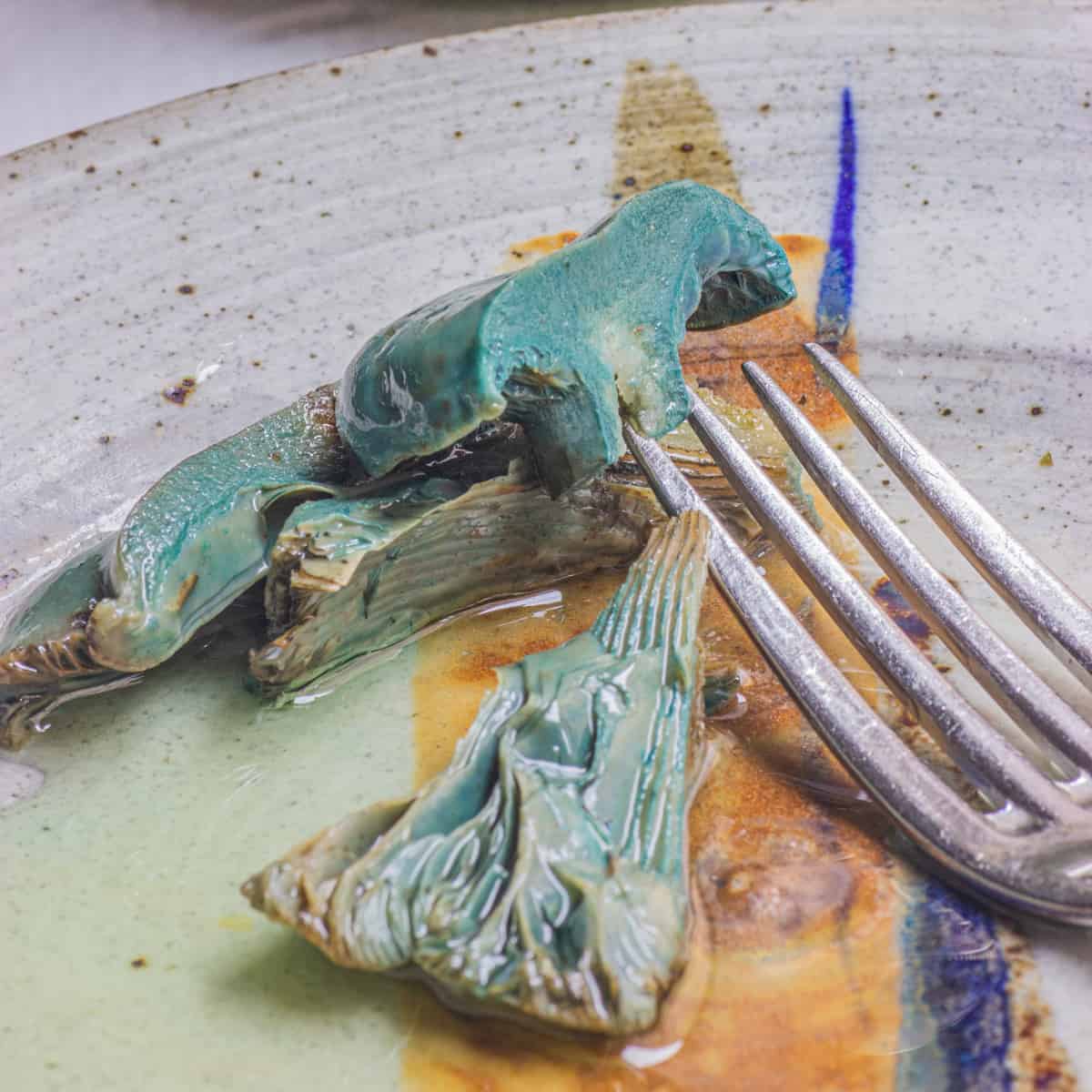 Preservation
Pickling or preserving the mushrooms as per the ideas above are my go-to methods of preservation, but Indigo milkcaps can be sliced and dried in a dehydrator like any other mushroom and will make a decent stock or powder. Young ones are the best for pickling.
Freezing is an option too, just make sure to cook them first, which I'd do by blanching or stewing. If you have a large amount of them, you can make traditional mushroom duxelles, but I've never found a large enough patch to warrant it.
Recipes
Recipes I've made for Indigo Milkcaps or where they can be substituted
Related Links
Saffron Milk Caps: Niscalos or Rovellones