I had thought saffron milkcaps to be a rare novelty: maybe I would see one or two, and those would be filled with bugs. A few days after I discovered a true vein of them, I put up a fun story about hunting them with some Russian Immigrants in the Twin Cities.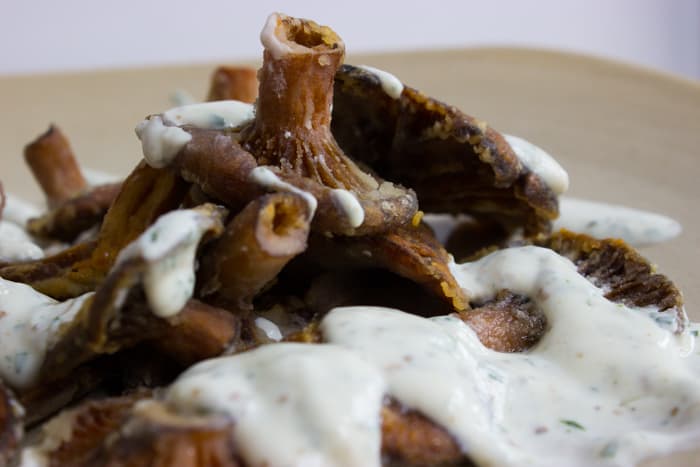 Almost immediately I got a message from a Turkish man espousing his love for saffron milkcaps. He said that in Turkey their words for it are "Kalinka" or "The Bloody One", which was interesting. He also mentioned he liked to serve them with a garlicky yogurt sauce, and described a simple recipe to me I'm sharing with you today.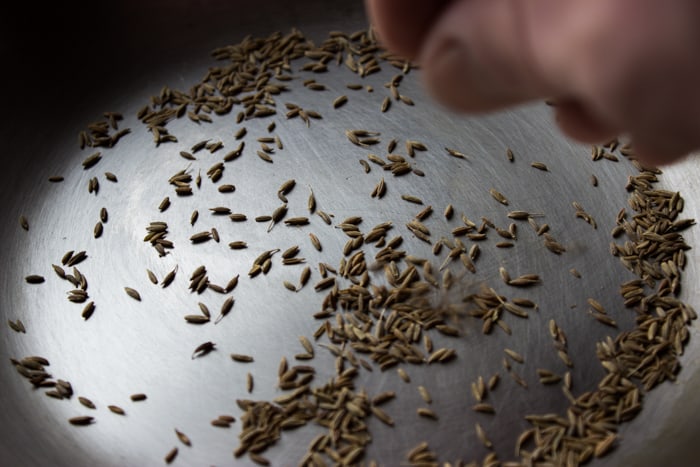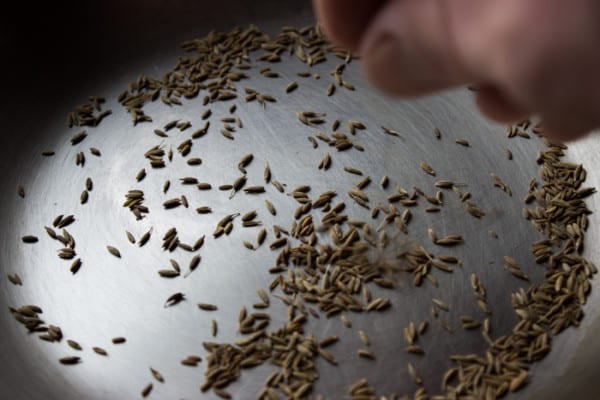 Cheers to my Turkish mushroom hunting friends, also to my Australian ones who are hunting these as we speak. If any of you guys have more fun recipes you like to add lactarius species to, send them my way; I'd love to see them.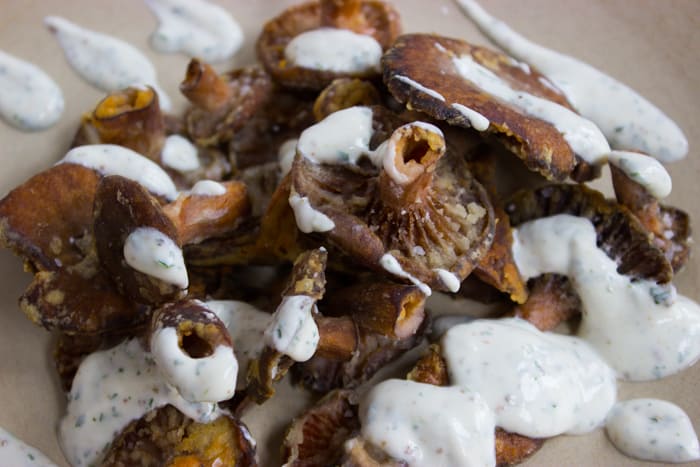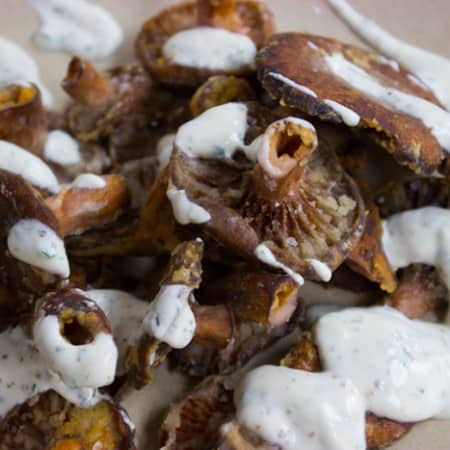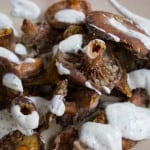 Print Recipe
Saffron Milk Caps with Cumin Yogurt
Crispy sauteed saffron milkcap mushrooms with yogurt sauce. Serves 4 as an appetizer.
Ingredients
Cumin Yoghurt Sauce (makes ½ cup)
½

cup

greek style yoghurt

½

teaspoon

whole cumin seed

¼

teaspoon

kosher salt

2

teaspoon

fresh lemon juice

1

teaspoon

minced fresh garlic

tablespoon

fresh chopped cilantro
Mushrooms
1

lb

fresh saffron milkcaps

All purpose flour

as needed for dredging

Ground cayenne pepper

to taste

⅓

cup

extra virgin olive oil

preferably a middle eastern brand

⅔

cup

flavorless oil

such as grapeseed or canola
Instructions
Sauce
Toast the cumin seed in a pan in the oven for 5 minutes at 350. Grind the seeds to a powder using a molcajete or a coffee grinder.

Mix the ground cumin, fresh lemon, cilantro, salt, and garlic to the yoghurt,  and reserve until needed.
Mushrooms
Clean the saffron milkcaps and inspect for dirt and debris, if needed, brush them clean with a towel or quickly swish under cold water to remove any foreign objects. If you wash them, allow them to drain on paper towels or cloths for ten minutes or so before frying, changing the towels as needed if they become too wet.

Once the mushrooms are dry again, trim the stems, leaving about an inch before the cap, then cut them into equal sized pieces. I find if the mushrooms are very large, I like to quarter them, if they are small I leave them whole, If they are medium sized, I halve them.

Begin to heat a very wide saute pan with the oil. Mix the flour with the ground cayenne to taste, then toss the saffron milkcaps in it. Gently tap excess flour off of the mushrooms and then add to the pan, making sure the mushrooms don't touch each other, you may have to work in batches.

Cook the mushrooms until golden brown and crisp, then remove to a paper towel to drain excess oil, sprinkling them with ¼ teaspoon salt while they are still warm to help the salt adhere. Serve immediately with the cumin yoghurt sauce drizzled over them or on the side as a dip.
More