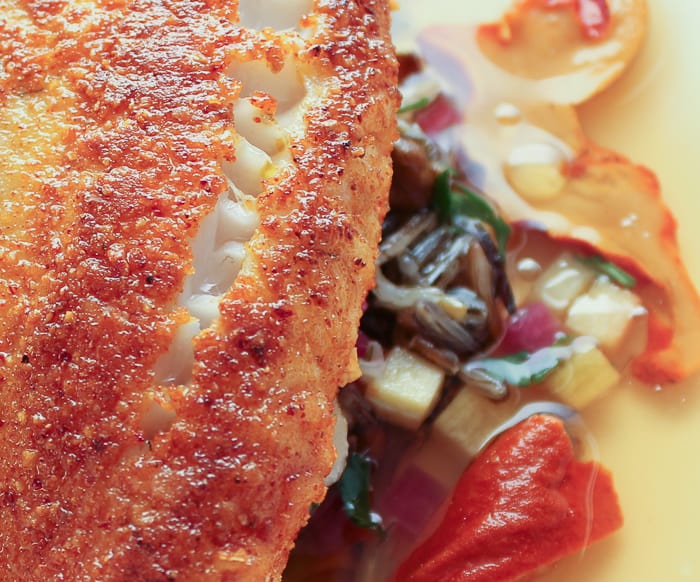 Wondering what to do with all those dried lobster mushrooms? Here's a great technique.
At a restaurant I used to work at, the signature dish was veal tenderloin crusted with ground porcini and espresso. The first night I did a stage trying to get a job, they offered me some chow, whatever I wanted off of the menu. Naturally I wanted to try the veal.
The tenderloins were rolled in the porcini mixture and seared, then served with some linguine, garlic butter and shiitakes, as well as choron sauce. The espresso overtook the porcini completely, but I always remembered the combo, and how the chef used ground mushrooms as a seasoning.
Fast forward a couple years and I'm juggling a massive fruit of lobster mushrooms. I pickled them, preserved them whole in butter, and dried them. All the preservation methods were good, but I noticed drying the lobster mushrooms really seemed to bring out their shellfish flavor.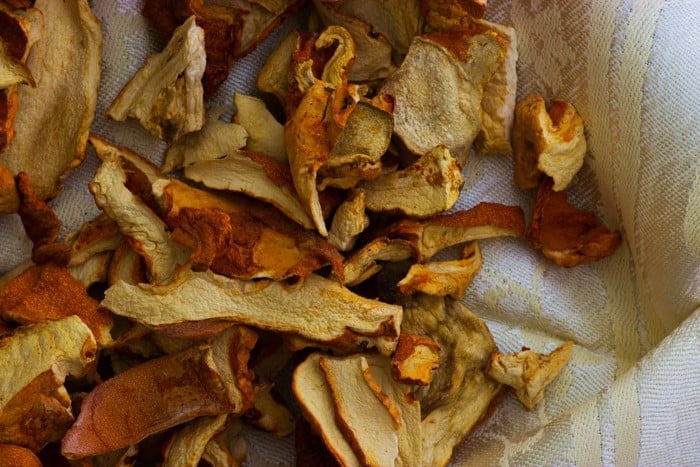 One night in the winter, we had a chef's table that requested fish. The old veal dish popped into my head and I thought: "man I should crust the fish with lobster mushrooms!". The chef''s table loved it, and it became a staple technique in our kitchen.
Crusting fish with dried mushrooms serves a couple purposes. We use only with freshwater fish where I work, and many are lacking in natural oils that can insulate them from overcooking, a nice dredge in some flour can help this, and acts like a layer of fat. Some freshwater fish too (especially whitefish) can be difficult to sear and crisp their skin: if the pan is too hot the skin burns on the edges, if it isn't hot enough the skin sticks to the pan and rips off. Not only does this method helps the fish not stick, but adds a really great lobster mushroom flavor.
This winter, I thought It would be fun to do with walleye, Minnesota's state fish. Alongside it is a lobster mushroom broth, and some wild rice with winter vegetables. I'll leave it up to you to pick a nice side dish to go with yours.
Cutting Boneless Walleye Filets
Walleye and pike have plenty of bones, but with a little effort you can remove them. Cutting off the boneless, meaty portion of the walleye filet might seem like a waste, but you can save the scrap for mousse, dumplings, or soup. You don't have to cut your filets like this, but it helps the fish cook evenly and makes a nice presentation.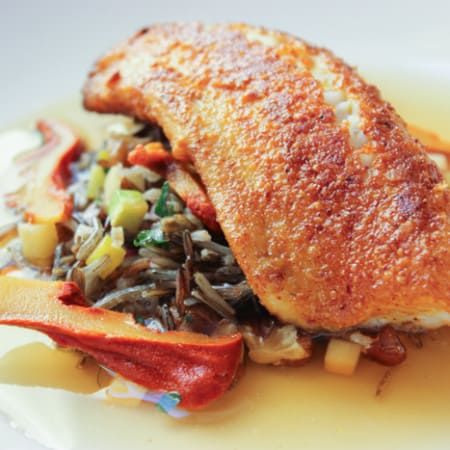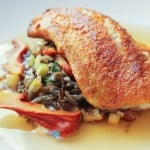 Print Recipe
Lobster Mushroom Crusted Walleye
Ingredients
2

whole skinless walleye filets

Kosher salt and freshly ground pepper

Flavorless oil, as needed for cooking, a few tablespoons

2

Tbsp

unsalted butter

Dried lobster mushrooms, as needed
Instructions
In the bowl of a vita mix blender spice grinder, grind the lobster mushrooms to a powder. You can sift the mushrooms to get them really fine, but I kind of like leaving chunks in it, since the butter rehydrates them a little at the end of cooking.

If desired, de-bone the walleye filets and cut into even, rectangular filets. Heat a saute pan with searing oil like grapeseed or canola, as well as a tsbp of unsalted butter, the milk solids in the butter help the mushrooms not burn.

Season the walleye filets lightly with salt and pepper, then dredge each one in ground lobster mushrooms and put them immediately in the pan.

Cook until the lobster mushroom crust is golden brown and aromatic on each side, adding some more unsalted butter at the end of cooking if needed to ensure the crust doesn't burn. When the walleye is cooked through and flakes, serve.