A mushroom terrine can be a fun way to use mushrooms if you want something new to make. They can be served cold with mayonnaise and pickles like charcuterie, or warmed up and eaten like a piece of meat.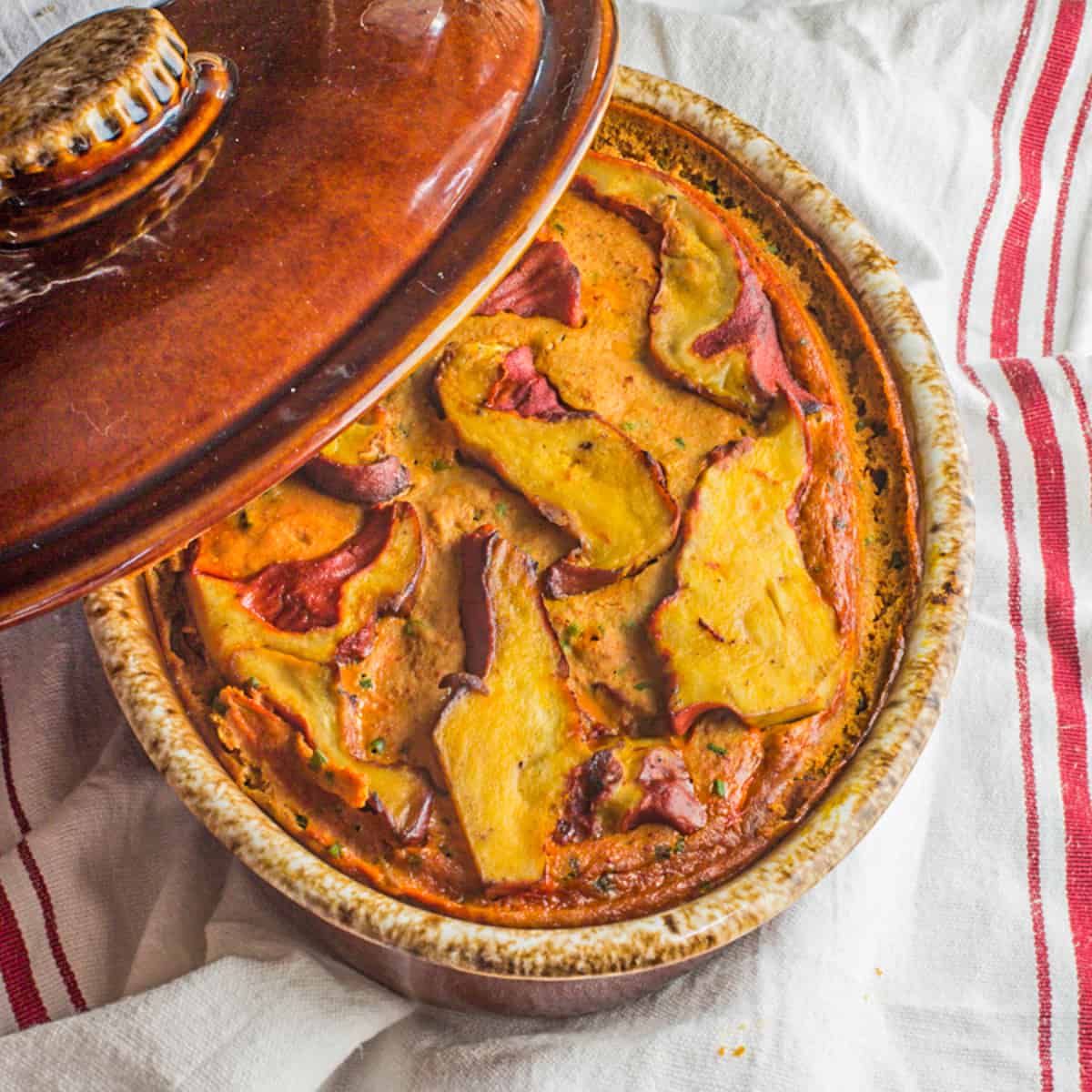 Don't be scared of the word terrine, just imagine a sexy meatloaf, since that's really all it is. I've seen plenty of recipes for terrines of mushrooms, and have had a few good ones, but they can be a bit of a novelty. To make a terrine that's as beautiful as it is delicious can be a trick, even for hardened kitchen staff.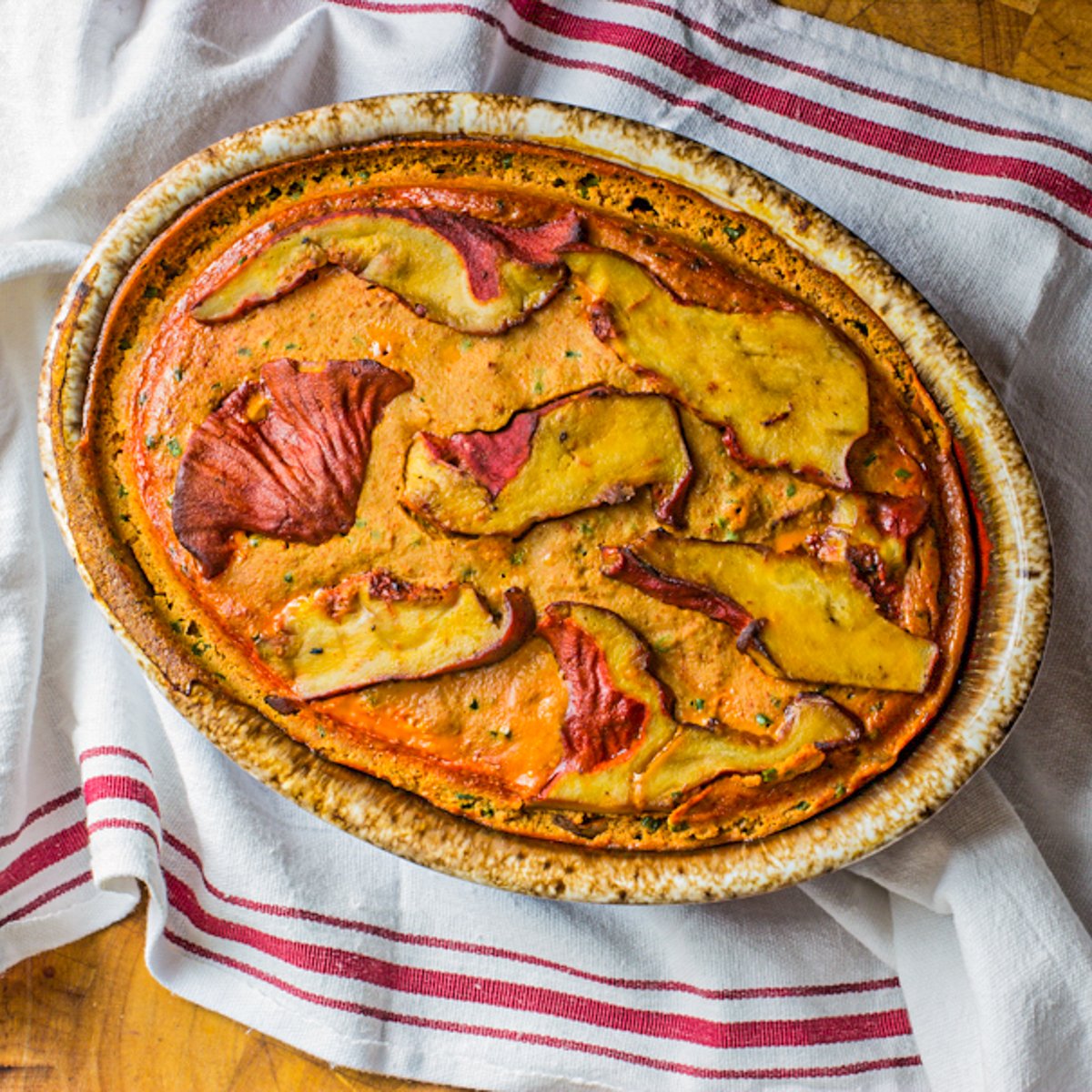 Most terrines, if they're not made with meat, are going to be bound with egg, or gelatin. This terrine uses egg, but also ground whole lobster mushrooms or trim to create the binding layer-the perfect use for some that might have been dropped or broken, or otherwise need to be cut down for cleaning due to their size.
It took me two tries to get it right, but the end result is very good. The first time I used pure ground mushrooms and onion in the binding layer and the flavor was nice, but slightly bitter, which can happen using mushrooms en masse like this, and I experienced the same thing cooking large amounts of black trumpet mushrooms into duxelles a while back.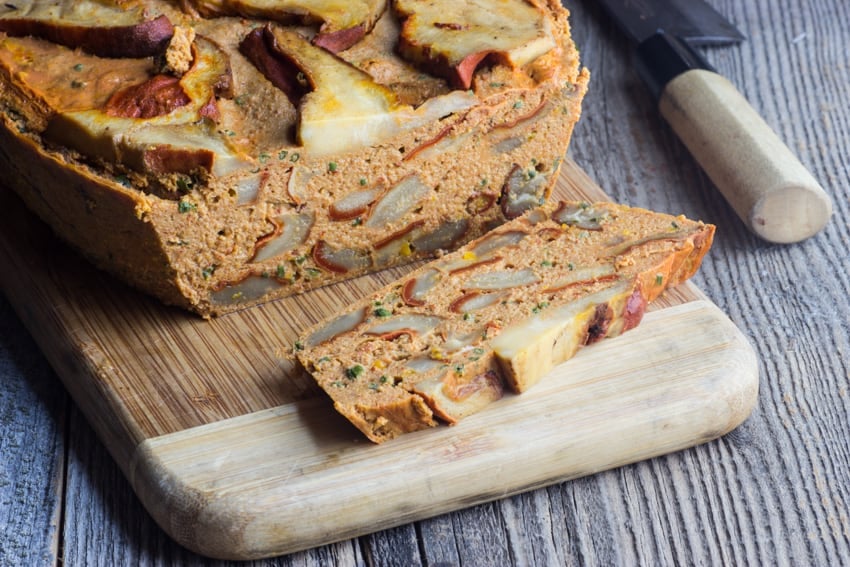 To counteract the bitterness, I added ground mirepoix (carrot-onion-celery) to the binding layer to round out the flavor of the lobster mushroom. BINGO. After cooking the bejesus out of the vegetables to make sure they were tender, I slapped some eggs into the mix, sautéed some slices of lobster mushroom for layering in the terrine, adjusted the flavor with some fresh herbs and called it a day.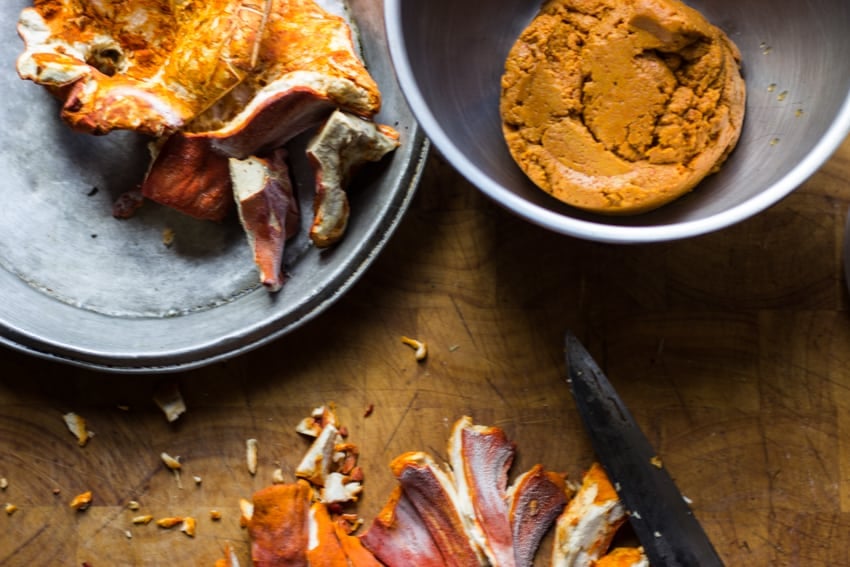 If you're wondering how you might use a giant loaf mushrooms, I'll give you a couple ideas. The possibilities for something like this are really fun, and you don't have to have a fancy dinner party to enjoy it. When I was testing the first recipe I put a slice on a grilled cheese sandwich.
How to serve
Slices of terrine would be great on a sandwich.
The terrine can be re-heated gently and eaten with a salad.
Instead of some sautéed shrooms with your steak, have a slice of warm or room temp terrine.
Best of all is serving the terrine whole as a stunning appetizer for a dinner along with cheese, crackers, mustard and pickles. You could leave it in it's mold if It's a pretty one, letting guests cut out slices, or just remove it, then slice ½ of the terrine, fanning out the slices in front of the whole un-cut terrine.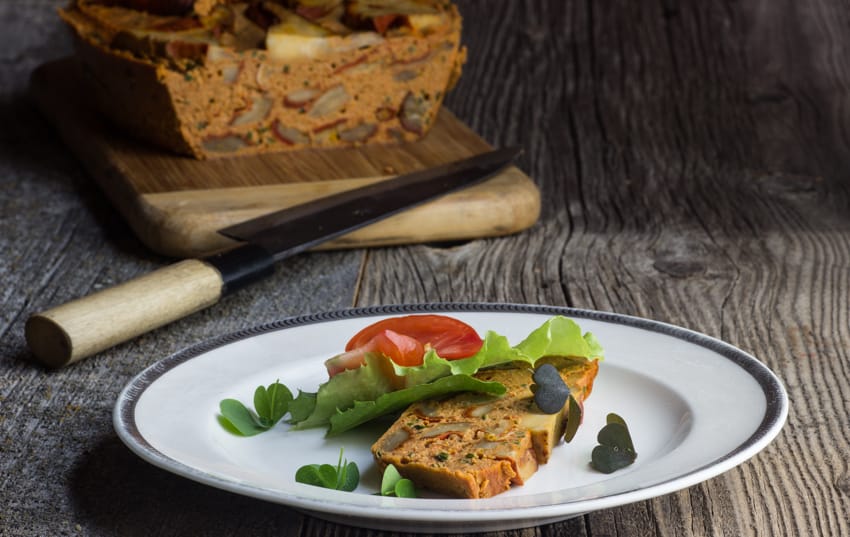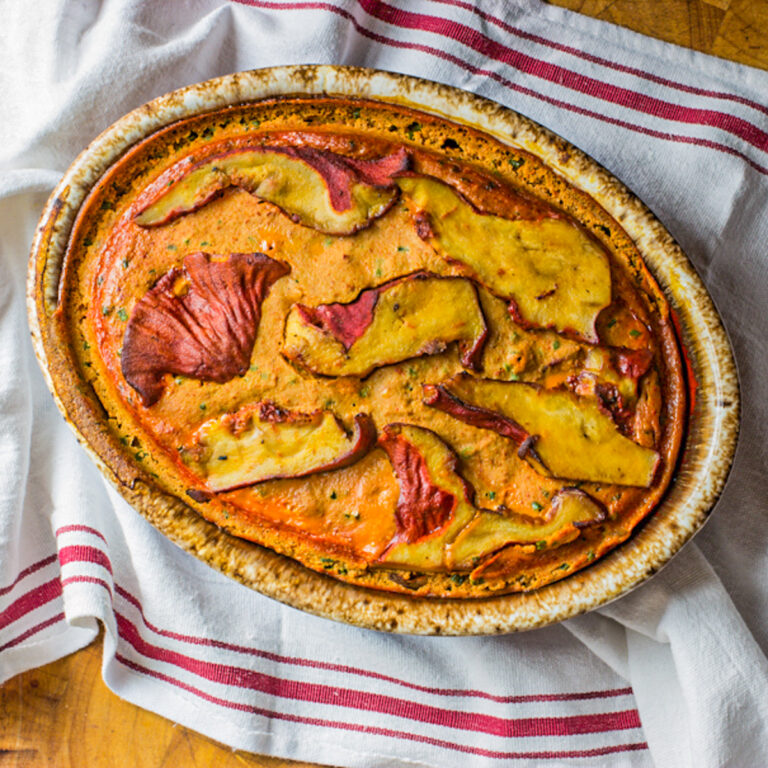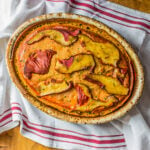 Print Recipe
Mushroom Terrine
A mushroom terrine made with mushrooms, herbs, cream, vegetables and egg.
Equipment
1 Loaf pan or bread tin

1 Food processor
Ingredients
2.5

lbs

fresh lobster mushrooms

cleaned and trimmed

2

teaspoons

chopped fresh thyme

2

Tablespoons

chopped fresh parsley

3

eggs

at room temperature

1

cup

heavy cream

2

cloves

of garlic

1

cup

each: carrot

onion, celery, chopped coarse

Kosher salt and pepper

1

stick unsalted butter

plus 1 tablespoon for greasing the mold

3

tablespoons

grapeseed oil for sauteing
Instructions
Preheat the oven to 325. Heat a large saute pan with 2 oz of the butter. Slice 1.5 pounds of lobster mushrooms and gently brown them in the butter on medium heat, seasoning with salt and pepper, when the mushrooms are browned, cool and reserve them.

Blend the remaining 1 lb of lobster mushrooms in a food processor until fine. Melt 1 tsbp of the butter in a saute pan and gently cook the ground lobster mushrooms, seasoning with salt and pepper. Saute the ground mushrooms until cooked through, about 5 minutes.

Blend the carrot, onion, garlic and celery in a food processor until very fine, about 5-ten minutes will do. (this will take a while, and the vegetables will give off juice) Saute the vegetables in the remaining butter until tender, seasoning lightly with salt and pepper, about ten minutes, or until the water they gave off is totally evaporated.

Add the cream and ground, cooked lobster mushrooms and reduce by 25% on medium heat, about 5 minutes. Transfer the mushroom mixture to a mixing bowl, allow the mixture to cool for a moment, the whisk in the eggs and herbs. Cook a spoonful in a pan to double check the seasoning for salt, pepper and herbs.

Lightly butter a mold, bread pan, or terrine dish. Lay slices of cooked lobster mushroom in the bottom of the dish, then cover with a layer of the binding mixture. Repeat layering the pan with slices of mushrooms and the binding mixture until the pan is nearly filled, ending with the prettiest slices of lobster mushroom you have as a garnish.

Bake the terrine in the oven for 30 minutes or until set. Baking time will differ due to the size of your pan and oven settings, etc. My terrine cooked pretty quick since my mold is not as tall as deep as a loaf pan. When the terrine is fully cooked, cool overnight.
Serving
When it's time to serve the terrine, gently heat the outside of the mold to loosen the butter, (warm water works great for this). Slide a knife around the edge of the terrine to loosen it, then put a plate on top of the mold, invert it to release the terrine.

The terrine will come out in one whole piece, from here, you just slice and serve, re-heat, bread and fry, etc.
Notes
This makes enough terrine to fill a bread loaf pan or terrine mold. I used grandma's old earthenware pan, which is a funky shape. Extra filling can be cooked in separate dishes or ramekins. Make sure you lobster mushrooms are very, very clean-the grinding process will distribute dirt through the entire thing if they're not.
Nutrition
Serving:
4
oz
|
Calories:
158
kcal
|
Carbohydrates:
6
g
|
Protein:
7
g
|
Fat:
13
g
|
Saturated Fat:
7
g
|
Polyunsaturated Fat:
1
g
|
Monounsaturated Fat:
3
g
|
Trans Fat:
0.01
g
|
Cholesterol:
95
mg
|
Sodium:
39
mg
|
Potassium:
508
mg
|
Fiber:
2
g
|
Sugar:
4
g
|
Vitamin A:
550
IU
|
Vitamin C:
4
mg
|
Calcium:
37
mg
|
Iron:
1
mg