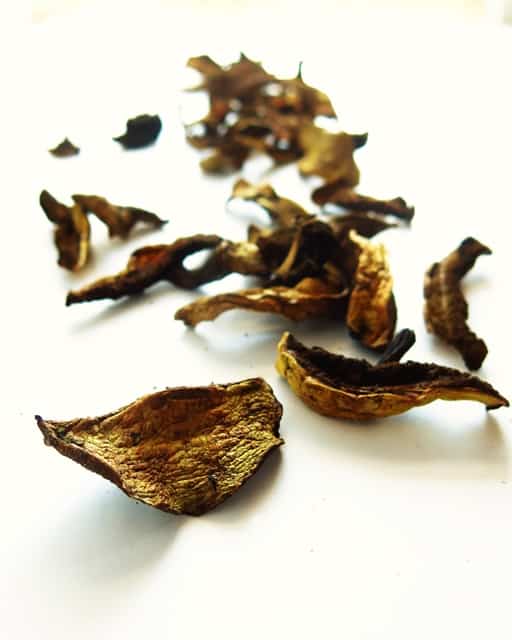 Mushrooms in their fresh state are wonderful, but there are some species that I actually prefer dried. The chicken fat bolete is one of these. By itself when its fresh, like other slippery jacks, it isn't too powerfully flavored or overly interesting. It's not bad, but it's not as prized as porcini and understandably so. Dried however, chicken fat boletes take on a life of their own. Their flavor transforms from mild to intense, more intense than any slippery jack I have ever dried, and many fine boletes that you could dry as well. When I smelled dried specimens for the first time, I thought to myself:"Wow, they're like an unknown, secret weapon!"
In fact, the scent of the chicken fat bolete when dried is so strong that many people look at me strangely after I give them a bag to smell. Facial reactions are quite telling even though most people try to be nice and say "interesting!". In a white-bread-slathered-with-ketchup-world people often do not like strong aromas, and the smell that these things give off is very.....special.
They are a mushroom that is easily collected en masse during the fall, but they have a bit of a sticky quality to them, especially if it's moist outside, and they will stain your hands and fingers jet black as you collect them.
Processing them is a messy ordeal, and will make knives very dirty/sticky from coming into contact with their flesh. On top of it all, the shelf life of the chicken fat bolete when fresh is very short, probably shorter than most boletes that I know of. Take into account too that they may have special creatures eating them from the inside out as they sit in your fridge, where you deem them to be safe. Untended to, they can become puddles of slime in a few days.
To lock in the quality of your dried chicken fat boletes, you really have to process them quickly. If these go more than two days in your fridge, and you get them in the dehydrator and they dry without putrifying in the process, it doesn't mean that you have preserved a high quality product.
If they start to deteriorate when fresh, they will taste like it when you reconstitute them to cook with later. What has really happened is that the mushroom has been preserved within an inch of its life, and it will taste like it, although this can be masked with some technique.
I had a fun idea a while back for using them, and if I do say so myself, its pretty darn creative. I thought, "I have a metric crap load of dried chicken fat boletes, how am I going to use them?" Everyone knows one of the best canvases for the flavor of a mushroom is dairy, so that's where my head went first. I wanted to capture their flavor in a different way than your typical cream sauce though.
An answer came from the mushroom gods when I noticed a bunch of milk hanging out in the cooler close to it's date. I understood then that I was being commanded to infuse the past date milk with chicken fat boletes, puree it, and then make the mixture into fresh ricotta cheese. Ravioli here we come!, or gnudi, or cheese mousse, or stuffing, etc, etc.
I didn't know exactly how it would turn out. Making things you have never done before is a bit tricky, but since I do it all the time for the daily menu, I have a couple tricks up my sleeve.
Since all the milk that is infused will yield a specific amount of cheese, some of the flavor would be lost when I skim off the cheese and discard the remaining whey. I knew I should compensate for the slight waste by making a strong infusion, which will help the flavor of the finished product to really taste like the chicken fats. At first taste I didn't find it much, a touch of salt though...BOOM!, an explosion of mushroom filled my sinuses. You can use this any way you would regular, savory ricotta.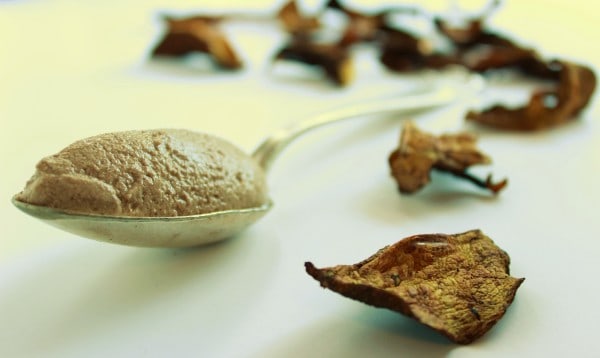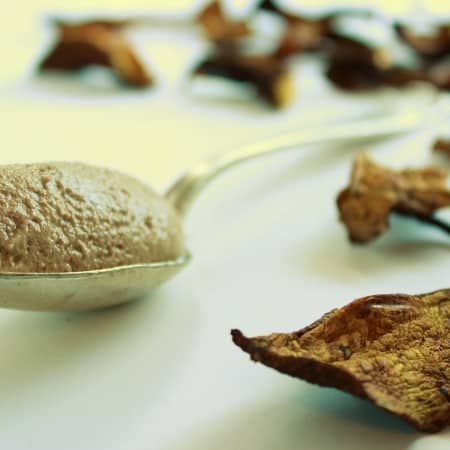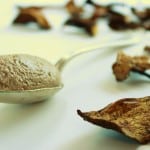 Print Recipe
Chicken Fat Bolete Ricotta Cheese
Yield: 5 heaping cups of rich mushroom flavored cheese
Ingredients
2

oz

dried chicken fat boletes

assorted slippery jacks, or other dried mushooms

½

gallon

half and half *see note*

2

cups

buttermilk

2

teaspoons

kosher salt

plus more to taste
Instructions
Toast the chicken fat boletes in a 350 oven for 15 minutes, or until toasted and aromatic, then combine with the half and half and allow to infuse for an hour or so, or overnight if you have time.

After the mushrooms are re-hydrated, agitate them in the milk to remove any dirt or needles stuck to the cap.

Strain out the infused mushroom milk, reserving the re-hydrated mushrooms themselves.

Puree the mushroom milk in a blender until very smooth.

Transfer the puree to a pasta pot or something of similar size. Add the buttermilk and salt to the mixture, then heat, stirring occasionally.

When the mixture is beginning to steam, lower the heat--you don't want it to boil.

As the mixture heats you will begin to notice curds forming on top of the pot, this is your cheese. Wait about ten minutes, once it is firm enough to skim off the top of the pot, remove the cheese curds with a spoon, ladle, or whatever you like and transfer to a colander lined with cheesecloth, allowing it to drain overnight.

After the cheese has drained overnight it will firm up enough to handle. Transfer the cheese to a tightly sealed container and use within 5 days, it can also be frozen.
Notes
To improve the texture, you can blend the cheese in a food processor while it's still warm before refrigerating. 
Using cream will increase the yield of the recipe slightly, as well as giving you a much smoother, softer cheese, similar to mascarpone or cream cheese. You can use just milk too, but it will not yield as much cheese, since there is not as much fat. Whole milk is a fine substitute for the half and half, goat milk would make a nice cheese as well.