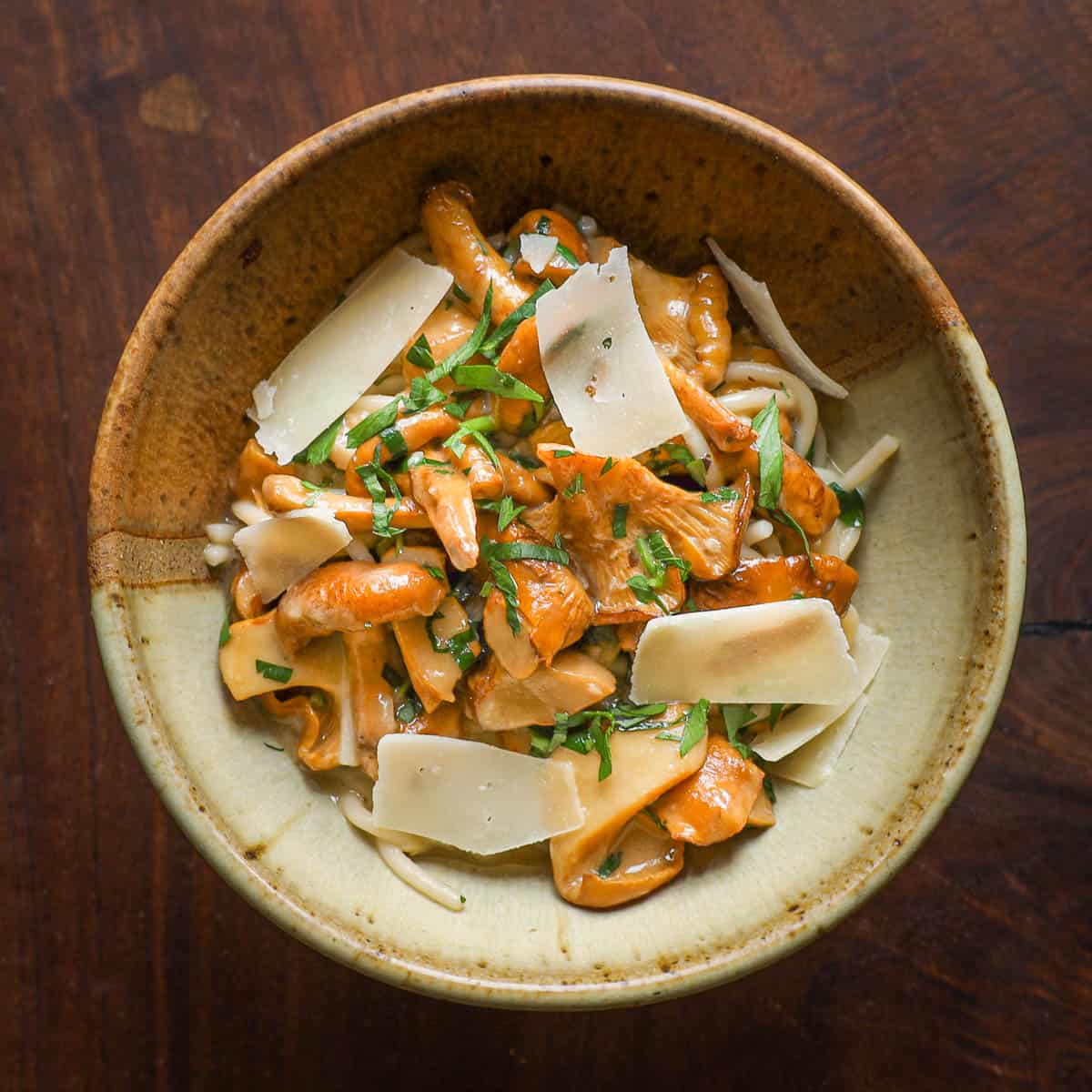 Earlier this year my former chef, friend, and mentor Chef Andy Lilja gave me a ring during chanterelle season to tell me how awesome his dinner was. Some of my favorite recipes are those from my chef friends, either restaurant staples, or things that they make at home, and I keep track of them whenever I can remember. This is one of the latter, a quick chanterelle dinner he threw together one evening, the sort of thing where you don't measure and just cook by feel. I took down notes as he told me what he did, stomach growling the whole time, and I have to tell you, it's one of the best chanterelle mushroom pasta recipes I've had. Andy was always fiendishly creative with pasta.
It's really just a simple mushroom pasta, well, it's chanterelle spaghetti with roasted garlic wine sauce and herbs to be exact, but there's a couple things worth noting.
First, rinsing the chanterelles before cooking while you're cleaning adds water to them, and that water will come out and help make a delicious pan sauce combined with the roasted garlic paste, without using a drop of cream, which helps keep it light. It might seem counter-intuitive to purposely expose mushrooms to water, but, trust me, there's a few old French recipes that call for chanterelles specifically to be soaked, and, while I don't soak them here, you get the same effect.
Second, using a mix of fresh herbs was something Andy insisted on, preferably you're making this during the growing season, and using a combo of different soft, tender herbs like basil, parsley chives, tarragon, oregano, etc. Use a mix of fresh herbs for the best result.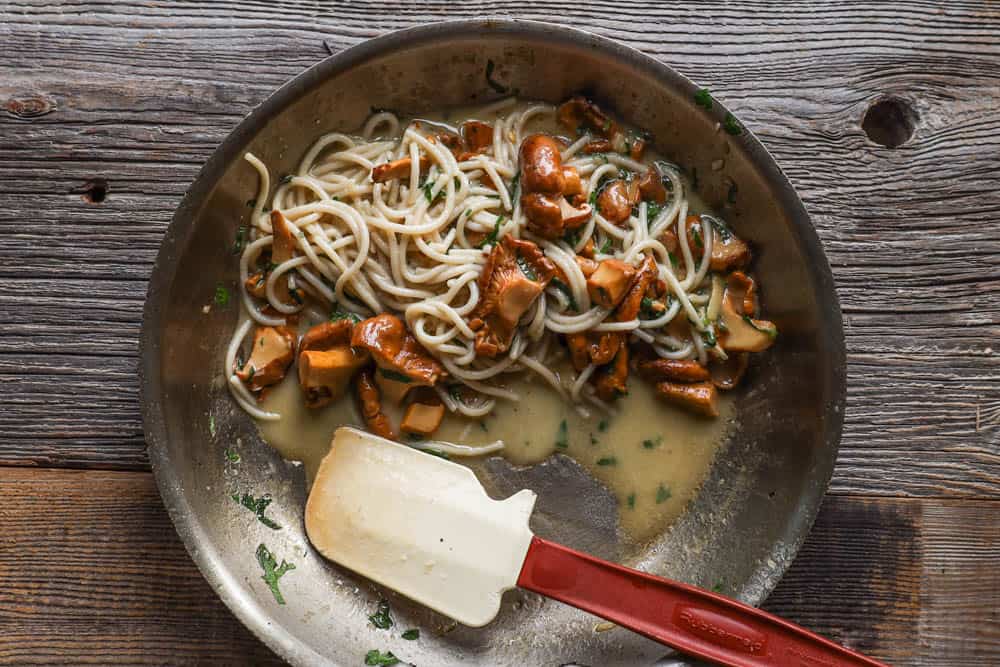 Lastly, use some good cheese, and an onion of your choice. Andy and I both love pecorino, Italo-philes that we are, but some decent parmigiano would be good too. If, however, all you have is that Kraft powder in the green jar though, do yourself a favor, throw that away and buy some real cheese.
The onion component can be a few different things here. Andy used small pearl onions from the farmers market, I opted for shallots since the onions at the market were gone, so feel free to use what's available as far as your alliums go: green garlic, leeks, ramps, etc will all be good, just use something.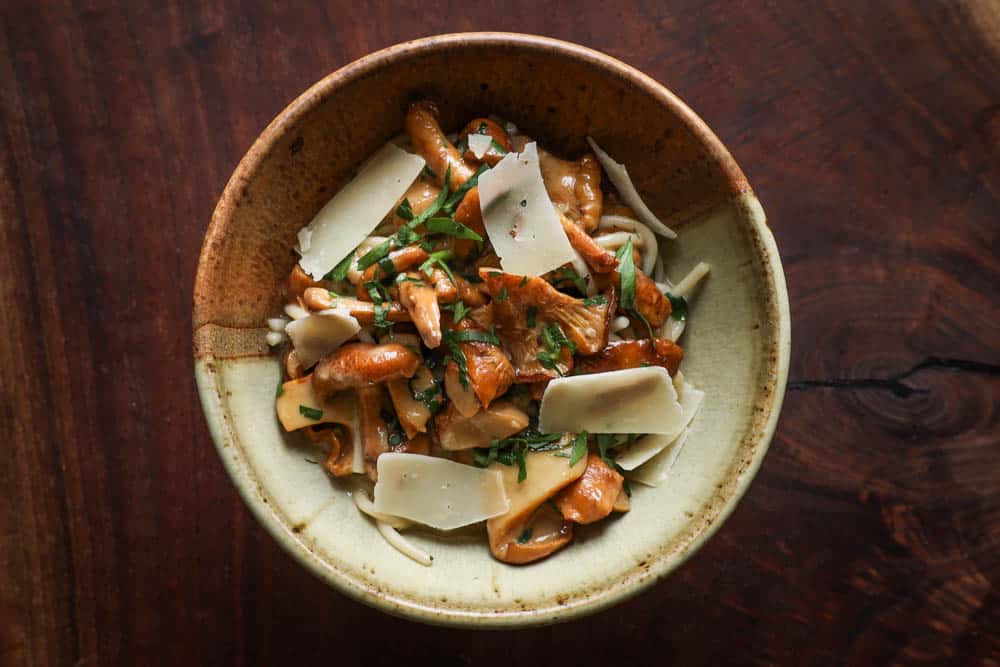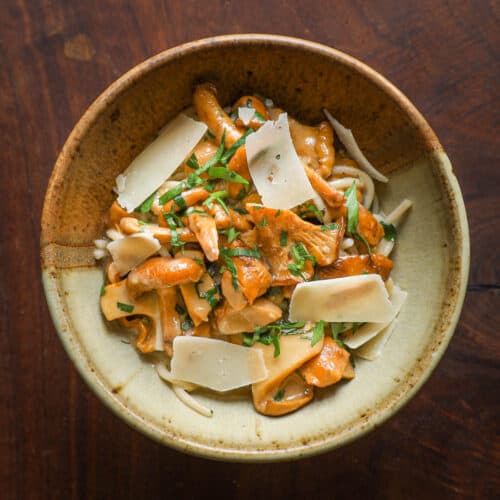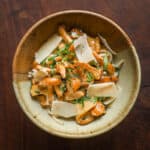 Print Recipe
Chanterelle Pasta with Roasted Garlic Wine Sauce
Spaghetti or your favorite long pasta with chanterelle mushrooms, fresh herbs and roasted garlic wine sauce. Inspired by Chef Andy Lilja.
Ingredients
4

oz

dried spaghetti or linguine

1

large bulb of garlic

Fresh garden herbs

to taste, preferably a mix of basil, parsley, thyme, or sage, all chopped together

¼

cup

white wine

¼

cup

chicken stock

1

large shallot

3oz, julienned

Pinch

of crushed red pepper flakes

4-6

oz

fresh chanterelles depending on availability

roughly chopped, small buttons left whole

Grated pecorino cheese or parmesan

to taste

3

tablespoons

unsalted butter
Instructions
Roast the garlic
Peel the skin off the garlic. Cut the stem end off the bulb of garlic to reveal the cloves and make them easier to press out. Wrap the bulb of garlic in foil, then bake at 350 for 20 minutes, turn off the oven and allow them to continue cooking with the residual heat until cool. The cloves of garlic should be soft and supple. Squeeze out the garlic, mash to a paste and reserve. From here the garlic can be prepared ahead of time.
Chanterelles and pasta
Rinse the chanterelles under cold water to clean them and allow them to soak up moisture (counter-intuitive but actually a good technique for them).

Warm the chanterelles in a dry pan with the onions, cooking until the chanterelles have given up their juice and are wilted. Add the roasted garlic paste and crushed red pepper flakes.

Add the wine and cook down by half, then add the chicken stock. Meanwhile, cook the pasta in lightly salted water until tender, add to the pan, along with the butter and herbs and cook for a minute, tossing the pasta to coat with the sauce and reduce it a bit.

Double check the seasoning for salt and pepper, adjust as needed, then pull the pasta out of the pan with tongs, twirl the noodles into two warmed pasta bowls, spoon the mushrooms and juices over them, garnish with more pecorino and serve.