Chebureki are a traditional pastry from the Crimean peninsula (Slava Ukraini). Typically they're made from a lean, thin dough and filled with ground meat, onions and herbs, finished by deep frying to a golden brown.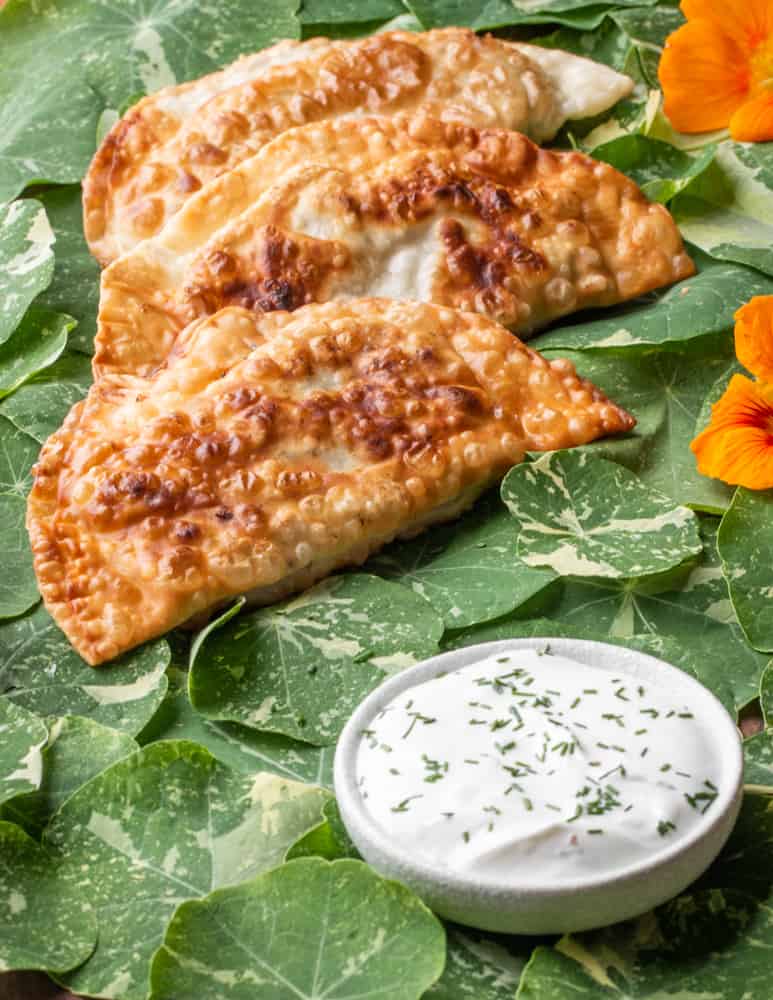 I had my first taste of them during a stage at St. Paul's Moscow on the Hill under Chef Gary Krasner. Ground meat is traditional, but a filling of wild mushrooms, onions and a little mashed potato makes a great all-shroom version I'm sharing with you today.
Traditional shape
For the traditional shape, you roll out a round of dough into a circle, then fold it over to make a half-moon. I'm awful at rolling out nice-looking circles so I tried working with my dough a few different ways. I know I'm not the only person that's circularly challenged.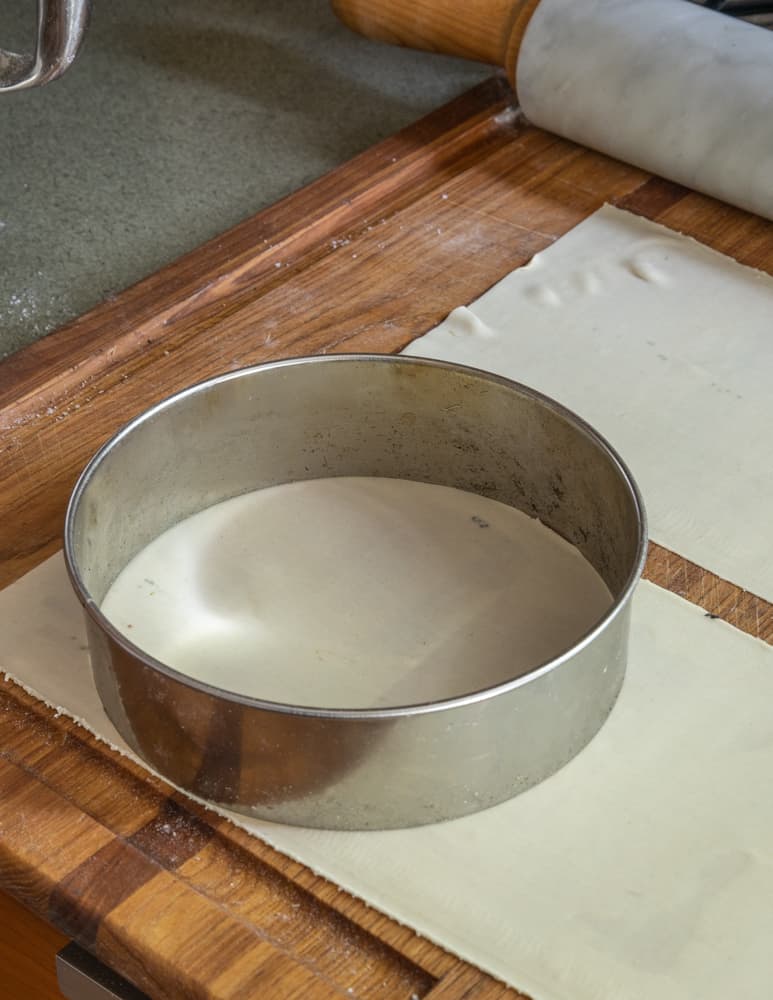 Instead of rolling the dough out with a rolling pin, I put it through a pasta roller and then cut it into different shapes to see what would give the best balance of yield, filling and dough. Square shapes are probably the easiest, but I found that using a 6 inch ring mold allowed me to fit a good amount of filling while keeping the traditional half-moon shape to honor tradition.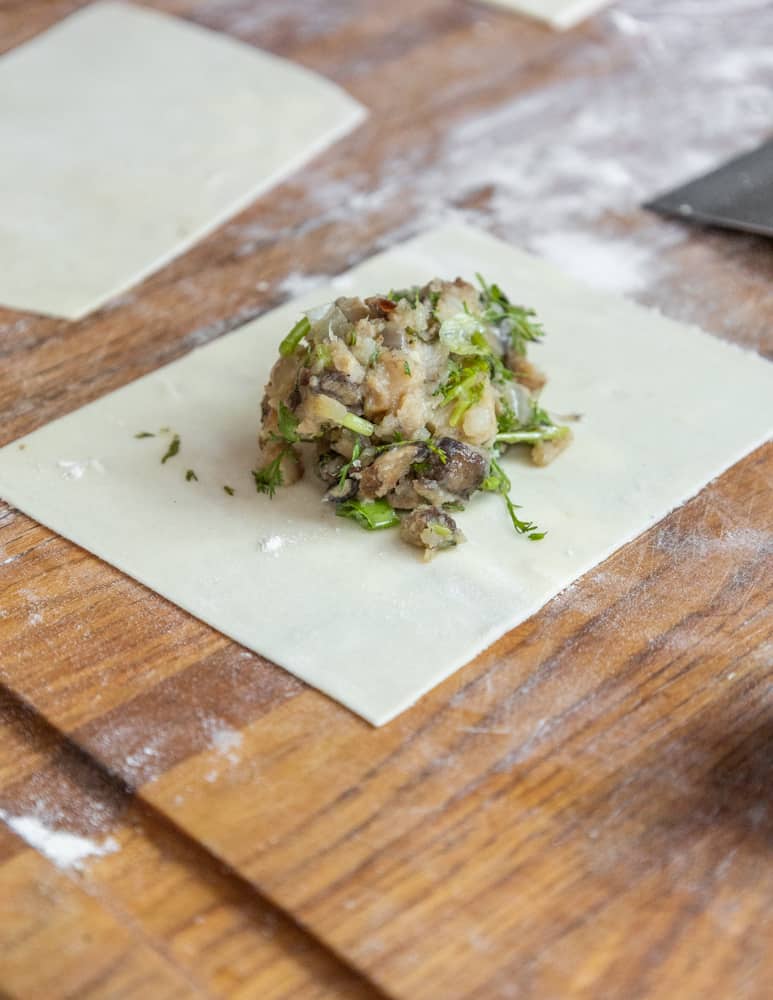 It's pretty tight getting a perfect six-inch round of dough using a pasta roller, but these are supposed to be rustic pastries. Using a pasta roller is a lot easier than rolling them out one at a time to near-transparent thinness without the aid of an industrial dough sheeter as restaurants often use.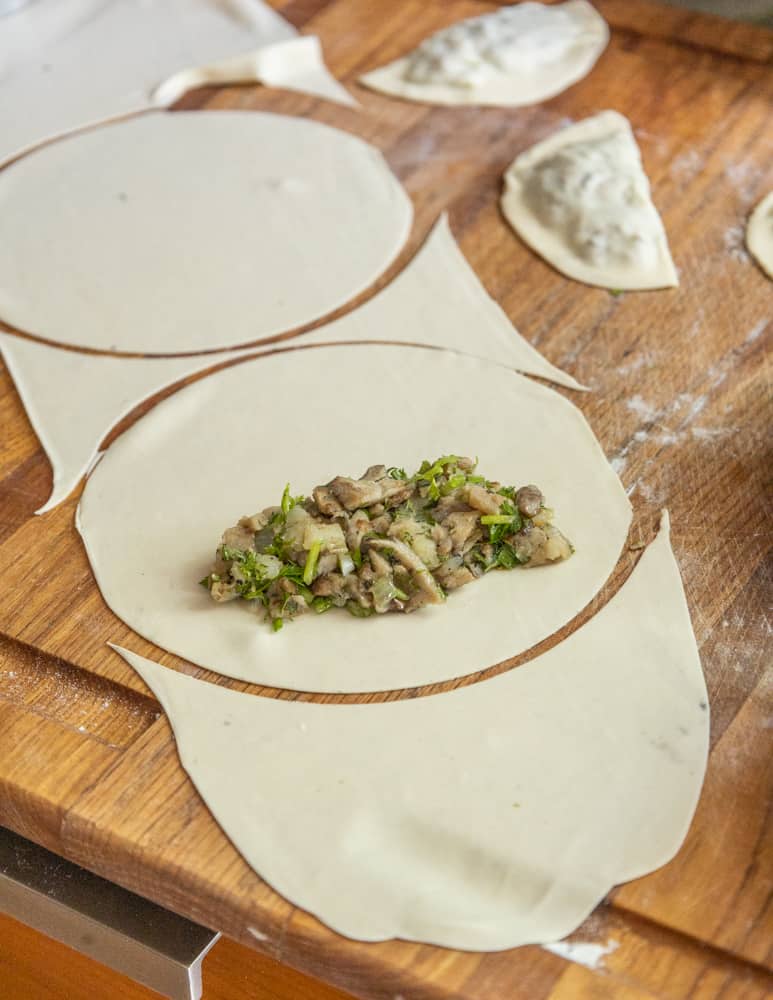 Wild Mushrooms
I grabbed a small variety wild mushrooms this week: hen of the woods, honey mushrooms, and a single Russula parovirescens. Just enough mixed together to make some filling. I saw a few aborted entolomas / shrimp of the woods too, but they were too dirty to pick.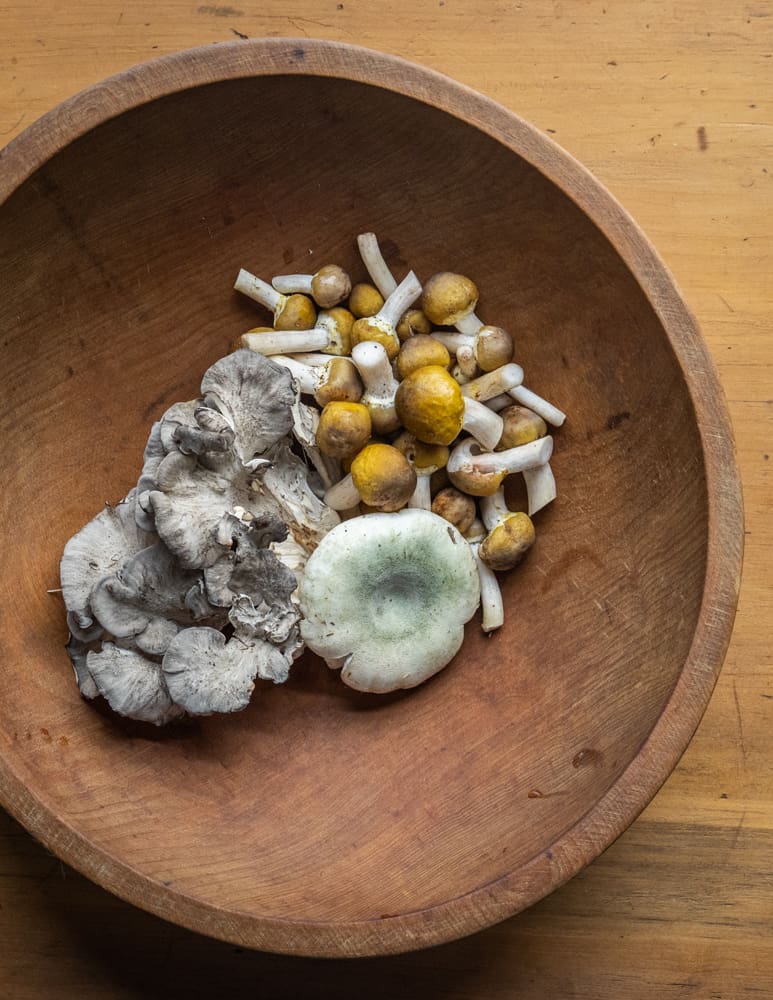 I chopped all the mushrooms up as if I were making a rough mushroom duxelles, added plenty of onions and cooked the mixture until the onions were soft. Then I seasoned it with lots of herbs, a little hot pepper, and salt until it tasted really good. You want the filling to be heavily seasoned.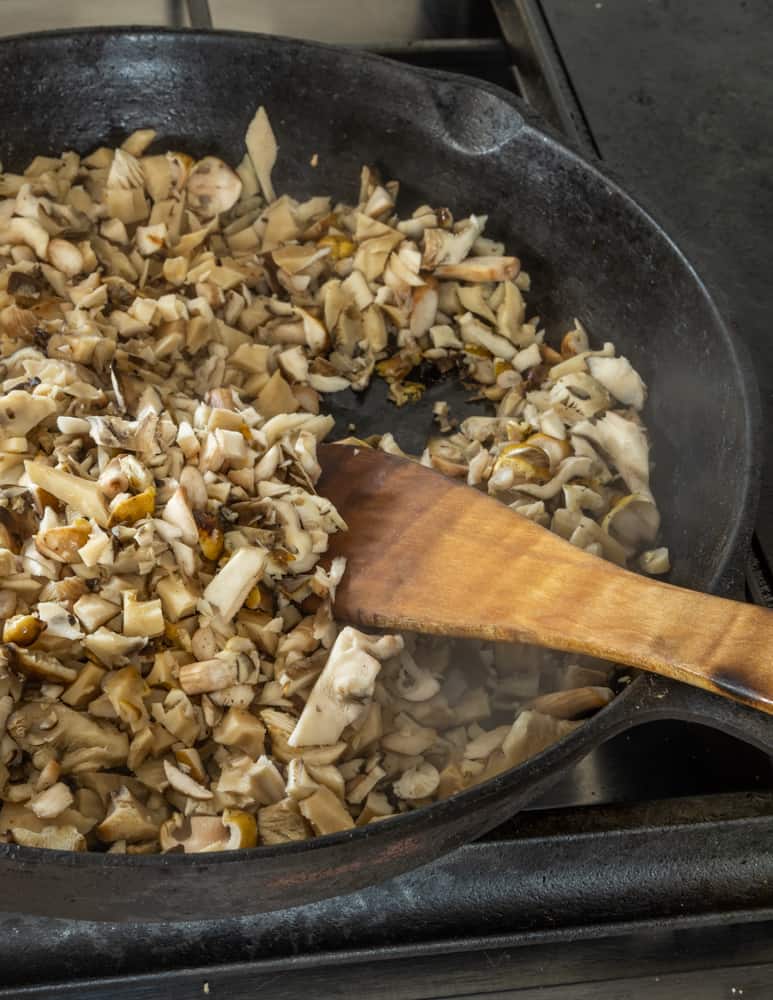 Since cooked, chopped mushrooms don't form a filling like pliable ground meat, I mimic the texture of meat by adding a little mashed potato to help the filling keep its form. Add a bunch of fresh herbs and some scallions, shallow fry the pastries golden brown and watch them disappear.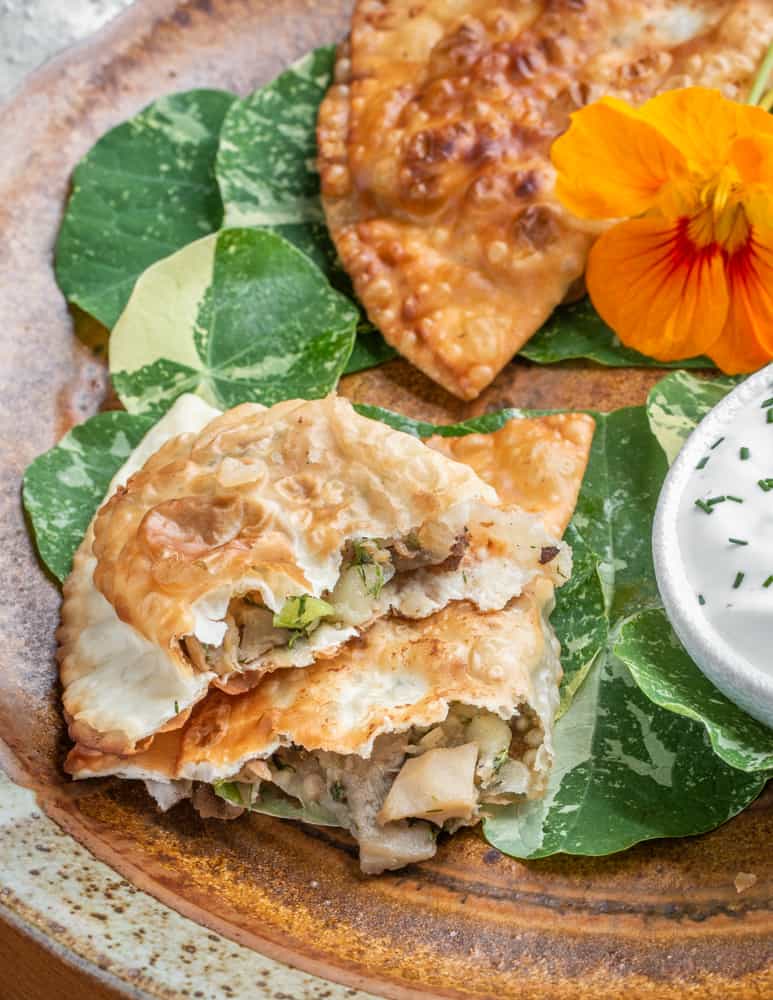 Related Posts
Honey Mushroom and Beef Runza (Bierocks)
Ham and Wild Mushroom Pizza Bianca
Sauteed Wild Mushrooms with Chevre and Flatbread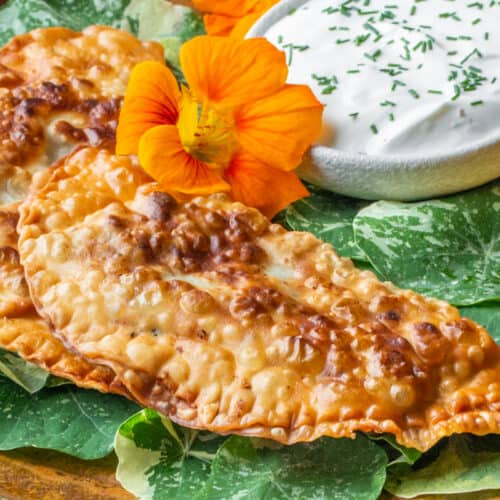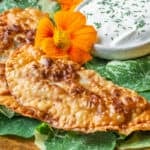 Print Recipe
Wild Mushroom Chebureki
Fried Crimean-inspired pastries filled with wild mushrooms, potato, herbs and onions. Makes about 11 pastries
Equipment
Heavy cast iron pan or similar for frying (10 inch diameter)

1 Rolling Pin
Ingredients
Dough
4

cups

(510 grams) all purpose flour, plus more for rolling out the dough

1

teaspoon

kosher salt

1

cup

(224 g) water
Filling
1

lb

fresh wild mushrooms

6

oz

1 large white onion, diced ½ inch

3

large cloves garlic

crushed with the back of a knife and minced

¼

cup

cooking oil

such as grapeseed

10

cracks of the peppermill

roughly ¼ teaspoon

2

teaspoons

kosher salt

8

oz

(1 packed cup) mashed potatoes

such as russets or Yukon gold

2

oz

scallions

sliced

½

cup

chopped cilantro

preferably bolted (Hmong cilantro) A smaller amount of fresh mint can be substituted to taste

Crushed red pepper flakes

to taste, about ¼ teaspoon

Splash of dry sherry

mushroom stock, or another liquid (about ¼ cup)
For shallow frying and serving
1.5

cups

peanut or other frying oil

or as needed

Sour cream seasoned to taste with chopped fresh herbs

salt, and a pinch of cayenne, thinned with a splash of buttermilk to loosen it (optional)
Instructions
Dough
In the bowl of a stand mixer, combine the water and salt and stir a few times. Add the flour all at once, then, using the paddle attachment, mix until the dough comes together. Switch to the dough hook and work the dough until it springs back when poked. Remove the dough from the mixer, wrap in cling film and refrigerate for 30 minutes. From here the dough can be made ahead of time up to a couple days.
Cooking the Filling
A few at a time, wash the mushrooms in cold water to clean them.. Chop the mushrooms until they're medium-fine and reserve.

In a large pan, such as a ten inch cast iron skillet, heat the mushrooms on high heat without adding salt. When the mushrooms are wilted and tender, move them to one side of the pan.

Turn the heat to medium high. Add the oil to the bare part of the pan and add the garlic, cook for a minute until aromatic, then add the onion, stir, and cook 2 minutes more. Stir the mushrooms and onions together, add the salt and pepper and cook, stirring occasionally on medium-high heat until the onions are translucent and tender, about 15 minutes.

Add the sherry or other liquid, stir the pan to coat the mushrooms and onions with their juices, and reduce until the pan is nearly dry.

Transfer the mushroom-onion mixture to a bowl, add the mashed potato, scallions and cilantro or mint and mix to combine. Taste the mixture and adjust the seasoning for salt, pepper, spiciness until it tastes good to you. It should be heavily seasoned and herby.
Forming the pastries
Separate the dough into 8 portions. Working with one piece of dough at a time, roll them out using a pasta roller, trying your best to get the dough as wide as possible. Roll each portion of dough out to the second-to-last setting on the pasta machine and lay out on lightly floured cutting board. The dough should be very thin.

Using a circular tool or bowl with a roughly 6-inch diameter, cut rounds out of the dough. If you find it difficult to get the dough 6 inches wide don't worry-just do your best. Put a scant ¼ cup of filling off center on each round of dough, brush the sides with water, press the filling down to remove excess air and folding them over to make a half-moon shape.

Crimp the edges with a fork. If you find it easier, you can also fill 6 inch squares of dough with the filling but it won't be the traditional half-moon shape.

From here the pastries can be frozen on baking sheets and cooked directly from the freezer if you like.
Frying
Heat the oil in a large pan on high, such as a ten inch cast iron skillet. When the oil sizzles when you dip the corner of a pastry in it, add as many cheborekki as can fit comfortably (batches of 3 worked for me) and fry until golden brown on both sides. Watch the heat and adjust down a little as they cook so you don't burn them.

Remove the finished pastries to a baking sheet lined with paper towels and allow to drain. If you like, you can keep the fried pastries warm in a 200 F oven.
Serving
Serve the finished pastries with some seasoned sour cream or your favorite condiment. I laid mine out on a bed of nasturtium leaves to catch any rogue fat from frying.

Leftover pastries reheat nicely in the oven.
Notes
Feel free to mix up the ingredients for the filling here and use whatever mushrooms you may have. A mix of dried, rehydrated mushrooms is very good in fillings. 
Nutrition
Serving:
1
Chebureki
|
Calories:
446
kcal
|
Carbohydrates:
76
g
|
Protein:
12
g
|
Fat:
10
g
|
Saturated Fat:
1
g
|
Polyunsaturated Fat:
3
g
|
Monounsaturated Fat:
6
g
|
Trans Fat:
0.04
g
|
Sodium:
1175
mg
|
Potassium:
556
mg
|
Fiber:
5
g
|
Sugar:
3
g
|
Vitamin A:
96
IU
|
Vitamin C:
13
mg
|
Calcium:
35
mg
|
Iron:
5
mg