Wild fennel cakes are the best fennel frond recipe I know. Unlike most fennel recipes, it calls specifically for the fronds, greens and stalks of the plant. If you've ever wondered what you can do with fennel greens and fronds this is what you've been looking for.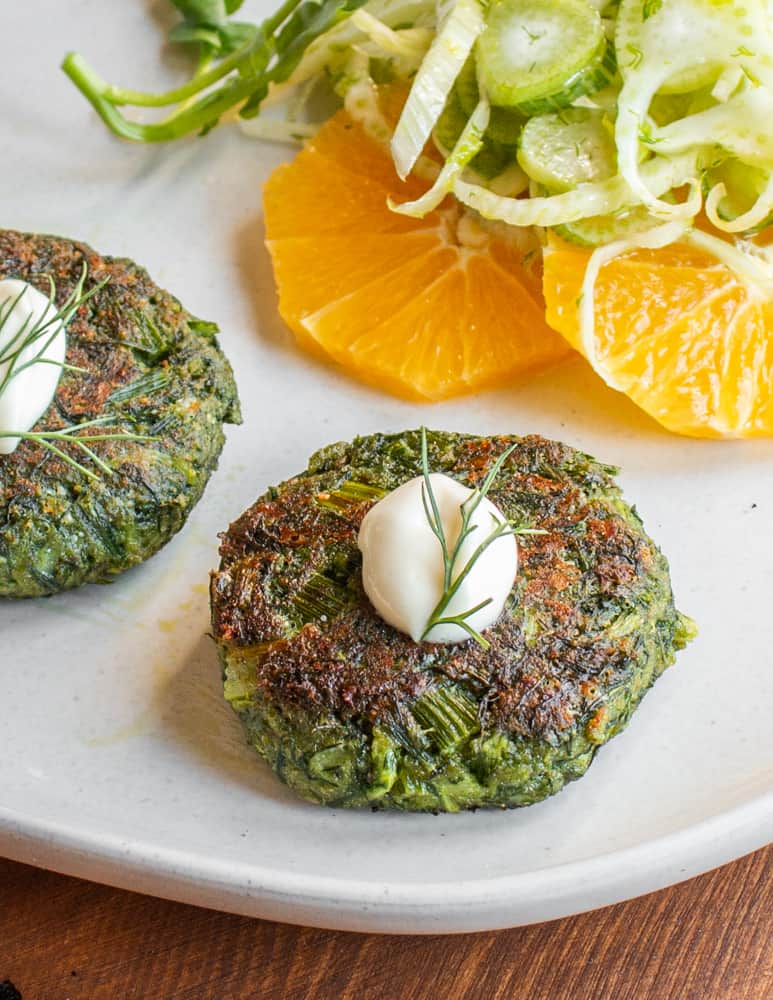 Wild fennel is one of the most invasive plants I've ever seen, growing in massive stands on the West Coast. It's similar to your garden variety fennel, looking near identical, but with one big difference: there's not really a bulb.
More than shaved fennel
During my chef tenure I learned by example that the best thing you could do with fennel was shaved fennel salad--the green fronds and stems usually being tossed into a stock pot, which is basically another way of throwing them away. The seeds, being so ubiquitous, are good too, with the wild ones being much better than conventional. But fennel is so much more.
While I researched recipes for my book I read a number of resources covering traditional European wild foods, and I was surprised when I came across wild fennel frond recipes.
Cooking fennel fronds
I'd tried cooking with fennel stems and greens before, but the greens don't take well to the typical restaurant technique of quickly blanching before reheating as the delicate fronds have a shorter cooking time than the stems which never seemed to get tender. Seeing the traditional recipes (Tsigarelli is a good example) inspired me to give fennel greens another shot, and I'm really glad I did.
Sure, the internet will show you different things you can do with fennel stalks and fronds, but most of them are raw, and treat the fronds as an herb, rather than a cooking green, as in the forgettable fennel-frond pesto. Raw, in small amounts, the frilly fronds can be ok, but, just like carrot greens, their flavor and texture are way better cooked as a leafy green.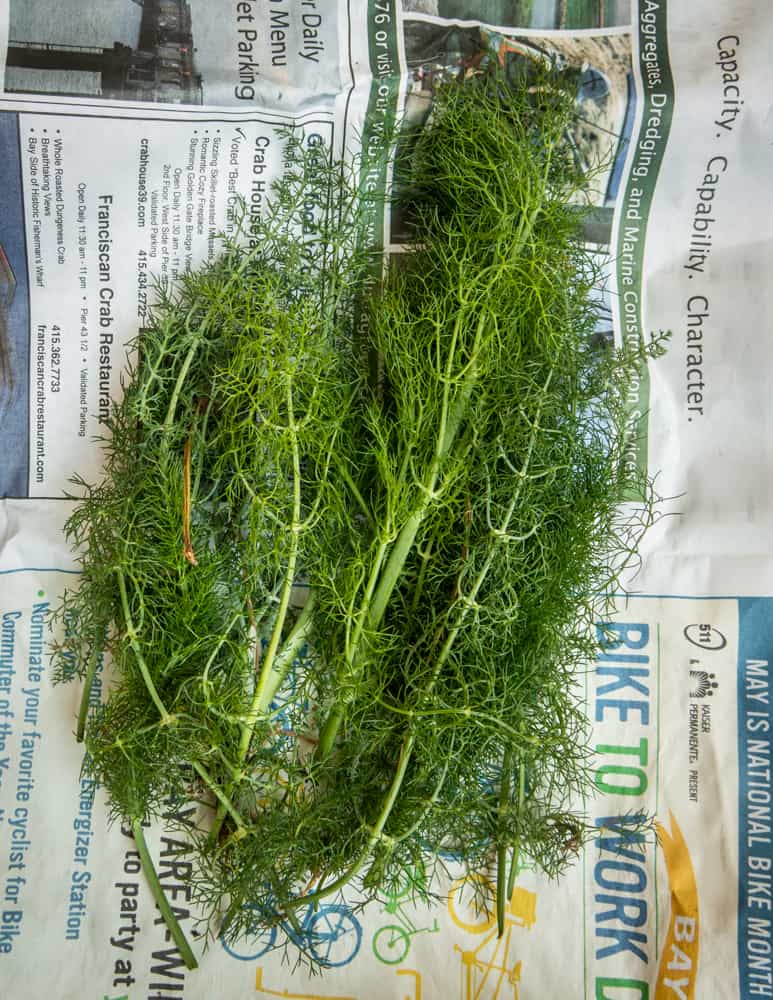 "Cooking" here is a bit of an understatement, for the best texture, fennel fronds and stalks need a long boil in water until they're tender and taste good to you, which can take anywhere from 15-20 minutes--a lifetime in typical vegetable cooking.
By the time the stems get tender, the green parts may start to lose their integrity and get soft, but, cooked tender and fried up with a little garlic, hot chili and olive oil, the only thing you'll notice is a mild-tasting green with a subtle anise flavor more pronounced than in its fresh state.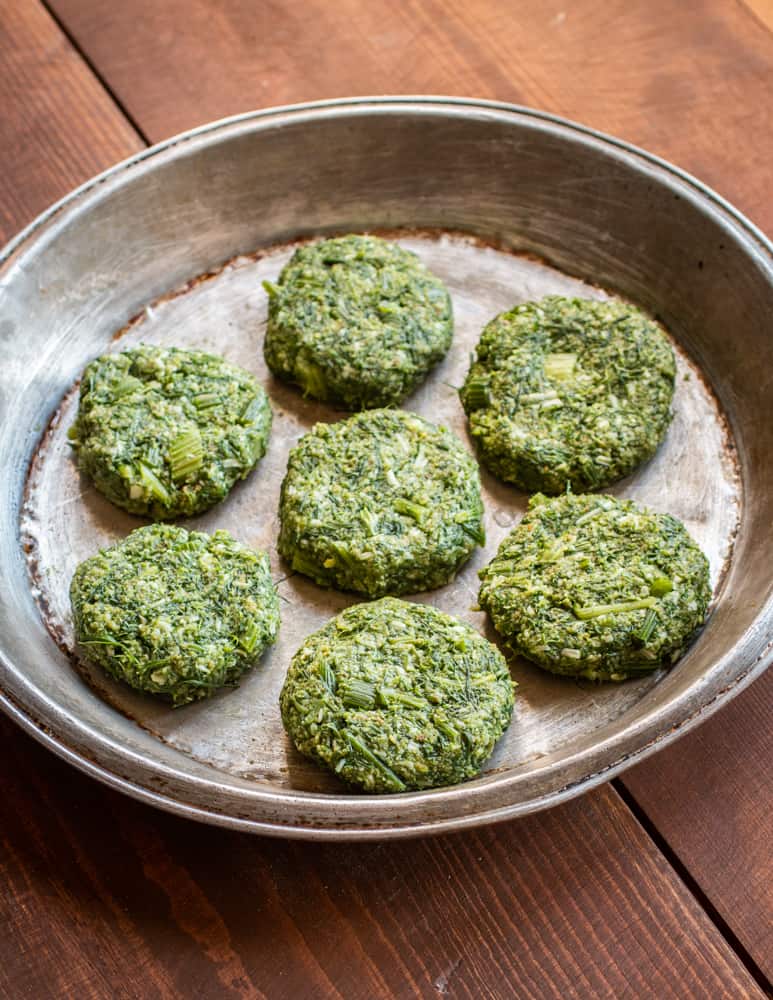 The cakes here made from fennel fronds and stems seem to be a relatively common Italian recipe for wild fennel-one that I was inspired to try some after reading about California forager Angelo Garro making them for Michael Pollen in his book The Omnivore's Dilemma.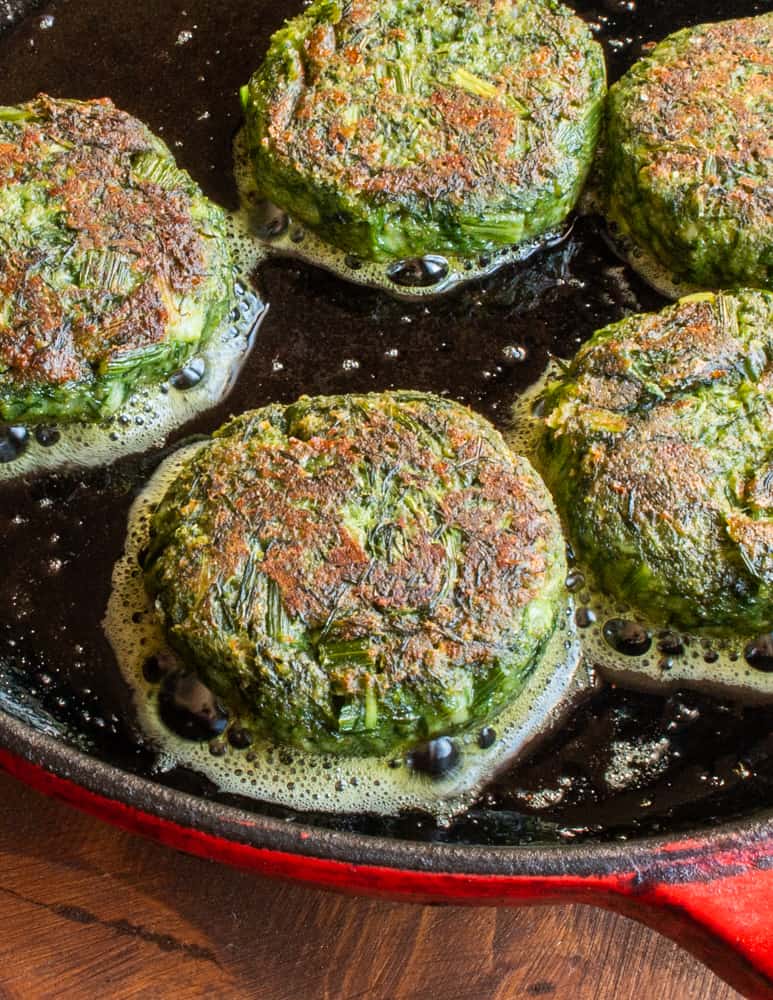 You take a big pile of wild or cultivated fennel greens, simmer them until tender, chop them up, mix with a little egg, breadcrumb and parmesan, make them into little cakes and fry them up. They're delicious, and they may just change how you cook with the plant, since now, whenever I buy fennel, I look for bulbs with the greens attached, instead of just the bulb.
Obviously wild fennel is optimal here as they have more greens, but either will work. Serve them with a shaved fennel salad to appreciate the whole plant.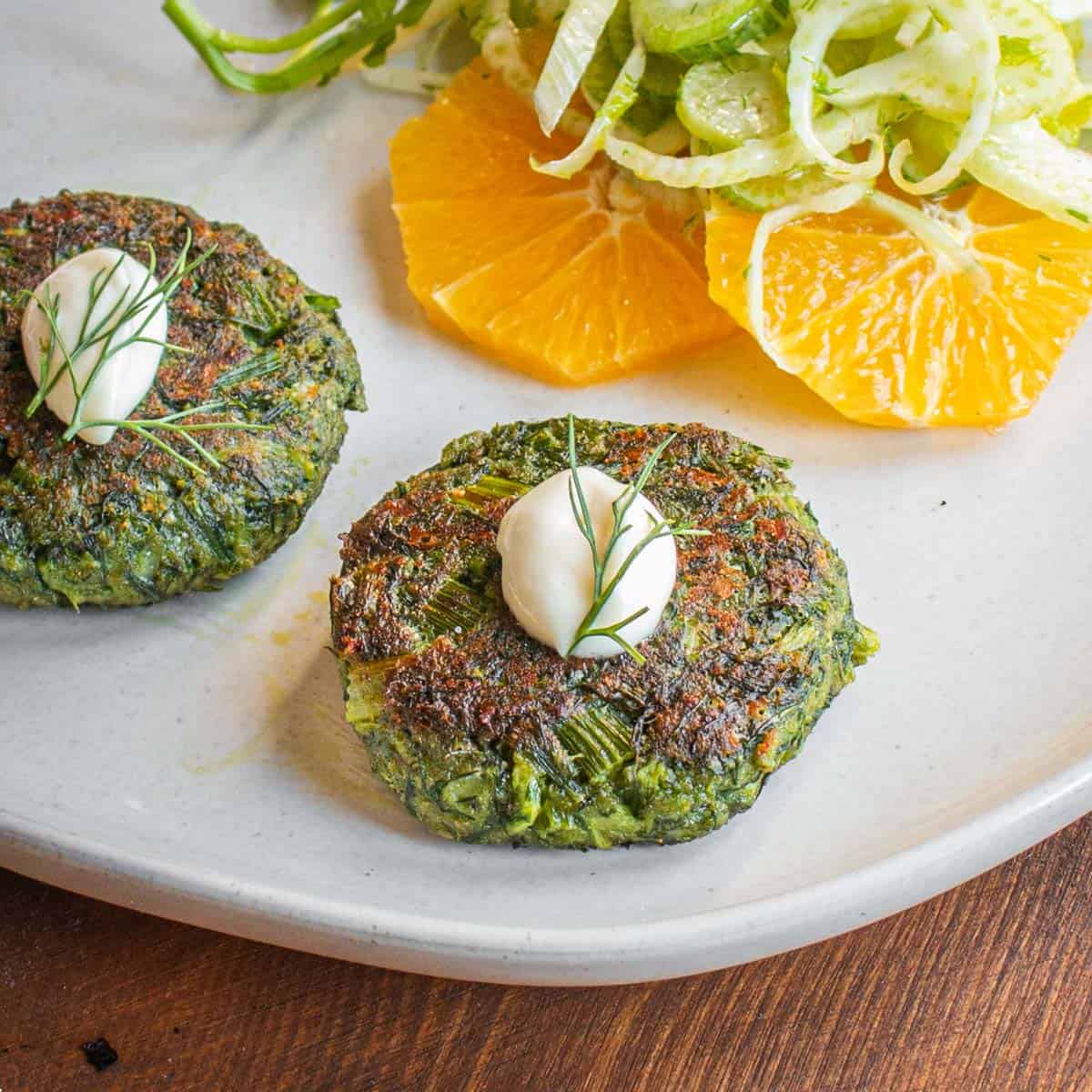 Related Posts
Wild Fennel Seed-Venison Chorizo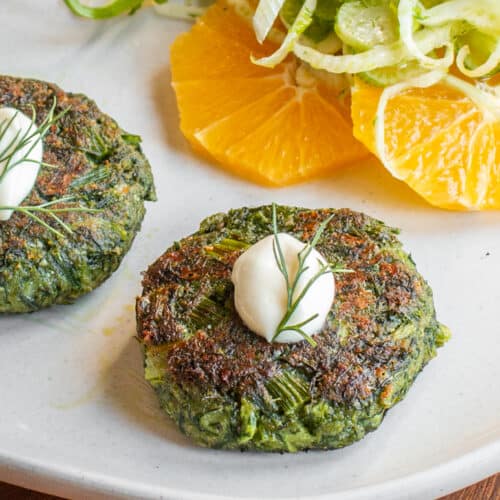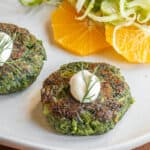 Print Recipe
Wild Fennel Green Cakes
Italian cakes made from wild or cultivated fennel greens are a great thing to make with extra fennel fronds and stems. Makes about 12 ⅛ cup cakes.
Ingredients
8

oz

fennel fronds from wild fennel

or the leafy green stalks of two cultivated fennel bulbs

2

eggs

½

cup

finely grated parmesan

½

teaspoon

salt

½

teaspoon

toasted ground wild or cultivated fennel seed

Suggestion of lemon zest

½

cup

breadcrumbs

2

tablespoons

heavy cream

Fresh ground black pepper

to taste

Cooking oil

as needed
Serving as pictured (optional)
½

cup

Aioli, preferably homemade, to taste

Shaved fennel salad

Sliced oranges, skin removed

a handful of fresh watercress
Instructions
Bring a gallon of salted water to a boil and cook the fennel fronds, whole, for 15 minutes at a steady simmer.

Taste a piece of the fennel fronds at this point to gauge the texture, if it's soft enough for you, remove, or cook a few minutes more, tasting here and there until it's just right.

When you're pleased with them (they will get tender) remove to a colander to drain and cool to room temperature (resist the urge to shock them in cold water).

Squeeze the fronds dry, then chop finely and mix with the remaining ingredients. Heat a pan with a film or oil, take a small portion of the fennel mixture, mold it into a small test patty and cook to test the seasoning and set.

If the cakes are hard to flip, add some extra breadcrumbs, if they taste mild, add a pinch of salt. When you're ready to cook the cakes, take 2 tablespoons at a time and form into patties, then brown well in oil on both sides. Serve the cakes topped with a small dollop of aioli.
Serving as pictured
For a nice fennel salad, cut a bulb of fennel vertically, then shave thin on a mandoline. Toss the shaved fennel with salt, pepper, extra virgin olive oil, fresh lemon juice, and a handful of fresh watercress, along with some herbs if you have them (mint and basil are nice). Double check the seasoning, adjust until it tastes good to you, and serve with a few slices of orange, pared of it's skin, cut into slices.