Cooked puffball mushrooms have a soft texture that some people don't like, but there's a lot more that you can do with those giant white orbs than toss them in a pan or bread and fry them.
This wild puffball mushroom jerky recipe is one of the best things I've made with puffballs for people that don't care for the mushrooms cooked fresh. Since it's a meat-free jerky, it's also a good vegan mushroom recipe.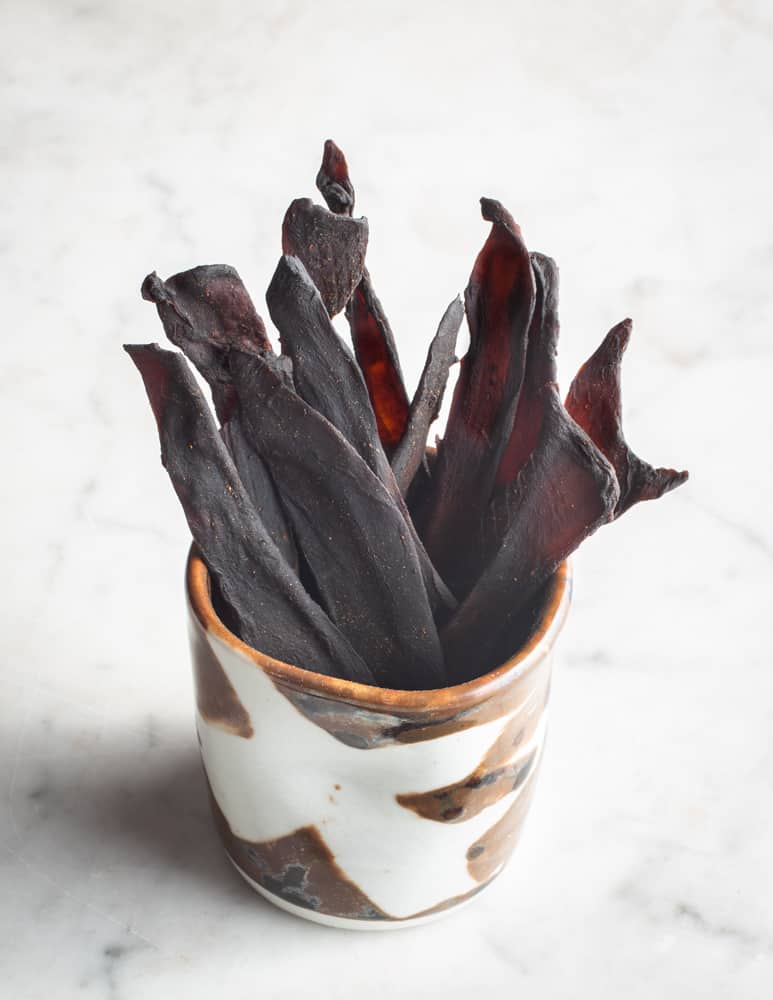 The method is similar to other mushroom jerky's I've made: cook some mushrooms, soak them in a marinade, then dehydrate, but, because puffballs are white, they take a little longer to soak up the marinade and become evenly colored, and they need to be stirred here and there over the course of a few days to ensure a nice, evenly colored jerky.
The finished jerky has a great texture that is honestly better than most of the mushroom jerkys I've tried. Puffball's puffy, airy texture, especially after cooking and being pressed down with a palm of your hand or a rolling pin make for a mushroom jerky that's much more tender and pliable than one made from, say, hen of the woods, which are arguably the most popular mushroom jerky I've seen.
Works with fresh or cooked frozen mushrooms
Just like other mushroom jerkys, you can make these with fresh mushrooms straight from the field, or cooked, frozen puffballs, so it's a good way to free up some space if you got a little happy during mushroom season, as I often do.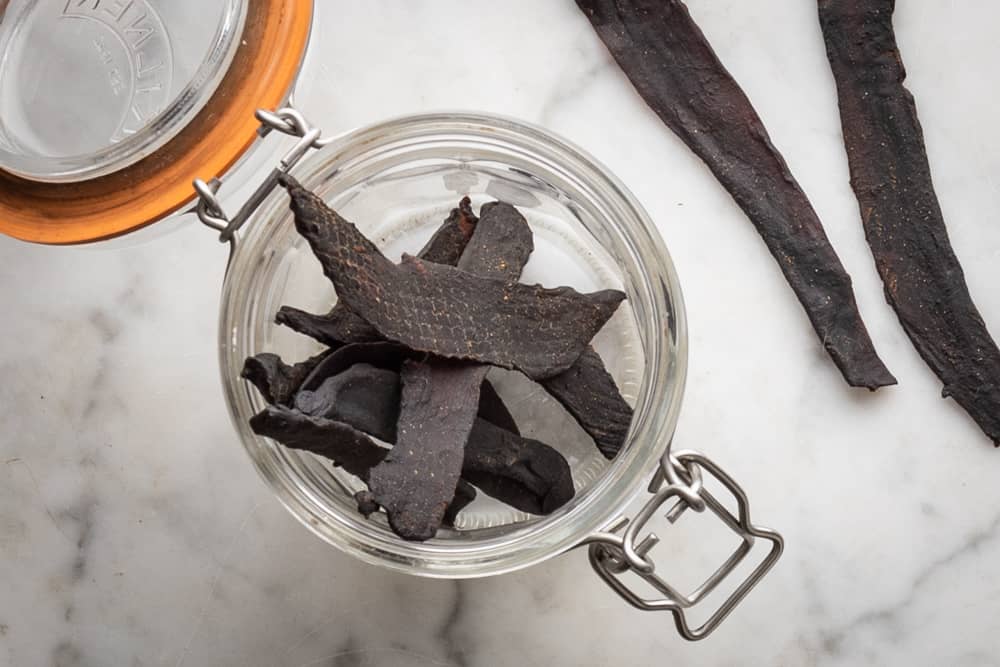 Related Posts
Vegetarian and Vegan Mushroom Recipes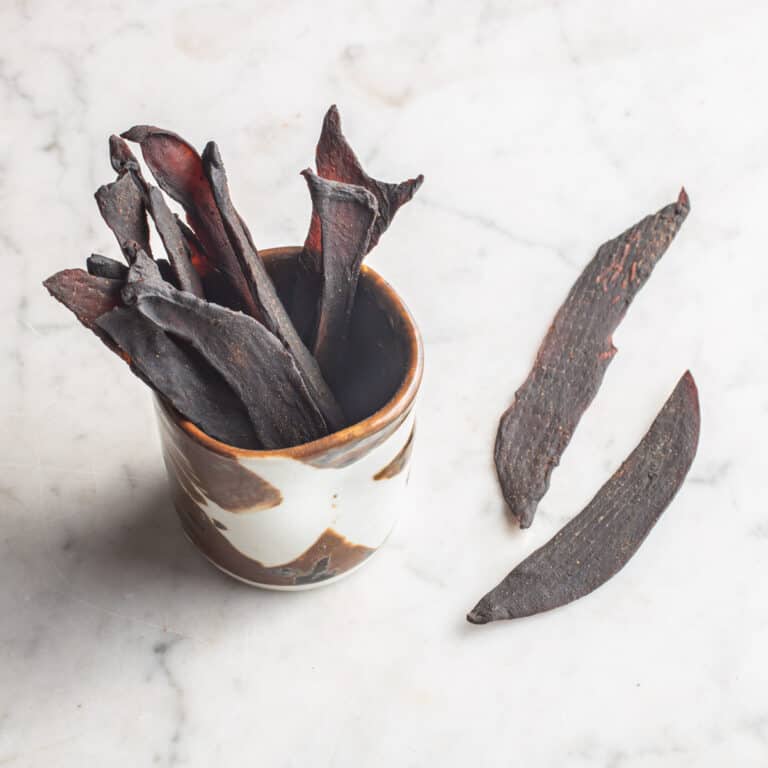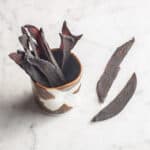 Print Recipe
Puffball Mushroom Jerky
Mushroom jerky made from puffball mushrooms.
Ingredients
1-2

lbs

Fresh, firm, perfectly white puffball mushrooms

You can also use cooked frozen puffballs
Jerky Marinade
1 ½

cups

soy sauce

1 ½

cups

worchesterchire

½

cup

water

½

cup

maple syrup

1

Tablespoon

hot sauce

or more to taste

2

Tablespoons

finely chopped fresh garlic

1

Tablespoon

finely chopped fresh ginger

1

Tablespoon

onion powder

1

Tablespoon

smoked paprika
Instructions
Combine the jerky marinade ingredients and puree in a blender, then strain and reserve.

Cut the puffballs into slices as thin as you can (it's ok if they're not perfect). Bring a large pot of water to a boil, add the puffball slices, working in batches if needed and cook for a minute or so, or until just wilted and pliable. Remove the mushrooms to a colander to drain and cool until you can handle them.

Press the puffballs with your palm to flatten them out and release excess water. Cut the cooked puffball slices into 1 inch long strips, then combine with the marinade and refrigerate for at least 3-4 days, and up to a week, stirring the puffballs at least once a day to ensure they absorb the marinade and are evenly colored.

Dry the mushrooms at 100 F, or until completely dried, but still pliable-about 5-6 hours. If the mushrooms become brittle, you dried them at too hot of a temperature. Use your instincts here.

Store the finished jerky in a zip-top bag in the fridge for the longest shelf life.
Notes
This recipe will cure about 2 lbs of mushrooms at a time, and can be re-used for multiple batches. It's very important not to dry the mushrooms at too high of a temperature, which can make them brittle, blood-drawing splinters, as opposed to pliable, chewy jerky.
Nutrition
Serving:
0.5
oz
|
Calories:
131
kcal
|
Carbohydrates:
25
g
|
Protein:
9
g
|
Fat:
0.5
g
|
Saturated Fat:
0.1
g
|
Polyunsaturated Fat:
0.2
g
|
Monounsaturated Fat:
0.03
g
|
Sodium:
400
mg
|
Potassium:
462
mg
|
Fiber:
2
g
|
Sugar:
19
g
|
Vitamin A:
575
IU
|
Vitamin C:
2
mg
|
Calcium:
51
mg
|
Iron:
2
mg