A classic steakhouse creamed spinach recipe I used to run at my steakhouse you should try. It's a simple dish enjoyed around the world, but particularly in South Africa, where it's served as a vegetable option.
This was on the menu at my first restaurant The Salt Cellar, a modern steakhouse. It's similar to versions you'll find at famous steakhouses like Ruth's Chris and Peter Lugar's.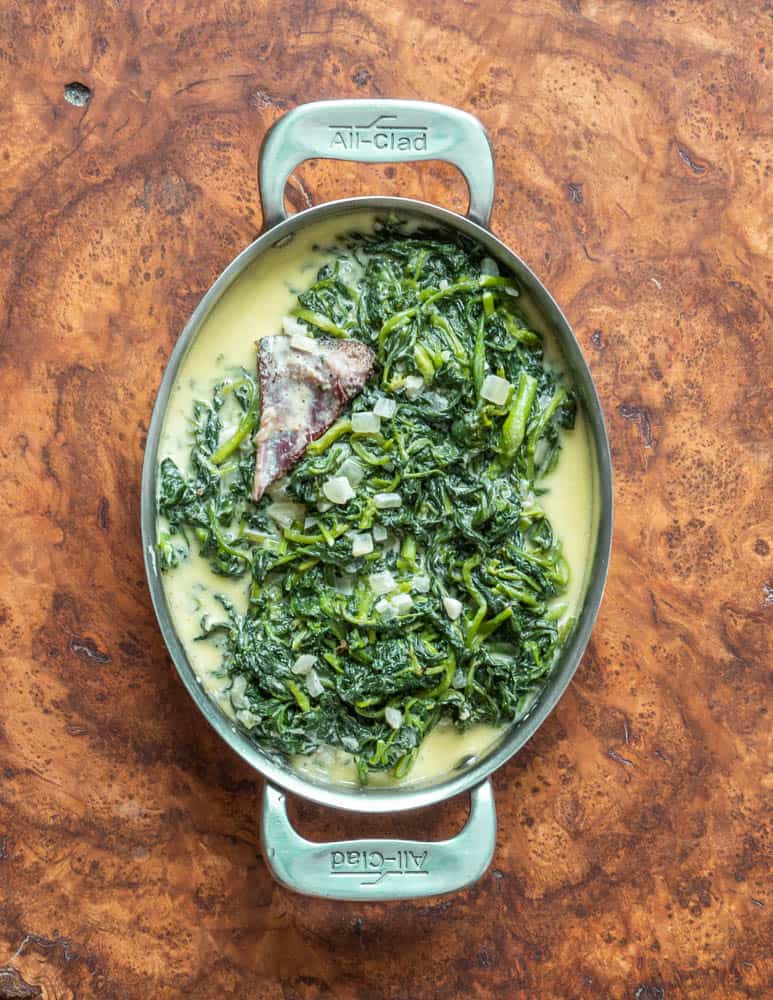 Ingredients
Spinach or other greens
My favorite spinach is fresh from the garden, especially Bloomsdale spinach, which is extra sweet. If you have to use baby spinach from a bag it's ok, but if you have a chance to buy good fresh spinach from a farmers market that has stems attached I recommend it. Spinach isn't only leaves and the stems cook up nice and tender.
Nutmeg
A few scrapes of fresh nutmeg is great here. If you don't have fresh nutmeg, you can use a tiny pinch of dried.
Heavy Whipping Cream
Some recipes might call for double cream, or even milk mixed with flour. Double cream will work (if you're in the U.K.) but, In my mind there really isn't a substitute for heavy cream. Don't worry about the calories in creamed spinach-you only need a splash of cream.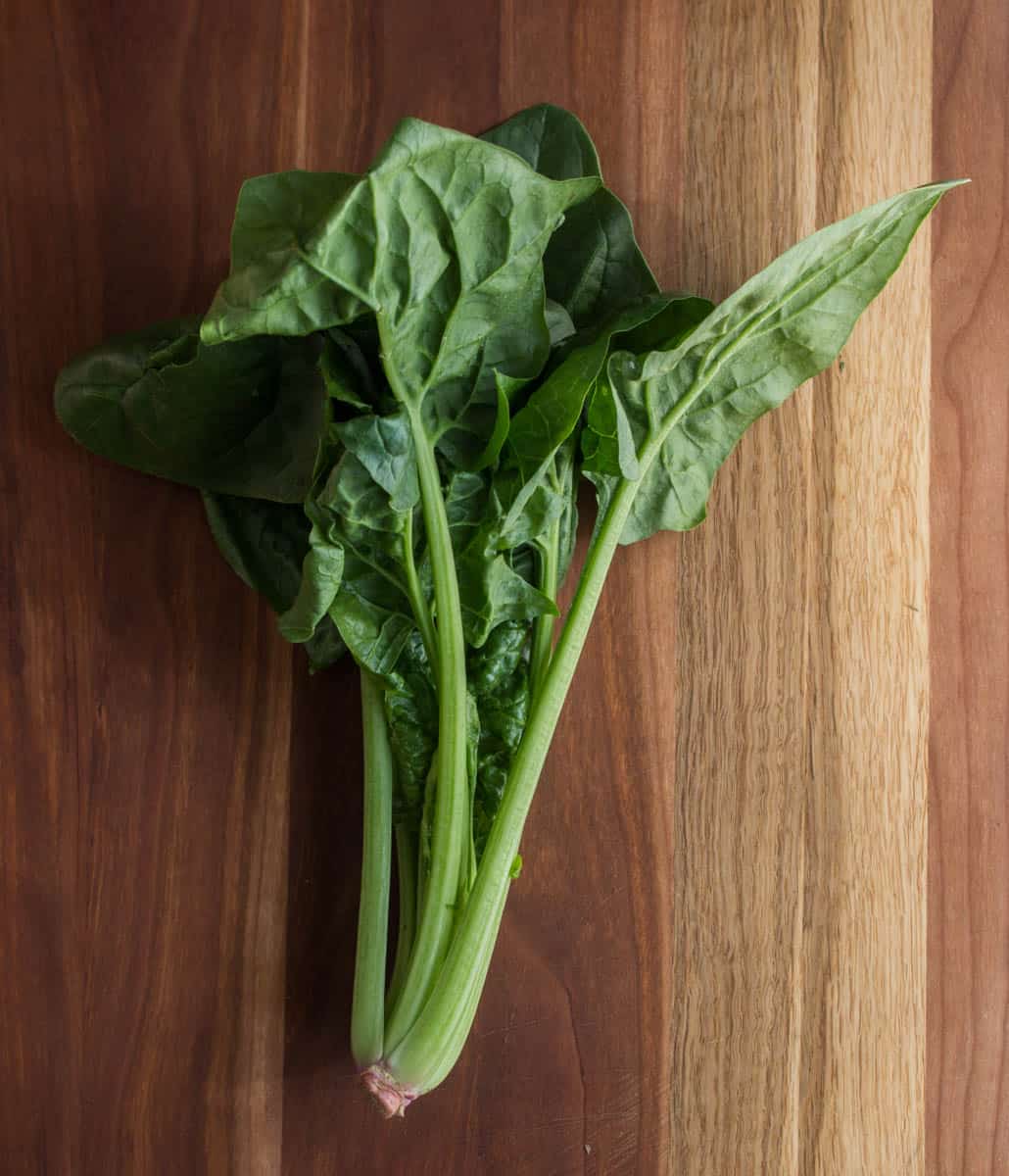 Jalapeno
My favorite recipe calls for a little chopped jalapeno, and is inspired by my friend, James Beard Award-winning Chef Alex Roberts. He serves his version at his fast-casual restaurant Brasa.
Bacon or a piece of salt pork (optional)
While It's optional, I like to add a chunk of bacon if I have it to flavor the dish. You can cook a little sliced bacon until crisp if you like, or leave it in a whole piece as I have here. It may seem silly, but it's a chef technique. You only need a little piece about 2-3 ounces for a whole pot of greens. Beef bacon works too.
No Flour!
I make a low carb creamed spinach with no flour added. Flour makes it too thick and soggy for my tastes. If you want to add some, add it when you're sweating the onions.
Spinach Substitutes
During the summer we'll usually use spinach. Greens are nearly non-existent in the Winter though, so I usually try to get spinach flown in from my friend's garden in Oregon. Occasionally during the growing season I'll use other greens. Lambsquarters or wild spianch is one of my favorites, as well as watercress or Swiss chard.
The creamed spinach is easy to make, a little shallot or onion, some fresh spinach leaves, salt, a teeny bit of jalapeno (no seeds, just flavor) and a splash of cream is really all you need to make a great side dish to go along with a big juicy steak or a piece of fish.
To make it vegan
To make vegan creamed spinach omit the bacon and use coconut milk instead of cream.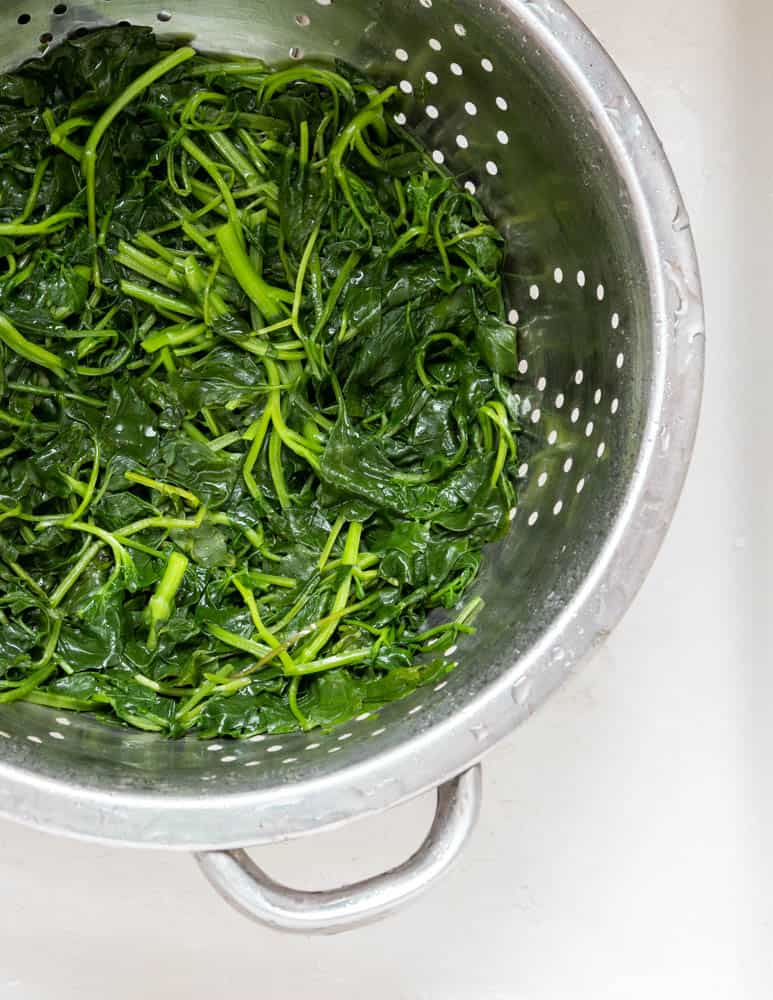 If you shy away from cream don't worry, you only need a splash of cream to make creamed greens. I can't stand creamed greens made with too much cream.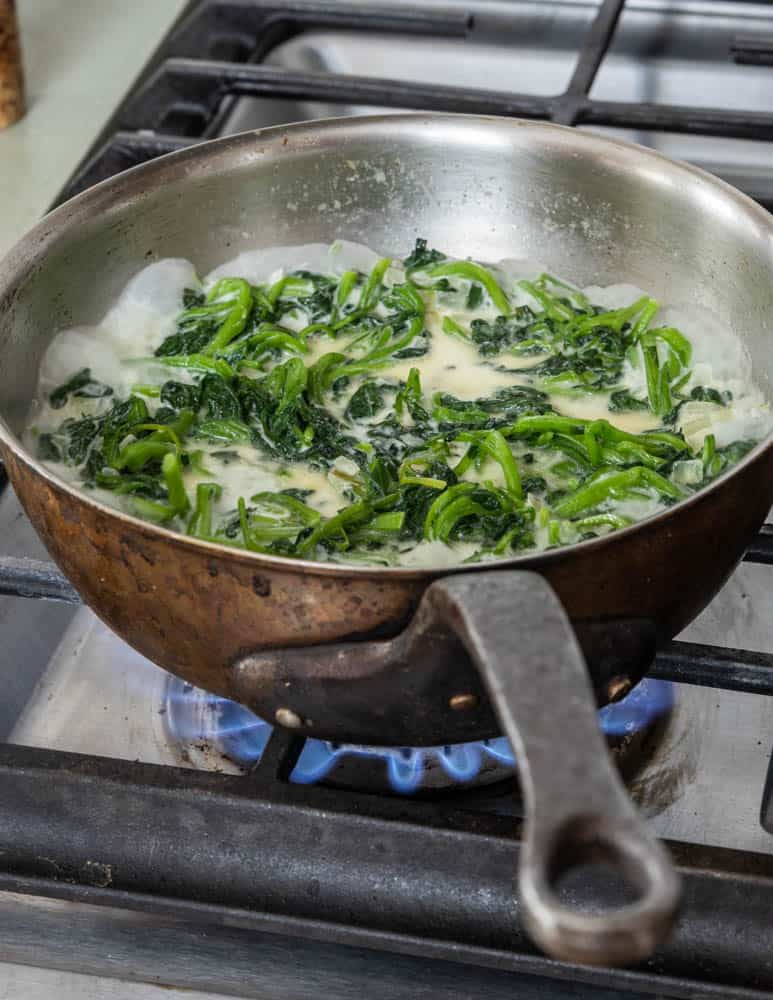 The key, the most important part, is that you need to make sure the spinach greens are cooked until tender and soft, and you should expect some variation on the cooking time depending on how much spinach stems your greens have, if any.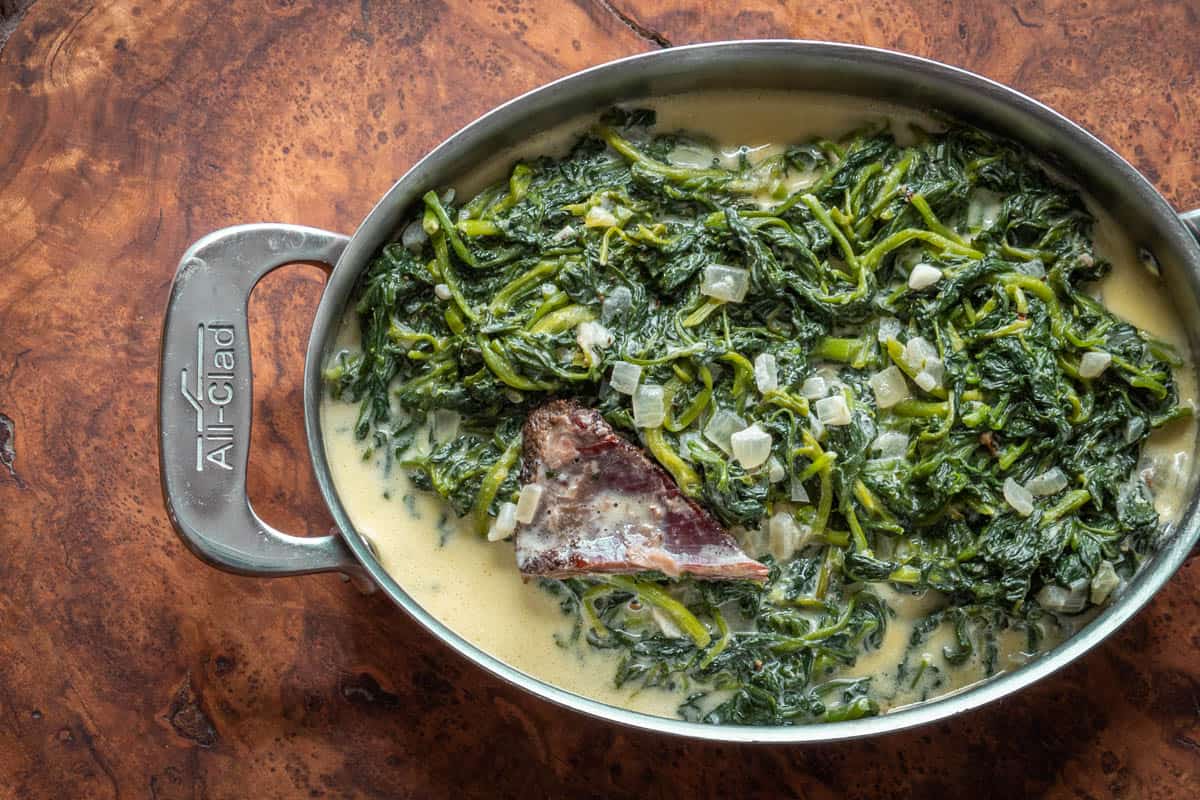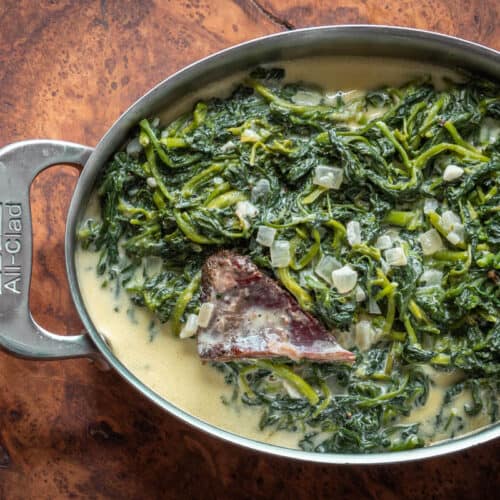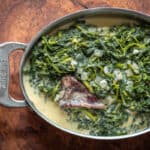 Print Recipe
South African Creamed Spinach: Steakhouse Style
Creamed greens, using spinach or other greens makes for a delicious, simple side dish. It's the perfect accent to a classic American meal-like steaks or broiled fish.
Ingredients
1

lb

fresh spinach

washed and dried

Kosher salt and pepper, to taste

2

oz

shallot

1

large clove garlic

2

Tablespoons

unsalted butter

¼

cup

heavy cream

1

oz

bacon or a piece of smoked meat (optional)

1

small jalapeno

This is optional-the seeds are removed so this is not spicy, the jalapeno just adds flavor. *see note for a jalapeno-less variation.
Instructions
Bring 8 cups of salted water (roughly 1 tablespoon per quart of water) to a boil.

Blanch the spinach for 30 seconds, or until just wilted, then remove to a colander to drain. Gently squeeze the greens to remove some water, but don't wring them dry.

Cut the jalapeno in half lengthwise, remove the seeds and discard then cut one half into ¼ inch dice. Reserve the uncut half of the jalapeno for another purpose.

Cut the shallot into ¼ inch dice. Finely chop the garlic.

In a small 2 qt capacity saucepan, sweat the garlic, jalapeno and onion with the piece of bacon or other smoked meat low and slow for 10 minutes, without allowing them to color.

Add the spinach greens and cream, cover and cook for 10 minutes, or until the watercress is tender and tastes good to you.

Double check the seasoning for salt, adjust as needed, and serve. If the pan threatens to get dry, add a splash of water as this should be a juicy dish of greens.
Notes
*Instead of the jalapeno, you can substitute a couple scrapes of grated nutmeg to omit any heat and steer the dish more in the direction of French-Continental cuisine. 
Nutrition
Calories:
138
kcal
|
Carbohydrates:
7
g
|
Protein:
4
g
|
Fat:
12
g
|
Saturated Fat:
7
g
|
Polyunsaturated Fat:
1
g
|
Monounsaturated Fat:
3
g
|
Trans Fat:
0.2
g
|
Cholesterol:
32
mg
|
Sodium:
96
mg
|
Potassium:
699
mg
|
Fiber:
3
g
|
Sugar:
2
g
|
Vitamin A:
11028
IU
|
Vitamin C:
33
mg
|
Calcium:
130
mg
|
Iron:
3
mg