There is possibly nothing more satisfying than eating an entire venison shank, and one of my favorite ways to cook them is a simple braise with dried mushrooms, herbs, stock and wine. It's a good dried wild mushroom recipe if you have some laying around, as many of you do.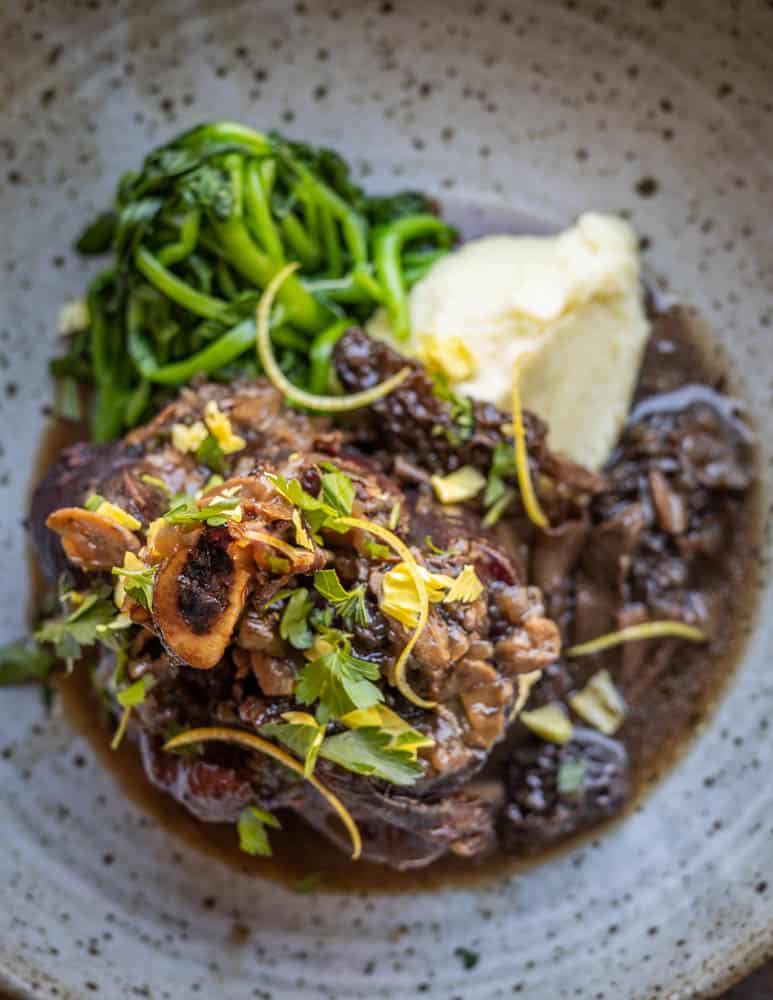 Cutting down the shanks
Venison osso bucco or cross cut shanks need some preparation during butchery to look as they're pictured here. I use a one-handed reciprocating saw to cut the bones down to a manageable size before vacuum sealing and freezing.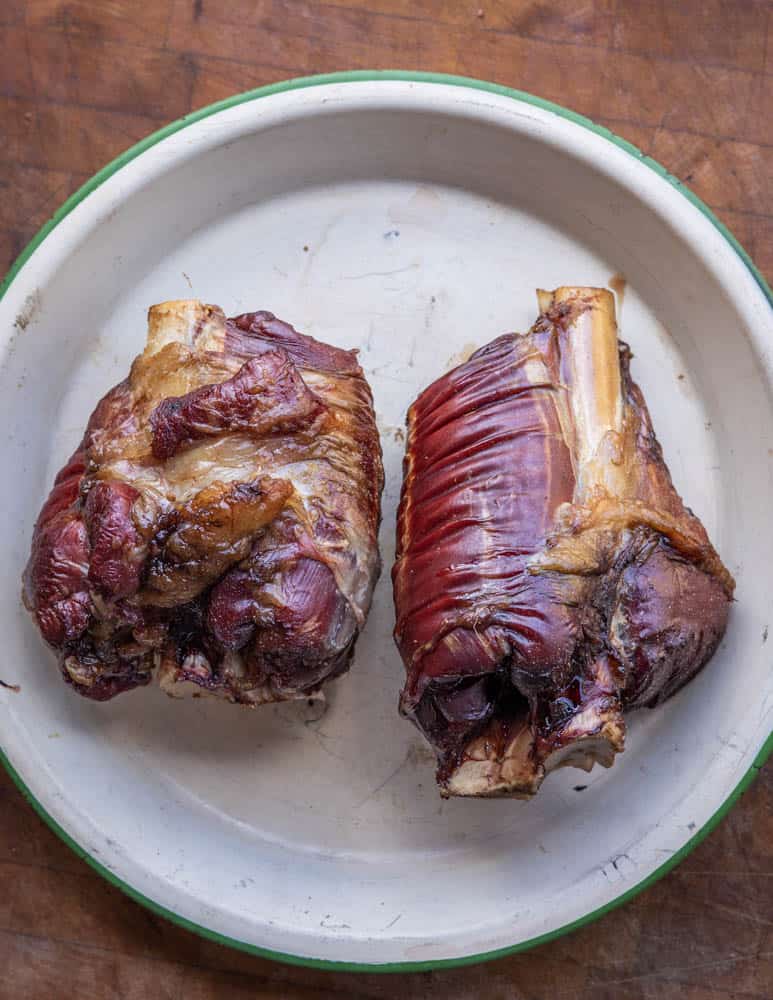 Cutting the shanks down makes it so they can fit in a pot for cooking, as well as on a plate. A little extra work during butchery will pay off when it comes time to cook them.
Optional Smoking
I smoke the shanks lightly here since everyone loves a good pieces of smoked meat, but light is the key phrase here. If you smoke the shanks for too long the smoked flavor will be overly-dominant, and it might be hard to taste the delicate flavor of the mushrooms.
If you don't want to smoke the shanks for only an hour, or think it impractical, I'd brown them in the pot before adding the shallots and garlic to build some good flavor for your braise.
I smoke a lot of shanks, but know that these are not cured, smoked venison shanks made a la pork hocks, rather the shanks are simply seasoned with salt and pepper, allowed to rest and dry-brine, then lightly smoked.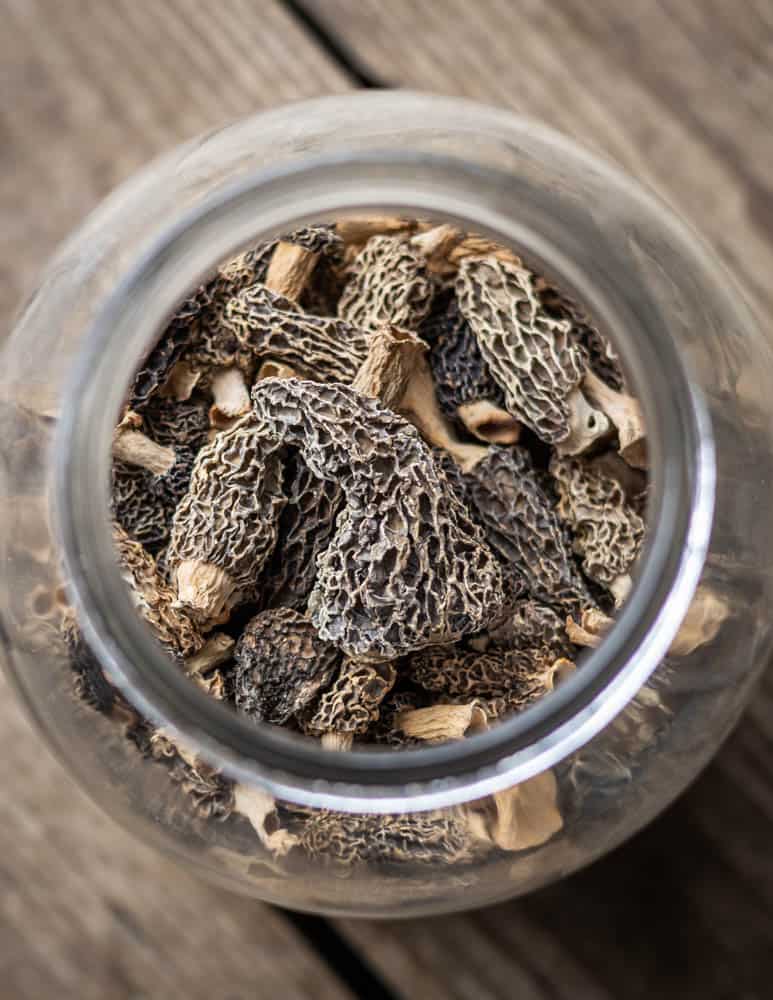 Dried mushrooms
This is a great place to use up those dried mushrooms. Morels work especially well here, and you will notice their unique flavor, but it's also a good place to put a mish-mash of species you might have. Black trumpet mushrooms are another good choice, or dried boletes like porcini or Leccinum species.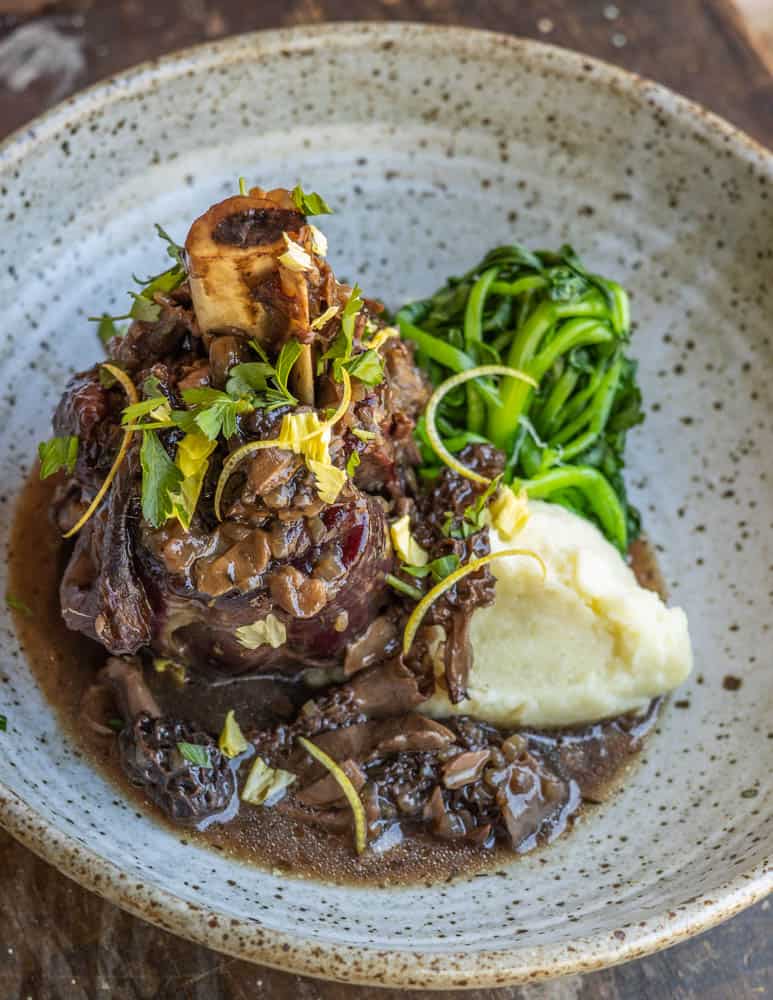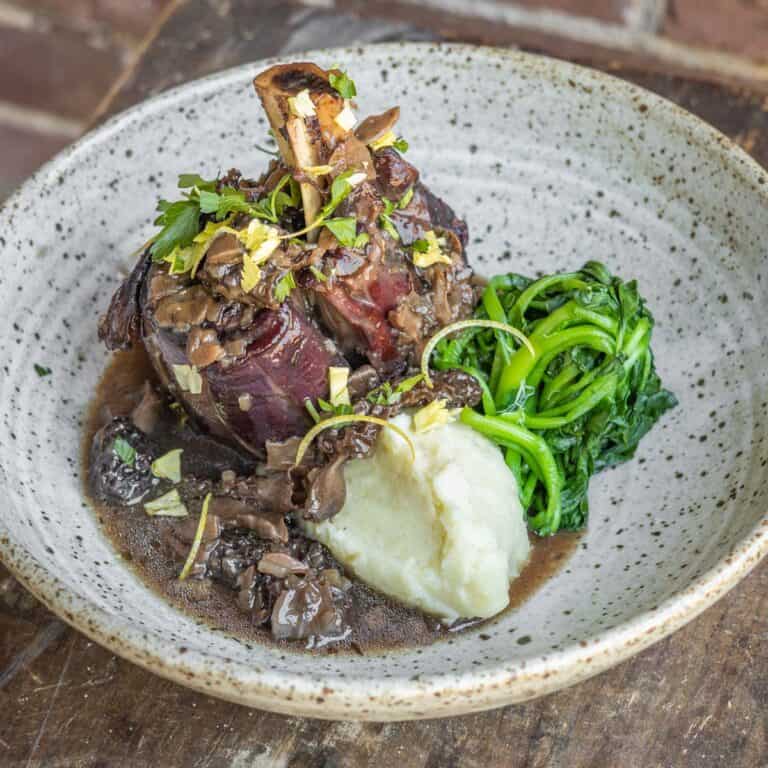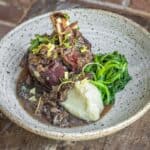 Print Recipe
Venison Osso Bucco with Dried Mushrooms
Rich, tender venison shanks lightly smoked and simmered with dried morels or other mushrooms, herbs and red wine make for a satisfying meal.
Ingredients
2

venison shanks

1

oz

dried mushrooms-your choice*

such as porcini or morels

1

large clove garlic

minced

1

large

2oz shallot, minced

2

tablespoons

cooking oil

1

tablespoon

all purpose flour

1

cup

dry red wine

3

cups

meat stock

1

dried bay leaf

½

teaspoon

dried thyme
Instructions
Dry brine the shanks
Season the shanks all over with salt and pepper, then allow to rest overnight in the fridge.
Mushrooms
Soak the mushrooms in the stock and wine for 30 minutes until hydrated, then agitate aggressively to help remove grit. Remove the mushrooms, cut into bite-sized pieces if necessary, and reserve.

After allowing the infused liquid to settle (5 minutes or so) pour the infused liquid into another container slowly, keeping an eye on the last tablespoon or two of liquid that will hold dirt from the mushrooms. Discard the last tablespoon or two so you don't add dirt to your braise.
Smoke the shanks (optional)
The next day, smoke the shanks at 250 for one hour. In a dutch oven, sweat the onion in the oil, then add the flour and cook for a minute more. Add the dried thyme, bay, stock-wine mixture and mushrooms, cover, and cook in a preheated oven at 250 for 3 hours or until fork tender.
Chill to improve flavor and shape
Chill the osso bucco to help them hold their shape.
Reheating and serving
To reheat and serve, gently heat the shanks in a pot with their cooking liquid, covered, reducing it down to a delicious jus. When it tastes delicious and the shanks are hot throughout, serve them, drizzling the jus over the top.
Notes
To plate the dish as pictured
To plate the dish as pictured with mashed potatoes and wilted greens, put a dollop of mashed potatoes or other starch off-center in a deep bowl. Put one shank next to the mashed potatoes (you don't put them directly on the potatoes as it will mush them). Arrange some hot wilted greens on the side, then spoon the mushrooms and cooking liquid over the top. Garnish with some chopped parsley and celery leaf, along with a few thin julienned slices of lemon zest and serve.
Nutrition
Serving:
1
Shank
|
Calories:
803
kcal
|
Carbohydrates:
9
g
|
Protein:
106
g
|
Fat:
26
g
|
Saturated Fat:
5
g
|
Polyunsaturated Fat:
6
g
|
Monounsaturated Fat:
12
g
|
Trans Fat:
0.1
g
|
Cholesterol:
390
mg
|
Sodium:
1538
mg
|
Potassium:
1539
mg
|
Fiber:
0.3
g
|
Sugar:
2
g
|
Vitamin A:
20
IU
|
Vitamin C:
1
mg
|
Calcium:
45
mg
|
Iron:
16
mg