Venison flank steak is a cut of meat that every deer hunter should know. This cut is one of the more under-used cuts on the deer, and it's easy to see why. Read on and I'll break down the particulars you need to know.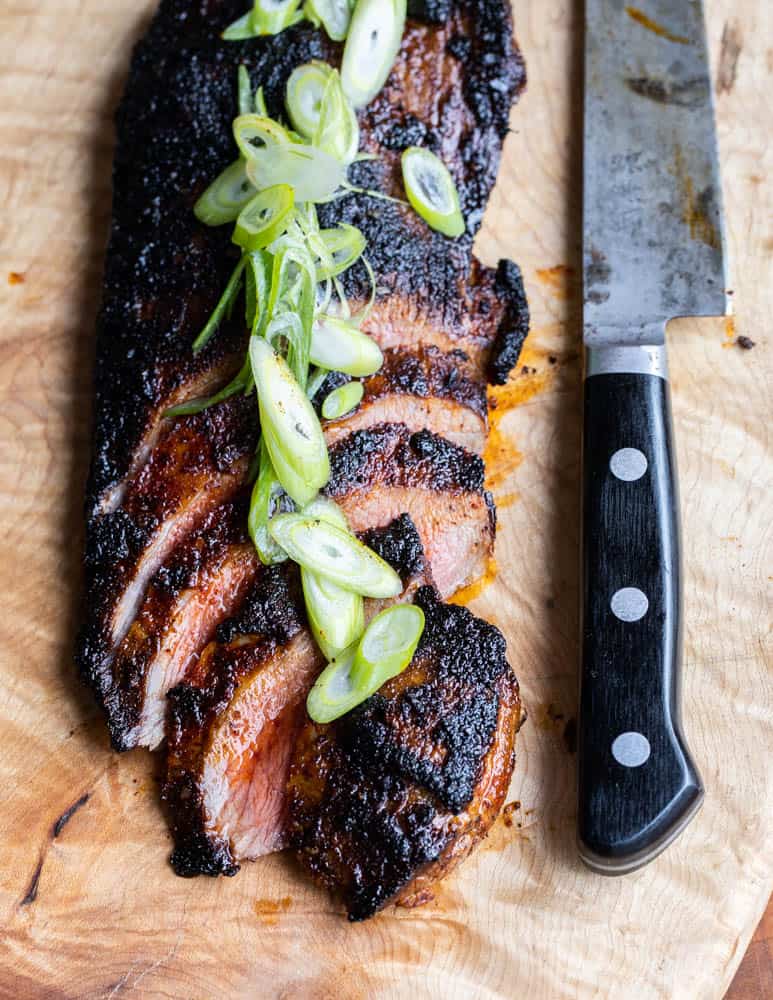 During butchery and gutting, it's easy for it to get bloodied and unattractive, but more specifically, I think one of the reasons this cut isn't on a lot of hunters' radars is that it's attached to the belly, which has a very tough piece of sinew that runs through it that even the slowest of braises will not make tender.
Thankfully, it's easy to remove the flank in one piece from the belly, and, even if it's bloody, a little soak and scrub in warm water should clean it up just fine.
(Ideally) remove the silverskin
This is another reason the flank might be overlooked or simply tossed in the grind pile. Flank steaks are not thick cuts of meat, and for the best results you'll want to trim them.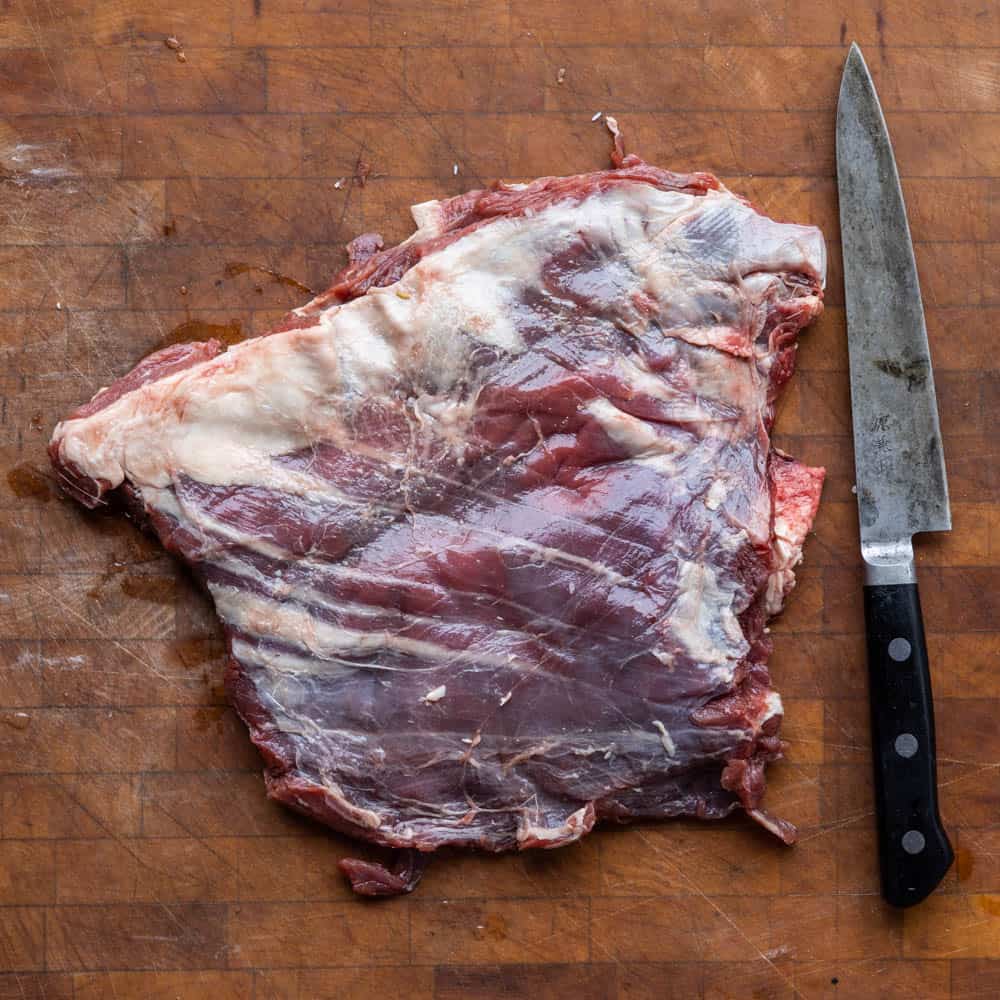 But, depending on the size of your deer, trimming the silver skin off that will make it bow and cup while cooking might not be practical. That being said, if you cut a flank steak from a smaller deer, it will still taste good, but it may curl a bit while cooking and brown unevenly. Nothing some blackening seasoning can't fix.
Cooking an untrimmed flank
This is not ideal, but, if you have a smaller deer, it may be practical. Muscles not trimmed of their fascia will bow and brown unevenly, but a flank will still taste good. In my mind it's a first world problem, and considering that a venison flank will still be reasonably tender, chewy and delicious, sometimes I may cook them untrimmed if the deer it came from was small.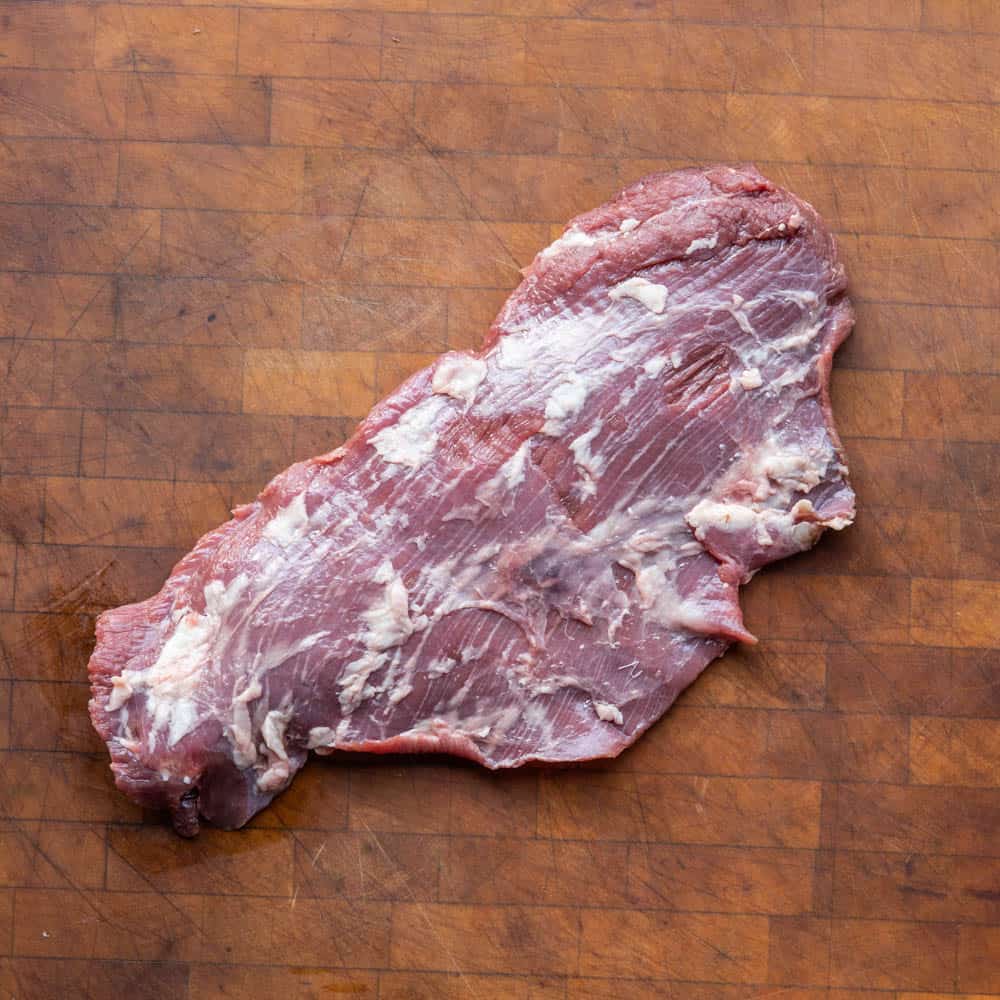 Cooking suggestions
Flank is a fantastic, quick-cooking piece of meat, ideal for grilling over a very hot fire or searing in a cast iron skillet. Here's a few ideas:
Marinate with oil, salt, pepper, and your favorite finely chopped herbs like rosemary, sage, and thyme (I never add vinegar to marinades).
Grill and slice thin for fajitas, tacos, etc.
Pound thin with a meat mallet and make into scallopinni
Pound thin with a meat mallet and cut into 3x3 inch squares, stuff with a mix of chopped capers, breadcrumbs and pecorino, roll up, close with a toothpick, brown and simmer in tomato sauce to make braciole.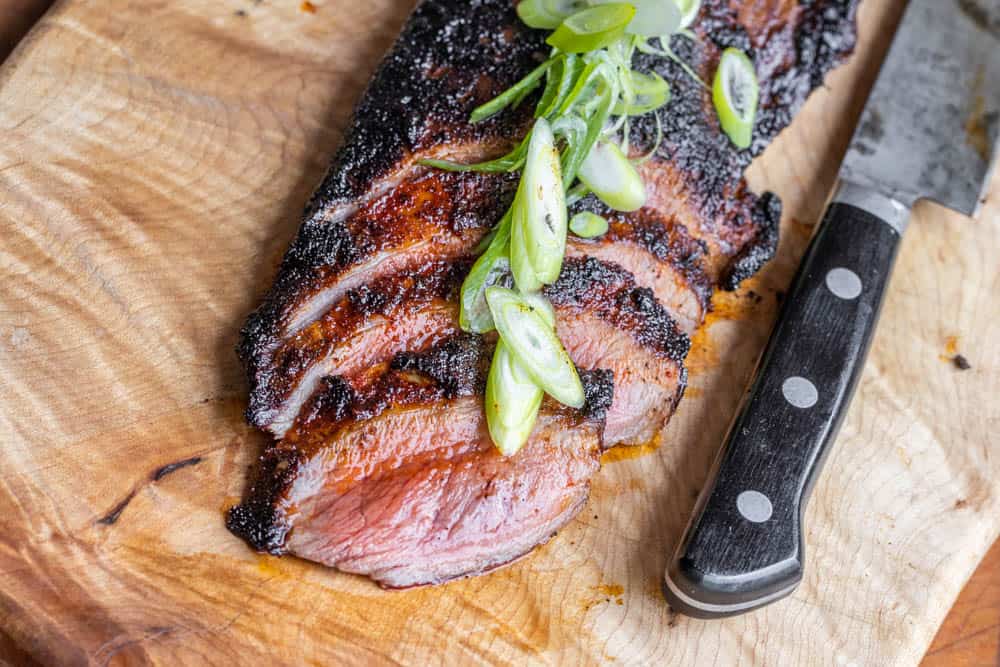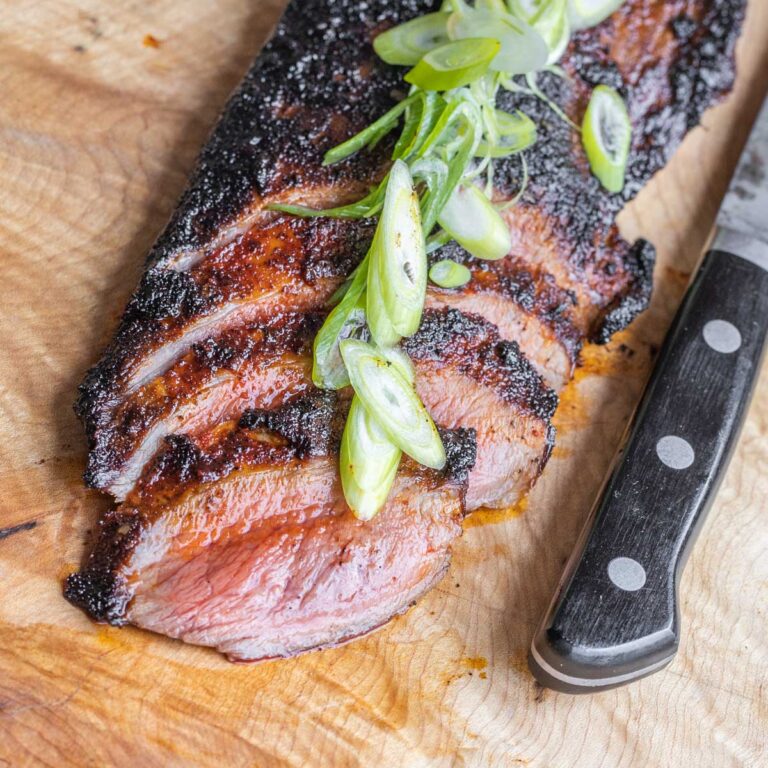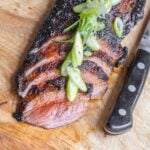 Print Recipe
Blackened Venison Flank Steak
A simple example of how you might cook a venison flank. They're also great on the grill. Serves 2 hungry people.
Ingredients
1

lb

venison flank

Kosher salt

about ½ teaspoon

2

tablespoons

blackening spice

see recipe

1

tablespoon

high heat cooking oil

Sliced green onions

for garnishing, optional
Instructions
Season the flank steak all over with salt and 2 teaspoons of the oil and allow to rest in the fridge uncovered overnight, or for at least a few hours.

Remove the flank steak from the fridge and allow to come to room temperature before cooking.

Heat a 12 inch cast iron skillet until smoking hot, adding the remaining teaspoon of oil to the pan and rubbing around with a towel so the pan is evenly greased.

Press both sides of the steak in the blackening spice, then put in the pan and cook on high for 1 minute per side, or until blackened.

Remove the steak to a paper towel to weep liquid and keep in a warm place for 5 minutes.

Slice steak and serve.
Nutrition
Serving:
4
oz
|
Calories:
272
kcal
|
Protein:
52
g
|
Fat:
5
g
|
Saturated Fat:
2
g
|
Polyunsaturated Fat:
1
g
|
Monounsaturated Fat:
2
g
|
Cholesterol:
193
mg
|
Sodium:
1181
mg
|
Potassium:
721
mg
|
Calcium:
11
mg
|
Iron:
8
mg