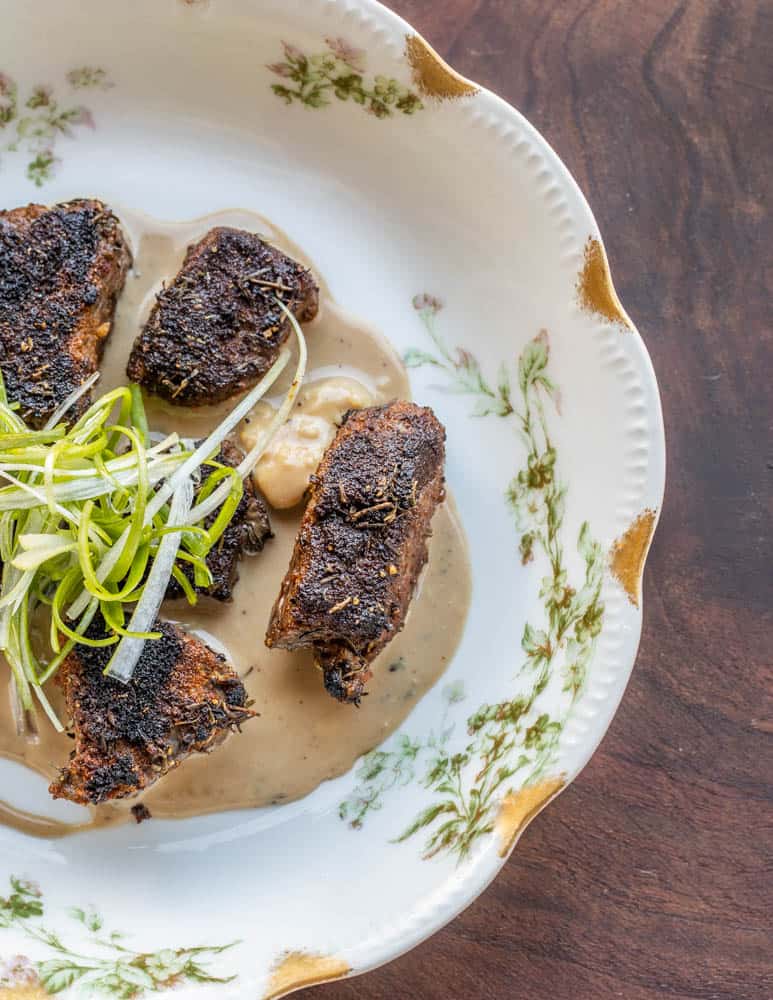 Blackened venison tips are a secret of fine meat cutting and butchery, and a perfect example of things I squirrel away for myself when butchering deer with friends.
When you cut out a venison backstrap / loin there's some trimming involved. Before you remove the silverskin, you remove another muscle called the chain, a sort of raggedy-looking piece of meat with some fat and sinew here and there. That long piece of meat may not be as prized as the lean, tender backstrap, but it's still part of the muscle, and it's still tender and delicious.
Other cuts for venison steak tips
While backstraps are the most delicious, you can make venison steak tips with a couple different cuts.
Top round
Backstrap
Inner loin
"Gooseneck" the small cylindrical roast attached to the top round.
What I want to share with you here is a delicious recipe I make every year with my tips, but more so, I want to invite you to consider the chain and trim from your backstraps, and encourage you to never, ever put them in your grind pile.
Balsamic Blue Cheese Sauce
The following recipe for blackened tips, and the sauce that accompanies them were the signature appetizer at an Italian restaurant I worked at run by a chef from Milan, Italy. The sauce especially is a great compliment for meats of all kinds, but it's pictured here exactly as we served it in the restaurant. I can pretty much guarantee it will be one of your new favorite sauces.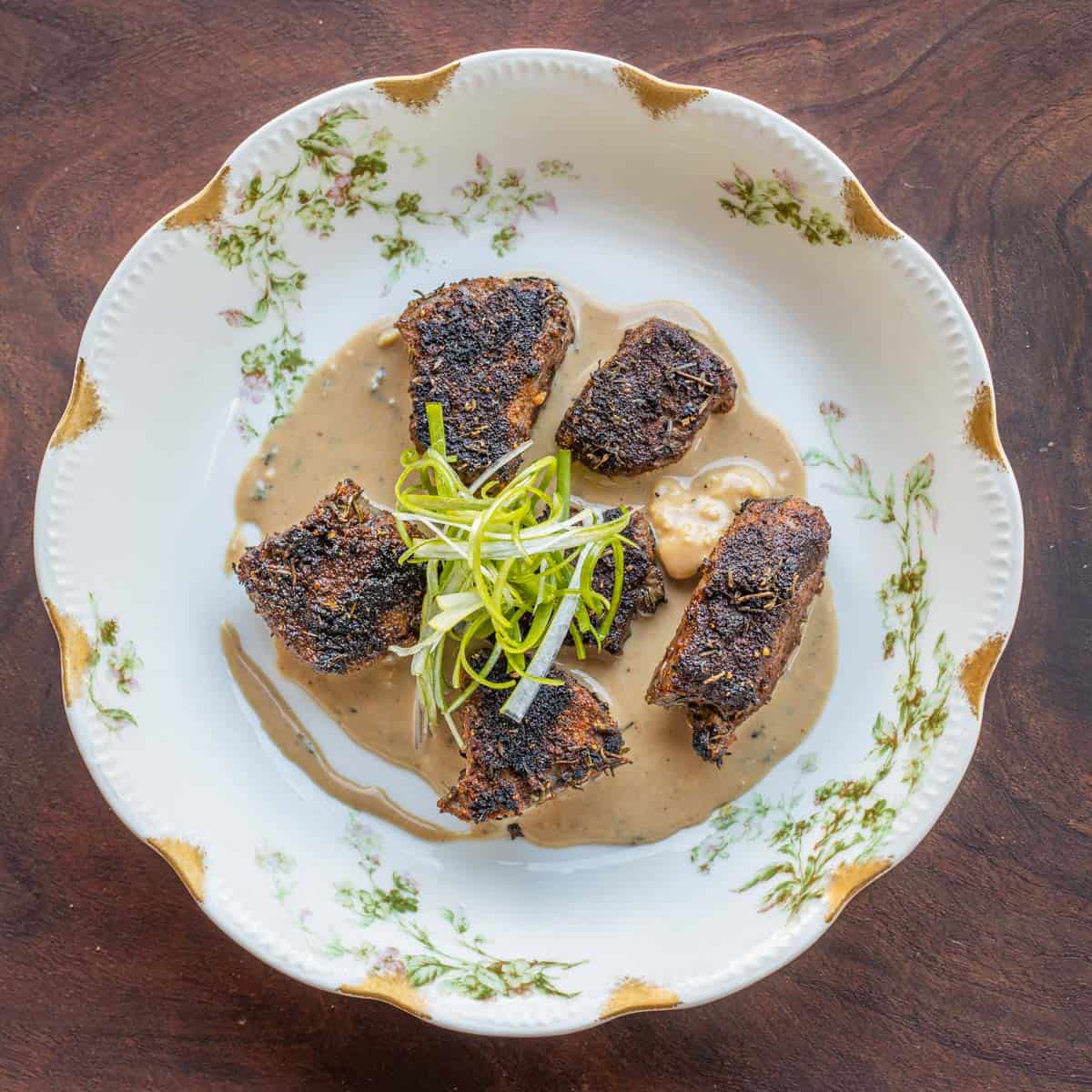 Blackened Venison Tips with Balsamic Blue Cheese Sauce
Spicy tender blackened venison backstrap tips with balsamic blue cheese sauce.
Ingredients
8

oz

venison tips

cut into bite-sized pieces

1

recipe blackening spice

see recipe

½

teaspoon

Kosher salt

Small handful of finely julienned green onions

soaked in ice water

3

teaspoons

high heat cooking oil

1

recipe balsamic blue cheese sauce

warmed (see recipe)
Instructions
Toss the venison tips with the salt teaspoon of the oil and allow to rest overnight in the refrigerator, covered, or for at least for 30 minutes to allow the salt to penetrate.

To cook the tips, heat a 12 inch cast iron skillet with the remaining oil, rubbing the oil around with a paper towel to make sure the whole pan is lightly greased.

Turn on a fan, turn off the smoke detector, or open a door (or cook them in a cast iron skillet over a fire outside).

When the pan is smoking hot, press the tips on two sides into the blackening seasoning in a mixing bowl, then put into the hot pan. Cook the tips on both sides for a minute or two until blackened, then remove to a paper towel to weep liquid for a moment while you sauce the plate.

Put ¼ cup of the sauce the middle of an appetizer sized plate, the arrange the tips on it without them touching each other. Garnish with the julienned green onions and serve with toothpicks.
Balsamic Blue Cheese Sauce
A rich sauce of blue cheese, cream, and balsamic vinegar. It's a perfect compliment to steaks, venison and pork. Makes 1 cup
Ingredients
¼

cup

balsamic vinegar

4

oz

good blue cheese

½

cup

heavy cream

¼

teaspoon

dried thyme
Instructions
In a small 1 quart sauce pot, heat the balsamic vinegar, thyme and the cheese, cooking until the mixture is reduced by half.

Add the cream, bring to a simmer and reduce for a few minutes more until thickened to your liking, then serve. It is excellent with steak and pork.
Homemade Blackening Spice
Easy homemade blackening spice
Equipment
Heavy pan, like cast iron
Ingredients
5

tablespoons

sweet paprika

2

teaspoon

garlic powder

1

tablespoon

onion powder

2

tablespoons

dried thyme

1

tablespoon

ground black pepper

1

teaspoon

cayenne pepper

or more to taste
Instructions
Mix all ingredients together, then store in a labeled, dated container, it will last for 6 months in a cool, dry place.
Notes
If you want to try this, cook a test mushroom with my spice blend below. If you want it more spicy, add some cayenne, but it's easier to add spices to a blend than it is to remove. It took me 3 batches of trial blends to get one that I thought was balanced.
Brushing the mushrooms with beaten egg white is optional, but will give you the best crust.