For years I've been searching for a way to candy wild plums into a tart, sweet preserve where the texture is firm, but tender. This is one of the best wild plum recipes (as far as preserving goes) I've had. It should be as it's taken me about 4 years to dial it in properly.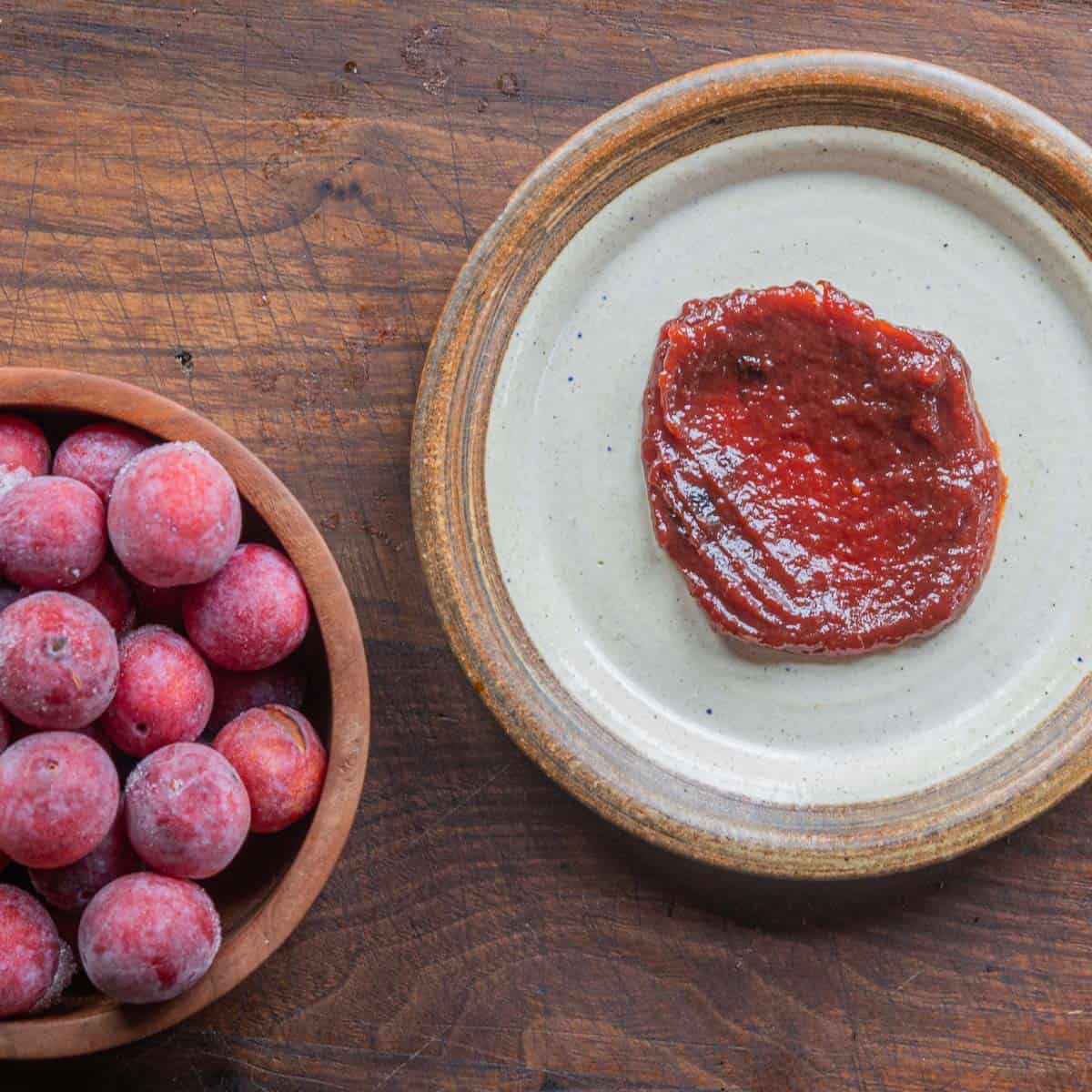 The Secret
The key is the classic candying procedure where an ingredient is cooked for a number or days slowly in a syrup that gets gradually more and more concentrated, a method I modified from my friend Amy Thielen, who modified her's from an old recipe in Time Life Magazine, if I remember correctly.
Before I forget, too, since there's a number of them, I'm speaking specifically about American wild plums (Prunus americana) here, as they're the most well-known wild plum in my area.
A Classic Method of Preserving Fruit
The candying liquid penetrates and changes the integrity of the plums, turning them from astringent, mouth-drying bites that beg you to suck out the pulp and spit out the skin, into soft, pleasantly tart little orbs with tender skin.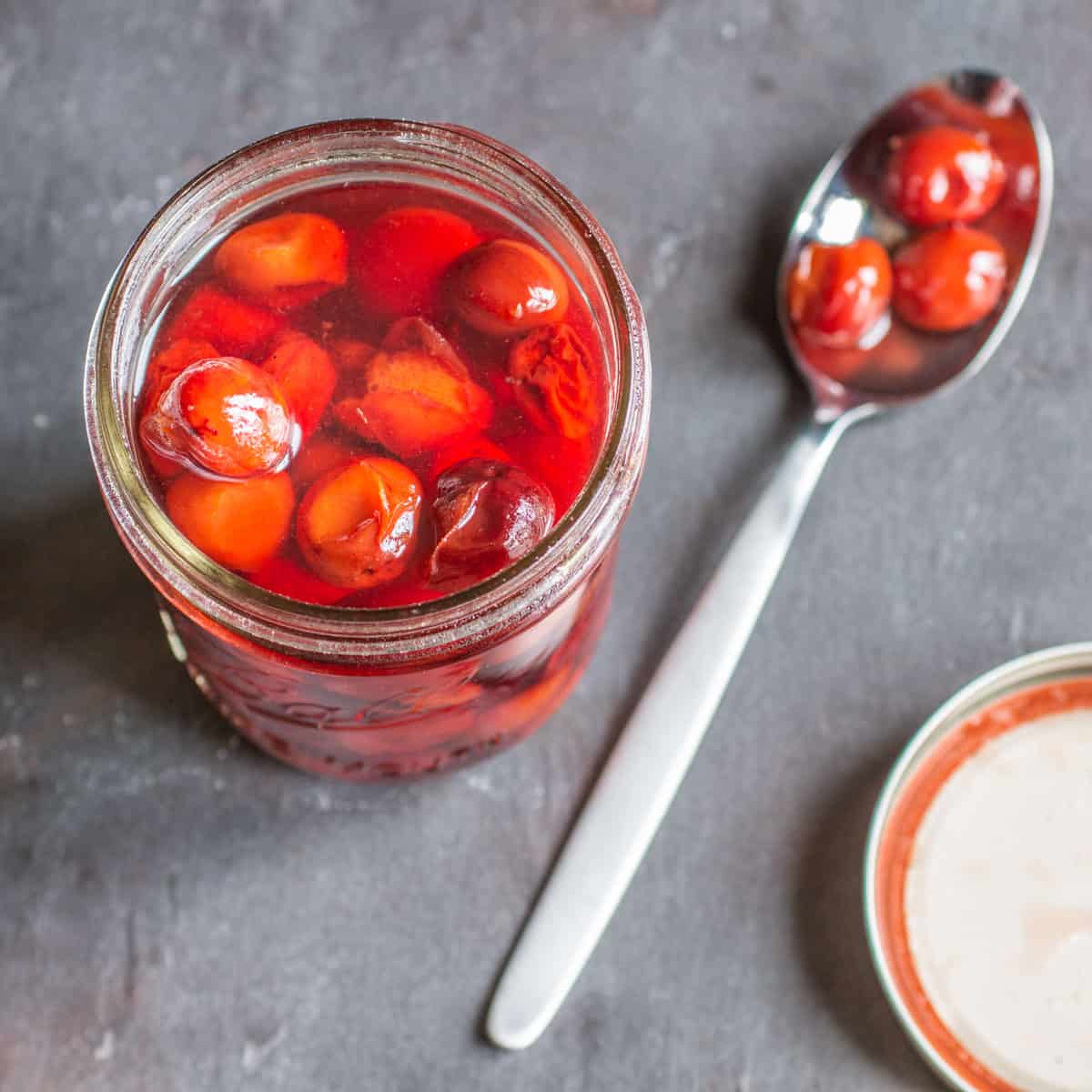 If you've ever had marrones glace, (candied chestnuts), you'll understand what we're going for here: the gradual cooking with syrup is magical in how it transforms the texture of the plum flesh.
That being said, the sugar syrup, and the method outlined here, can be used for a lot more than just plums: citrus zest, angelica stems, tiny whole apples like chestnut crabs (peeled), thin peels of fresh ginger, all kinds of stuff. When you're finished candying the wild plums, they make great additions to all sorts of things, if, you can stop yourself from eating them out of the jar.
If you tell people beforehand, you can leave the stones in, say, if you wanted to make something like clafoutis (to die for with these) since, just like olives, wild plums taste better stone-in.
Generally, I leave the stones in at home, and discard them in a dish as I eat. If I'm serving the plums to others, especially in a pay-to-eat format, I remove the stones, because liability.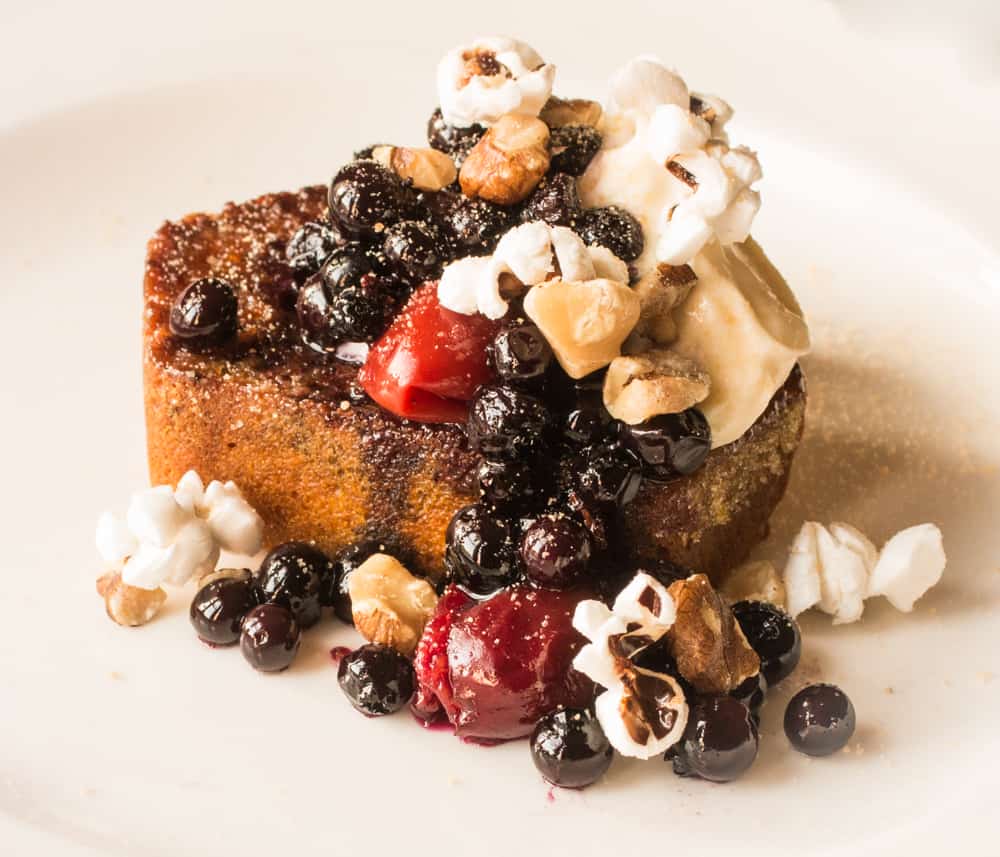 Over the course of my career, I've seen way too many guests bite hard things they probably shouldn't, and too many restaurants not be as watchful over things as they should've been. Even an old crouton made from lean or under-proofed bread can break the tooth of someone with a delicate mouth just like a rock.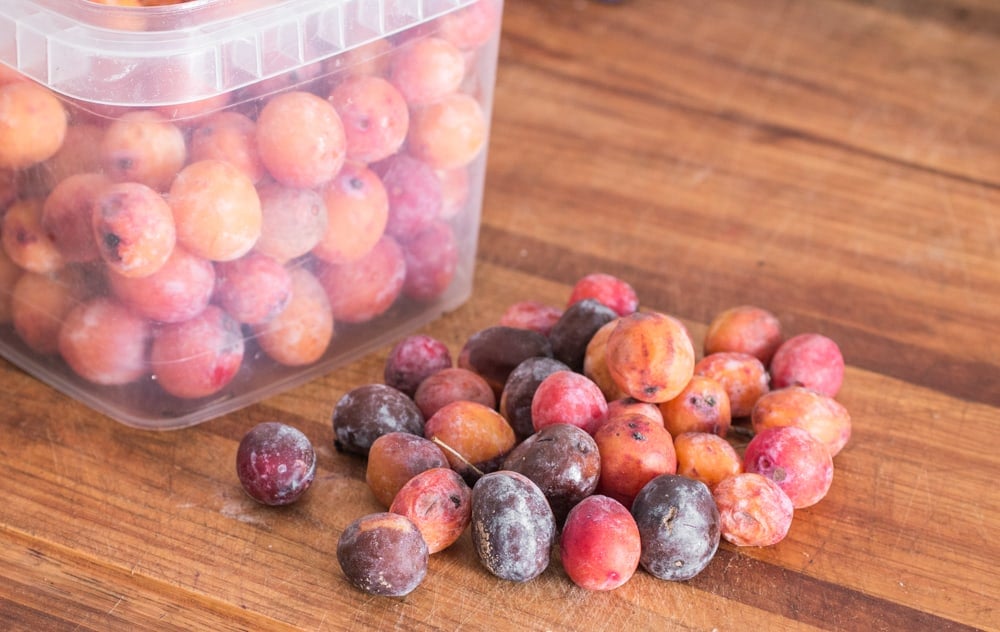 The ol' paper bag trick
The last thing to mention is the ripeness of plums: how to get them there, and the importance of it. For the first few years I tried to make these, I had a hell of a time getting consistent results--it just didn't happen. Some plums would be perfect, tender jewels, others would be chewy, desiccated, or so soft that they exploded during the candying process.
This was because my plums were at different stages of ripeness when I cooked them. You see, wild plums are tricky, and don't seem to like ripening evenly on the tree like cultivated ones. Putting the plums in a bag for a day or two was what seemed to do the trick for me, you end up losing a few to over-ripeness, but the majority ripen nicely.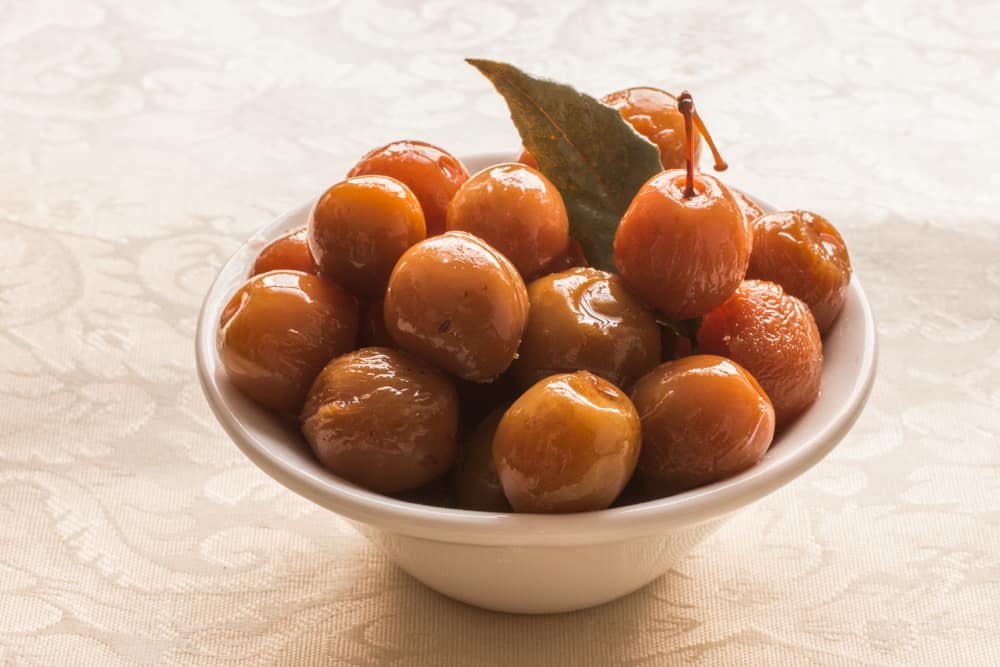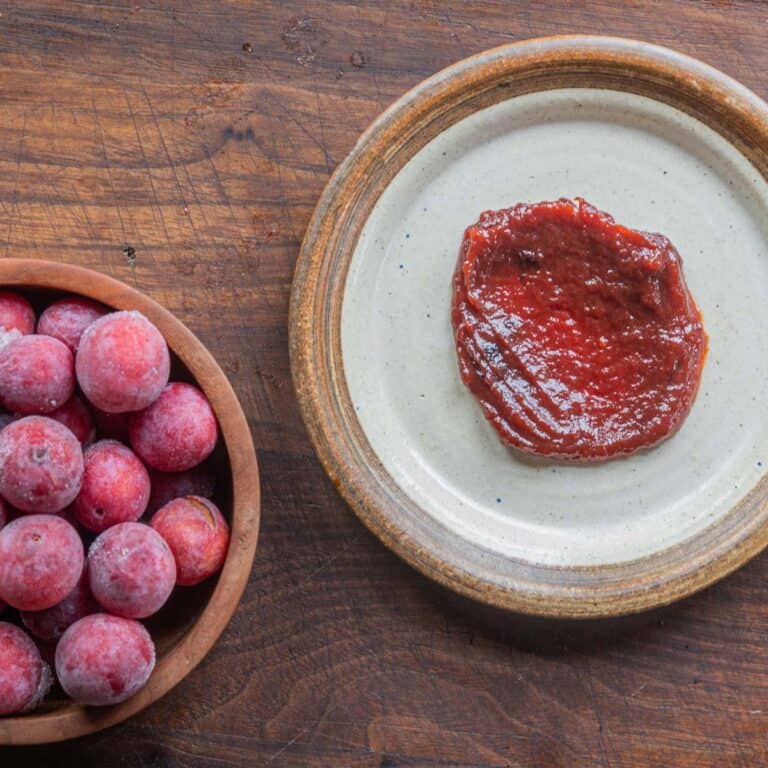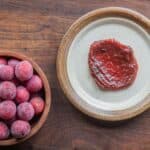 Print Recipe
Sweet and Sour Candied Wild Plums
A gently candied preserve of wild plums that's great for canning. Makes 3 pint jars.
Equipment
Mason jars, water bath canner (optional)

1 large mixing bowl

1 Soup pot or pasta pot
Ingredients
Plums and Syrup
3

lbs

wild plums

5

cups

apple cider vinegar

2

cups

water

8

cups

white sugar
Spices
1

two-inch cinnamon stick

1

tablespoon

black peppercorns

1

tablespoon

minced ginger

1

tablespoon

allspice berries

Zest of half an orange, peeled
Instructions
Prick each plum with a needle (in a pinch I use a paper clip stuck through a wine cork).

Toast the spices except the ginger and zest if using, then tie the spices, ginger and zest in a piece of cheesecloth to make a sachet for easy removal.

Bring the sugar, sachet, water and vinegar to a rolling boil for a few minutes, then carefully pour over the plums. Cover the bowl with cling film, or something else to hold in moisture and refrigerate overnight.

The next day, carefully remove the plums with a spider or large slotted spoon. Put the syrup back in the pot and bring to a boil for a few minutes to concentrate it, then carefully pour back over the plums and cover again with cling film. Cool the plums overnight and repeat the process one more time.

To can the plums, warm the plums by heating the bowl containing them and the syrup, discard the sachet, then strain out the warm plums into freshly sterilized jars, boil the syrup, and top the jars off with it, leaving ½ inch headspace. *(See note)

Screw on the lids and process for 15 minutes in a water bath, then cool to room temperature and store. Transfer any jars that have not formed a seal to the fridge and eat within a month. Sealed jars of candied wild plums will last a long time.
Notes
Canning
I have to be honest that I do not process my jars of plums in a water bath. Since the recipe contains sugar, vinegar, and a multi-step saturation process I hardly find it necessary. I simply fill the jars with plums and boiling hot syrup nearly to the brim, screw on the lids tight, and turn the jars upside down to seal, but if it makes you more comfortable to can them in a water bath instead, go right ahead!
Serving ideas: 
Warm up the plums and serve on ice cream
Eat out of the jar 
Stone and add to different desserts 
Use in place of cherries
Clafoutis, clafoutis, clafoutis, 
Nutrition
Serving:
2
oz
|
Calories:
200
kcal
|
Carbohydrates:
590
g
|
Protein:
4
g
|
Fat:
3
g
|
Saturated Fat:
0.2
g
|
Polyunsaturated Fat:
0.3
g
|
Monounsaturated Fat:
1
g
|
Sodium:
36
mg
|
Potassium:
800
mg
|
Fiber:
8
g
|
Sugar:
5
g
|
Vitamin A:
800
IU
|
Vitamin C:
44
mg
|
Calcium:
95
mg
|
Iron:
2
mg
More
Foraging and Cooking with Wild Plums