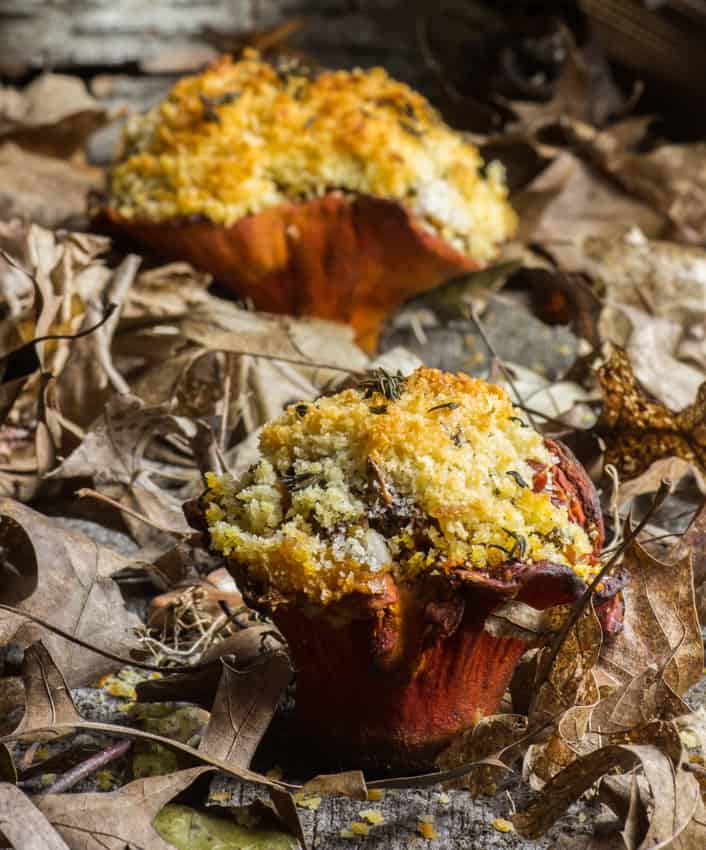 After lobster season has been at it for a while, you can find some really large mushrooms. The shape of lobsters can be irregular, but you can always count on a couple here and there that are big and concave-more than once I've heard my friends refer to them as giant tacos.
If you're like me, when you see food that has negative space, like a hollowed out squash, crustacean shell, potato skin, or in this case, a giant lobster mushroom, you want to fill that space with something. Somehow, someway, you want to stuff it, just to see what it's like.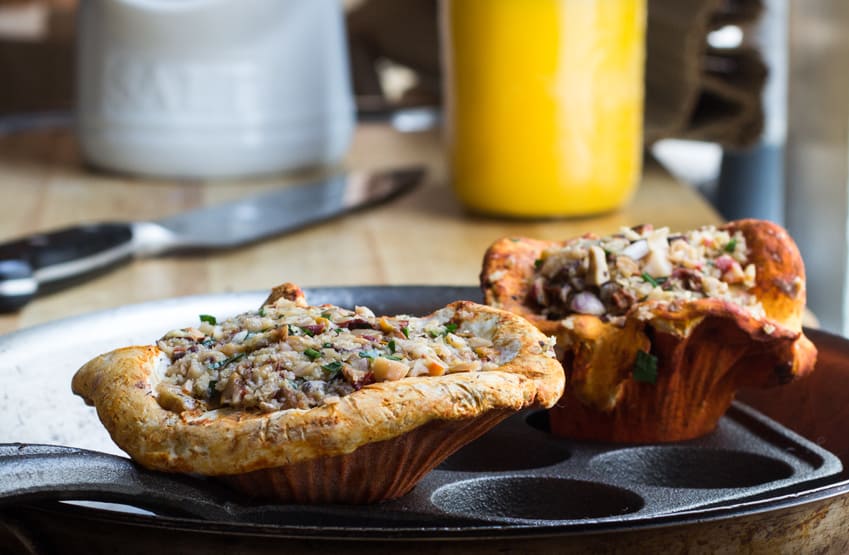 I pride myself on making creative, unusual things, so at first when I thought about stuffing the giant lobster mushrooms I kept seeing I wrote it off as cliche, since stuffed mushrooms have already been covered in every edition of Betty Crocker.
Not every lobster mushroom is big enough to stuff , but when I find the giant taco-shaped-begging-to-be-filled-variety, I feel bad chopping them up into pieces.
If there's one thing I've learned about vegetables and obscure ingredients, it's that they often have funky shapes, (romanesco or cardoons for example) finding ways to show that off makes me feel like I've done the ingredient justice; made it extra special.
So what do you stuff a giant lobster mushroom with? Well, when I made this I was still working at Heartland, where we only used freshwater fish. I'm a sucker for forbidden fruit though. A fun way to treat myself was (and still is) making regular trips to Coastal Seafood in St. Paul to see what kind of funky fish things they have on hand.
Once in a while one of the guys there used to call me when they would get whelks- are a special treat. Needless to say we're stuffing lobster mushrooms with shellfish here.
If you've never had a whelk, just imagine eating a giant clam that's shaped like a snail. The flavor is clammy, but a little more chewy and deep. For the stuffing in the recipe, you could use clams or mussels and get the same effect, the only reason I had whelks laying around is because I ordered them for a private party and had some leftover to play with.
The stuffing recipe itself is very basic, some sauteed lobster mushrooms, aromatics, herbs, breadcrumbs, butter and whelks. Just enough egg is added to the stuffing to make it seize up, I wanted it to be firm enough to be sliced and hold it's shape, since it wouldn't be any fun if all the stuffing fell out when you cut into the mushroom.
One more thing-I can't forget to mention that for added fun, the lobster mushrooms stuffed with lobster mushrooms are topped with lobster mushroom butter before baking. Now say that five times fast.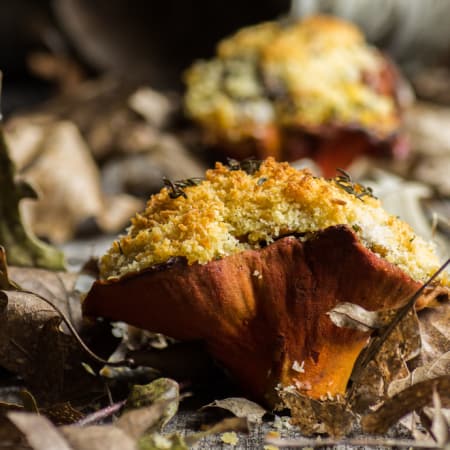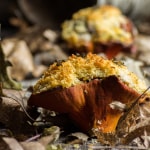 Print Recipe
Stuffed Giant Lobster Mushrooms
Serves 4 as a main course. Great with a salad and some green vegetables.
Ingredients
4

large lobster mushrooms

around ¼ lb each

2

cups

lobster mushrooms

diced ½ in

1

cup

whelks

clams, mussels or shrimp, roughly chopped

2

tablespoon

fresh chopped parsley

teaspoon

fresh chopped thyme

¼

cup

panko breadcrumbs

plus ½ cup for baking

4

tablespoon

lobster mushroom infused butter

or unsalted butter

2

tablespoon

shallot

diced ¼ in

1

large clove garlic

minced

1

teaspoon

fresh grated lemon zest

1

large egg

plus one yolk

2

tablespoon

unsalted butter

Kosher salt and fresh ground black pepper to taste

Mild cooking oil

like grapeseed or canola
Instructions
Using a paring knife, clean out the cavity of the lobster mushrooms, taking off a little extra trim than usual to fit more stuffing.

In a saute pan, melt the butter, add the diced lobster mushrooms and cook until lightly browned, seasoning them lightly with salt and pepper. Add the shallot and garlic and cook until translucent, about 3-4 minutes. Add the panko and herbs, stir to incorporate, then allow the stuffing to cool. After the stuffing has cooled, stir in the chopped whelks or whatever you're using, and the egg and yolk. Double check the seasoning for salt and pepper (cook a tablespoon or so if you're scared of raw egg) and reserve.

Next, heat a saute pan with some oil until lightly smoking. Brown the lobster mushrooms lightly on each side to deepen their flavor, then allow them to cool until they can be handled, you do not need to cook them through since they will bake in the oven.

To fill the mushrooms and roast, season the lobster mushrooms inside and out lightly with salt and pepper, then pack them full of stuffing, top with breadcrumbs, then with lobster mushroom butter and herbs and roast at 375 for 25- 30 minutes, or until completely cooked through.
Notes
A quick note on equipment: I used an ebilskiver pan in the pictures to steady the mushrooms in the oven so they don't tip. Some pie weights, crumpled aluminum foil, or something similar would work too.
Related Links
Guide to Lobster Mushrooms

Braised whelks
Whelks
Water
Kosher salt to taste
Fresh herbs, like thyme and bay leaves
Black peppercorns
A few tablespoon cornmeal
½ yellow onion, skin on
Method
Cover the whelks with water. Add the cornmeal to the water and allow them to sit overnight. Sitting in the water allows the whelks to purge dirt from their systems.
The following day, bring enough water to cover the whelks to a boil with the onion, herbs and peppercorns, and season to taste lightly with salt. Reduce the heat on the water to a simmer, and cook for five or so minutes to perfume it with the aromatics. Add the whelks and cook for 2 minutes, then remove them and allow them to cool.
Using a pin, paperclip, or a needle, remove the whelks from their shells by piercing the flesh with the needle and twisting. Cut off the hard "foot" from the whelks using a paring knife.
Now, to make sure the whelks were purged enough, I would eat one, sliced. If there are gritty, sandy bits in them, you will need to remove the intestinal tract, I made a video of that here. If the whelks are free of grit, then you can chop them roughly and add to whatever you're using. Or pound them lightly with a mallet to tenderize like you might scungilli or conch, bread and fry.