Nannyberry pudding has been the latest wild fruit cypher I've been trying to crack. After I made my first batch of nannyberry (Viburnum lentago and similar) butter/puree, I knew it would be a beginning, not an end. I knew reducing the water and cooking the fruit pulp slowly into a thick concentrate will be great on buttered toast, sure, but what isn't? I'm fascinated by the way people have cooked with fruit preserves over time, but particularly the ways that individual fruits are used.
If there's a recipe that calls specifically for gooseberries, chokecherries, honeyberries, nannyberries, paw paws, aronia, or other off-the beaten-path fruit, I have to try it. As for the nannyberries, the fruit pulp itself has the consistency of banana a bit after cooking and straining, with a rich, dark overtones of ripe raisin, and, like apples, it needs no added pectin to make a thick jam or puree. Besides the basic fruit puree with it's apple-buttery consistency though, it was hard to find derivative recipes using it.
The obvious first choice with the banana comparison might seem to be banana bread, and sure, you could do that. But, quickbreads require a lot of puree, and it seemed like a waste of my nannyberry butter to do that (persimmon bread is great though!). Eventually I started seeing references to nannyberry pudding here and there online, but I couldn't find a recipe at first. You might think of pudding as easy and straightforward, but, depending on who's making it, it could be a few different things.
In the western world, some of those things aren't going to be served with whipped cream and a cherry, blood pudding, for example. Ok, I know that's a stretch. Of course nannyberry pudding isn't savory! you might think, and you'd be right. Basically, The burning question I wanted answered was: Is nannyberry pudding a custard-y, spoon-able pudding, like Americans buy in dry packet form, or, is it a more solid, bake-steamed version like historical figgy pudding of Christmas carol fame? After a few weeks of researching in my spare time I don't have any definitive evidence either way, and now, after eating a few different things made with it, I think it's a moot point and I don't care either way. Nannyberry puree will make a great pudding no matter what incarnation is used, the only problem is there aren't many templates available. That being said, if you know anything about "traditional" nannyberry pudding(s), shoot me a line.
The references I could find mentioned that the nannyberry pudding was "unmolded", which made me assume it was set pretty firm--either set with egg, with starch, or both. Pastry cream is set with both thickeners, so I used it as a starting point, since I like the richness eggs or just their yolks add.
A cornstarch version I saw made with water and nannyberry didn't sound very appealing, so, I used dairy, scented it lightly with spices, and turned the whole thing into a pastry cream thick enough that it can be un-molded and sliced like a chocolate marquis, since I like the clean look of the slices, and because they're easy to dress up with a few extra things to direct the flavors however you like. In the end they were a rabbit hole in themselves. I started messing with flavor partners that would taste good with things like raisins or bananas, and I just couldn't make up my mind, but that's a good problem have.
Using bananas as a flavor reference is probably the best advice I can think of here,, and imagining things like orange peels, nuts, and warm spices like nutmeg and ginger. Coconut could work in the background too. The two examples here are the winners: one that used an orange custard sauce, with sauteed apples, ripe persimmon, and toasted, freshly cracked butternuts, and another with whipped cream or creme fraiche, black walnuts, and chokecherry syrup.
If you find yourself wanting some purity, the pudding was just as good straight up with nothing more than some whipped cream and a drizzle of maple syrup, too. Either way, if you try making the basic pudding I outline you'll have more than a few slices to experiment with.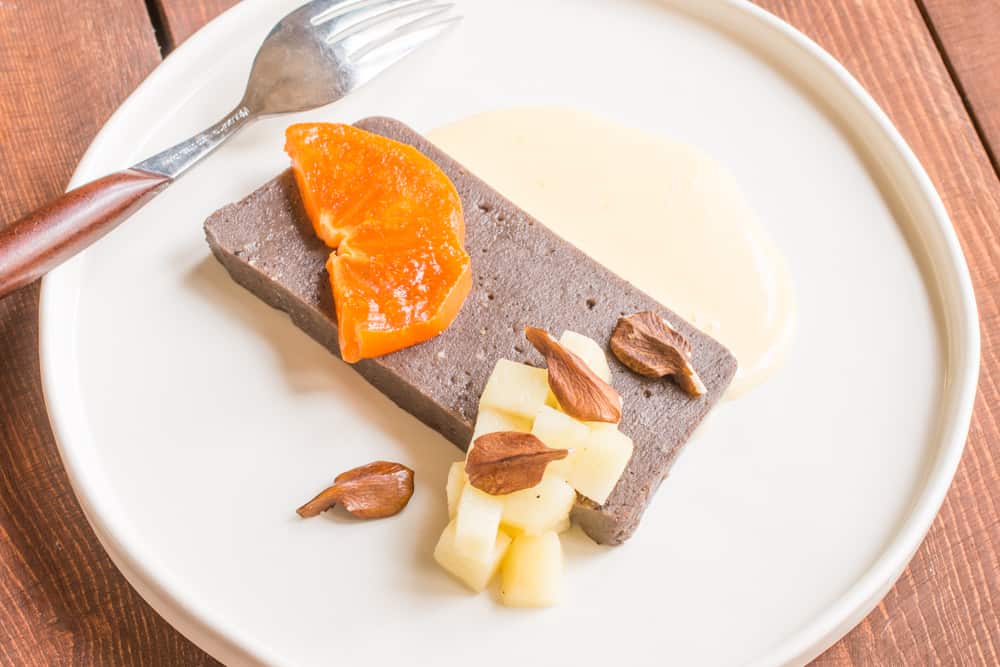 One last thing: mousse. A trick I have for playing with anything that "sets" with starch or gelatin, is by incorporating some sort of lightened, airy mixture into them while they're setting, as you would with a Bavarois/bavarian cream, and other fun, deliciously fluffy things like chilled souffles. If you want to know how to do that, check out the nannyberry mousse-- ituses the recipe below as a starting point.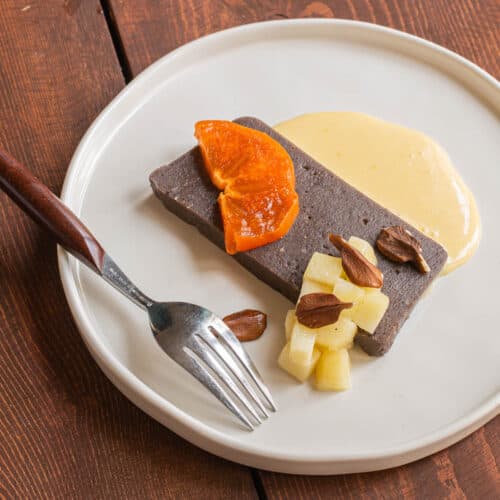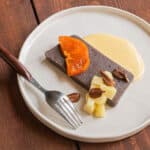 Print Recipe
Nannyberry Pudding
A rich molded nannyberry pudding . Serves 6-8
Equipment
3-4 cup mold, ramekin, or custard dish
Ingredients
¾

cup

very thick nannyberry butter

1

cup

half and half

¼

cup

sugar

depending on how sweet your nannyberry butter is you might need to add an extra ¼ cup-use your instincts here.

4

tablespoons

cornstarch + 4 Tablespoons water

1

tablespoon

fresh lemon juice

A few scrapes of fresh orange zest

finely grated

Dash Gran Marnier or Tuaca

optional

¼

teaspoon

cinnamon

4

tablespoons

unsalted butter

Good pinch of salt

2

large egg yolks
Garnishing and Serving Ideas
Orange Creme Anglaise

Diced sauteed apples

Toasted nuts

preferably freshly cracked

Slices

or scoops of ripe persimmon
Instructions
Oil a small 3-4 cup souffle mold, or individual custard dishes, then line with cling film.

Mix the cornstarch, ¼ cup sugar, egg yolks, orange zest, pinch of salt, lemon and water to make a slurry.

Heat the nannyberry butter and the half and half, whisking, until hot and steaming, but not boiling.

Stir in the cornstarch-egg slurry and whisk constantly, keeping the heat at medium, until the mixture thickens, then turn the heat down to as low as possible and continue whisking for a few minutes more, or until you can tell the cornstarch is completely activated.

Take the pan off the heat and whisk in the butter, then transfer the pudding to the prepared mold(s) and refrigerate overnight, or until the pudding is set and able to be unmolded. Slice with a long sharp knife, wiping off the blade in between every slice for the cleanest result.

Serve with your choice of garnishes.
Notes
The garnishes are up to you, just imagine raisins and bananas. Orange is my favorite partner so far though.