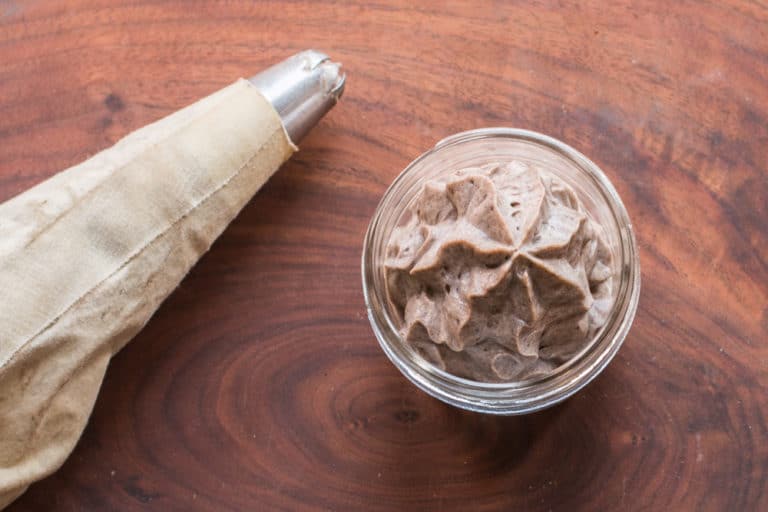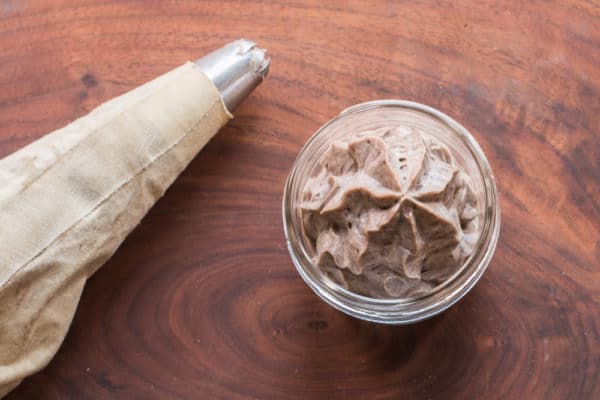 Once I made my nanny berry butter, and then used it to start working on a nannyberry pudding, I wanted to figure out different ways to serve it. The cornstarch pudding (see the recipe here) is a hybrid between pastry cream and thick cornstarch pudding resembling Russian kissel.
After the pudding sets, I cut it into slices and garnished them with a few complimentary flavors that go well with bananas or raisins. As I worked, I wondered if I couldn't use the derivative recipe in another way similar to one of my favorite desserts set with gelatin: the bavarois, or bavarian cream. A bavarian is basically a panna cotta with whipped cream or egg whites folded into it when the mixture is chilled to begin setting.
Whipping a little extra cream is extra work, sure, but the lightness of air bubbles pays off in spades as a delicious way to relax and add delicateness to something that would otherwise be a little heavy. As a bonus, the cornstarch and egg combo gives a strong set, which translates to a bulletproof mousse that you don't have to worry about falling and losing volume if it hangs out in the fridge or in some custard dishes for a few days, which means that it's also great to make ahead, up to 2-3 days.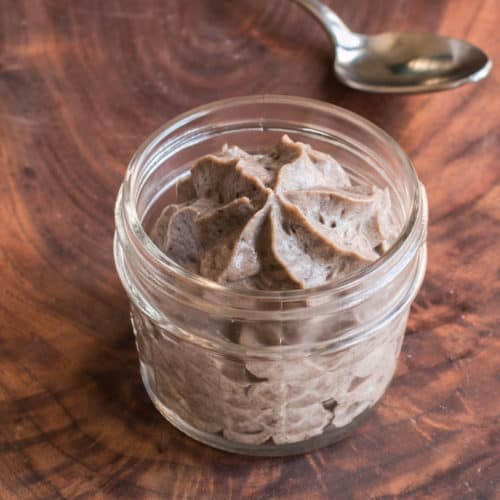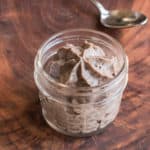 Print Recipe
Nannyberry Pudding
A rich mousse made from nannyberry preserves. Serves 6-8
Equipment
Ramekins or Custard Dishes, Beaters or Stand Mixer
Instructions
Nannyberry Pudding
Oil a small 3-4 cup souffle mold, or individual custard dishes, then line with cling film.

Mix the cornstarch, ¼ cup sugar, egg yolks, orange zest, lemon and water to make a slurry.

Heat the nannyberry butter and the half and half, whisking, until hot and steaming, but not boiling.

Stir in the cornstarch-egg slurry and whisk constantly, keeping the heat at medium, until the mixture thickens, then turn the heat down to as low as possible and continue whisking for a few minutes more, or until you can tell the cornstarch is completely activated.

Take the pan off the heat and whisk in the butter, then transfer the pudding to the prepared mold(s) and refrigerate overnight, or until the pudding is set and able to be unmolded.
Nannyberry Mousse
Whip 1 cup of cream to soft peaks and gently fold into the pudding when it's completely cooled to room temperature, then refrigerate. Before serving, spoon the mousse into custard cups. Good garnishes could be fruit coulis, orange custard sauce, persimmons, and or toasted nuts, especially black walnuts.
Notes
The mousse can be made days ahead of time, packed into a pastry bag as pictured, and piped into whatever vessel you like just before serving. It can also be used as the filling for a crepe cake, or another dessert you could serve chilled.
A splash of Gran Marnier or Tuaca is nice to add while the pudding is cooking, if you have some.