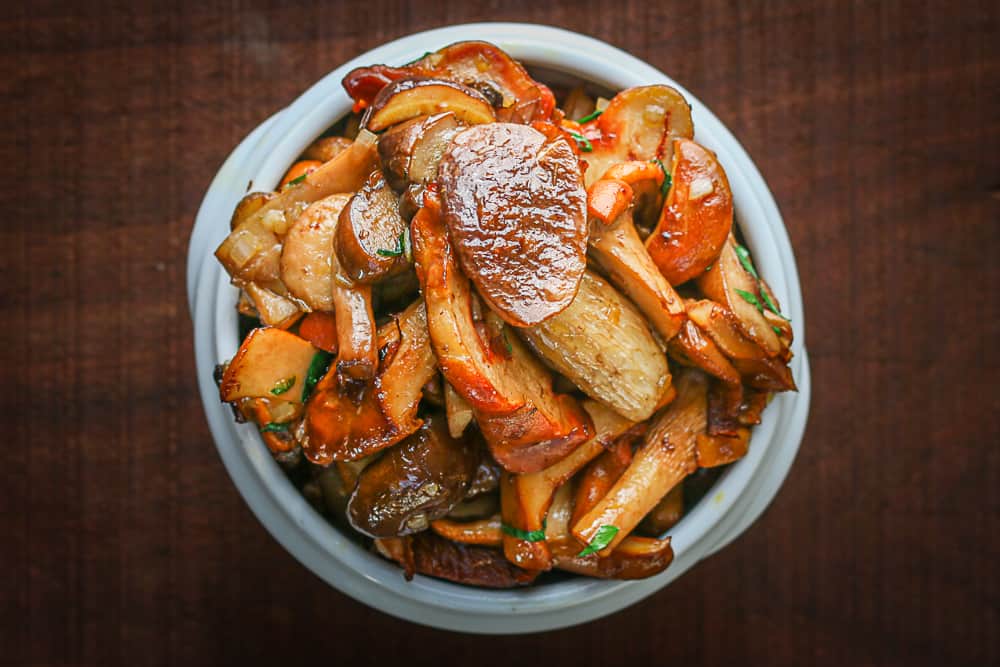 Old cookbooks are a wealth of knowledge. Back in the day, it didn't matter how many art directors were on set for the photo shoot, and how many different plate props you had, good food was just good food. One of my favorite old books is Fredy Girardet, a famous Swiss chef who reached the height of his influence around the mid 80's.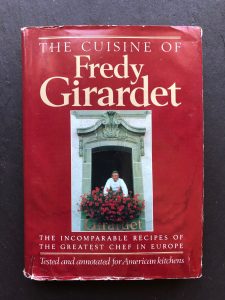 Girardet cooked in the French tradition, and although looking through the book, you might not think the recipes seem too interesting. There's simple dishes like poached chicken with watercress sauce, and sauteed veal steaks with swiss chard, and pears in red wine. The simplicity of the dishes (and lack of photos) take some culinary sleuthing, you really need to have an idea of how these sort of dishes are prepared, and the quality of the ingredients to be able to replicate them as they would be served, but that's how cooking from a book written by a chef can be, especially in the days before things were grotesquely over-photographed (I know I'm guilty of it here but it's a necessary evil).
Some dishes are relatively easy to prepare in a home kitchen though, and this simple mushroom fricasee is a good example. At first glance, the recipe sounds really simple, and it is, but there's a few fine points that were different enough for me to make a few batches and write it up for you.
At the end of the day, it's similar to the way many of us cook wild mushrooms, but with a few differences:
The mushrooms are all uniformly sliced
A blend of mushrooms is used
Both garlic and shallot are added
Of course, you can simply fry up a pan of sliced mushrooms--whatever you have, but a blend is nice, and the uniform slicing was new to me, and I thought it was a good way to have fun with a blend of mushrooms. Typically I try to keep mushrooms in a shape that honors their form, but there's definitely more than one way to cook a wild mushroom.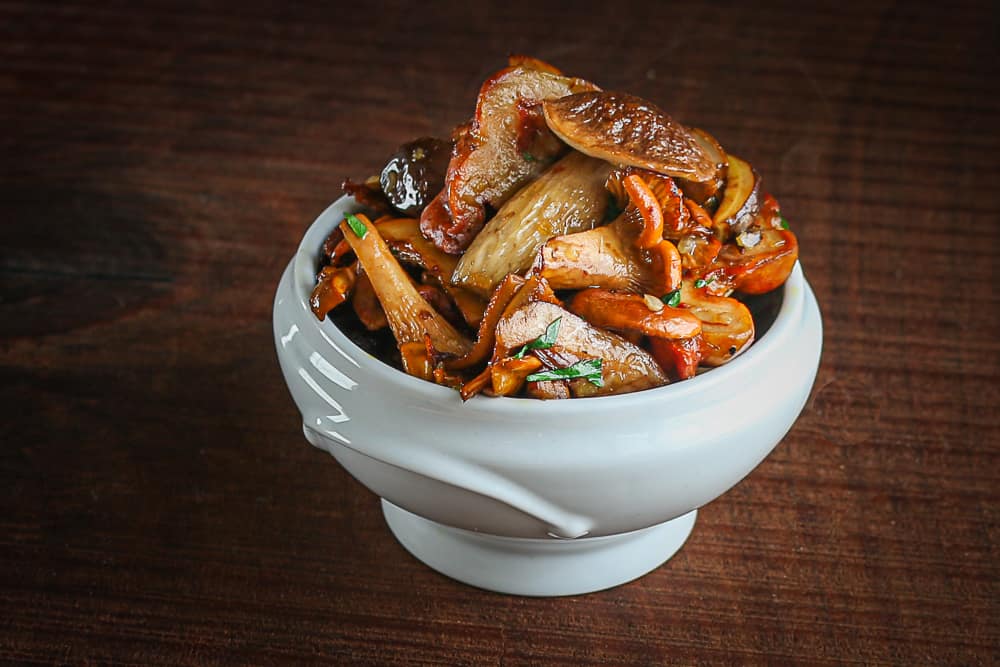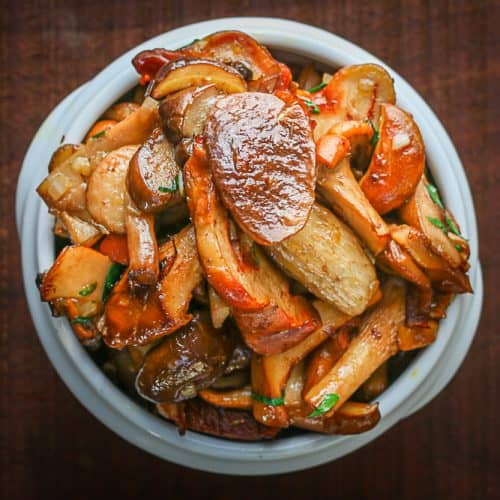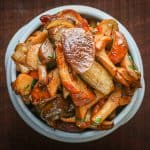 Print Recipe
Wild Mushroom Fricasee Fredy Girardet
A simple sautee of wild mushrooms with garlic, parsley and shallots.
Ingredients
1

lb

wild mushrooms*

cleaned and sliced ¼ inch

Kosher salt

to taste

Fresh ground black pepper

3

tablespoons

water

Fresh chopped parsley

to taste

2

tablespoons

minced shallot

1

teaspoon

minced garlic

2

tablespoons

unsalted butter
Instructions
Heat the mushrooms and water in a large 10 inch skillet, seasoning with a pinch of salt and pepper.

Bring the mixture to a rapid boil and cook off the liquid, then push the mushrooms to the side of the pan, add the butter and cook for a few minutes more until lightly browned, add the garlic and shallot, cook for a minute more, double check the seasoning for salt and pepper, adjust as needed, then toss in the parsley and serve.

There may be a fond leftover in the bottom of the pan, consider deglazing it with wine and using it for a simple sauce to serve with the mushrooms and whatever you'd like to accompany them.
Notes
There's lots of different mushrooms that would be good here, but chanterelles, porcini, hedgehog, lobster, chicken of the woods, and other summer mushrooms are great. I think it's best made with a blend.