Vignarola is a classic Italian stew of Spring vegetables. The French vignole is a synonym. It's a delicious way to enjoy a big mix of plants.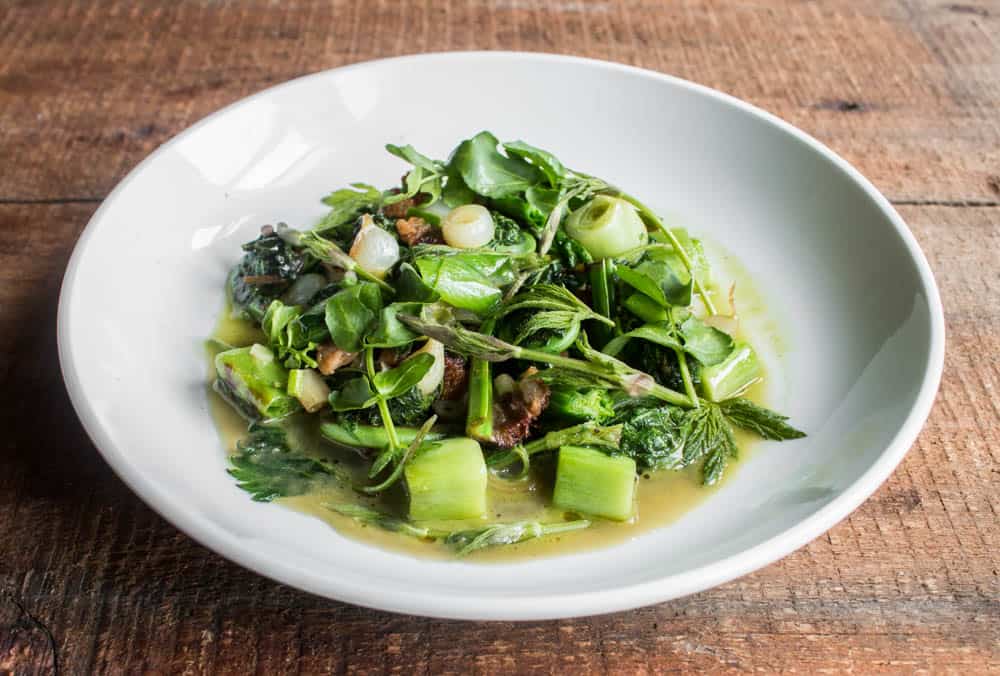 After I stop ordering roots for the year I look forward and dream of all the green things of Spring, speculating with my cooks on the length of the season of each and what new possibilities could be. One thing I know I'll eat though is some variation on my bowl of completely, or nearly all-green plants and vegetables, some wild, some cultivated, cooked fast and anointed with olive oil, fresh mint and lemon.
Traditional Ingredients
The dish I eat changes a little every year, but one thing is the same: it's a big mix of whatever green stuff I can get my hands on. It's based on an old Roman dish called vignarola alla romana (vin-ya-rollah) which is usually fava beans and peas, young artichokes, fresh lettuce, spring onions, and other spring vegetables cooked with white wine, some type of pork, and fresh mint.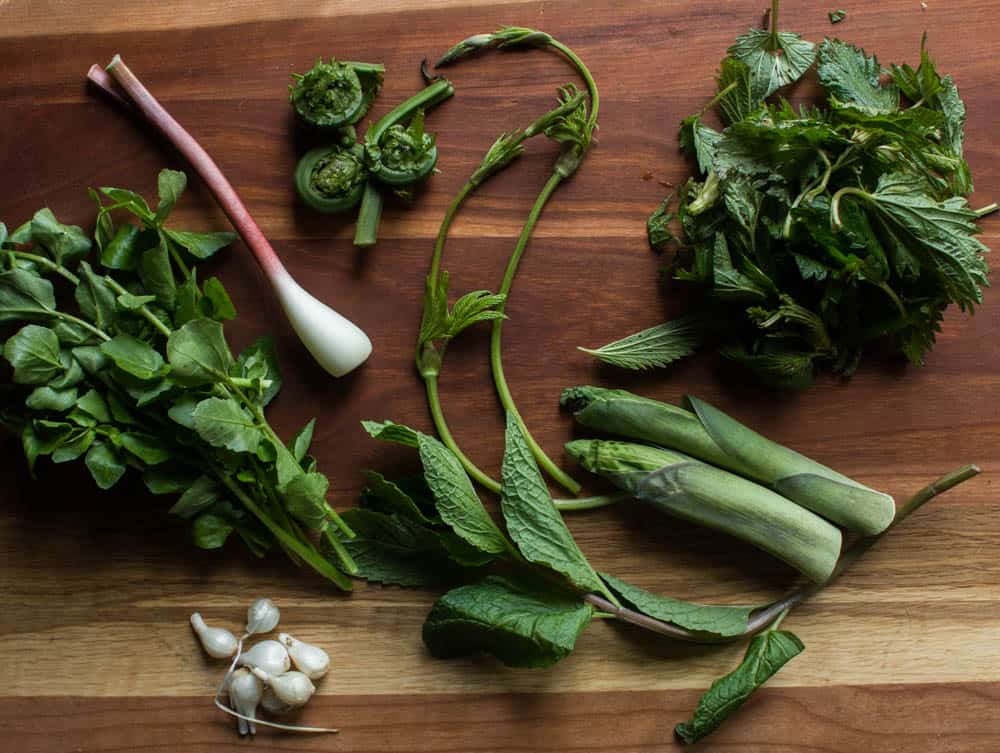 For a chef that loves eating plants, Spring means a feast of baby greens and shoots that will quickly end once most of the plants start their reproductive cycle. Getting a young dandelion green or a hop shoot or hosta shoot while it's young as opposed to old is a little like eating veal opposed to beef.
The veal is tender, and doesn't need much chewing, and the same goes with plants, the young shoots are the sweetest and most tender.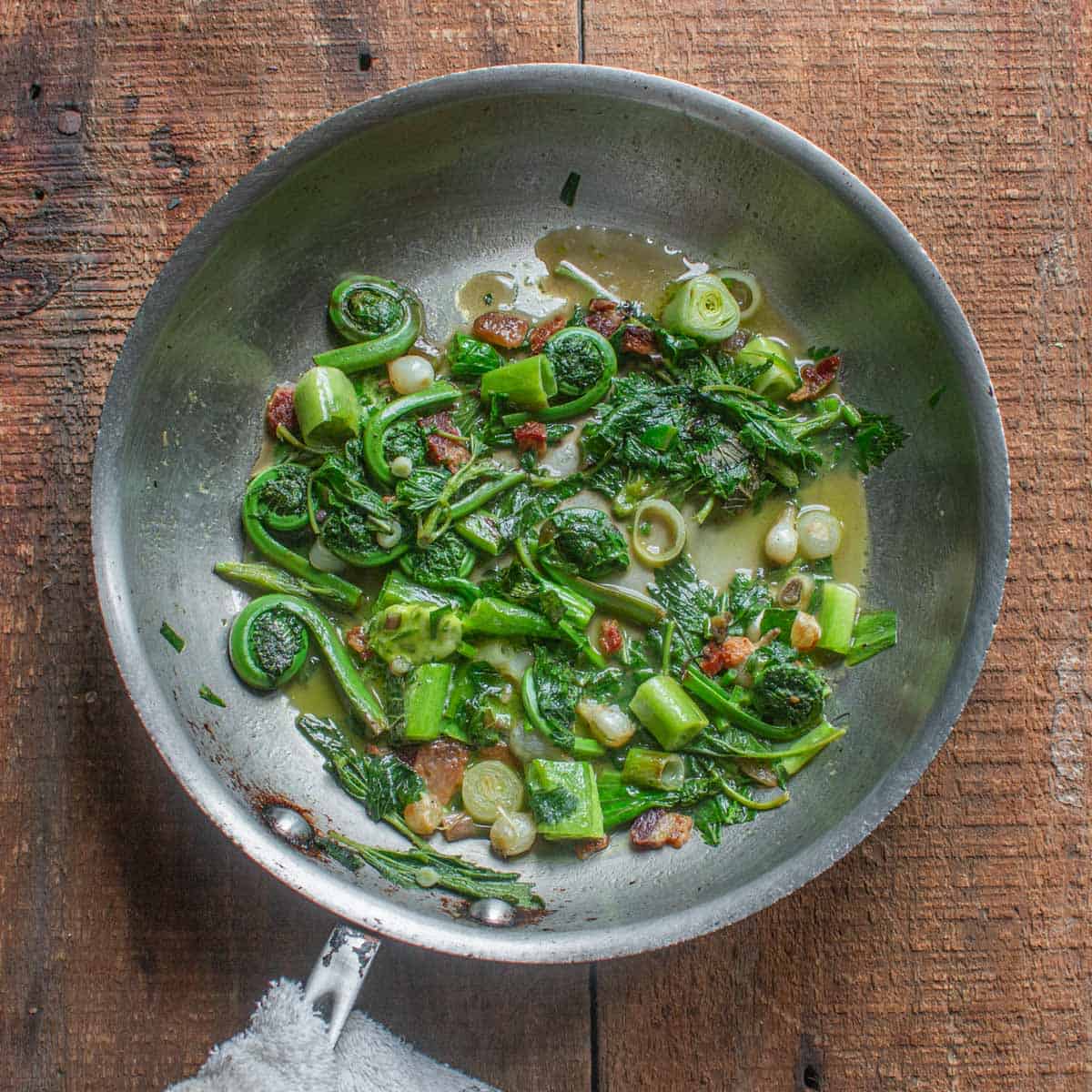 There's just something about eating a big bowl of young green stuff that makes me appreciate new growth and the season to come: it's not officially spring until I've eaten my vignarola.
Favas and artichokes don't grow in Minnesota in the Spring, so I just use whatever green vegetables I have on hand. It's an homage to my mentor from Rome, a celebration of green, and a continual experiment on what new young plants I can find to eat.
Tips
Onto the dish, the greens and vegetables I use to make the vignarola change, but a couple things don't:
The vignarola always starts off with a little bit of ham, bacon, or some type of cured meat.
It's always a wet, stewed dish.
Fresh mint is always added at the end.
I stagger the ingredients depending on their individual cooking times.
It's ok to use frozen peas if you want-just add them at the end.
Use alternative smoked meats like beef bacon.
Other than that, everything is pretty fair game. Now go eat a big bowl of your own green stuff.
Related Posts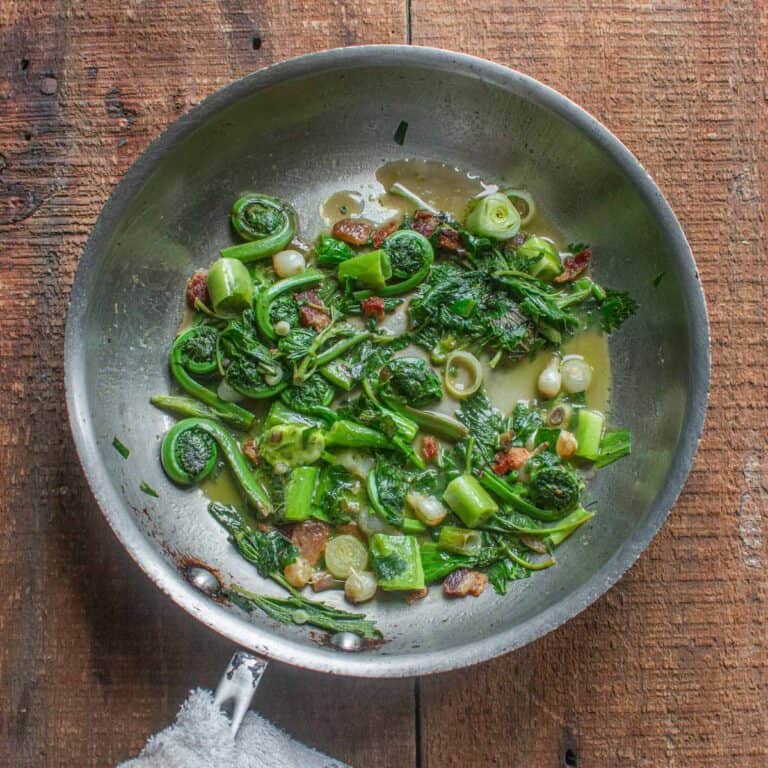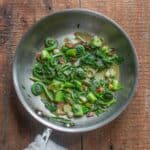 Print Recipe
Vignarola: Italian Spring Vegetable Stew
A dish focused on the first vegetables of spring. The Vignarola is a type of Italian vegetable stew.
Ingredients
2

oz

Bacon

2

oz

Wild Onions bulbs

whole

3

oz

Ramp bulbs

sliced

5

oz

Fiddleheads

trimmed, stems cut into 1 inch pieces

4

oz

Hosta Shoots

cut into 1 inch pieces

4

oz

Nettle shoots

3

oz

Hop Shoots

1

oz

Watercress

½ cup

Chicken stock

¼

cup

Dry white wine

Fresh Mint

Salt

Extra virgin olive oil
Instructions
Warm the bacon in a large saute pan and render out the fat. Add the onions, fiddleheads, hostas and a bit of oil if needed. Season and cook for a few minutes.

Add a splash of wine to the pan, cover and steam the vegetables, taste them and cook for a few more minutes if needed, adding some stock if the pan gets dry. When the greens taste good to you, proceed.

Add the rest of the ingredients, toss for a few minutes to wilt them, finish with the mint, taste and adjust the seasoning, and serve. Drizzle with extra virgin olive oil at the table.
Notes
The vegetables here are just an idea, use whatever you want, just make sure it's a big green bowl of goodness, with different textures.
Nutrition
Serving:
3
oz
|
Calories:
119
kcal
|
Carbohydrates:
10
g
|
Protein:
6
g
|
Fat:
6
g
|
Saturated Fat:
2
g
|
Polyunsaturated Fat:
1
g
|
Monounsaturated Fat:
2
g
|
Trans Fat:
0.02
g
|
Cholesterol:
9
mg
|
Sodium:
104
mg
|
Potassium:
468
mg
|
Fiber:
4
g
|
Sugar:
2
g
|
Vitamin A:
2671
IU
|
Vitamin C:
20
mg
|
Calcium:
189
mg
|
Iron:
2
mg