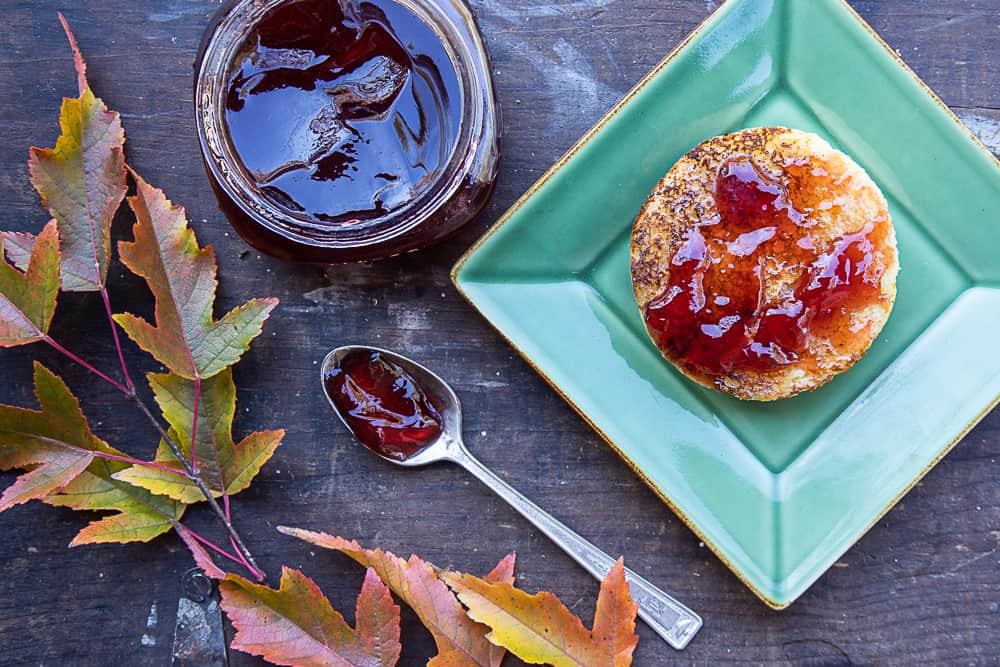 One of the best things highbush cranberries can become is a brilliant red jelly. This one flavored with ginger and spices is my favorite.
Extracting Juice: Hot vs Cold
Heating fresh highbush cranberries with water will give the finished juice a slightly bitter flavor, but adds pectin. A cold extraction doesn't have pectin but has no bitterness. You can use both types of juice here. If you don't know the differences between the two see my post on highbush cranberries.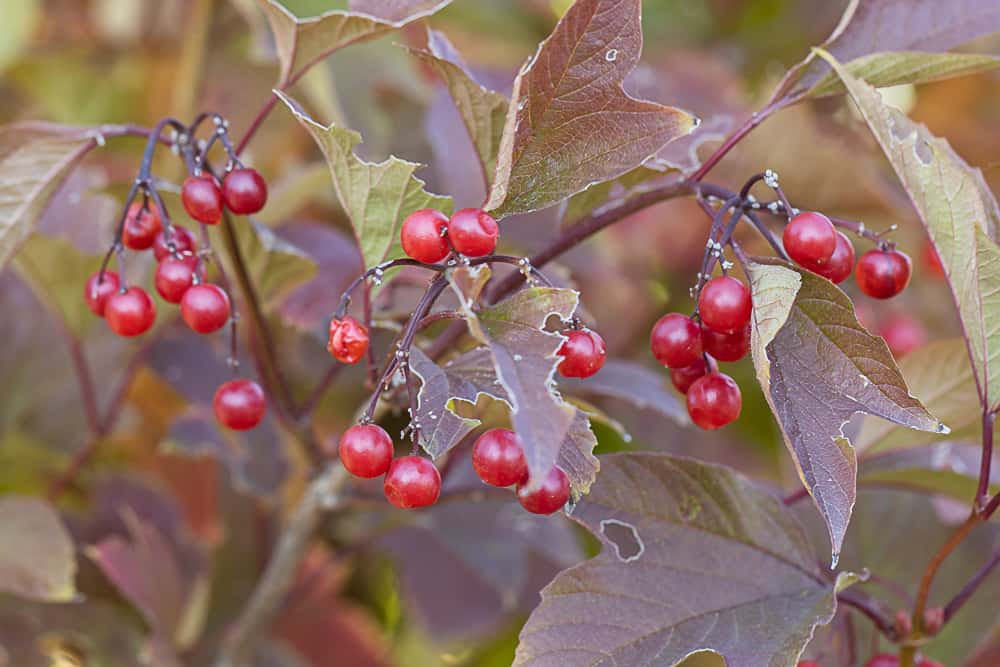 Use the Right Species
You need to make sure you're using a species. For a highbush cranberry jelly recipe that tastes good, you must use Native American highbush cranberries (Viburnum trilobum).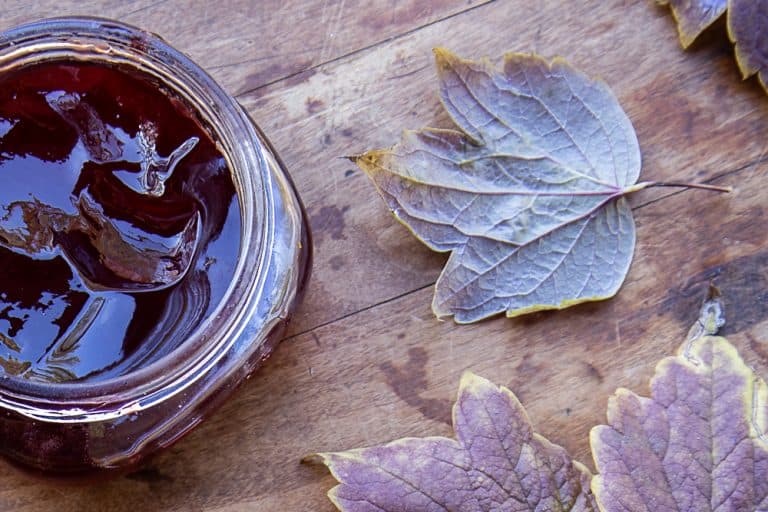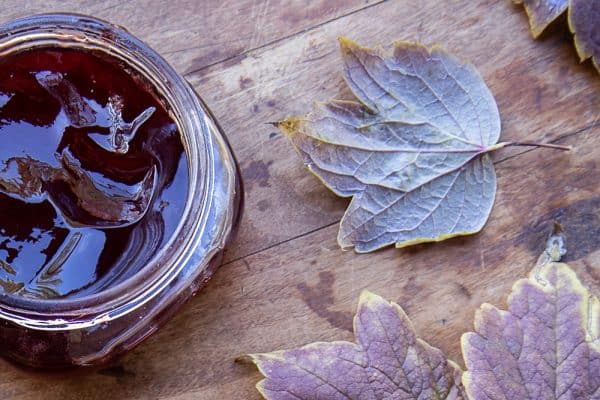 European highbush cranberries (Viburnum opulus) taste bitter, with an awful aftertaste like wet dog. A good highbush cranberry should taste pleasantly tart, with a hint of funk, not bitter.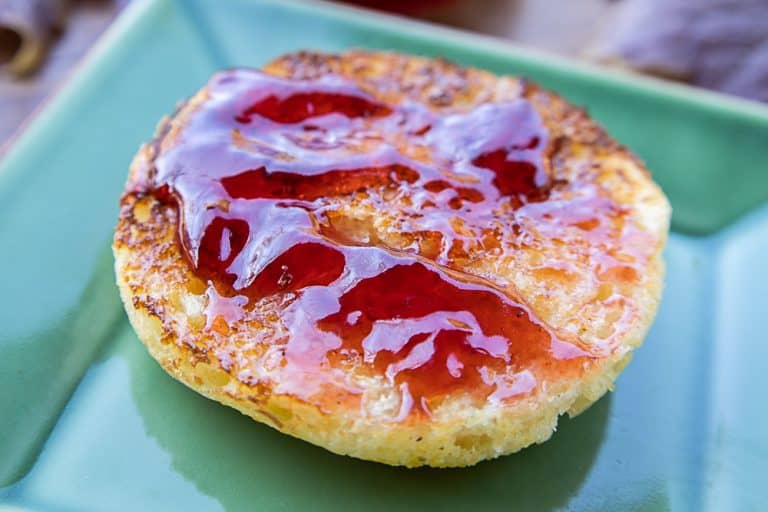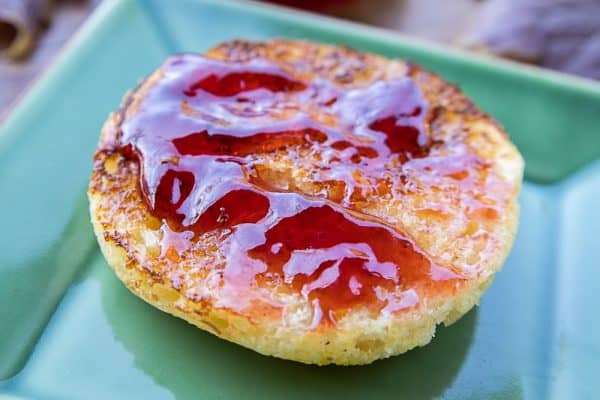 Infusing the Juice
High bush cranberries are tart but they don't have the deep flavor of say, a raspberry-they're just nice, tart berries.
Things like orange peel, cinnamon, and ginger are great. I infuse the juice overnight with aromatics here to add flavor.
Serving
The jelly is good with goat cheese, and of coarse, on buttered toast and English muffins. It's also good spooned over game meat like classic rowanberry jelly.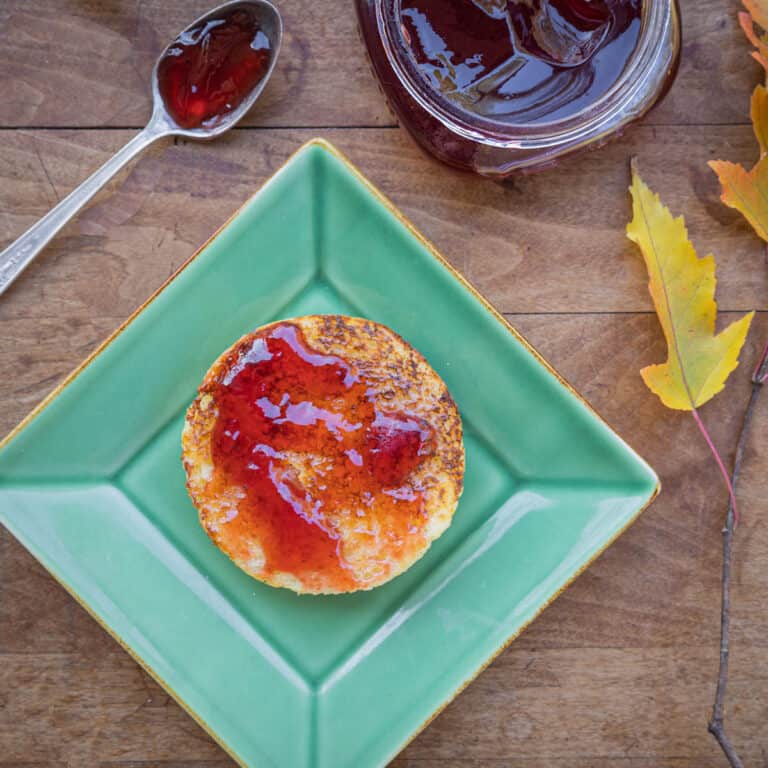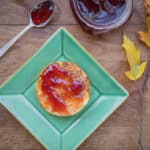 Print Recipe
Highbush Cranberry Jelly with Ginger
Tangy jelly made from highbush cranberries scented with ginger. Makes 4 cups
Equipment
1 Jelly bag or strainer

1 2 quart saucepot

1 Sterilized jars
Ingredients
32

oz

highbush cranberries

or 4 cups highbush cranberry juice * see note

4

cups

water

½

cup

fresh ginger

coarsely grated

1

inch

stick of cinnamon

Zest of one large orange

grated on a microplane

4

teaspoons

powdered pectin

preferably Cuisine Tech brand

4

cups

sugar

2

teaspoons

lemon juice

or ¼ teaspoon citric acid
Instructions
Infusing the juice (optional)
Mash the highbush cranberries, cover with the water, bring to a boil stirring occasionally for 3-4 minutes, then strain. Add the remaining ingredients except the sugar and pectin.

Cool and rest overnight in the fridge, or at least for a few hours.

Strain the juice naturally through cheesecloth or a jelly bag, without pressing on it. You should be left with about 4 cups of juice.
Cooking
Put a small stainless steel bowl or plate in the freezer to do set tests. Stainless steel is better as metal conducts differences in temperature faster.

Mix the pectin and sugar. Add the sugar pectin mixture to the juice.

Bring to a rolling boil stirring constantly for the first minute.

Cook until it gets to 225 F, then begin doing set tests. Drop small spoonfuls on a frozen metal surface or plate, watching to see when the mixture barely holds it's shape. My sweet spot is around 225-230 F.

When the mixture barely holds it's shape beat in the lemon juice or citric acid.

Immediately pour into sterilized jars and process in a water bath.

I process 4 oz jelly jars for 10 minutes. Your processing time will vary depending on the size of your jars.
Notes
Scaling the Recipe
The proportions here are easy to scale. Use 1 teaspoon pectin, and 1 cup sugar for each 1 cup highbush cranberry juice. 
Pectin
I use unsweetened apple pectin, but liquid pectin works fine too. Pectins with citric acid in them will help the jelly set. 
Nutrition
Serving:
1
oz
|
Calories:
377
kcal
|
Carbohydrates:
98
g
|
Protein:
1
g
|
Fat:
0.5
g
|
Saturated Fat:
0.02
g
|
Polyunsaturated Fat:
0.1
g
|
Monounsaturated Fat:
0.04
g
|
Sodium:
13
mg
|
Potassium:
120
mg
|
Fiber:
0.4
g
|
Sugar:
95
g
|
Vitamin A:
57
IU
|
Vitamin C:
12
mg
|
Calcium:
15
mg
|
Iron:
0.4
mg
More