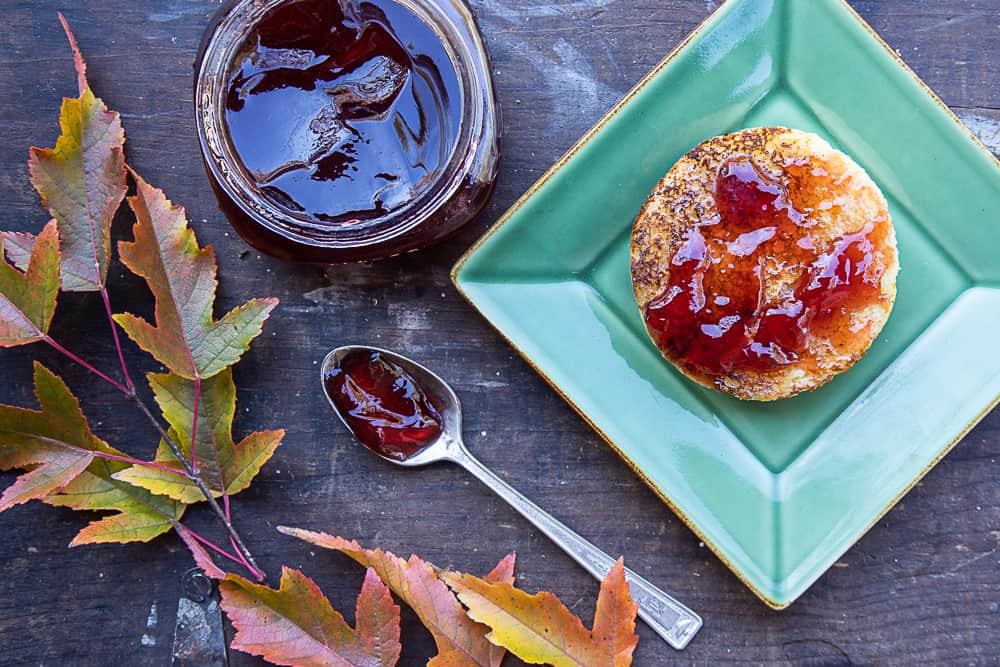 The more I cook with Highbush cranberries The more I enjoy them, and one of the best things they can become is a brilliant red jelly.
Highbush cranberries are not the easiest thing to make into jelly, and I should know, I've been testing this recipe for a couple years now, and am only sharing it after I finally got the hang of getting it to set.
Here's the skinny: highbush cranberries are acidic, and it can be hard to get the juice to set. If you've cooked with them before, you may be familiar with the two schools of juice extraction: cold and hot. A cold extraction of juice (mashing the berries or buzzing with a handblender and straining without heating) is the finest tasting, but I've found it difficult to set, especially without added pectin.
A hot extraction (heating the berries with water to cover, the n buzzing and straining, can impart a subtle bitterness to the finished product from the seeds, but has a slightly higher, stronger yield in my experience.
For all intents and purposes, know that you can use both methods here, but it will help if you're an experienced jelly maker if you use cold extracted juice. If you prefer one method over the other, by all means, use what you prefer.
Mind your temp: 225-230F
The biggest thing that helped me though, was disavowing my tendency to adhere to old time jelly rules, specifically regarding setting temp. When I went back to check my recipe I'd liked from last year, I did a double take when my notes said to cook it to 225-230. With some jellies, especially if you add pectin, that temp can give you a stiff, pasty, opaque jelly.
With high hush cranberries, I can pretty confidently say now that you're going to need to go a little higher than the typical 220F standard setting temp to get the texture we all love.
The other thing I think it's important to mention about highbush cranberries is the flavor. First off, you need to make sure you're using a species that tastes good, which is going to be Native American highbush cranberries, or Vinurnum trilobum.
European highbush cranberries (Viburnum opulus) taste bitter, with an awful aftertaste like wet dog. A good highbush cranberry should taste pleasantly tart, with a hint of funk, not bitter and disgusting.
Even with V. trilobum, tastes between different trees I've had can vary, and I'll also mention that Sam Thayer has three different cultivars he's named that all have enormous fruit and a fantastic flavor superior to any other highbush I've tasted. But, to get one of those, you'll need to buy them from Foragers Harvest in the fall. If you attend the Midwest Wild Harvest Festival, Sam usually brings a few transplants to sell.
Infusing the juice for deep flavor
Back to the flavor. High bush cranberries are tart, and beautifully red, but they don't have the deep, rounded flavor of say, a raspberry. Basically, to me, highbush cranberries are Just nice, tart berries. Their similarity to cranberries is useful, and I like combining them with flavors cranberries like.
Things like orange peel, cinnamon, and especially ginger are really good, and all of them are used here. A fine jelly should be crystal clear though, so, to impart flavors and add depth, I infuse the juice overnight with aromatics, and strain it out. It's a great way to add a little extra character to what would otherwise be a beautiful, but mellow and sweet jelly.
Oh, adding habanero peppers when you make the infusion, just one or two chopped up, makes for a nice kick, if you like that. The jelly is good with goat cheese, and other salty things. It's also good melted and mixed with stock, mounted with butter to make a glaze for meat.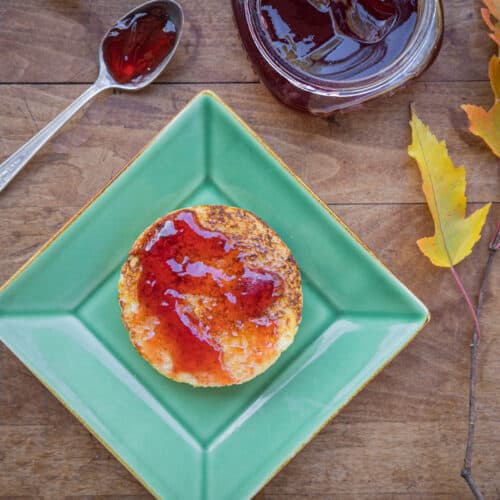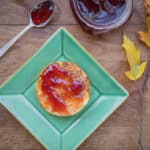 Print Recipe
Gingered Highbush Cranberry Jelly
Tangy jelly made from highbush cranberries scented with ginger. Makes 4 cups
Ingredients
5

cups

roughly 25 oz highbush cranberries

4

cup

water

¼

cup

white wine vinegar

½

cup

fresh ginger

coarsely grated, crushed or finely chopped

1

inch

stick of cinnamon

Zest of one large orange

grated on a microplane

4

teaspoons

powdered pectin

preferably Cuisine Tech brand

4

cups

sugar

2

teaspoons

lemon juice

1

oz

habanero pepper (2 medium) Optional!

chopped rough
Instructions
Mix the highbush cranberries with the water and vinegar in a non-reactive pot, heat gently and simmer for 15 minutes, mash gently, then allow to cool until just warm and strain, pressing out as much juice as you can.

Mix the juice with the remaining ingredients except the sugar and pectin, warm over a pot of simmering water or in a small pan, then cool and rest overnight in the fridge, or at least for a few hours. Strain the juice naturally through cheesecloth, without pressing on it. You should be left with about 4 cups of juice (see note).

Put a small stainless steel bowl or plate in the freezer to do set tests, and stainless steel is preferable as metal conducts differences in temperature faster than most other food-safe items.

Mix the pectin and sugar and whisk into the strained highbush cranberry juice.

Bring the mixture to a rolling boil, and cook until it gets to 225, then begin doing set tests, dropping small spoonfuls on a frozen metal surface or plate, watching to see when the mixture barely holds it's shape. My sweet spot is usually around 225-230. When the mixture barely holds it's shape when dropped on a cold surface, beat in the lemon juice, then pour boiling hot into clean jars and allow to seal, or process in a water bath.
Notes
If, for some reason, you get a different amount of juice which can happen especially with smaller fruit, you'll see that the proportions here are: 1 teaspoon pectin, and 1 cup sugar for each 1 cup highbush cranberry juice. Adjust accordingly, the aromatics can be adjusted to your taste as they're strained out anyway. 
More