Cedar cones are a good addition to the forager's pantry. Read on and I'll explain which ones to use, and how to cook with them.
A few years ago I got the juniper bug. I remember biking with my dad in the Summer and being amazed at how many conifers I saw with heavy loads of fruit. Every time I stopped to try one of the "wild juniper" berries from the trees though It wasn't fun, they tasted like juniper, but intensely bitter and tannic on the back end.
I tried going to different trees in different places, every time it was the same, bitter, bitter, bitter. Taking into account how easily you can order conventional juniper for cooking, I stopped tasting every little blue (or green) berry I saw. I dedicated more of my precious foraging time to mushrooms, and stuck with the blue berries in the spice shaker I was used to.
Eventually I found a wild juniper that wasn't bitter, it was great tasting but it came with a blood price. The needles of the small shrubs with good tasting berries turned my hands to hamburger, a hard price to swallow when I thought they tasted near-indistinguishable from conventional juniper.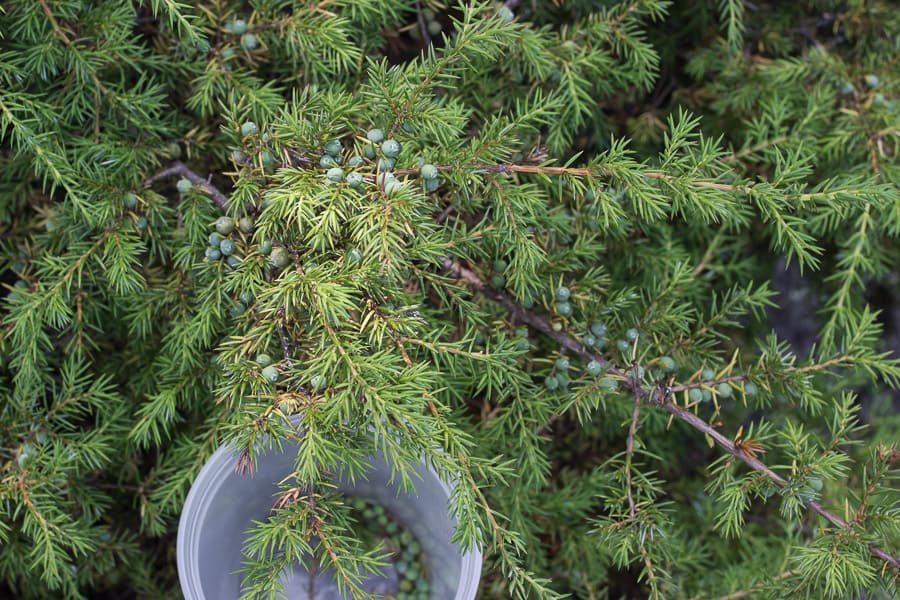 Fast forward a few years, and I'm walking around a party at a farm in the early summer, I went past a cedar tree while I was picking black walnuts and noticed small little berry-like things growing on the branches. I tasted one, it had a flavor like juniper, but there was no bitterness, and the leaves were soft in comparison to the anti-personnel non-bitter juniper.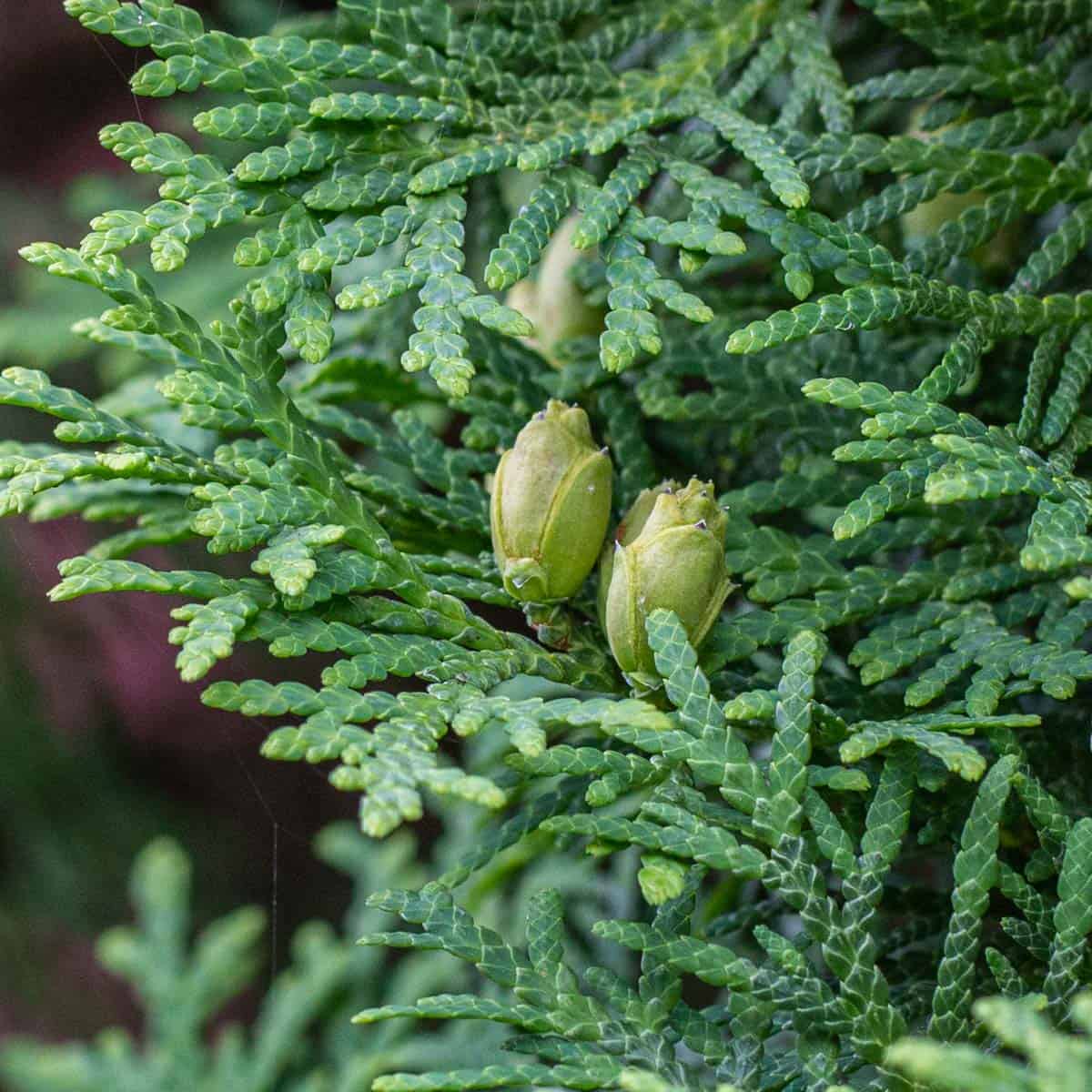 Could it be the best of both worlds? Since they were a conifer I knew they should have similar properties to juniper. I forgot about the walnuts for a bit and picked a few cups of the little green things to bring home.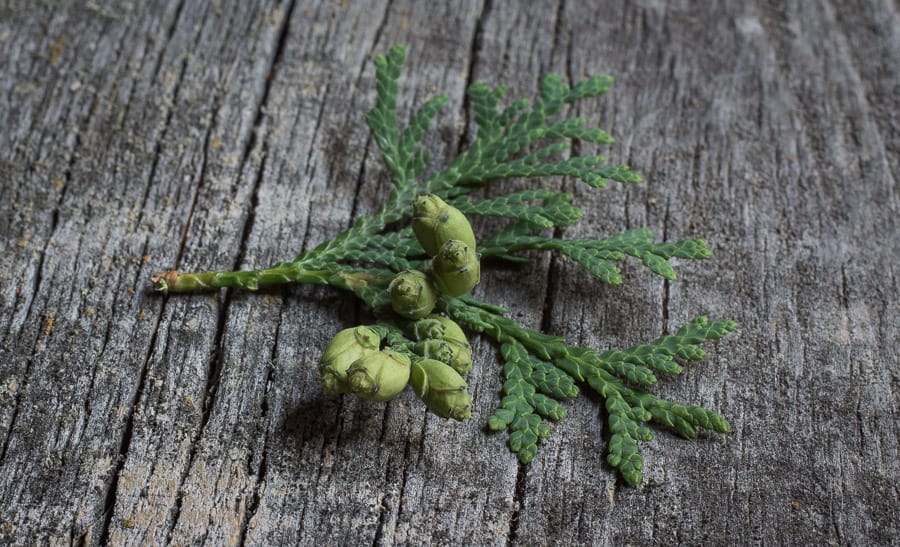 I took some time to research them and figure out exactly what they were, some armchair browsing told me they were white cedar cones, a species in the genus Thuja, and a close cousin to the juniper trees with the bitter (and non-bitter) berries I'd been eating before.
On another note, being a big fan of the absinthe my friend from Czechoslovakia would bring me from overseas in college, I also thought that the Thuja name might be a cognate or relative of thujone, the supposedly psychoactive compound in the green fairy (it is).
However, everything I can find on the subject seems to contradict any sort of trippy possibilities associated with thujone, so I put aside the thought of making cedar absinthe since there's probably more responsible pursuits to experiment with.
A mild, fresh substitute for juniper

The little cones are good, and best used fresh in my opinion. They keep some of the flavor dried, but it's not as electric as the fresh product. They pack a non-bitter juniper flavor, slightly more mellow than it's cousin from the spice rack.
In fact, I thought that it was mellow enough to chop into pieces and put on dishes raw, or even one or two halved, for a punchy gin kick. Now I'm not going to be sprinkling the things all over a dish, but in the right place and in small amounts they can be fun.
Ideas for harnessing the aroma
Cooking with cedar cones doesn't necessarily mean you need to ingest them. I made a great dish of elk roast where I pureed the fresh cones with a little onion, oil and salt, and used it as a marinade for 24 hours, wiping it off before roasting.
You could also likely chop them up and ferment them in cream, and then discard the solids, to make a flavored creme fraiche, I've had great results with this using other plants.
The flavor is water soluble too, but I don't generally make tea. Brines and alcohols would taste great with these, my ham cured with pine needles, for example.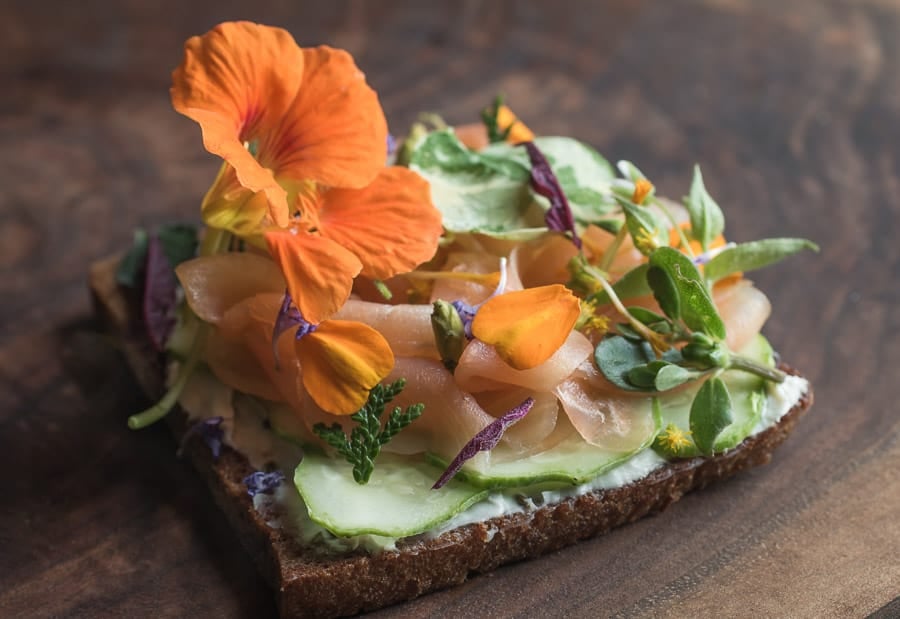 Fermenting Experiments
At home I did some experimenting to see how soluble the juniper/cedar flavor would be in a brine medium, thikning maybe I could use them like I would capers. Another hope with brine was that I could preserve the texture of them fresh, or soften them a bit through processing.
I brined some hot, and then brined a few cold and allowed them to lacto-ferment for a week or so. The experiments were a good effort, but in the end I didn't like how they tasted. Next time I'll probably just hot-pickle them, since pure or overly-salty brine naturally has a way of drying things out and can toughen the skins of things.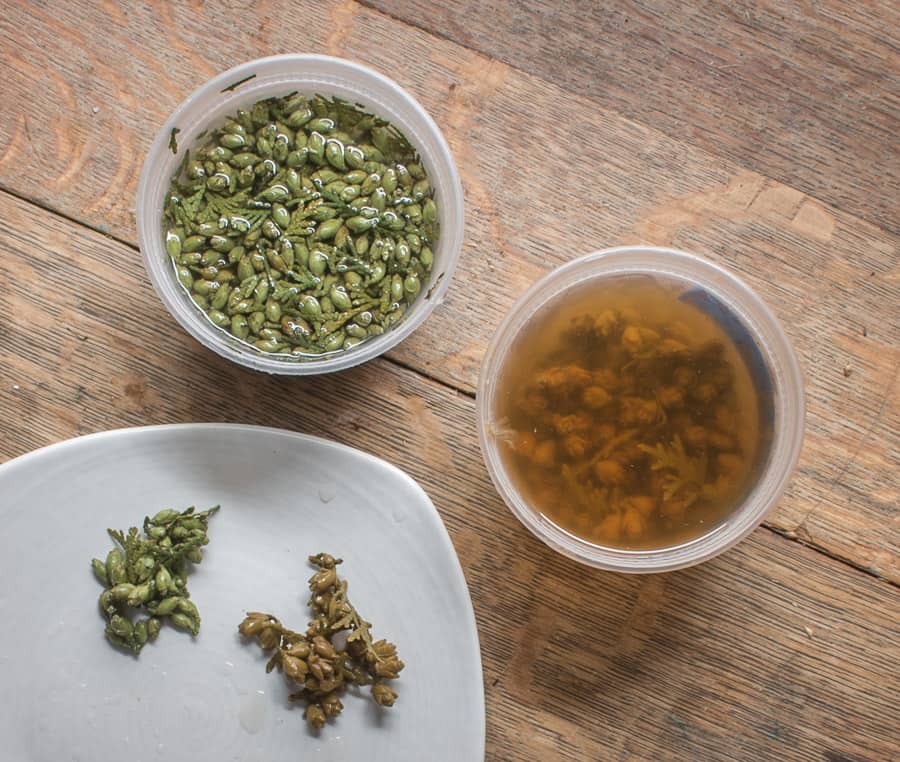 I thought they were too chewy, and I preferred the citrusy taste of them fresh to the other methods. There's probably lots of things other people can figure out to do with them on the preservation front. On another note, Sean Sherman's new book has a nice braised bison recipe that uses the branches.
Have you cooked with cedar branches or cedar cones? I'd love to hear about it.
More cooking with Conifers
If you like cooking with conifer products, make sure to check out the following posts too: